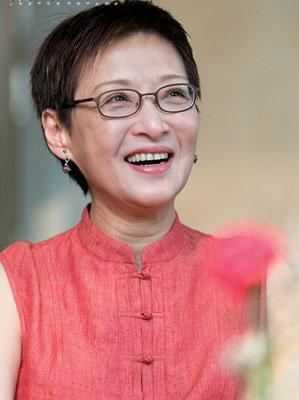 Hu was born Hu Yinyin in Taichung, Taiwan on April 21, 1953, with her ancestral home in Shenyang, Liaoning, the only daughter of Qu Shifang (璩詩芳), and Hu Gengnian (胡賡年), a Republic of Legislative of the Republic of China. Hu was raised in Taichung and Taipei. When she was 15, her parents divorced.
Hu attended the Christchurch School. She graduated from Fu Jen Catholic University in 1971, where she majored in German language. When she left Fu Jen Catholic University, her university students said: "Fu Jen Catholic University have no spring from now on." After graduation, Hu went aboard to study at Seton Hall University, majoring in mass communication, she also studied at a modeling school in New York City.
Hu returned to Taiwan in 1975. At the same year, Hu first rose to prominence for playing in The Life God, a film starring Brigitte Lin.
In 1977, Hu appeared in Bai Jingrui's Far Away From Home, which earned her a Golden Horse Award for Best Supporting Actress. One year later, Hu acted in the historical film A Teacher of Great Soldiers, a film starring Chun Hsiung Ko.
Hu studied at HB Studio, majoring in acting.
In 2003, Hu attended the 40th Golden Horse Awards.
At the age of 35, Hu withdrew from entertainment industry, she appeared in 42 films during her 15 acting years.
In 1986, Hu gave up her acting career to focus on writing and translating. She has translated the works of Jiddu Krishnamurti, Pema Chödrön, A. H. Almaas and Ken Wilber.
On May 6, 1980, Hu married Taiwanese writer, historian and politician Li Ao. Their love story was even featured by Time. Their wedding was held in Li's living room. Hu chose her pajama as her wedding dress.
But the couple divorced on August 28, 1980, after about three months of marriage (115 days in total). Since their divorce, the two often have had mutual criticism.
On November 25, 1994, Hu gave birth to her only daughter, Hu Jiesheng (胡潔生), as a single mother. Hu has never publicly revealed the child's biological father.
Death and the Maiden (Chinese:

《死亡與童女之舞》

), ISBN 978-957-607-378-6.
Ancient Future (Chinese:

《古老的未來》

), ISBN 957968510X.
Immensee (Chinese:

《茵夢湖》

)
Hu Yan Meng Yu (Chinese:

《胡言夢語》

)
When Life Falls Apart (Chinese:

《當生命陷落時》

), ISBN 978-957-30163-1-1.
Grace and Grit (Chinese:

《恩寵與勇氣》

), ISBN 9576933803.
Freedom, Love and Action (Chinese:

《自由、愛、行動》

), ISBN 9576794412.
The Only Revolution and The Urgency of Change (Chinese:

《人類的當務之急》

), ISBN 9576790328.
Krishnamurti: A Biography (Chinese:

《克裡希那提傳》

), ISBN 9576791391.
Exploration into Insight (Chinese:

《般若之旅》

), ISBN 9579685436.
Respect for Acting (Chinese:

《尊重表演藝術》

), ISBN 957629116X.
The Ending of Time (Chinese:

《超越時空》

), ISBN 9579685681.