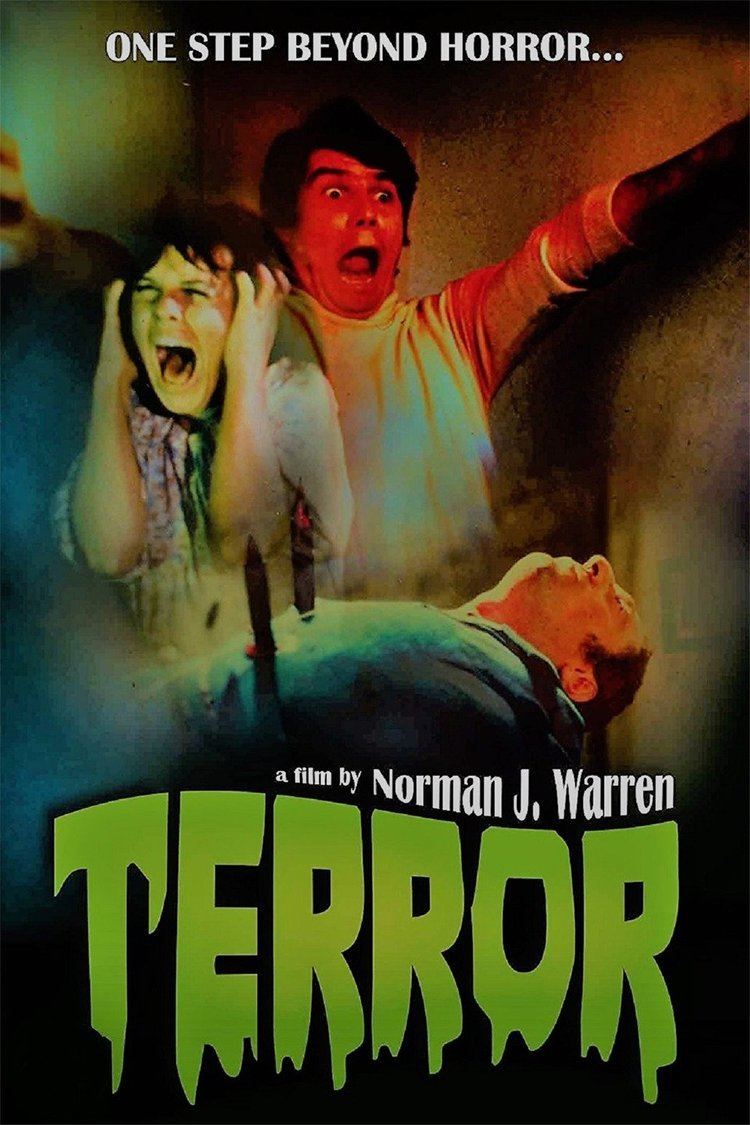 In 17th-century England, the witch Mad Dolly is captured on the orders of Lord Garrick, whose family has suffered greatly at her hands. She is about to be burned at the stake when she begs the Devil to protect her, causing the executioner himself to catch fire. Lord Garrick rushes back to his house, where a disembodied hand bursts through a wall and strangles him. Mad Dolly appears, beheads Lady Garrick with a sword and curses the family name.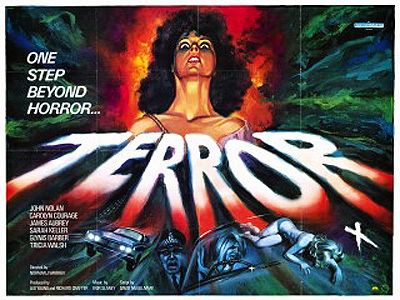 End credits roll, revealing that these scenes form the conclusion to a horror film directed by James Garrick – the last of the Garrick line with his cousin, Ann. He has invited friends to a preview screening at the largely unchanged Garrick residence, of which he is now owner. James insists that his film is based on true events and keeps the sword supposedly wielded by Mad Dolly mounted on a wall.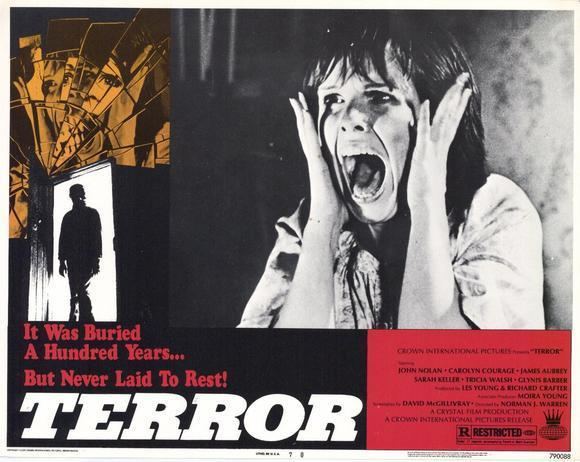 Gary, a mesmerist, hypnotises Ann as a party trick. Entranced, Ann picks up the sword and brings it down on James, wounding him slightly. She then returns to her senses and flees. When Carol, another of James's friends, leaves the house she is stabbed to death by an unseen assailant. Ann, who lives in a London hostel, arrives home with bloodstained hands.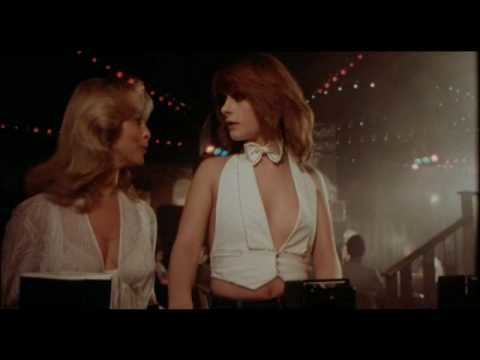 Several other murders and mysterious deaths follow. At the adult nightclub where Ann and her friends work as waitresses, a patron sexually assaults Ann and is ejected by the bouncer; he is then impaled on a row of spikes and dismembered. At James's film studio, an overhead light falls to the floor and kills Les, a director shooting a softcore pornographic film. James, who detests the film's subject matter, watches this event unfold but makes no attempt to save Les. Viv – the star of the film, who lives in the same hostel as Ann – is later stabbed to death on a staircase; the killer is again not shown. Back at the studio, Philip, James's assistant, is attacked by flying props and equipment, falls through a door and is decapitated by a pane of glass.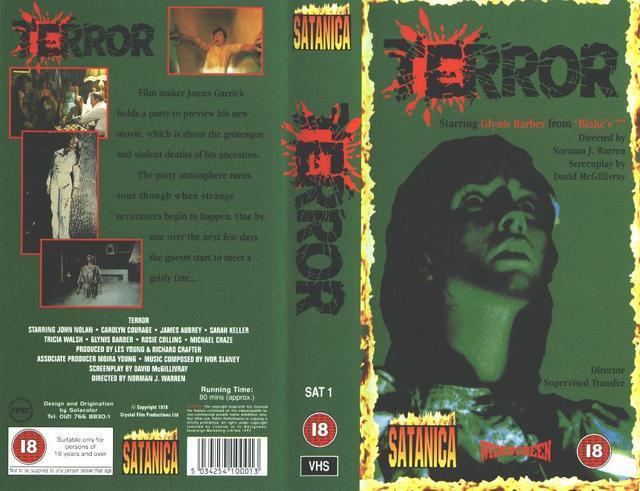 Ann flees the hostel when she finds police questioning her roommate, Suzy. One of the officers gives chase but is repeatedly run over and crushed by the patrol car, which is being driven by an supernatural force. Making her way to the Garrick house, Ann is caught in strong winds and takes shelter in another parked car, but is forced to jump out when the vehicle rises into the air. She reaches the house to find various objects moving of their own accord. Seizing an axe, she is startled by the sudden arrival of James and inadvertently kills him. Mad Dolly re-appears cackling as her sword flies across the room and fatally impales Ann against the opposite wall.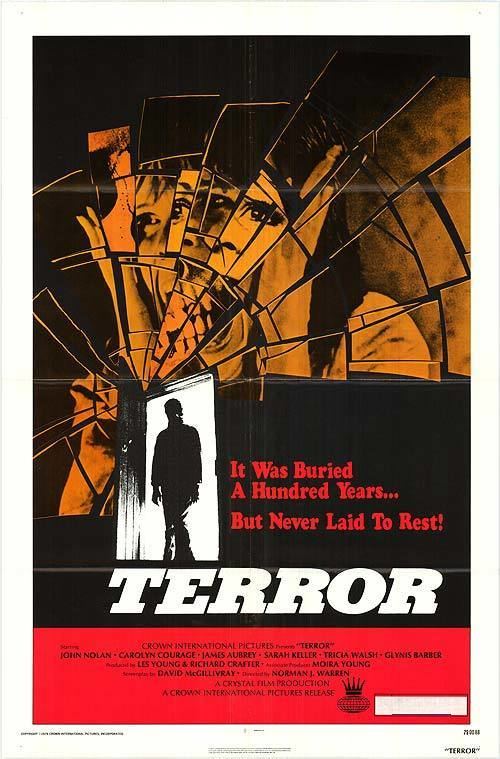 John Nolan ... James Garrick
Carolyn Courage ... Ann Garrick
James Aubrey ... Philip
Sarah Keller ... Suzy
Tricia Walsh ... Viv
Glynis Barber ... Carol Tucker
Michael Craze ... Gary
Rosie Collins ... Diane
Patti Love ... Hannah
Mary Maude ... Lady Garrick
William Russell ... Lord Garrick
Peter Craze ... Director
Peter Mayhew ... The Mechanic
Milton Reid ... Club Bouncer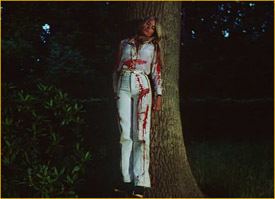 Director Norman J. Warren remembered that Terror was intended purely to entertain: "It's a fun horror film ... and I'm very proud of the fact that it worked." Consequently, the premise was kept simple and film essentially devised as a series of set pieces. The budget was supplied by the box office revenue from Warren's earlier film, Satan's Slave (1976), which had been re-released several times. According to Warren, "the nice thing about Terror was that because we could make it as a truly independent film, we didn't have to show the script to anybody."
The music, lighting and sound effects, as well as the loose plot, were directly inspired by the style of Suspiria (1977). According to Warren, the Dario Argento film had shown "that you didn't have to have a story as such", or rather that the story "didn't have to make a lot of sense." Some of the sound effects were created by Warren, who also served as effects designer, recording his own voice backwards.
The Garricks' ancestral home was, in reality, the residence of the Baron and Baroness De Veuce, located in Pirbright, Surrey. James Aubrey's character, Philip, is killed in a film studio represented by the actual interior of Acorn Studios in Barnes, London. Nine defective prints of the film Saturday Night Fever (1977) were used to create the mass of film stock that attacks Philip.
The music was composed and performed by Ivor Slaney, including the electric guitar, used during the dance sequence in the nightclub.
The witch is played by 'L.E. Mack'. This is an in-joke on the elemac track used for moving cameras during shooting. An elemac track is used during the finale to 'float' the actress playing the witch across the room. It is covered in the scene by the 'dry-ice'.
Terror was a UK box office success.
In a contemporary review, Tom Milne of The Monthly Film Bulletin called Terror a "curious mixture", praising the film's "bright dialogue" and "excellent camerawork", as well as its "Hitchcockian" moments of suspense, while criticising its "statutory" plot and use of violent close-ups: "Crude and unconvincing, disrupting the atmospere otherwise so carefully built up, these shots turn the film into something cheap and nasty."
The film has had releases on VHS in PAL and NTSC formats. It has also been released on DVD. The best known DVd release is as part of the Norman J Warren set released by Anchor Bay. This release also contains still galleries, biographies and a making-of documentary. This includes Norman J. Warren, Carolyn Courage, James Aubrey, Elaine Ives-Cameron, David MacGillivray. An supreb informative audio commentary by Norman J. Warren is also included.