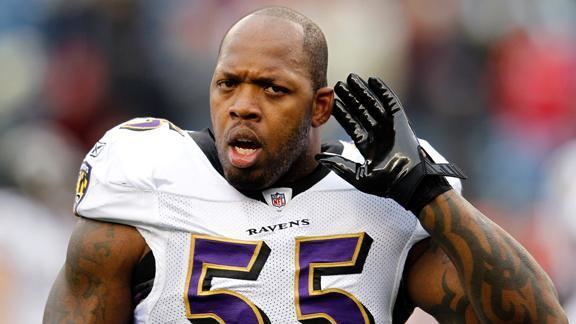 Suggs was born in Minneapolis, Minnesota, the son of Laverne Diane (née Kennedy) and Donald Lee Suggs. He was raised in St. Paul, Minnesota. While growing up in Saint Paul, he played youth football, as a center, with future baseball player Joe Mauer. Suggs moved to Arizona after eighth grade As a teenager, he attended multiple schools, the first being Chandler High School. He later transferred to Hamilton High School where he set the Arizona Class 5A record for rushing yards in a game with 367 against Yuma Kofa as a junior in 1999.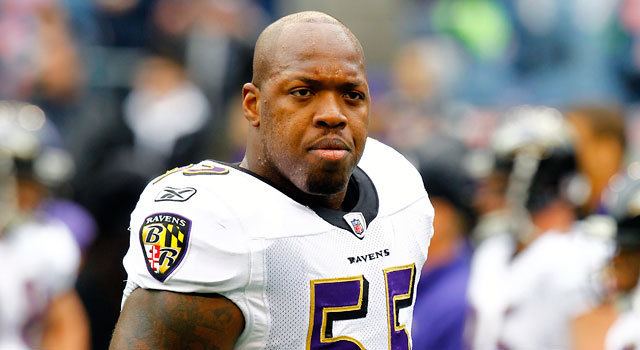 As a senior, Suggs was named a Parade high school All-American in 2000, Gatorade Arizona Player of the Year, the No. 1 jumbo athlete in the nation by SuperPrep Magazine, Arizona Player of the Year by USA Today as well as an All-American by USA Today and the 60th-best player in the nation by Sporting News.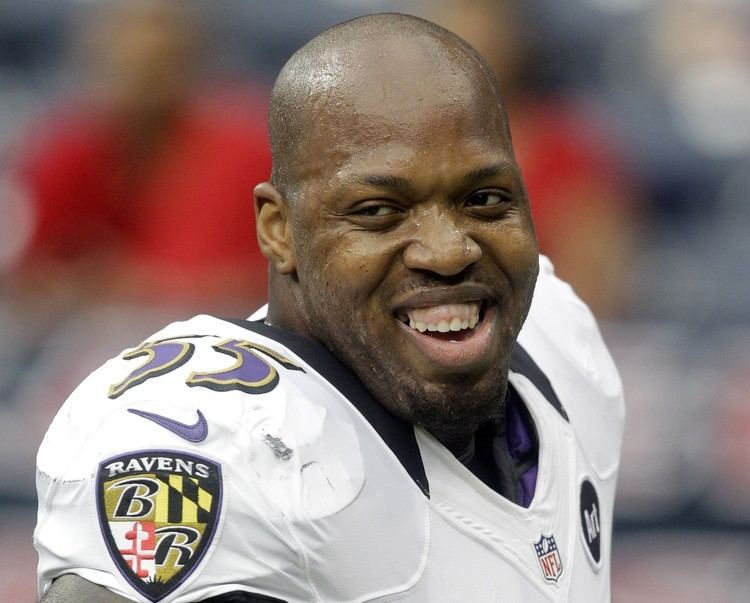 In addition, Suggs lettered three times in basketball and once in track and field.
Suggs decided to attend Arizona State University, where he played defensive end for coach Bruce Snyder and coach Dirk Koetter's Arizona State Sun Devils football teams from 2000 to 2002. He finished his career with 163 tackles, including a school, career-record 65.5 tackles for losses, and 44 quarterback sacks, 14 forced fumbles, three fumble recoveries, two interceptions, and nine passes deflected. He set an NCAA single-season record with 24 sacks in 2002. Following his 2002 junior season, he was a first-team All-Pac-10 selection and the Pac-10 Defensive Player of the Year, and was recognized as a unanimous first-team All-American.
Suggs was drafted by the Baltimore Ravens 10th overall in the 2003 NFL Draft, becoming one of the youngest defensive players ever drafted at only 20 years old until defensive tackle Amobi Okoye was drafted by the Houston Texans at the age of 19 in 2007.
Suggs enjoyed immediate success as a rookie in 2003 as he tied an NFL record by posting a sack in each of his first four games. He finished the season with 27 tackles (19 solo), 12 sacks (a Ravens franchise rookie record), 6 forced fumbles, 2 pass deflections, and 1 interception, earning him Defensive Rookie of the Year honors while only starting one game that year.
The next season in 2004, he was elected to his first Pro Bowl as he recorded 10.5 sacks and 60 tackles (45 solo).
In 2005, the Ravens' new defensive co-ordinator Rex Ryan, son of famous defensive coordinator Buddy Ryan, moved Suggs from outside linebacker to defensive end in many of the defensive schemes. Despite registering a then-career-low 8 sacks, Suggs also set new career-highs in tackles with 69 (46 solo) and interceptions with 2.
In 2006, Suggs was part of the NFL's best overall defense, the unit allowing a league-low 12.6 points per game. He recorded 64 tackles (46 solo), 9.5 sacks, and set new career-high in pass deflections with 8. After the season, he was voted to the Pro Bowl for the second time. He was a major contributor as the Ravens went 13-3. For the season, Suggs started nine games at right defensive end in the Ravens base 4-3 and seven games at outside linebacker when the Ravens started game in a base 3-4 defense. Suggs also earned attention for his flashy playing style, "Suggs evolved into one of the league's best pass-rushers whether he is blitzing as a linebacker or rushing from defensive end with one hand on the ground."
The following season in 2007, Suggs made 80 tackles (52 solo) and five sacks, as he and the Ravens plummeted to 5-11. Like the season before, Suggs was a hybrid defensive end/linebacker, playing 50 percent of the defensive snaps at defensive end in the Ravens base 4-3 defense.
On February 19, 2008, the Ravens placed the franchise tag on Suggs. He initially filed a grievance because the team had designated him as a LB with the franchise tag rather than a DE, which resulted in a monetary difference of about $800,000. Despite being unhappy with the franchise tag, Suggs reported to off-season mini-camps to practice with the team. On May 13, 2008, he reached an agreement with the team to split the difference in the franchise tag amounts of a LB and a DE and drop his grievance.
In Week 7 of the 2008 NFL season, Suggs intercepted a pass from Chad Pennington of the Miami Dolphins and returned it 44 yards for a touchdown, the first pick six of his professional career. Two weeks later, he intercepted Derek Anderson of the Cleveland Browns for a game-sealing touchdown. At season's end, he was named to his third Pro Bowl after producing 68 tackles (53 solo), 2 forced fumbles and 8 sacks to go along with the 2 interceptions, a new career-high 9 pass break-ups and 2 touchdowns. During the 2008–09 NFL playoffs, Suggs recorded sacks in all three of the Ravens' post-season games, including two in the AFC Championship game against Ben Roethlisberger, whom Suggs sacked often over the years.
On February 18, 2009, he was once again given the Ravens' franchise tag. On July 15, 2009, the Ravens signed him to a 6-year, $62.5 million contract. His bonus money ($33.1 million) made him the highest paid linebacker in NFL history.
The 2009 season was not as productive for Suggs as he recorded a career-low in sacks with 4.5. Playing above his normal playing weight, he also missed the first three games of his career due to injury after quarterback Brady Quinn dove at his legs after cornerback Chris Carr intercepted a pass. In the wild Card playoff game against the New England Patriots, Suggs sacked and forced a Tom Brady fumble before recovering the ball on the Patriots' opening drive, helping the Ravens ultimately win 33–14.
In 2010, Suggs compiled 68 tackles (53 solo), 11.5 sacks, 2 forced fumbles and 2 pass deflections. In the play-off win over the Kansas City Chiefs in the wild-card round, he made 4 tackles (all solo) and two sacks. Against the Steelers in the divisional playoff round, he recorded six tackles (5 solo), a career-high three sacks, and a forced fumble that was recovered and returned for a touchdown by fellow DE Cory Redding.
After the conclusion of the 2011 season, Suggs was named #11 on the NFL Top 100 list for 2012. During the 2012 offseason, Suggs tore his Achilles tendon allegedly while playing basketball; though Suggs and his agent have claimed that he was hurt while doing conditioning workouts. Owner Steve Bisciotti stated that it was no concern where he hurt it and the Ravens will not try to avoid paying him his contract. Some medical experts believed that Suggs' injury should have forced him to miss the 2012 NFL season, however Suggs claimed he would return by November 2012. On October 20th, 2012, Suggs was removed from the Physically Unable to Perform (PUP) list, allowing him to play October 21 against the Houston Texans. Suggs has been the first player in the NFL to recover so quickly from such serious injury. Suggs' return surprised many, as he finished the game with 4 tackles (3 solo), 1 pass defended, and 1 sack, less than 5 and a half months after having Achilles tendon surgery.
Suggs was key in the Ravens win over the Denver Broncos in the divisional round of the playoffs with two sacks on Broncos Quarterback Peyton Manning, after which, the Ravens advanced to New England in a rematch of the previous year's AFC Championship Game where they defeated the Patriots 28-13. The win gave Suggs his first ever AFC Championship and his first appearance in the Super Bowl, being Super Bowl XLVII against the San Francisco 49ers. In that game, the Ravens won 34-31, earning Suggs his first Super Bowl ring.
Within 12 weeks into the season, Suggs had registered 9.0 sacks and one fumble recovery. Overall in 2013, Suggs started all 16 games with 80 tackles, a fumble recovery, and 10 sacks. For his successful 2013 season, Suggs was elected to participate in the Pro Bowl (6th overall).
Suggs recorded his first sack of the season against Panthers quarterback Cam Newton (it was a half-sack). From weeks 6-8, he had one sack per game. In Week 7, the sack he recorded on Falcons quarterback Matt Ryan was for a safety, and he also recovered a fumble.
From Weeks 10-17 (other than Baltimore's Week 11 bye), Suggs recorded at least one sack in each game, with the one exception being the Week 16 loss to the Houston Texans (a game in which the Ravens had no sacks whatsoever). In Week 10, Suggs had 1.5 sacks on rookie quarterback Zach Mettenberger. Two weeks later, in a Monday Night Football matchup against the New Orleans Saints, Suggs accounted for a sack against Saints quarterback Drew Brees. With the hit, Suggs became the 31st player in NFL history to register over 100 sacks, and the first member of the Baltimore Ravens to achieve such a milestone.
In the Ravens' season finale, Suggs recorded a sack, a defended pass and a fumble recovery, all on Browns first-time-starting quarterback Connor Shaw. The Ravens clinched a Wild Card spot in the playoffs that day. Suggs finished the year with 12 sacks, a pass defended, a fumble recovery and a safety. He and Elvis Dumervil led the league in sacks by a pair with 29 (Dumervil led the Ravens with 17).
In the Wild Card Round of the playoffs, Suggs intercepted a pass from Ben Roethlisberger in the fourth quarter. The ball bounced off the hands of running back Ben Tate, the intended receiver on the play, and landed between a diving Suggs's legs. The Ravens won this game 30-17 and moved onto the Divisional round against the New England Patriots.
During the season opener against the Denver Broncos on September 13, 2015, Suggs suffered an achilles injury and left the game. Hours later, an MRI revealed that his achilles was torn, which prematurely ended his 2015 season.
In December 2003, Suggs was charged with Felony Aggravated Assault stemming from a March 2003 incident in Arizona. Reports accused Suggs of assaulting a man with a piece of reinforcement rod and attacking another man in the parking lot of Phoenix Municipal Stadium after a basketball tournament. Suggs' brother was accused of hitting a man with a baseball bat in the same altercation. His accuser Jeryme Cook stated that the fight began with words exchanged between Cook and Rico Suggs, the football player's cousin, but they went their separate ways. Reports stated that Terrell Suggs later showed up courtside of a game that Cook and his friends Anthony Henrie and Casey Cothern were watching. Allegedly, Terrell Suggs held a baseball bat to his shoulder, and was with Rico Suggs, brother Donald Suggs and two other men. Cook stated that after exchanging words with Suggs he and his friends walked away, but the Suggs group kept following them around the tournament grounds and eventually to the parking lot, where Cook said he figured he was going to have to fight Rico Suggs. Cook stated that at one point Terrell Suggs handed his kid brother the baseball bat and said, "If anyone jumps in you swing the bat to kill, not to hurt". A witness stated that Donald Suggs then stuck the bat close to Cook's face. Cook said he swatted the bat away with his hand, turned to calm Henrie, and then saw Terrell Suggs take a swing that broke his nose and cheekbone. In June 2005, Suggs was acquitted of the charges. Juror Richard Tudor stated, "Charges could have gone either way on it, the case wasn't investigated enough to prove either way. It's supposed to be guilt beyond a reasonable doubt, and they just couldn't prove that". Suggs had faced a 5-year prison sentence if convicted.
In 2009 Suggs's girlfriend Candace Williams filed a complaint against Suggs alleging he threw a soap dispenser at her head, struck her in the chest with his hand and held a bottle of bleach over her and their 1-year-old son. No criminal charges were filed against Suggs, and Williams' subsequent lawsuit was dismissed.
In September 2012, Suggs was accused of punching and dragging his girlfriend Candace Williams beside his car, while his two children were inside. A temporary protective order was placed against Suggs. No criminal charges were filed.
An attorney representing Suggs confirmed that Suggs surrendered his arsenal of firearms to police which included an AK-47 and six other guns. The court order stemmed from a temporary protective order filed by his girlfriend Candace Williams on November 20, 2012.
Despite Suggs's rocky relationship with Candace Williams, the two were married on December 14, 2012. The couple have two children together.
Most career sacks (116.5)
Most career forced fumbles (29)