Tilghman rose to become a trusted member of Washington's staff. The historic events of the time sparked his transformation from a privileged family member of Loyalists to a dedicated Patriot. He paid a high price, facing tragedies including a split with Loyalist members of his family, and illness and an early death from disease contracted during the American Revolutionary War.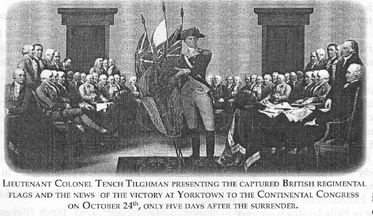 Tilghman was born on December 25, 1744, at "Fausley", a plantation owned by his father, James Tilghman, located on Fausley Creek, a branch of the Miles River, in Talbot County, Maryland, a few miles from the town of Easton. Tench's great-grandfather was Richard Tilghman, a British Navy surgeon who was born in Kent County, England. In 1661, he moved his family to Talbot County, Maryland, settling in an area along the Tred Avon River. Within a short time, Richard moved to the "Hermitage", located on the Chester River, then in Kent County, but today in Queen Anne's County. Richard's son (and Tench's grandfather), James Tilghman, was a distinguished gentleman lawyer and important Marylander in his time. Tench Tilghman's father James was the Attorney General of Pennsylvania.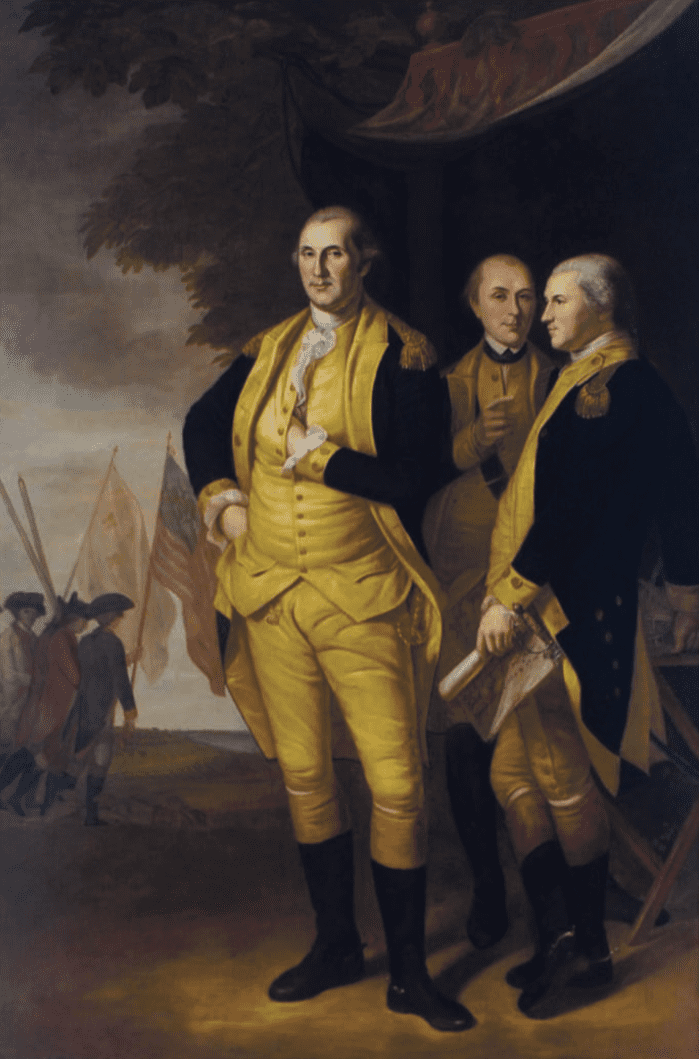 Tilghman graduated from the College of Philadelphia (now the University of Pennsylvania) with an A.B. degree in 1761. One of his first jobs was to negotiate with the Six Nations on behalf of the British and their American colonists.
At the start of the Revolution, Tilghman ran a saddle-making business, which suffered when the Non-Importation Resolution made it impossible to import British goods. Because Tench supported the resolution, Tories burnt down his shop.
Tilghman enlisted in the Maryland Militia, but was soon assigned to the Continental Army. On August 8, 1776, he received a commission as Washington's aide-de-camp. He served Washington as confidential secretary for an additional three years. During the Battle of Monmouth in 1778 and afterwards, Tilghman distinguished himself as one of a handful on Washington's staff fluent in French, which enabled him to interpret written and verbal communications between Washington, Lafayette, Von Steuben, and commanders of the Continental Army's French allies.
Tilghman's Patriot loyalties split his family. He became the first among his eleven siblings to join the Revolutionary cause. Most of the Tilghman family served the King, as did many other rich families at that time. His brothers Richard and Philemon served in the British military. Another brother, William Tilghman, wanted to follow in their father's path and study law in England, which created a professional conflict for Tench Tilghman, who refused him passage to England on June 12, 1781.
The Siege of Yorktown in October 1781 culminated in a Patriot victory and an honor for Tilghman, whom Washington picked to carry the surrender papers to the Continental Congress in Philadelphia. Poets Dr. Oliver Huchel and Howard Pyle each considered Tilghman a hero for that ride. Tilghman's own journal entry was terse:
In a letter to Tilghman the following year, Washington's humor and admiration is apparent:
As the war formally ended with peace negotiations, Washington discussed the surrender of King George III with his trusted aide:
The National Park Service writes that Tilghman was even sick during his ride from Yorktown to Philadelphia "with chills and fever" and that he left the army in 1783 with failing health. Nonetheless, he restarted his business after the war, shipping wheat, tobacco, and other American products to Spain, in exchange for which Valentin Riera [head of a Spanish company] shipped wine and manufactured products to Baltimore.
Tilghman was an original member of the Maryland Society of the Cincinnati. He died in Chestertown, Maryland, on April 18, 1786, at the age of 41.
Washington's regard for Tilghman can be inferred from their joint portrait with Lafayette, by Charles Wilson Peale After Tilghman's death, Washington twice wrote to his brother Richard Tilghman:
... none could have felt his death with more regard than I did, because no one entertained a higher opinion of his worth.
Tilghman is buried in a historic cemetery in Oxford, Maryland. The horizontal lid on his grave vault references his achievements under Washington.
A plaque on the stone lid notes that his remains were reinterred from Baltimore on November 30, 1971.
Adjacent to his grave, the Tench Tilghman Monument is a spire, approximately 10 feet tall, the tallest monument in the cemetery.
The Maryland State archives has a painting of Tilghman and two swords which he once owned, which his descendant Mrs. Judith Goldsborough Oates donated to the State of Maryland on December 26, 1997.
Baltimore City named an elementary/middle school and a recreation center for Tilghman, who is also the namesake of a Daughters of the American Revolution chapter in Bethesda, Maryland.