Tenali Ramakrishna is a 1956 Telugu, historical, biographical film, based on the life of Tenali Rama Krishna famous jester poet of 15th century, produced and directed by B. S. Ranga on Vikram Productions banner. Starring N. T. Rama Rao, Akkineni Nageswara Rao, Bhanumathi Ramakrishna, Jamuna in the lead roles and music composed by Viswanathan–Ramamoorthy. The film was adapted from the stage play based on Tenali Ramakrishna written by Ch. Venkataramaiah. The film is remade as Tamil Movie Tenali Raman (1956) where Sivaji Ganesan played the title role; both the movies are made simultaneously by same banner & director and some of the scenes & artists are same in both versions. Both versions were commercially successful. Tenali Ramakrishna was remade in Kannada as Hasyaratna Ramakrishna by Ranga; however, that version was a commercial failure. The Telugu version has garnered the All India Certificate of Merit for Best Feature Film.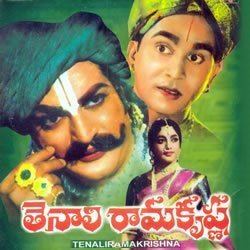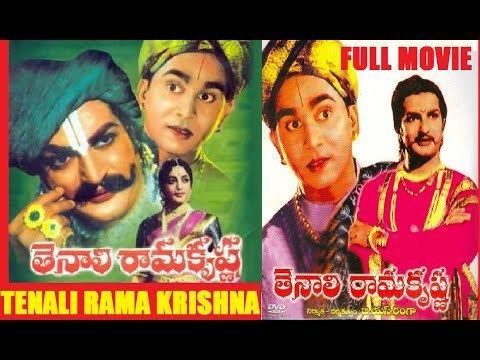 The Deccan Sultans of Berar, Ahmednagar, Bidar, Bijapur and Golconda who the splinters from the erstwhile Bahmani Sultans now unite with the common purpose to defeat of Krishnadeva Raya and the conquest of the prosperous Vijayanagaram. They send their stooge Kanakaraj to assassinate Krishnadeva Raya, but Kanakaraj fails in his mission and is put to death.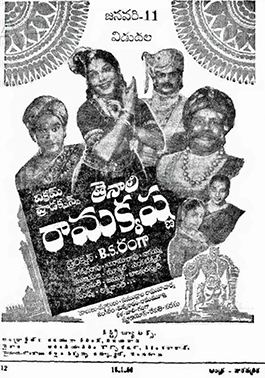 Then they planned courtesan Krishnasani. She enters Vijayanagaram, and with her acclaimed dancing skills, manages to elicit the notice of the King, a great connoisseur of arts and beauty. She then plays her cards cleverly and besotted by her intelligent repartees and smoldering sensuousness, the susceptible King is soon a puppet in her hands.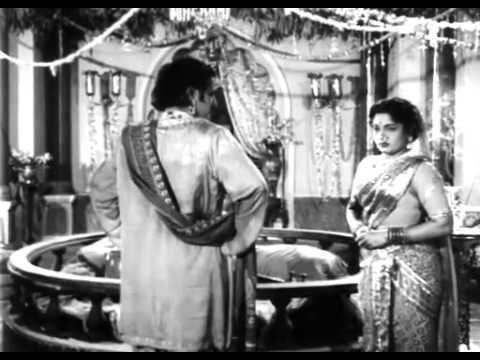 Orders are given that anyone who enters their private chamber would be beheaded and the King spends with Krishnasani's for months. Reports reach the ministers that the Sultans are planning to take advantage of the King's inaccessibility and launch a combined attack on Vijayanagaram. Worried at the state of affairs, Tenali Ramakrishna braves the prohibitory order and enters Krishnasani's abode dressed as a woman, but all his appeals to the King seem to fall on deaf ears.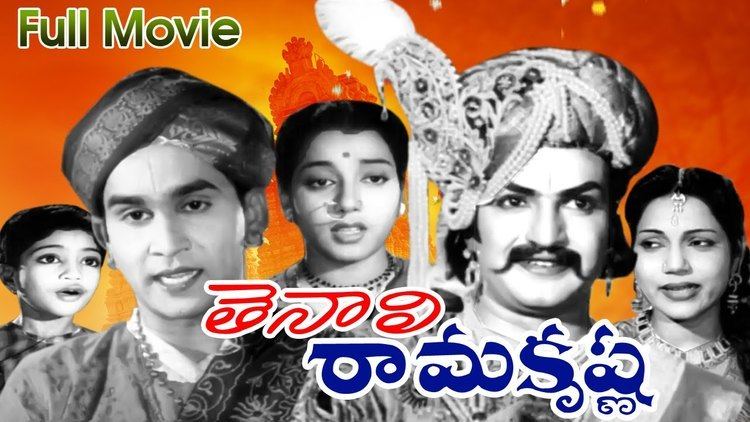 Meanwhile, Queen Tirumalamba falls seriously sick and the King finally comes out of his daze. Once the King is at his wife's bedside, Tenali Ramakrishna manages to gain entry into Krishnasani's house again, this time under the guise of an omniscient saint who assures her that he would bring the King back to her. He catches her red-handed with her gang of spies, and signals to the hidden soldiers to surround her. Realized that the game is up, Krishnasani prefers a dignified death. Shocked to see her stab herself, Timmarusu remonstrates with her that she has acted in haste, for the King would have certainly forgiven her.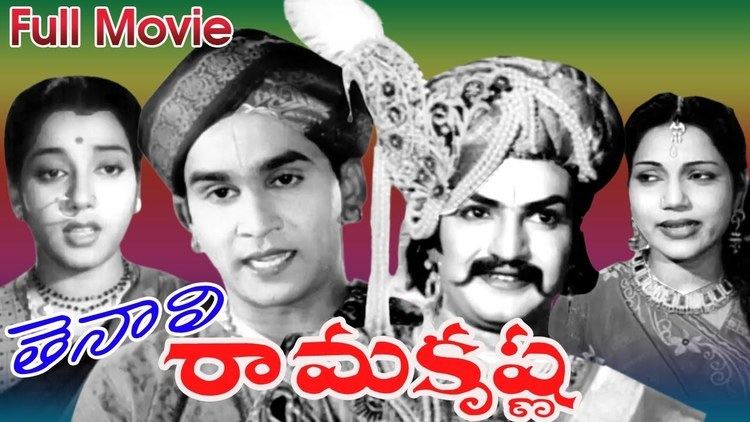 N. T. Rama Rao as Sri Krishna Deva Raya
Akkineni Nageswara Rao as Tenali Rama Krishna
Bhanumathi Ramakrishna as Krishnasani
Jamuna as Kamala
Chittor V. Nagaiah as Timmarusu
Mukkamala as Tatacharyulu
Mikkilineni as Kanakaraju
Vangara
Sandhya as Maharani Tirumala Devi
Surabhi Balasaraswathi as Radha
Master Venkateswara as Son of Ramakrishna
Art: Vaali, Ganga
Choreography: Chopra, PS Gopala Krishnan
Dialogues - Lyrics: Samudrala Sr
Playback: Ghantasala, P. Susheela, P. Leela, Madhavapeddi Satyam, Raavu Balasaraswathi, A. P. Komala
Music: Viswanathan–Ramamoorthy
Story: Ch. Venkataramaiah
Editing: P. G. Mohan
Producer - Cinematography - Director: B. S. Ranga
Banner: Vikram Productions
Release Date: 12th January 1956
Music composed by Viswanathan-Ramamoorthy. Lyrics were written by Samudrala Sr. Music released on Audio Company.
Tenali Ramakrishna was made as a bilingual film; it was shot simultaneously in Telugu and Tamil (the latter titled Tenali Raman). The film which was based on Tenali Raman was based on a stage play written by Kannada writer Ch. Venkataramaiah. B. S. Ranga who produced and directed this film was also recruited as the cinematographer and the film was edited by P. G. Mohan. The music was composed by Viswanathan and Ramamoorthy.
N. T. Rama Rao and Akkineni Nagewsara Rao portrayed the characters of Krishnadevaraya and Tenali Raman respectively. Jamuna and Bhanumathi were the lead actresses. Mukkamala, Chittoor Nagaiah and Surabhi are seen in supporting roles in the Telugu version while Sivaji Ganesan and M. N. Nambiar replaced Nageswara Rao and Mukkamala respectively in the Tamil version. Bhanumathi signed this film only for Ranga who earlier worked as a cameraman for her production company. Tenali Raman was the second Tamil film based on Tenali Rama, after a 1938 film.
National Film Awards
1956 - All India Certificate of Merit for Best Feature Film (Telugu Version)
1956 - National Film Award for Best Feature Film in Telugu
VCDs & DVDs on - VOLGA Videos, Hyderabad