9.3

/

10

Alchetron

8.6

Rate This





Composer(s)

See music section

Initial release date

26 November 2007




Director(s)

Yuichi Yonemori




Developers

Bandai Namco Entertainment, Namco

Modes

Single-player video game, Multiplayer video game

Similar

Tekken games, Bandai Namco Entertainment games, Fighting games
Tekken 6 (鉄拳6) is a fighting game developed and published by Bandai Namco Games. It is the seventh main installment in the Tekken franchise. It was released in Japanese arcades on November 26, 2007 as the first game running on the PlayStation 3-based System 357 arcade board. The game received an update, subtitled Bloodline Rebellion, a year later. A home version based on the update was released for PlayStation 3 and Xbox 360 on October 27, 2009 and for PlayStation Portable on November 24, 2009. The game was initially planned as a PlayStation 3 exclusive, until an Xbox 360 port was announced alongside it on October 8, 2008. This game can be digitally downloaded via PlayStation Store to play on PlayStation Portable and PlayStation Vita. It is the first Tekken game to include multi-tiered stages and bound system, and the first game to be released multiplatform. The game received generally positive reviews, especially the PSP version, which got an 82.60% from GameRankings and 82/100 from Metacritic.
Contents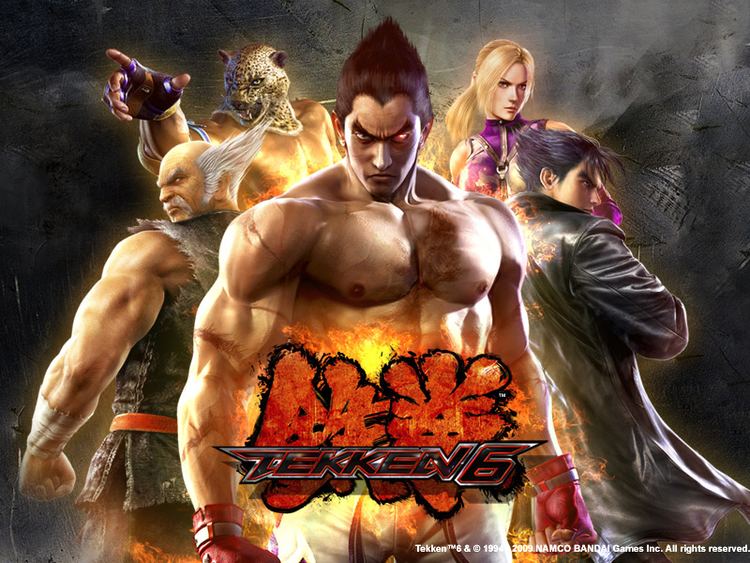 This is the first Tekken game to be released for the Xbox 360.
A non-canonical sequel, Tekken Tag Tournament 2, was released in 2011. Tekken 7, the game's canon sequel, was released in Japanese arcades on March 18, 2015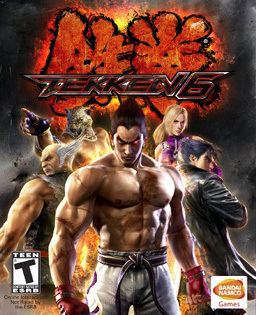 Tekken 6 psp kazuya mishima playthrough
Gameplay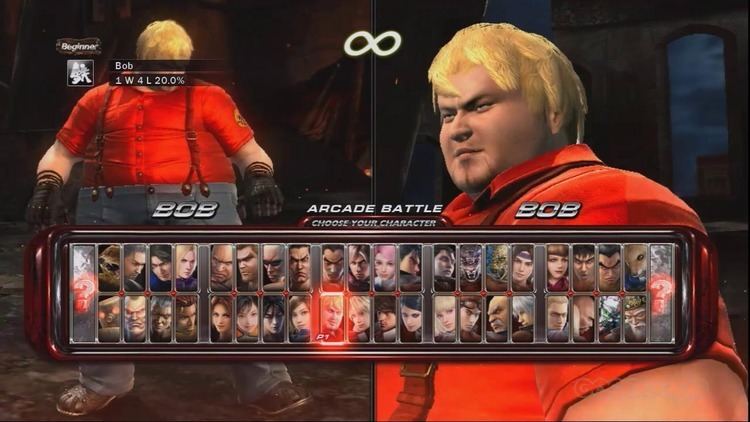 Tekken 6 features bigger stages with more interactivity than its predecessors, such as walls or floors that can be broken to reveal new fighting areas. The character customization feature has been enhanced, and certain items have implications in some aspects of gameplay.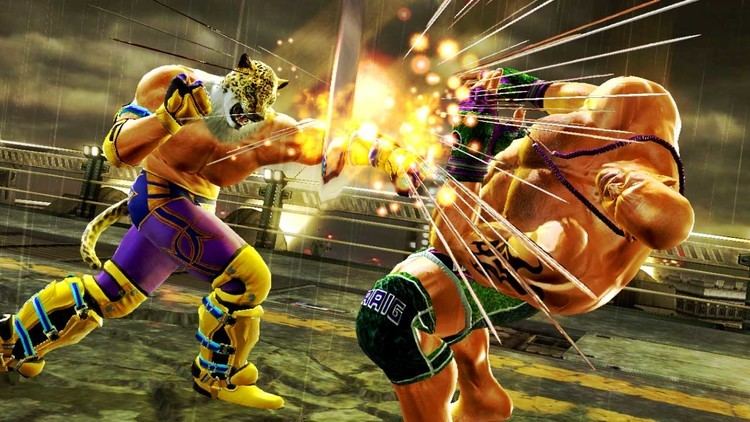 A new "rage" system has been added, giving characters more damage per hit when their vitality is below a certain point. Once activated, a reddish energy aura appears around the character, and their health bar starts to flicker in red. The rage aura can be customized with different colors and effects to appear like fire, electricity, and ice, among others. Another gameplay feature added is the "bound" system. Every character has several moves that, when used on an opponent that is currently midair in a juggle combo, will cause the opponent to be smashed hard into the ground, bouncing them off the floor in a stunned state and leaving them vulnerable to another combo or additional attack. As of the Bloodline Rebellion update, successfully parrying a low attack will also put a character into a bound state.
The console versions (excluding the PSP version) also include an extra beat 'em up mode entitled "Scenario Campaign" which bears similarities with the "Tekken Force" and "Devil Within" modes from previous installments. In this mode, the player can move freely in an environment similar to that of a third-person role-playing game. Players can also pick up weapons such as poles and Gatling guns, along with lootable items, money, and power-ups which can be found inside crates that are scattered all throughout the playing environment. Players can move freely between fights, but when a group of enemies are encountered, the gameplay switches to the traditional, two-dimensional Tekken style. This mode originally only included offline single player. Namco released a patch on January 18, 2010 that allows online Co-op for Scenario Campaign.
Both the PlayStation 3 and Xbox 360 versions of the game include an online versus multiplayer mode over PlayStation Network and Xbox Live respectively. It includes Ranked Matches mode, where the player can promote their character to a higher ranking, and Player Matches mode, where the player's fights aren't ranked and they can invite friends to have matches with them.
The game uses a proprietary graphics engine running at 60 frames per second as well as a dynamic physics engine named Octave Engine which allows water to behave accordingly to how characters move. The graphics engine has been designed with focus on character-animation to make movements look more smooth and realistic which led to many animations being remade to either reflect the impact and damage caused or to create new possibilities in gameplay. The developers considered animation specifically important for a fighting game and wanted to make the game "look good in motion" whereas previous installments had been designed to "look good on still-shots". Since Bloodline Rebellion, the game supports dynamic full-body motion blur, making Tekken 6 the first fighting game to do so.
Plot
Following Jin Kazama's victory against his great-grandfather, Jinpachi Mishima in the previous tournament, he has risen as the new head of Mishima Zaibatsu. Mirroring his father's previous leadership, Jin uses the company's resources to become a global superpower, sever the national ties, and openly declare war against all nations over the following year. This action plunges the world into an extremely chaotic spiral, with a huge-scale civil war erupting around the globe and even amidst the space colonies orbiting the planet. Meanwhile, his father, Kazuya Mishima has risen as the leader of Mishima Zaibatsu's rival company, G Corporation, following his assassinations of the company's high officials for his attempted murder beforehand. Kazuya views Jin's actions to be a nuisance in his own plans and becomes the only one who can directly oppose Jin's control. He places a bounty on Jin's head for anyone who can capture him. Jin then announces the sixth King of Iron Fist Tournament, sparking many people into entering the tournament to defeat him.
As the war continues to erupt, the field leader of Mishima Zaibatsu's Tekken Force, Lars Alexandersson has rebelled from the army alongside several of his soldiers. However, Lars is rendered amnesiac during one such attack and must spend some time to recover his memories. Accompanied by an android named Alisa Bosconovitch, Lars ventures throughout the world, avoiding the Mishima Zaibatsu's manhunt on him while also trying to recover his memories. It is eventually revealed that Lars is actually the illegitimate son of Heihachi Mishima, who has gone into hiding ever since his supposed demise since the last tournament and has been trying to take the Mishima Zaibatsu from Jin's hands.
After coming into contact with several allies, including his adoptive brother, Lee Chaolan, Lars confronts the G Corporation and Mishima Zaibatsu's headquarters, where Jin in the latter's visit reveals that he had sent Alisa to spy on Lars' actions all along. Disabling Alisa's safe mode, Lars is forced to confront his former teammate, who leaves with Jin to Egypt. Helped by one of his allies, Raven, Lars goes to Egypt, meeting an astrologist, Zafina, who provides them with information about the clash of two evil stars that will awake an ancient evil who will destroy the world. This evil, Azazel, is responsible for giving birth to the Devil Gene and is currently bounded in an ancient temple. After another rematch with his half-brother, Kazuya, Lars confronts Azazel himself and later Jin, who admits that the reason for him launching the war is to awaken Azazel and kill him, which would free the world from a greater threat than the war itself, as well as free himself from the Devil Gene, as he can only have a physical form through negative energies of the world. Revealing that Azazel can only be destroyed by someone with the Devil Gene, Jin confronts and punches the revived Azazel, sending them both plummeting to the desert. Lars is reunited with a now-safe Alisa, who has been fixed by Lee since her previous destruction and goes on another mission, while Raven unearths Jin's body in the desert, noting that he still has the Devil mark on his arm.
Characters
Tekken developer and Executive Producer of Tekken 6 Katsuhiro Harada said, "The number of playable characters will be bigger than Tekken 5 and be the largest roster in the series. I've been on the Tekken series for over 10 years, and one thing we have particularly focused on after Tekken 3 is making sure each character is unique and doesn't overlap with other characters. They all are unique not only in their appearance but their personality and techniques as well."
Harada stated that console editions of Tekken 6 will boast the greatest number of characters ever seen in a Tekken game, including virtually all of the characters from Tekken 5: Dark Resurrection and all of the new characters from both arcade versions of Tekken 6. Players are able to customize characters and take any non-customized or customized character online. While removing Jack-5 and Jinpachi Mishima.
Nine new characters are introduced in this game. The first character, Zafina, is a female of presumably Egyptian descent who enters the tournament to prevent the clash of the "two evil stars". The second character, Leo Kliesen, is a German fighter who is intended to be a character which can be played by beginners and experienced players alike. The death of Leo's mother, presumably at the hands of Kazuya Mishima prompts Leo to begin investigating the Mishima Zaibatsu. The third character, Miguel Caballero Rojo, is a Spanish matador with a passion for fighting, but no real discipline. Miguel wants to exact revenge upon Jin and the Mishima Zaibatsu for causing the death of his sister at her wedding. The fourth character, Robert "Bob" Richards, is an American who was known as a martial arts genius. Due to being unable to defeat larger opponents however, he disappeared from the fighting world, determined to increase his weight and power while still maintaining speed. Bob enters The King of Iron Fist Tournament 6 to test his new skills and size. The fifth character, Jack-6 is a new model of the jack robot's and an Upgrade of Jack-5. Jack-6 was built for the C-Corporation.
The sixth character, NANCY-MI847J, is the bonus boss of the game. NANCY is a giant robotic creation of Mishima Zaibatsu that is similar to the Jack robots. The seventh character, Azazel, is the final boss of the game. Azazel's story is said to be related to Zafina and Julia Chang's story in Tekken 6 and the confrontation between Jin Kazama and Kazuya Mishima (presumably the 'two evil stars' from Zafina's story).
In Bloodline Rebellion and the console version, the eighth character is Alisa Bosconovitch, a cyborg with jet wings and spinning limbs who may be the cybernetically-enhanced daughter of Dr. Boskonovitch, and can also use her own arms and head as weapons. The ninth character is Lars Alexandersson, an unknown descendant of Heihachi Mishima, presumably an illegitimate son.
Development and promotion
Prior to be announced multiplatform, Tekken 6 was considered to be one of the most anticipated PlayStation 3 exclusive games yet to be released.
On October 23, 2009, Namco Bandai released a Tekken 6 themed game space in the North American version of the PlayStation 3's online community-based service, PlayStation Home. The space is called "Mishima Zaibatsu - Recreation Floor" and features the "Dumbbell Rack" and the "Do you need something to drink?" area. If users accessed them, they were given rewards. It also featured an arcade cabinet that let users launch Tekken 6, a store, and a door that leads to part of Namco Bandai's Game Developer Space, the Namco Theatre. The space was released in the Asian, European, and Japanese versions on October 29, 2009. In addition to the Game Space, there were costumes of a few of the characters from Tekken 6 available for purchase in Home's shopping complex and the store in the Tekken 6 space. The game also fully supported game launching which is a feature of Home that lets users set up multi-player games in Home and launch directly into the game from Home. Certain trophies in the game unlocked Home rewards.
Music
Tekken 6 features a large cast of composers, including Rio Hamamoto, Ryuichi Takada, Keiichi Okabe, Kazuhiro Nakamura, Shinji Hosoe, Yoshihito Yano, Ayako Saso, Go Shiina, Satoru Kosaki, Akitaka Tohyama, Hitoshi Sakimoto, Masaharu Iwata, Yoshimi Kudo, Noriyuki Kamikura, Azusa Chiba, Kimihiro Abe, Mitsuhiro Kaneda, Keigo Hoashi, Keiki Kobayashi, and Kakeru Ishihama.
Bloodline Rebellion
Tekken 6: Bloodline Rebellion is an update to Tekken 6. It features new characters, stages, items and customization options. It also gives the game a balance update from characters and items. It was released to Japanese arcades on December 18, 2008 and the console version of Tekken 6 is based on this arcade version.
This new version features two new characters: Alisa Bosconovitch, an android with jet wings and spinning limbs who was built in the image of Dr. Bosconovitch's deceased daughter, and Lars Alexandersson, an unknown descendant of Heihachi Mishima and leader of a rebellious Tekken Force faction fighting Jin's tyranny. A number of new items and customization options are featured in this expansion. The game also features all-new CG character art, just as there was a change in art from Tekken 5 to Tekken 5: Dark Resurrection. Upgrade kits are also available for owners of current Tekken 6 machines.
Reception
Critical response to Tekken 6 among reviewers has been generally favorable. IGN stated that "While Tekken is not for everybody, Tekken 6 should appeal to a fairly wide variety of fighting game fans.", rating it at 8.8. IGN Australia awarded the game a score of 9.0/10, and GameSpot awarded it an 8.5/10. Play UK gave Tekken 6 a 94 stating it as "an intense, tactical and utterly brilliant fighting game, perfect for anyone with even a fleeting interest in the genre".
Tekken 6 has nonetheless garnered some criticism for the excessive load times of the PlayStation 3 version when run without install. and its previously laggy online multiplayer component. The lag in multiplayer, however, has been improved via patch by Namco Bandai Games. The game's Scenario Campaign mode was subject to criticism as well; IGN regarded the Scenario Campaign as a disappointment, citing bland environments and repetitive enemies.
The PSP version received positive reviews. IGN gave the PSP port an 8.5, stating that the portable version had improved greatly upon loading times when compared to its console versions. They ended their review stating that "if you already own Tekken 6 for consoles, the PSP version is just more of the same. Then again, it is an excellent port and will give you plenty of time to practice while on the road, so it just might be worth that extra investment."
During its first week, the PlayStation 3 version of Tekken 6 sold 103,000 units in Japan. According to Media Create, this made this the fastest selling fighter until August 2012 when the record was broken by the PS3 port of Persona 4 Arena with 180,000 units. As of May 2011, Tekken 6 has sold more than 3.5 million copies worldwide.
In 2009, Tekken 6 was nominated for a Spike Fighting Game of the Year award but lost to Street Fighter IV.
Sequel
A sequel, titled Tekken 7, was announced on July 13, 2014. More information on the sequel was made available to the public during Bandai Namco's panel at the 2014 San Diego Comic-Con International event. The game had a limited arcade release in Japan on February 18, 2015, followed by a full release on March 18, 2015.
References
Tekken 6 Wikipedia
(Text) CC BY-SA