5.2

/

10

Alchetron

8.4

Rate This





Producer(s)

Hajime Nakatani





Initial release date

July 2001




Director(s)

Katsuhiro HaradaMasahiro KimotoYuichi Yonemori

Programmer(s)

Yoshihito SaitoJunichi SakaiKenji Ozaki

Artist(s)

Yoshinari MizushimaTakuji KawanoTakuji Kawano

Composer(s)

Akitaka TohyamaYuu MiyakeHiroshi Okubo

Publishers

Namco

, Sony Computer Entertainment Europe, ak tronic Software & Services GmbH

Similar

Tekken games, Namco games, Fighting games
Tekken 4 king playthrough ps2
Tekken 4 (鉄拳4) is a fighting video game developed and published by Namco as the fifth main installment in the Tekken series. It was released as an arcade game in 2001 and on the PlayStation 2 in 2002. Tekken 4 game received generally highly positive reviews. Its sequel, Tekken 5, was released in arcades in 2004 and the PlayStation 2 in 2005.
Contents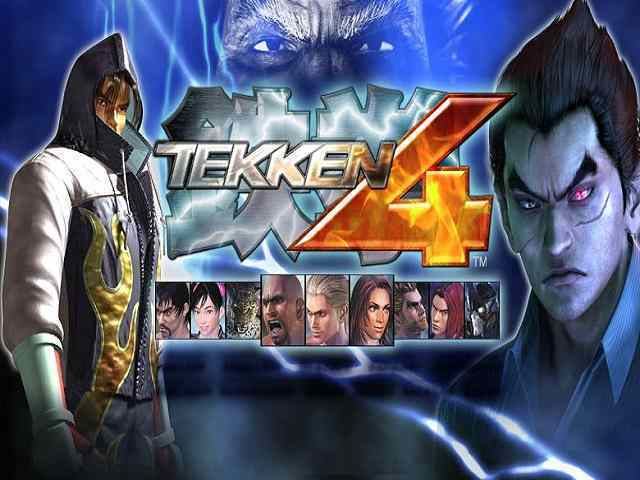 Placing distinction on the plot in the home version, the game also harbored many gameplay revisions, such as the series-unique ability for the player to move about before the round begins and the introduction of walled stages. There are up to twenty-three characters to choose from, including six new. The game's story reveals that Kazuya survived the fall into the volcano from 20 years prior, and enters the King of Iron First Tournament 4 to take back the Mishima Zaibatsu.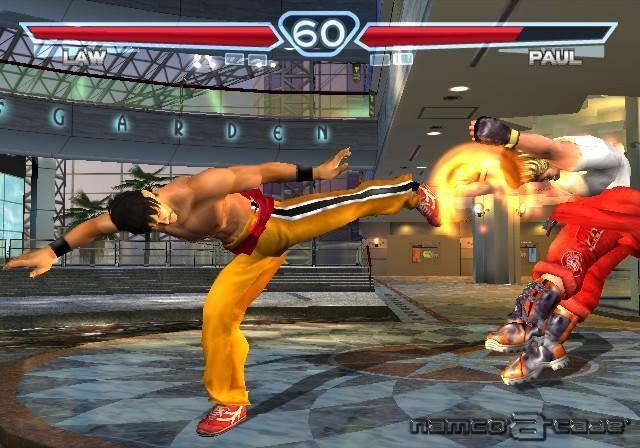 Tekken 4 gameplay ps2 hd 720p
Gameplay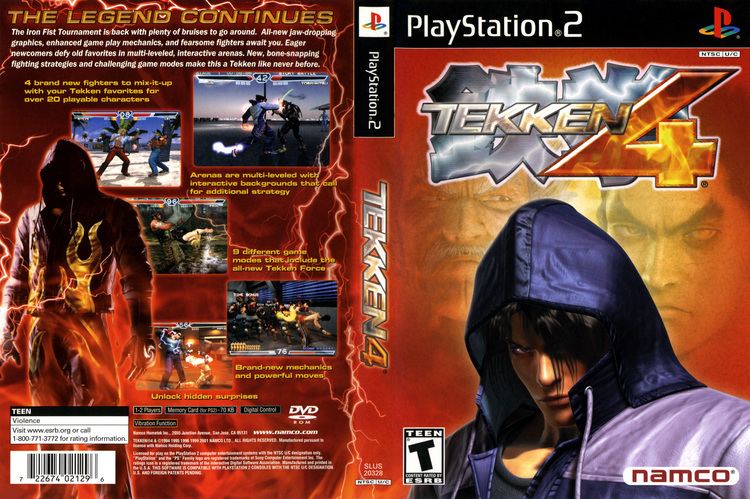 Tekken 4 introduced significant new gameplay changes from the previous games in the series. For the first time, it allowed players to maneuver around an arena interacting with walls and other obstacles for extra damage. These "environmental hazards" in turn allowed players to juggle opponents for consecutive combos and allowed the designers to implement a "switch maneuver", which let players escape from cornering and throw the tide in their favor. The game engine had been tweaked to be more focused on the environment, causing the characters to move more slowly and fluidly than in Tekken Tag Tournament. Finally, the game introduced a brand new graphics system, that featured increased lighting, dynamic physics, and smoother surfaces.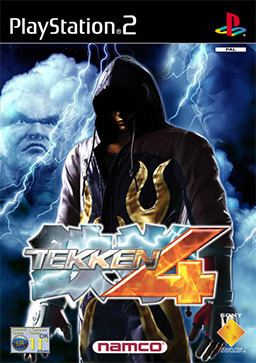 The console version of Tekken 4 includes a beat 'em up minigame available from the outset, called Tekken Force. Similar to the previous minigame found in Tekken 3, it presents the player with an over-the-shoulder perspective as they fight wave upon wave of Heihachi's Tekken Force through four stages, eventually facing Heihachi himself. The player can pick up health and power-ups while they fight waves of enemies. In the minigame it is discovered that the Tekken Force possesses different ranks in the organization, evident in different amounts of stamina, strength, and skill. A new Story mode in the home version unlocks cutscenes when played, in contrast to previous installments in which such cutscenes were unlocked from playing the Arcade mode.
Characters
The game features a total of 23 characters. Returning from Tekken 3 are Bryan Fury (unlockable), Eddy Gordo (unlockable), Heihachi Mishima (unlockable, final boss), Hwoarang, Jin Kazama (unlockable), Julia Chang (unlockable), King II, Kuma II (unlockable), Lei Wulong (unlockable), Ling Xiaoyu, Nina Williams (unlockable), Panda (unlockable), Paul Phoenix, and Yoshimitsu. In addition, there are three characters from Tekken 2 who make their return to the canon series (two of them have previously appeared in the non-canon Tekken Tag Tournament): Kazuya Mishima, Lee Chaolan (unlockable), and Marshall Law.
The game also introduces six new characters to the roster: Christie Monteiro, a Capoeira student in search for her friend and teacher, Eddy Gordo, Combot (unlockable), a general purpose robot created by the Violet Systems who is able to mimic other characters' fighting styles, Craig Marduk, an undefeated Vale Tudo fighter who had killed Armor King and is joining the tournament under the lure of Armor King's student King II, Miharu Hirano (unlockable), the best friend of Ling Xiaoyu who also serves as her palette swap, Steve Fox, a young boxing champion who seeks to find out about his past, and Violet (unlockable), the alter-ego and palette swap of Lee Chaolan.
Four characters have their own boss characters: Kazuya and Hwoarang face Jin, Lee faces Combot, and Heihachi faces Kazuya. In addition, Tekken 4 featured unusual costumes for the returning characters, and replaced the character Mokujin with Combot.
Plot
Two years after the King of Iron Fist Tournament 3, Heihachi Mishima and his scientists have captured samples of Ogre's blood and tissue to splice with Heihachi's genome, in order to make him immortal. The experiment fails, since Heihachi lacks the necessary Devil gene. Heihachi searches for his grandson, Jin Kazama, who does possess the Devil gene but he has been missing since the previous tournament. Meanwhile, Heihachi learns that the body of his son, Kazuya, who also had the Devil gene and whom Heihachi killed by throwing into a volcano twenty years ago, is stored in the labs of the G Corporation. Heihachi sends his Tekken Forces to raid G Corporation and retrieve Kazuya's remains, but the mission fails when the Tekken Force is wiped out by none other than Kazuya himself, who has been revived by G Corporation. Meanwhile, Jin is unable to be located. Unknown to Heihachi, Jin has been in a self-imposed training exile in Brisbane, to unlearn the Mishima karate style and master traditional karate, loathing anything to do with his bloodline since Heihachi's betrayal.
In an attempt to lure Kazuya and Jin out, Heihachi announces the King of Iron Fist Tournament 4, with the ownership of the Mishima Zaibatsu being the top prize, believing both his son and grandson will come to him for their own vengeful reasons. They do so and at Stage 7, where Jin and Kazuya are scheduled to fight, Jin is ambushed and captured by the Tekken Force. Kazuya is declared the default winner of Stage 7 and meets Heihachi at the final stage. Father and son clash in battle, and Heihachi wins. After the fight, Heihachi leads Kazuya to Hon-Maru, a Mishima Dojo in the woods where an unconscious Jin has been chained. When two enter the building, Kazuya's body is suddenly taken over by Devil, who knocks out Heihachi and then subconsciously taunts Jin, which causes him to wake up with his Devil powers activated. Jin wakes up and breaks up the chain in rage. Jin fights Kazuya and wins. Heihachi regains consciousness and goes to fight against the exhausted Jin, but is also defeated. As he is about to finish Heihachi, a vision of his mother, Jun Kazama, causes him to spare Heihachi in her honor. Stretching his Devil wings, Jin takes flight, leaving the unconscious Kazuya and Heihachi in Hon-Maru.
Reception
Tekken 4 has received an averaged score of 81.35% at GameRankings and 79/100 at Metacritic. Edge gave it a mediocre review, highlighting the game's experimental and pretty nature, and that overall it is a more solid and thoughtful proposition than its predecessor, but concluded that the game feels "over-familiar and curiously uninspired." On the other hand, GameSpot's Greg Kasavin referred to it to "one of the better fighting games in years" and "an extremely solid, long-lasting, accessible, and fun-to-play fighting game that comes from one of the world's best developers of the genre." GameSpot later nominated Tekken 4 for "Best Fighting Game of 2002". IGN's Jeremy Dunham noted the walls and confined spaces as "probably Namco's wisest decision," and called the game "a solid fighter in every sense of the word."
References
Tekken 4 Wikipedia
(Text) CC BY-SA