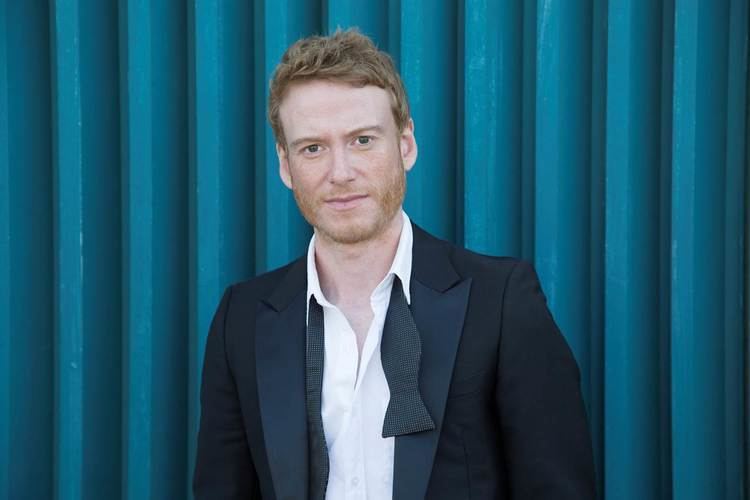 Teddy Thompson was born in 1976 in a London Sufi commune to folk-rock musicians Richard and Linda Thompson, both major musical figures in the English folk rock scene from the 1960s on. He is the brother of singer Kamila Thompson. He formed his own band at the age of 18. He moved to Los Angeles to pursue his music career, which included work as a singer and guitar player in his father Richard's band during the 1990s. He appears on at least three Richard Thompson Band recordings from that time: You? Me? Us?, the live album Celtschmerz (1998) and Mock Tudor (1999), as well as singing a duet on the track "Persuasion", which appeared on Richard's best-of compilation Action Packed (1999). He can be seen performing in his father's band on a number of internet videos from as early as 1993, including an appearance on the BBC's Jools Holland show. He coaxed his mother out of retirement and co-produced her first album in 17 years, Fashionably Late.
He resides in New York City.
In 2000 Thompson released his debut album, Teddy Thompson, which received much critical acclaim but little commercial success. Between the time of his debut album and follow-up, he released the moderately successful EP Blunderbuss and toured as part of Rosanne Cash's band. His song "Love Her for That" was featured in the 2002 film 40 Days and 40 Nights.
In 2005, Thompson released his second full-length album, Separate Ways. It has a strong "second-generation" artist theme, featuring both Rufus and Martha Wainwright, who are close friends of Thompson. He has toured and recorded with both the Wainwrights, including Rufus' 2003 album Want One. Teddy and Rufus recorded a version of "King of the Road" for the 2005 film, Brokeback Mountain, with Thompson also contributing a solo track: "I Don't Want to Say Goodbye". Separate Ways features Dave Mattacks, Tony Trischka and Garth Hudson of The Band and was produced by Brad Albetta, who also produced Martha Wainwright's much-lauded debut album. In 2014 the track "In My Arms" was featured in the 2013 British romantic comedy movie The Love Punch.
Teddy's third album, Upfront & Down Low, was released on Verve Forecast in the United States on 17 July 2007, and in the UK and Europe later in 2007. The album contains covers of many of Teddy's favourite country songs, plus one of his own compositions, entitled "Down Low". It offers covers of country classics such as George Jones' "She Thinks I Still Care," Ernest Tubb's "Walking the Floor Over You", and Liz Anderson's "(My Friends Are Gonna Be) Strangers", made famous by Merle Haggard. Lesser-known songs include Felice and Boudleaux Bryant's "Change of Heart" (originally recorded by The Everly Brothers), Dolly Parton's bittersweet "My Blue Tears," Bob Luman's "Let's Think About Living", and the Elvis Presley "I'm Left, You're Right, She's Gone." Six tracks feature string arrangements by English arranger Robert Kirby, renowned for his work with Nick Drake. "My Blue Tears" features strings arranged by Thompson cohort Rufus Wainwright. The only single taken off Upfront & Down Low was "Change of Heart".
Thompson's fourth studio album, A Piece of What You Need, was released via Verve/Forecast on 17 June 2008 and contains all original songs. It was produced by Marius de Vries, whom Teddy met while recording background vocals on Rufus Wainwright's Want records in 2002. He had been playing the opening track, "The Things I Do", for several years on tour and originally intended to put it on Separate Ways, but could not get the feel right in time for that album's release. The song "Turning the Gun on Myself" first appeared on the 2004 EP Blunderbuss.
The first single from A Piece of What You Need is "In My Arms". The music video for the song features a cameo appearance by Rufus Wainwright dressed as Elvis Presley. The song entered the UK Singles Chart at No. 107. The album received rave reviews in the UK, and much critical acclaim elsewhere, with many stating that this album is Thompson's best work to date. A Piece of What You Need debuted at No. 10 after its first week in the UK Charts during August 2008.
Thompson's fifth studio album Bella was released on 7 February 2011 in Europe and 8 February 2011 in the United States. Bella is Thompson's fourth album released on the record label Verve Forecast. The album is produced by David Kahne, whose previous collaborations include Paul McCartney, Regina Spektor and The Strokes. Bella contains all original songs which Thompson started working on after returning from his last tour. Thompson crafted the songs for the album going to a Manhattan office every day homing in as a record deadline drew closer. The album single is called "'Looking for a Girl" and was released on 13 January 2011 on Verve Forecast.
Bella has received positive reviews in the UK and the US with critics praising Thompson for crafting another solid album as a follow-up to 2008's A Piece of What You Need. Critics also note that this is Thompson's most personal record to date which yet again shows off his talent as a vocalist and craftsman of both deeply personal and hummable pop tunes.
Thompson, in collaboration with acclaimed American singer-songwriter Kelly Jones, released his sixth studio album Little Windows via Cooking Vinyl on 1 April 2016. The album was recorded live to a 16-track tape machine by producer Mike Viola, featuring Pete Thomas (drums), Davey Farragher (bass), Steve Elliot (guitar), Daniel Clarke (keys) and Teddy Thompson (guitar). Linda Thompson is the executive producer. Upon release, the album reached number 1 on the UK country chart.
Teddy co-wrote the bulk of his mother Linda Thompson's comeback album, Fashionably Late (2002). He also contributed guitar and vocals on the album. The song All I See, written by Teddy and featuring Linda on vocals, first appeared on Teddy's 2000 self-titled debut.
Thompson contributes covers of Leonard Cohen's "Tonight Will Be Fine" and "The Future" to a CD soundtrack released by Verve Records in 2006, featuring select covers from 2005 tribute concerts to the singer-songwriter.
Teddy was featured in one of the episodes of Live from Abbey Road, along with Brian Wilson and Martha Wainwright, during September 2008. Teddy contributed two songs: "In My Arms" and "Don't Know What I Was Thinking", from A Piece of What You Need. Thompson and Martha Wainwright also performed the Beatles song "We Can Work It Out" together at the end of the airing episode. The episode aired on The Sundance Channel on 4 September in the US and on 13 September in the UK.
Thompson again co-wrote much of his mother's 2007 album, Versatile Heart.
Thompson is featured in a DVD with Keane, entitled Curate a Night For a War Child (released in September 2008), contributing two songs from Upfront & Down Low.
Thompson sings "Pink Moon" and "River Man" on the live album "Way To Blue - The Songs of Nick Drake", released in 2013.
Teddy was featured in a documentary about Jason Crigler; a well-known guitarist and musician who is also a close friend of Thompson. The documentary is called Life. Support.Music and is about the amazing recovery Crigler made after suffering from a serious brain haemorrhage in 2004. The documentary also feature Jason's family and friends with appearances by Teddy and Norah Jones amongst others. Life. Support.Music aired on PBS 7 July 2009.
Teddy produced the album Family (2014) by Thompson (the band being named for all the Thompsons that appear), writing two tracks for the project and performing on some of the songs. The album features father Richard, mother Linda, The Rails, who are sister Kami and her husband James Walbourne, as well as Walbourne's brother and Richard Thompson's son from his second marriage.
In 2017, he produced Not Dark Yet, an album by americana singer-songwriters and sisters Allison Moorer and Shelby Lynne. As well as production, he also played bass, drums, acoustic guitar and provided backing vocals on the record.
Thompson toured as part of Rosanne Cash's band in the early 2000s.
In January and February 2009, he toured the UK with The Grey Race as his opening act and backup band.
Teddy appeared as the opening act for Elton John, supporting him on a line of dates in June 2009, followed by some appearances at the Festival scene in the UK later in the summer.
He appears regularly at the Rockwood Music Hall in New York City with his rockabilly band Poundcake, a trio he completes with Ethan Eubanks and Jeff Hill.
In January 2011 he appeared, with David Ford and Ashley Cleveland, at the Celtic Connections festival in Glasgow.
Throughout January and February 2011 Thompson toured the UK supporting his latest release Bella and with him on the road were his regular backing band with Ethan Eubanks on drums, Jeff Hill on bass, Daniel Mintseris on keyboards and featuring Jessie Nelson on fiddle and David Ford on keyboards and guitars on some of the songs.
Thompson and his band returns to the United States in April 2011 supporting rock band Old 97's on their American tour.
Thompson participated in a series of Leonard Cohen tribute concerts, called "Came So Far for Beauty", produced and arranged by Hal Willner, performing along with Nick Cave, The McGarrigles, Martha Wainwright, Rufus Wainwright, Jarvis Cocker, Beth Orton, Laurie Anderson, Linda Thompson, Antony Hegarty, and Cohen's original backing singers Perla Batalla and Julie Christensen. The concerts were performed in New York, Brighton, Dublin and Sydney. The Sydney concert was filmed and became Leonard Cohen: I'm Your Man, a film tribute to the legendary songwriter. A CD soundtrack featuring select covers from the tribute concerts was released by Verve Records in 2006; Thompson contributes covers of "Tonight Will Be Fine" and "The Future".
In December 2005, Thompson appeared on BBC Radio 2, along with numerous other artists, for a John Lennon tribute. Thompson performed "I'm Only Sleeping" and "You've Got to Hide Your Love Away".
On 3 May 2009 Teddy appeared along with a line-up of other artists including Emmylou Harris, Bruce Springsteen, Rufus and Martha Wainwright at Madison Square Garden to celebrate the 90th birthday of folk music icon and folk-singer Pete Seeger.
In December 2006, Thompson appeared with his mother Linda and younger sister Kamila as part of the Rufus and Martha Wainwright's "Christmas Spectacular" at Carnegie Hall in New York.
10 December 2008, Thompson was again part of the McGarrigle Christmas Hour, at Carnegie Hall. On 17 December 2008, Thompson performed as part of the Thompson Family Christmas Show, with proceeds going to Amnesty International (proceeds from a similar show in 2007 went to the Save Darfur Coalition). The musicians on the roster include Linda Thompson, Badly Drawn Boy, and Thompson's sister Kamilla.
He sang the song Shipbuilding on the show The People Speak on the History Channel.
Coming from a family of folk musicians, Thompson has naturally drawn influences from folk-music into his own musical sound. While still a teenager he was listening exclusively to American music such as Chuck Berry, The Everly Brothers and Buddy Holly. Thompson also later stated that these artists are some of his main musical influences when he first started to write songs. Later when he grew up he began to listen more to contemporary pop music such as Crowded House, and his own musical style today is a mix of folk, country, rock and pop music. As he says himself:
". . country music was the music I was brought up on. It's the music that's closest to my heart and the music that speaks to me the most, and it's always been a big influence on my own songwriting. I was obsessed with country music when I was a kid, and it's definitely had a huge influence on the way I write songs. I was always attracted to songs that had a brilliant pun or a clever turn of phrase, but came from a dark, bitter place. As a writer, I've always gravitated towards that feeling.
In a video interview he says:
"I think my favorite pop song ever is this Elvis song called '(Marie's the Name) His Latest Flame' . . I don't know if it's the best song, but it's just the most perfect pop record I've ever heard. It's the most perfect arrangement, brilliant playing ... sounds phenomenal. As a little piece of pop history ... to create something that perfect, that simple, would be great."
In addition to his tenor singing voice, Thompson plays both the acoustic and electric guitar, and occasionally the ukulele. He has a strong, versatile and expressive voice which he uses both in the higher and lower vocal range with ease, but he apparently prefers using his voice in the middle register while singing. He stated in an interview that his voice was "his only weapon so to speak" in the early years as a vocalist and musician playing in his father's backing band. It has been said that Thompson has inherited much of his singing voice from his mother. He has also been compared vocally to Chris Isaak and Justin Hayward.
On Thompson's 2011 release Bella many critics comment on the striking vocal resemblance to singer Roy Orbison on many of the songs, especially on "Take Me Back Again" and "Take Care of Yourself" which on the latter Thompson soars into a perfect falsetto at the end of the song evoking the late 1960s singer.
Thompson's songs are often characterised by their personal and observational style and common use of black humour, such as "Turning the Gun on Myself" and "The Things I Do". He is also known for his ability of writing both personal and wry lyrics with a very melodic style, with such songs like "What's This?!!" and "In My Arms". As a lyricist, he has often been compared to his father, but has developed his own unique writing style. He is also said to have a knack of catching the exact state of mind into his songs, like in "Everybody Move It" and "Slippery Slope".
Teddy has said that "Everybody Move It" was inspired and partly based on personal experience with going out to clubs as a teenager, often ending up in a corner watching everybody else having all the fun.
Recurring themes in Thompson's music are love, loss, the look at fame ("You Made It", "Shine So Bright"), popular culture ("A Piece of What You Need"), and regarding much of his earlier work, self-loathing.
While on his first two albums written songs only in a first-person perspective, Teddy has also explored writing songs in the third person, most notably in "Jonathan's Book".
Rufus Wainwright states on the DVD which accompanied the "Release the Stars" album that the song "Nobody's Off the Hook" is about his friendship with Thompson.
LA (EP) (2001)
Blunderbuss (EP) (2004)
"Everybody Move It" (2005)
"In My Arms" (2008) – (UK #107)
"Christmas" (2008) – featuring special guests Linda, Richard, and Kamila Thompson
"Looking for a Girl" (2011)
1996 – Richard Thompson's You? Me? Us? – "Bank Vault in Heaven" – vocals
1998 – Richard Thompson's Celtschmerz – "A Heart Needs a Home", "Persuasion" – vocals
1999 – Richard Thompson's Mock Tudor – guitar, backing vocals, harmony vocals
2001 – Richard Thompson Action Packed – "Persuasion" – live duet
2002 – Rufus Wainwright's Poses – "One Man Guy"- guitar, harmony vocals
2002 – Richard Thompson's Semi-Detached Mock Tudor – dulcimer, guitar, vocals
2002 – Linda Thompson's Fashionably Late – co-writer and guest vocals
2003 – Rosanne Cash's Rules of Travel – "Three Steps Down" – vocals
2005 – Kate and Anna McGarrigle's The McGarrigle Christmas Hour – vocals
2006 – Shawn Colvin's These Four Walls – "Let it Slide" – vocals
2007 – Linda Thompson's Versatile Heart – co-writer and guest vocals
2007 – Rufus Wainwright's Release the Stars – "Tiergarten" – backing vocals
2008 – Jason Crigler's The Music of Jason Crigler – "Through Tomorrow", "Dixie" – vocals
2008 – Marianne Faithfull's Easy Come, Easy Go – "How Many Worlds" – vocals
1998 – Psycho – "Psycho"
2006 – Brokeback Mountain – "I Don't Want to Say Goodbye", co-lead "King of the Road" (with Rufus Wainwright)
2006 – Q Covered: The Eighties – "Don't Dream It's Over"
2006 – Leonard Cohen: I'm Your Man – "The Future", "Tonight Will Be Fine"
2006 – Rogue's Gallery: Pirate Ballads, Sea Songs, and Chanteys – "Sally Brown"
2013 – Sing Me the Songs: Celebrating the Works of Kate McGarrigle – "Saratoga Summer Song"
"Teddy Thompson Performs On The BPP" live performance on The Bryant Park Project on NPR News 13 July 2007.