Covid-19
Taxi Driver is a 1954 Hindi movie produced by Navketan Films. The film is directed by Chetan Anand and stars his brother Dev Anand, Dev's wife-to-be Kalpana Kartik and Johnny Walker. The film was written by Chetan himself, along with his wife Uma Anand and his other brother Vijay Anand. The film's music director is S. D. Burman and lyrics were written by Sahir Ludhianvi.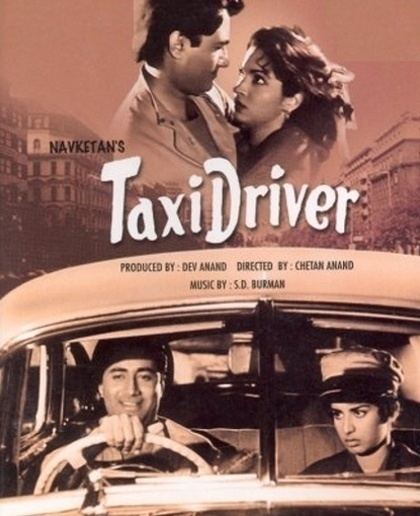 A nostalgic journey through 1950s Bombay with its quiet, peaceful and scenic background, electric trams, and a unique taxi driver, Mangal, who is called "Hero" by his friends. A driver who drives a cab by day, then drinks at night, listens to the seductive club dancer Sylvie, and then goes into a drunken stupor - and wakes up with a hangover. One day, while assisting another taxi driver, Mangal comes to the assistance of a damsel in distress Mala, who is being molested by two thugs. Mangal gallantly rescues her, and attempts to take her to her destination, but to no avail, as the person she is looking for has moved. The next day, Mangal and the young woman, Mala, again attempt to seek Ratanlal, a music director, but the entire day is spent in vain. Mala lives in Mangal's tiny apartment and both become attracted to each other. When Mala finds out about Sylvie, she leaves him. He goes in her search, but finds that she has become a famous singer with the help of her music director friend.
Will Mangal ever get a chance to tell about his love for Mala? What will Sylvie's reaction be?
Dev Anand's taxi in the movie was the British made Hillman Minx black car with number 1111. Such became the popularity following the film that the British made Hillman Minx became a vehicle of choice as a taxi in Bombay until the 1970s.
Dev Anand ... Mangal / Hero
Kalpana Kartik ... Mala
Sheila Ramani ... Sylvie
Johnny Walker ... Mastana
Rashid Khan (actor)
Parveen Kaul
Ratan Gaurang
Hameed ... Hamid
Vernon Corke ... Tony
All the songs were composed by Sachin Dev Burman and lyrics were penned by Sahir Ludhianvi.
Filmfare Best Music Director Award for Sachin Dev Burman - for the Talat Mehmood version of the song- "Jayen to jayen kahan"- This song was also the second song to top the then popular Binaca Geetmala.
Taxi Driver (1954 film) Wikipedia
Taxi Driver (1954 film) IMDb
Taxi Driver (1954 film) themoviedb.org