6.2

/

10

Alchetron

6.2

Rate This






Genre

Action, Crime, Thriller




Release date

August 4, 2010 (2010-08-04) (Hollywood premiere)August 27, 2010 (2010-08-27)

Release date

September 24, 2010 (India)

Producers

T.I., Will Packer, Jason Geter

Cast

T.I.

(Ghost (as Tip 'T.I'. Harris))




Similar movies

Ant-Man

,

Inception

,

Sushi Girl

,

Dhoom 3

,

Happy New Year

,

Bang Bang




Tagline

Who's Taking Who?
Takers (formerly known as Bone Deep) is a 2010 American action crime thriller film directed by John Luessenhop from a story and screenplay written by Luessenhop, Gabriel Casseus, Peter Allen, John Rogers, and Avery Duff. It features Matt Dillon, Paul Walker, Idris Elba, Jay Hernandez, Michael Ealy, T.I., Chris Brown, Hayden Christensen and Zoe Saldana. The film was released on August 27, 2010.
Contents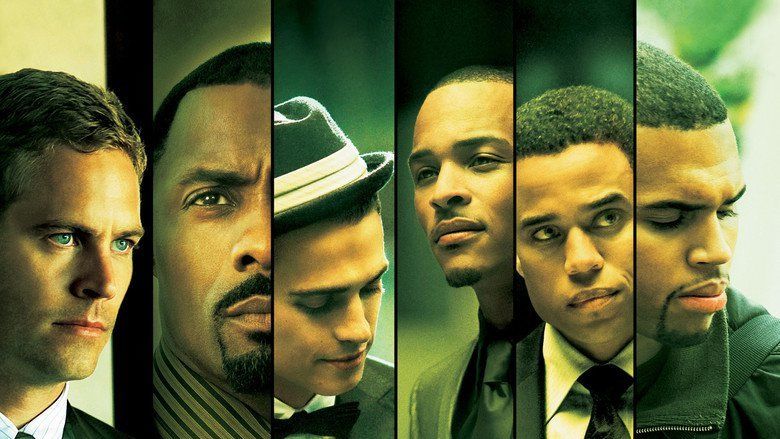 The film follows a group of professional bank robbers (Ealy, Brown, Christensen, Walker and Elba) who specialize in spectacular robberies, as they are pulled into one last job by a recently paroled cohort (T.I.) only to be pitted against a hard-boiled detective (Dillon) and his partner (Hernandez) who interrupt their heist.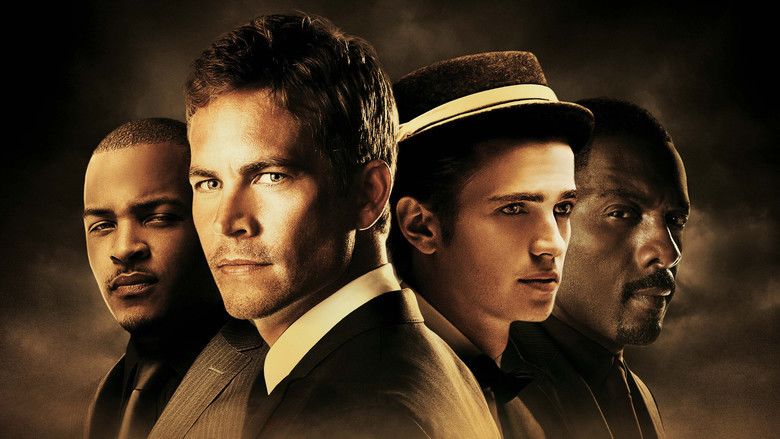 Watch the official takers trailer in theaters 8 27 2010
Plot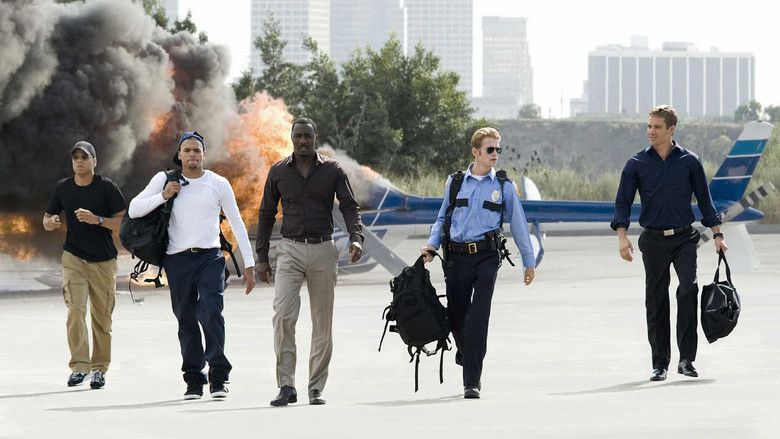 Two detectives, Jack Welles (Matt Dillon) and Eddie Hatcher (Jay Hernandez), investigate a daring heist by a group of well-organized bank robbers. The crew, led by Gordon Cozier (Idris Elba), consists of John (Paul Walker), A.J. (Hayden Christensen), and brothers Jake (Michael Ealy) and Jesse (Chris Brown) Attica. The crew is without a former member, Ghost (T.I.), who was caught during a previous robbery 5 years ago. In his absence, Jake has begun a relationship with his former girlfriend Lilly (Zoe Saldana), who has accepted his marriage proposal.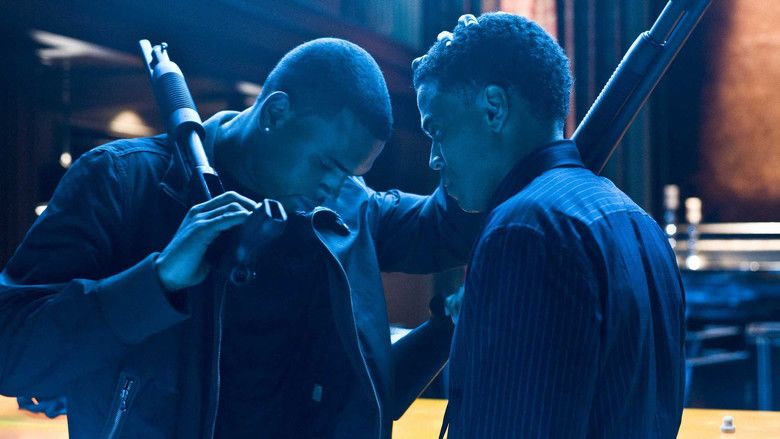 After Ghost gets released from prison, he meets up with the crew to plan a heist, in which it is discovered that two trucks will travel together but that all the money is kept in the lead truck, which holds $12 million.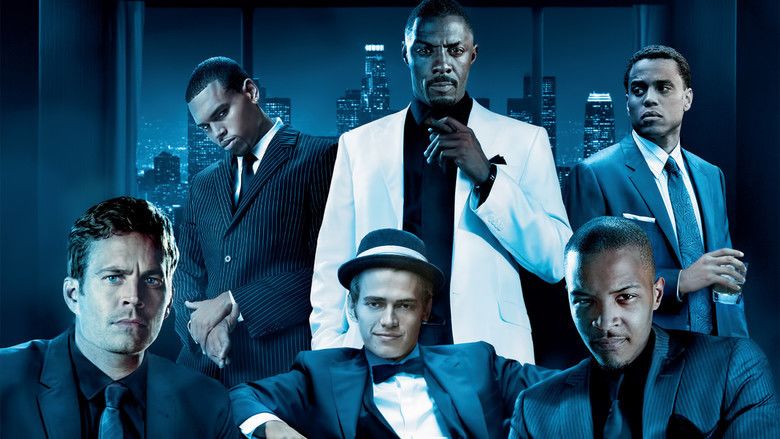 The crew, dressed as construction workers, hide out underground while Ghost poses as a police officer so he can keep an eye out for the trucks. Meanwhile, in order to cover themselves in case Ghost is setting them up, John heads to the top of a nearby garage to take out Ghost with a sniper rifle in case things go sour. The blast, having been perfectly timed to the time the trucks had turned the last corner, occurs too far forward because the lead driver had stopped short to avoid the bicyclist, and the ruse is up. The lead driver radios the police while armed guards pile out of the rear truck.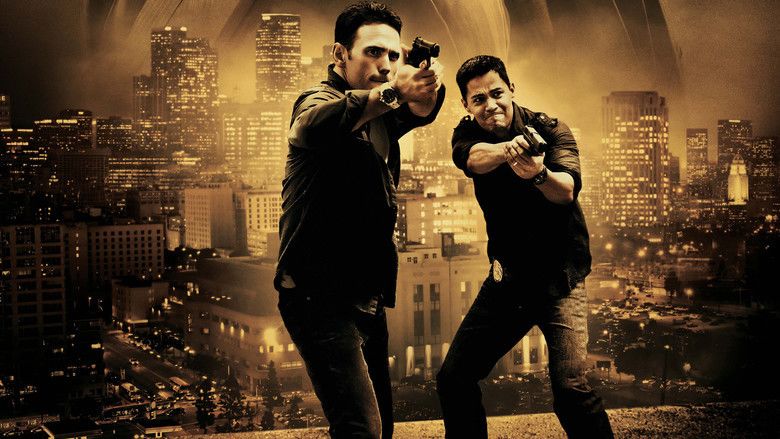 A gunfight ensued between the robbers in the crater and the guards on the street until John, commandeers the rear truck, and rams the lead truck into the crater. John and the other robbers pack the cash into bags and flee by heading down a variety of different tunnels with the plan of connecting into various subway lines to make their escape.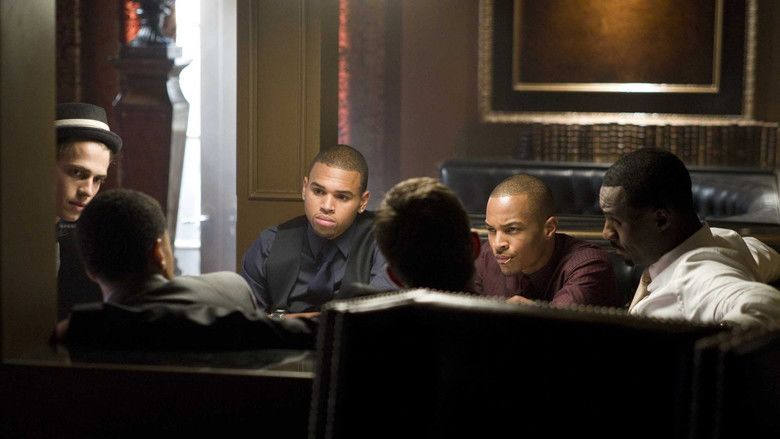 Welles and Hatcher show up on the scene and, after learning of the robber's escape through the sewer system, remembers a map of the city subway system from the Russian gang hideout, and deduces that they must be escaping through the stations marked on the map where the sewers intersect the subway. They rush to the nearest station where they find Jesse, and a chase ensues, during which Jesse hides his bag of money and is cornered and is forced to shoot Detective Hatcher in his escape. Jesse escapes, while Welles stops to aid his partner, who dies from his wound.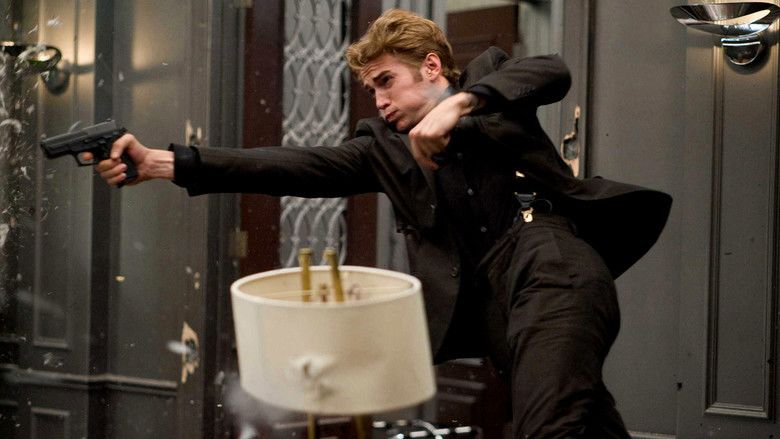 Jesse reconvenes with the rest of the crew at a hotel room and admits to the shooting of Hatcher. It is now revealed that Ghost had previously cut a deal with the Russian gangsters to kill his former crewmates in exchange for half of the heist's take. Ghost gives the Russians the hotel room number, then escapes out the bathroom window, just before the Russians storm the room and attempt to kill the crew. A.J. dies in the ensuing firefight, but the rest of the crew is able to kill the Russians and flee the building before the police arrive. Jake and Jesse return home where, to their horror, Jake finds Lilly's lifeless body and Jesse finds the safe where they kept their secret stash of money opened and cleaned out. The police surround their home and shoot the two when they make a suicide charge outside, killing them.
Gordon and John separate to make their escape but realize Ghost intends to take all of their money, which is being held by Scott (Johnathon Schaech), a well-connected fence. Ghost sneaks onto Scott's private plane and kills him, taking their laundered money in two large suitcases. Gordon and Detective Welles arrive and a three-way Mexican standoff results in which Ghost hits both Gordon and Welles. As Ghost prepares to finish off Gordon, John arrives and shoots him dead. John recognizes Welles as the same cop, who was with the little girl. John and Gordon refuse to kill Welles. John and an injured Gordon take the money and drive off, with Gordon's sister Naomi (Marianne Jean-Baptiste) in tow. A gravely-wounded Welles manages to call 911 for help on his cell phone.
The film ends without revealing whether either Cozier or Welles survive their injuries.
Critical reception
Takers received generally negative reviews from critics. On review aggregator Rotten Tomatoes, the film has a rating of 28%, with the site's consensus reading, "Takers boasts some gripping set pieces and keeps things moving quickly, but its two-dimensional characters, clichéd script, and brazenly derivative plot make it hard to recommend." On Metacritic, the film holds a rating of 45 out of 100, based on 20 critics, indicating "mixed or average reviews". Yahoo Movies critics gave the movie an average "C" grade saying, "Takers is almost a good little heist movie."
Author Stephen King, in his end of the year Entertainment Weekly column, listed it at #5 of his best films of 2010. He says that, "the climax does strain credulity, but the characters feel real & the armored-car heist is the best action sequence in 2010" (EW 12/3/10 page 26).
Box office
The film was number one at the box office during its opening weekend, making $20,512,304. Takers made its US debut on approximately 2,600 screens at 2,206 locations. According to Box Office Mojo, "The heist thriller tripled the start of Armored, and it came in only a bit behind last summer's higher-profile The Taking of Pelham 123. Its initial attendance was also nearly 50 percent greater than similar titles like Dead Presidents, and Street Kings." Takers was made available on Blu-ray and DVD on January 18, 2011.
Awards and nominations
BET Awards
2011: Win – Best Actor – Idris Elba (also for Luther)
2011: Nomination – Best Actor – Chris Brown
2011: Nomination – Best Movie
Black Reel Awards
2011: Nomination – Best Ensemble
2011: Nomination – Best Screenplay, Adapted or Original
California on Location Awards
2011: Win – Location Team of the Year – Features
NAACP Image Awards
2011: Nomination – Outstanding Supporting Actor in a Motion Picture – Idris Elba
References
Takers Wikipedia
(Text) CC BY-SA
Takers IMDb
Takers themoviedb.org