A critical and commercial hit, the film helped propel Favreau, Vaughn and Livingston to stardom, while also launching Liman's directing career as he won the award for Best New Filmmaker at the 1997 MTV Movie Awards.
This film was rated #58 on Bravo's "100 Funniest Movies". The film was honored on the 2007 Spike TV Guys' Choice Awards.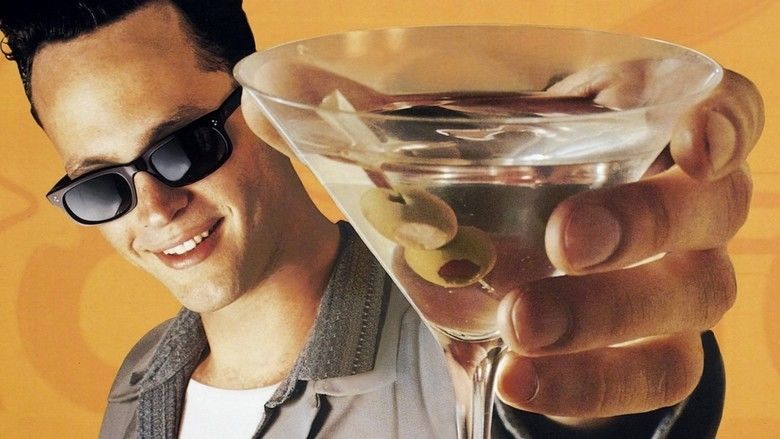 Mike Peters is a struggling comedian who left New York City to find success in Los Angeles, and is still upset over his girlfriend of six years, Michelle, breaking up with him six months prior. To help Mike with his depression, his womanizing friend Trent and some other aspiring actor friends try and get him back into the social scene.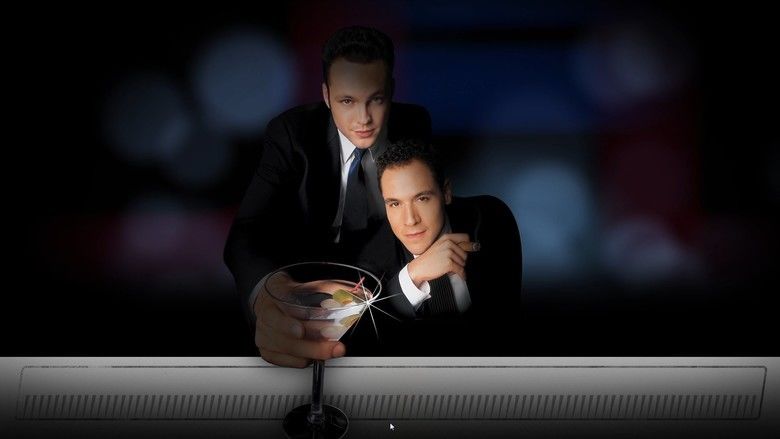 The movie opens with Mike telling his friend Rob about how desperately he misses Michelle and that she has not called him. Rob explains that "somehow" girls "know" not to call their ex-boyfriends until they have completely moved on from them.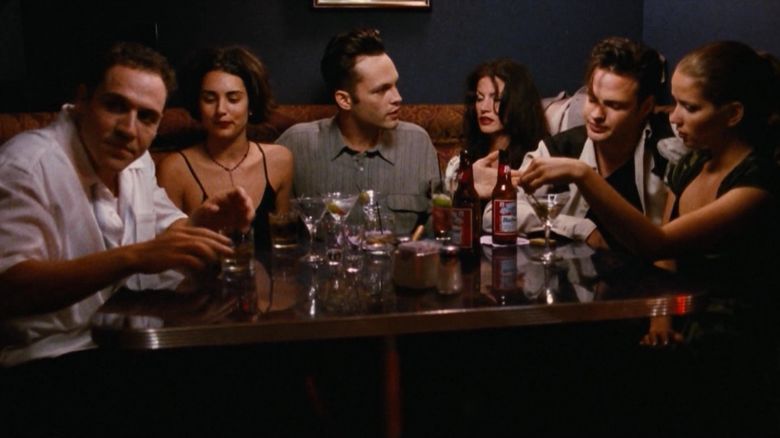 To help Mike recover, Trent coaxes him into an impromptu trip to Las Vegas. Trent succeeds in picking up two waitresses, but Mike's obsession with Michelle ruins Trent's plans. Back in Los Angeles, Mike, Rob and other friends go bar hopping, stopping at party, and later an after-hours spot, where Trent demonstrates his prowess in handling the opposite sex. Inspired by this, Mike meets a girl named Nikki and gets her phone number. Back at his apartment, however, he leaves a series of increasingly anxious and desperate messages on her answering machine until she calls back and disgustedly orders him not to call her again. Missing Michelle more than ever, he contemplates moving back to New York until Rob comes over and consoles him.
Out again for swing night at a Hollywood night club, Mike spots a woman named Lorraine. He summons all his courage to approach and connect with her. The following morning, Mike receives a call from Michelle, and finds that he no longer misses her. When Lorraine calls him, Mike ends his call with Michelle to connect further with Lorraine.
Jon Favreau as Mike Peters, a struggling comedian from New York City, recently broken up from his longtime girlfriend.
Vince Vaughn as Trent Walker, an aspiring actor, Mike's closest friend, and a confident swinger.
Ron Livingston as Rob, Mike's friend from New York, and a recent arrival to Los Angeles.
Patrick Van Horn as Sue, an irritable swinger who is named after the Johnny Cash song "A Boy Named Sue."
Alex Désert as Charles, a swinging acquaintance of the group and another struggling actor.
Heather Graham as Lorraine, a woman Mike meets at a bar
Deena Martin as Christy
Katherine Kendall as Lisa
Brooke Langton as Nikki
Favreau wrote the screenplay for Swingers in two weeks, with various friends in mind for key roles. One scene, in which Trent yells at Sue for insulting Mike, was written at Vaughn's request to make it clear that beneath Trent's swagger, he truly cared for Mike as a friend. Favreau and his friends gave reader's theater performances of the script to drum up interest in and capital for the movie.
Swingers was filmed on location at several Los Angeles nightclubs, particularly in the hip Los Feliz neighborhood, including the Dresden Lounge and the Derby. The Las Vegas scenes were filmed primarily in two locations, with the exterior casino shots taking place at the Stardust Resort & Casino and all the subsequent interior shots being filmed at the Fremont Hotel and Casino, farther north in downtown Las Vegas.
Filming locations
Mikey's apartment is located in the Franklin Village area of Los Angeles, a few miles from the Dresden Room.
The Dresden room is a popular (classic) bar and club in the Los Feliz neighborhood, located at 1760 N. Vermont Ave. Marty & Elayne, who are performing in the Dresden scene in the movie, perform at the Dresden in real life several nights a week.
The cafe where various factions of the crew meet and eat was the Hollywood Hills Coffee Shop (now renamed under new ownership as the 101 Cafe) and is part of the Best Western Hotel on Franklin Avenue near Hollywood, and near the 101 freeway.
The bar where the characters dance is The Derby in Los Feliz, on the corner of Hillhurst and Los Feliz Blvd. In January 2009, the nightclub closed its doors.
In addition to casting their friends in key roles, Favreau and Vaughn gave cameo roles to their family members. Vaughn's father, Vernon Vaughn, plays the lucky gambler at the $100-minimum blackjack table, while Favreau's grandmother, Joan Favreau, is the lucky gambler at the $5-minimum blackjack table.
Swingers had a total budget of about $200,000 and a domestic theatrical gross of $4,555,020.
On review website Rotten Tomatoes, the film has an approval rating of 87% based on 53 reviews; the site's critical consensus reads: "Funny, heartfelt, and effortlessly cool, Swingers made stars out of Vince Vaughn and Jon Favreau, established Doug Liman as a director to watch." On Metacritic, the film has a score of 71 out of 100, based on 25 critics, indicating "generally favorable reviews".
It served as a breakthrough for Vaughn, who gained public exposure and critical acclaim for his performance. In particular, he caught the eye of Steven Spielberg when a copy of the film was sent to the director so they could clear the rights for the Jaws music. Spielberg later cast Vaughn in The Lost World: Jurassic Park. Director Liman also used the film to help launch a successful career in Hollywood (he would later be known for The Bourne Identity), and it was the first major film for Livingston.
The release of the film coincided with the swing revival of the 1990s. It increased interest in 1940s culture, Hollywood nightlife, and swing music. Some of the slang used in the film became popular in the years following its release, especially the use of the word "money" as a catch-all term of approval or quality. The exclamation "Vegas, baby!" also became a common quote when referencing the city. The film also gave exposure to the term "Wingman" in its social interaction context.
The film was voted as the fourteenth best film set in Los Angeles in the last 25 years by a group of Los Angeles Times writers and editors with two criteria: "The movie had to communicate some inherent truth about the L.A. experience, and only one film per director was allowed on the list".
There are two collections from the film; the first soundtrack, Swingers: Music From The Miramax Motion Picture, was released in 1996 and contained original music by composer Justin Reinhardt under the name "The Jazz Jury" as well as music by various artists included in the film. The second, Swingers Too!: More Music From... "Swingers", was released in 1999 and contained a single version of "Magic Man" by Heart (which had most of an instrumental section edited out, and was cut down to 3 minutes and 29 seconds) and a studio version of "Staying Alive" by lounge act Marty and Elayne, with other tracks inspired by the film.
Swingers - Music From The Miramax Motion Picture
"You're Nobody till Somebody Loves You" - Dean Martin [1964]
"Paid For Loving" - Love Jones [1993]
"With Plenty of Money and You" - Count Basie/Tony Bennett [1959]
"You & Me & The Bottle Makes 3 Tonight (Baby)" - Big Bad Voodoo Daddy [1996]
"Knock Me a Kiss" - Louis Jordan [1941]
"Wake Up" - The Jazz Jury [1996]
"Groove Me" - King Floyd [1970]
"I Wan'na Be Like You" - Big Bad Voodoo Daddy [1996]
"Mucci's Jag M.K. II" - Joey Altruda [1996]
"King of the Road" - Roger Miller [1964]
"Pictures" - The Jazz Jury [1996]
"She Thinks I Still Care" - George Jones [1962]
"Car Train" - The Jazz Jury [1996]
"Pick Up the Pieces" - Average White Band [1974]
"Go Daddy-O" - Big Bad Voodoo Daddy [1996]
"I'm Beginning to See the Light" - Bobby Darin [1962]
Swingers Too! - More Music From... "Swingers"
"Ain't That a Kick in the Head?" - (Dean Martin) [1960]
"Adam and Eve" - Paul Anka
"Magic Man" {Single Version} - Heart [1976]
"She's a Woman (W-O-M-A-N)" - (Sammy Davis, Jr.) with (Count Basie)
"Baby (You've Got What It Takes)" - (Dinah Washington)/(Brook Benton) [1960]
"Down for Double" - (Mel Tormé)
"Staying Alive" - (Marty & Elayne)
"There'll Be Some Changes Made" - (Ann-Margret)
"One Mint Julep" - (Xavier Cugat) [1964]
"Gimme That Wine" - Lambert, Hendricks & Ross [1960]
"Datin' with No Dough" - (Royal Crown Revue)
"Bring Me Sunshine" - (Willie Nelson) [1968]