Swagatam (English: Welcome) is a 2008 Telugu film produced by Adityaram on Adityaram Movies banner and directed by Dasarath. Starring Jagapati Babu, Anushka Shetty, Bhumika Chawla in lead roles and music composed by R. P. Patnaik.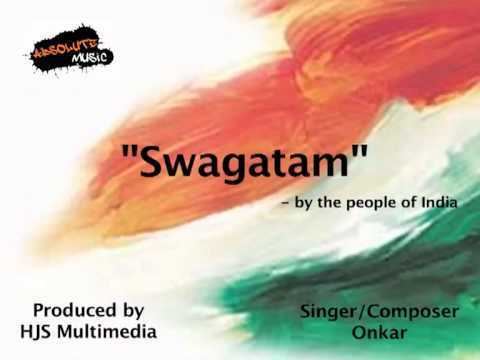 Shot in New York City, Rajahmundry and Hampi, it features a romantic triangle. Directed by Dasarath, the film casts Jagapati Babu as the male romantic lead playing opposite Anushka Shetty and Bhumika Chawla. Several weeks after the big-budget film's release, The Times of India declared the movie a box office "let down".
Shailu (Anushka Shetty) is a unmarried, ill-tempered businesswoman living in the United States, trying to care for her mother and young nephew and manage her bills. KK (Jagapati Babu), who with his young daughter opens a shop across the street from hers, helps her find a new perspective on her life. Shailu falls in love with KK, but when she declares her feelings for him learns that he already has a wife, Vidya (Bhumika Chawla). In flashback, the film relates the romance of KK and Vidya. In the past, KK was himself an abrasive businessman when he sought a mate at Jalaja Rao Marriage Bureau. Instead, he winds up courting and marrying Vidya, an employee. KK's dilemma is simplified by the fact that one of the women in his life is dying from chronic leukemia.
Music composed by R. P. Patnaik. All songs are hit tracks. Music released on ADITYA Music Company.
The film has got quite some similarities with the Hindi film, Kal Ho Na Ho. starring Shah Rukh Khan, Preity Zinta and Saif Ali Khan. A hard working, depressed girl settled in New York, supporting her mother and a child independently. A business that's not doing well. Hero coming to her rescue. A life devouring disease, etc.
Critically, the film met lukewarm reception. In its generally positive review, IndiaGlitz described the film as a "sincere effort" that "may or may not appeal to everyone as it becomes a bit trite as it progresses". While noting that "we cannot say it is something that we haven't watched before", the reviewers also commented that the film "starts off in a novel way as far as a Telugu film is concerned". Addressing the high expectations of the big budget film, they conclude, "To be fair to Dasarath, he does not disappoint. In the sense that it is what one would typically go to watch in a Jagapati Babu movie". AndhraCafe praised the performances specifically of Bumika, "at her very best", and found the chemistry between Babu and Bumika "a treat to watch". While they also felt the director exhibited moments of brilliance in the second half of the film, they panned the climax and particularly the opening, stating that "[t]he first half of a film couldn't be more boring than this". They concluded that "[o]n a whole the film is below average fare with the weak first half, dragged climax and poor music". In its review, Rediff notes that Swagatam takes the "safe, oft-trodden path" but praises the acting, describing specifically the first half of the film as "laced with entertainment". They predict that the film "will go down well with those liking mushy stuff".