Birth name

Stewart Edward Hart




Billed weight

231 lb (105 kg)




Family

Hart




Name

Stu Hart





Ring name(s)

Stu Hart




Role

Wrestler




Spouse

Helen Hart (m. 1948–2001)






Born

May 3, 1915 Saskatoon, Saskatchewan, Canada (

1915-05-03

)


Billed from

Calgary, Alberta, Canada




Died

October 16, 2003, Calgary, Canada




Children

Bret Hart, Owen Hart, Bruce Hart, Diana Hart, Keith Hart




Movies

Hitman Hart: Wrestling with Shadows




Grandchildren

Natalya, David Hart Smith, Teddy Hart




Similar People

Bret Hart, Owen Hart, Bruce Hart, Jim Neidhart, Davey Boy Smith




Billed height

5 ft 11 in (1.80 m)



2010 wwe hall of fame inductee stu hart
Stewart Edward Hart, CM (May 3, 1915 – October 16, 2003) was a Canadian football player, amateur wrestler, sailor, professional wrestler, wrestling booker, promoter, coach and trainer. He is best known for founding and handling Stampede Wrestling, a professional wrestling promotion based in Calgary, Alberta, and its associated wrestling school "The Dungeon". As the patriarch of the Hart wrestling family, Hart is the ancestor of many wrestlers, most notably being the father of Bret and Owen Hart as well as the grandfather of Natalya Neidhart and David Hart Smith.
Contents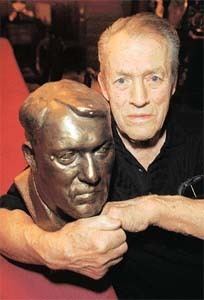 Hart was born to a poor Saskatchewan family but became a successful amateur wrestler during the 1930s as well as engaging in many other sports. He debuted as a professional wrestler in 1946 for the New York wrestling territory following his serving in the Royal Canadian Navy during World War II. Hart was considered very handsome and a good in-ring performer, focusing on an amateur-like and technical style of wrestling, despite this and being popular in general he was not given major spotlight by the writers and after marrying his wife Helen Smith whom he met in New York, he moved back Canada and created his own promotion which would be known as Stampede Wrestling and took over the surrounding wrestling territory that covered most of western Canada. The territory would go on to become known as the Stampede territory thenceforth.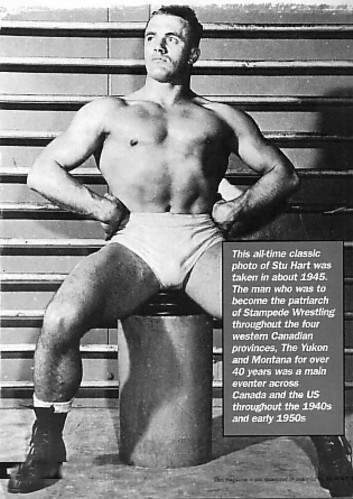 Thereafter he would focus mostly on promoting and booking as well as raising his twelve children with Smith while appearing in the ring sporadically. Hart's promotions featured a large variety of outside stars from the wrestling industry as well as homegrown talents for whom he booked storylines. Throughout his career, Hart almost exclusively portrayed a heroic character, a so-called "babyface" role and only held one professional title, the NWA Northwest Tag Team Championship. After selling his territory to TitanSports in the mid 1980s, Hart would make several appearances on WWF television and Pay-Per-View with his wife, often involved in storylines surrounding his sons Bret and Owen and several of his sons-in-law who were signed to the company.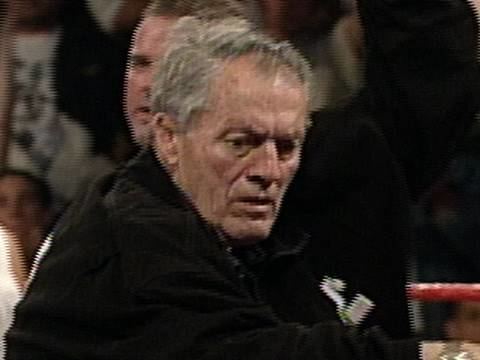 Hart has been referred to by multiple writers, including wrestling historian Dave Meltzer, as one of the most influential and important figures in pro wrestling history. His greatest contribution to the art was as a promoter and trainer. Along with Bret and Owen, Hart's trainees included future world champions Fritz Von Erich, Superstar Billy Graham, Chris Jericho, Edge, Christian, Mark Henry, Chris Benoit, and Jushin Thunder Liger. Hart was a member of the inaugural Wrestling Observer Newsletter Hall of Fame class in 1996 and was inducted into the WWE Hall of Fame in 2010 by his son Bret. Hart was also well known for his involvement in over thirty charities, for which he was given a position in the Order of Canada, the second highest honour for merit that can be given in Canada and the highest civilian honour.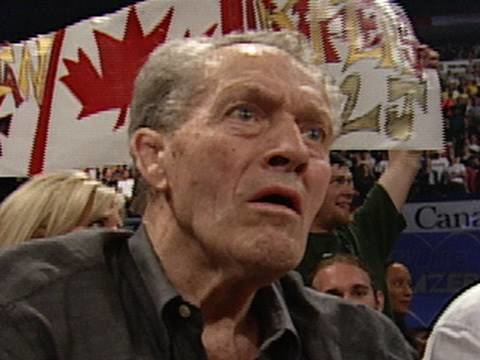 Stu hart s stampede wrestling from 1961
Early life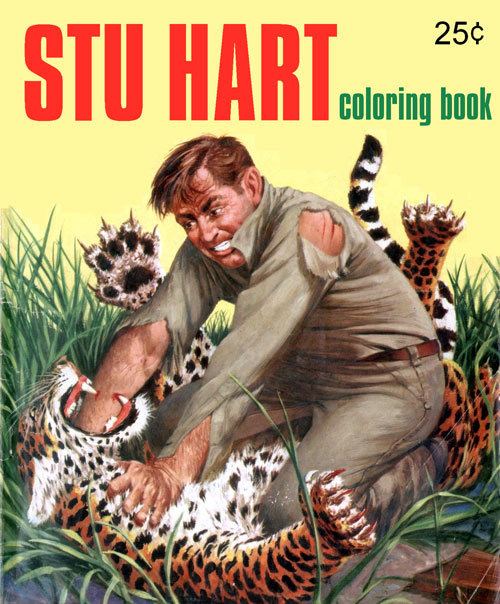 He was born in Saskatoon in 1915 to Edward and Elizabeth Stewart Hart. He was mainly of Scots-Irish descent but also had Scottish and English ancestry.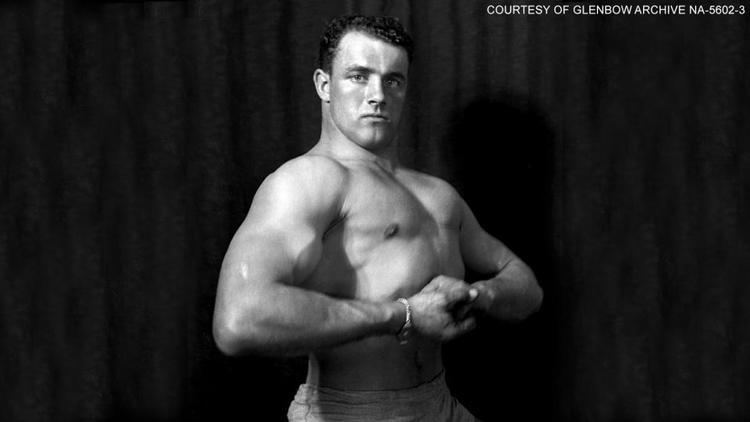 His childhood was impoverished; as a boy, Stu Hart lived in a tent with his family on the prairie in Alberta, living off the land, milking cows and wild game that Stu took down with his slingshot. As a child Hart and his sisters were often mistreated at school by both fellow students and teachers since it was well known that they were from such a poor family. Hart was also berated and treated with disdain for being lefthanded, something seen as deviant at the time. Like most lefthanded children at the time, he was forced to work with his right, and as a result he became ambidextrous. In 1928, his father was arrested for failure to pay back taxes, while the Salvation Army sent Stu, his mother, and two sisters, Sylvester and Edrie to live in Edmonton. Due to his destitute childhood and youth Hart did not experience a dramatic shift in life quality or mentality during the Great Depression which affected most others around him in Edmonton.
Amateur wrestling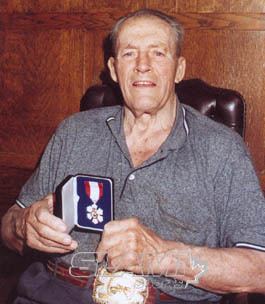 As hart was trained in catch wrestling in his youth by other boys. Speaking of it, Stu said that his "head would be blue by the time they let go of him". Stu taught this 'shoot style' to all who trained under him in the 1980s and 1990s with the thought that teaching his students real submission moves would make their pro wrestling style sharper. During his time in Edmonton with his mother and sisters Hart began finding an interest in sports with wrestling and football being his favorites. He started weightlifting and training for wrestling when he was fourteen years old and quickly built a strong neck and impressive arms. He began attending amateur wrestling classes when he joined the YMCA in Edmonton in 1929. By the age of fifteen Hart won the Edmonton City Championship in the middleweight class and the Alberta Provincial championship later that same year. Hart continued to train and improve his abilities and by 1937 he was the Dominion welterweight champion, also in 1937 he won a gold medal in the welterweight class from the Amateur Athletic Union of Canada. Hart qualified for the 1938 British Empire Games in Australia but was unable to go due to economic reasons.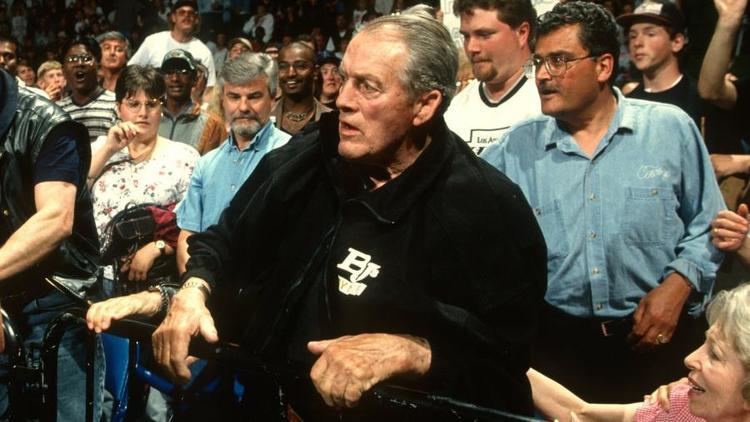 His amateur career peaked in May 1940 when Hart won the Dominion Amateur Wrestling Championship in the light heavyweight category. Hart qualified and would have competed at the Summer Olympics in Helsinki in 1940 but could not due to it being cancelled because of the outbreak of World War II, this was a blow to Hart personally as it had been his dream to compete at the olympics since a young age. During the mid-1930s Hart also coached wrestling at the University of Alberta.
Other sport ventures and military service
Hart played football for the Edmonton Eskimos from 1937 to 1939 as a centre and was considered a standout performer at the time. He coached a women's fastball team in Edmonton during the late 1930s as well as being the captain of a popular baseball team called Hart's All Stars. The players of Hart's All Stars consisted of sheet-metal workers from Edmonton. On Christmas Eve 1941 Hart was almost killed from a bicycle accident which broke both his elbows and thumbs and hurt his back severely. The injuries risked ending Hart's athletic career. The accident had happened while he was on the way to his father Edward to celebrate Christmas with the family when a fire truck drove behind him and forced Hart to swerve to the side where he was hit by another car which propelled him thirty feet foreword on the road and scraped off a large portion of his skin in the process. He spent several months at the Royal Alexandra Hospital in Edmonton recovering. In the spring, still hospitalized, Hart was visited by Al Oeming, a young neighbor who had been drafted into the Canadian Navy for World War II and after being released from the hospital Hart decided to enlist. Hart enlisted in the Royal Canadian Navy and was appointed the position of Director of Athletics.
Hart spent a much of his free time during World War II performing and organising different sports events to raise funds to the war effort. As an active sailor and director of athletics Hart was the leader of all the sports teams available and a member of them as well, most notably the fastball team and the wrestling team. Hart originally wanted to leave the Navy when the war was over but the organisation considered him to be a great asset both as a trainer as well as showpiece and persuaded him to stay. He would attempt to ask to be let go several times later but was told to stay again. Eventually Hart was given his disharge from the Navy in early 1946.
New York territory (1946–1947)
It was during his time in the Navy that Stu was introduced to professional wrestling. Around this time Hart also became close friends with Al Oeming, a future wrestler, nature conservationist, and fellow sailor, who would help him handle his own promotion.
After recovering from a car accident, Stu competed in various exhibition matches to entertain the troops. In 1946, while receiving training from Toots Mondt, Hart debuted in New York City. Early on Hart experienced harsh treatment from his fellow wrestlers in the ring and during training, being considered a "pretty boy" at first by his peers and older wrestlers; described as "tall, dark and handsome, with a build that would put movie idols to shame" he was immediately a favourite with the female fans. Hart would often be swarmed by women and covered with kisses as he made his way to the ring. The roughing up of younger performers by veteran workers was common at the time in the industry but Hart adapted to it rather quickly and would retaliate with the same treatment, utilizing his amateur wrestling experience to his advantage. While never given the opportunity to be champion Hart did partake in several high-profile matches with the likes of Lou Thesz and Frank Sexton. He also developed a reputation as a legitimate athlete and "tough-guy" in the business. Hart quickly became a rising star in the area but chose to leave together with his newlywed wife Helen only about a year and a half after debuting.
National Wrestling Alliance (1947–1984)
By 1947 Hart was working for Jerry Meeker and Larry Tillman in Montana as both a wrestler and a booker. In September 1948, Hart established Klondike Wrestling in Edmonton, the promotion joined the NWA in 1948. In 1950 Hart wrestled for the NWA associated Alex Turk Promotions in Winnipeg. The first match was against Verne Gagne on June 29 at the Civic Auditorium, the match resulted in a draw. He also wrestled in a match against Matt Murphy in the Civic Auditorium on November 9, which he was booked to win. In 1951 Hart purchased a mansion in Patterson Heights, Calgary, The Hart House which is now considered a heritage site. Its basement, later known as the Dungeon, provided training grounds for his wrestling pupils.
Big Time Wrestling and Wildcat Wrestling (1952–1967)
In 1952 Hart bought up Tillman's territory in Alberta and merged his own promotion with it into Big Time Wrestling. The promotion would later change name to Wildcat Wrestling and lastly morph into Stampede Wrestling many years later. The televised version of Hart's wrestling shows were one of Canada's longest running television programs, lasting over 30 years and remained one of Calgary's most popular sports programs, eventually airing in over 50 countries worldwide.
Stampede Wrestling (1967–1984)
Hart's Stampede Wrestling was responsible for developing many wrestlers who would later become very successful in other promotions and territories, mainly in the WWF. Hart would generally close the promotion down during summers and open it up again during the winter when the other territories were closed. Hart had on occasions wrestled animals such as tigers and grizzly bears. Later in life Hart would often let his sons Bruce and Keith handle the booking of the promotion.
Post retirement appearances (1991–2003)
Stu made several appearances on WWE television in the 1990s and early 2000s. The majority of said appearances involved his sons, Bret and Owen Hart. A recurring staple of these appearances in the 1990s was that Stu and Helen would be verbally attacked by one of the commentators, Jerry Lawler, who was in a long running feud with Bret during this point in time. At the 1993 Pay-Per-View event Survivor Series, Stu had a planned physical interaction outside of the ring with Shawn Michaels. Shawn was involved in a match with Stu's sons, Bruce, Keith, Bret and Owen Hart. Shawn played the part of the antagonist, and when failing to succeed in winning the match, Shawn attacked Stu. Stu responded by knocking Shawn out with an elbow smash. Shawn later stated that he was happy to take the hit as he considered it an honour.
Stu also appeared in WCW at the Slamboree 1993: A Legends' Reunion event.
As a trainer
Hart trained the vast majority of his trainees in the basement of the Hart mansion, known as The Dungeon. Hart used the location from that he bought it in the 1950s until the late 1990s. All his eight sons and many others such as Junkyard Dog, Jushin Liger, Superstar Billy Graham and The British Bulldog were educated there.
Hart's training technique, called "stretching" consisted of Hart putting his trainees in painful submission holds and holding on for a substantial time to improve their pain endurance to prepare them for the life of professional wrestling. Hart's technique was well known and he would let anyone who wished to let him apply one of his holds do so if they came to his home. Hart's son Bret once spoke about a well-known case where he stretched a priest, stating that his father wasn't prejudiced, since "he stretched a rabbi once too." Some of Hart's former students, including his son Bret, have mentioned that his stretching would sometimes result in broken blood vessels in the eyes, something which others have attempted to learn from him.
Hart was said to have had a special liking for training football players and bodybuilders since he enjoyed testing their strength. Some have described his training as torture and have accused Hart of being a sadist who enjoyed inflicting pain on people and was more interested in doing so than teach them pro wrestling. Many who were close to Hart in his life have denied these claims. Stu's son Ross has said that his father was always generous and compassionate with his children and others in person but added that he was different when training people, believing that there was no easy way to teach wrestling.
Personal life
Hart was close friends with fellow wrestler Luther Jacob Goodall, better known by the name Luther Lindsay. Goodall was one of the few men who bested him in the infamous "Hart Dungeon" and Hart reportedly carried a picture of him in his wallet until his passing in 2003. Goodall's death in 1972 affected Hart tremendously. Hart's son Keith described them as being as close as brothers. Hart was also a good friend of wrestling promoter Jack Pfefer, whom he asked to be the godfather of his son Ross, as well as Calgary Mayor Rod Sykes and ice hockey player Brian Conacher. All of the wrestling belts that Hart used for his promotions were handmade by himself. Making championship belts was one of Hart's many domestic skills.
Hart allegedly wrote the foreword to the controversial book Under the Mat which was written by his youngest daughter, Diana Hart. His son Bret has questioned the legitimacy of it, and has stated that if Hart did write the foreword, his daughter probably didn't let him read the book beforehand.
Family
Hart married a New Yorker, Helen Smith (born February 16, 1924 – died November 4, 2001), the daughter of Olympic marathon runner Harry Smith on December 31, 1947. Stu and Helen were married for over 53 years until Helen's death at the age of 77. According to his son Ross, Hart was severely affected and badly aged by being bereaved of his youngest son Owen in 1999, and by becoming a widower in 2001.
Stu and Helen raised their twelve children in the Hart mansion, Smith, Bruce, Keith, Wayne, Dean, Ellie, Georgia, Bret, Alison, Ross, Diana and Owen. Hart was a non-denominational Christian, but he had all his children baptized by a local catholic priest. The couple have around thirty-six grandchildren and several great-grandchilden, three of them: his oldest grandson Teddy Annis's son Bradley and his oldest granddaughter Tobi McIvor's two oldest daughters Amanda and Jessica were born during Hart's lifetime. Tom and Michelle Billington's three children, Bronwyne, Marek and Amaris are also often included in the list of his grandchildren, therefore Bronwyne's daughter Miami is also often referred to as one of his great-grandchildren. Many of his grandchildren went on to become wrestlers or were otherwise involved in wrestling.
In 1949, Hart and his wife Helen who was pregnant with their second child, Bruce were in a car accident on their way home from a wrestling match, Hart was unscathed, although he did break the car's steering wheel on impact, but his wife Helen suffered several injuries and had to be held in a hospital for a long time, this led to them leaving their oldest child, Smith, with Helen's parents Ellie and Harry Smith for two years.
Philanthropy
Because of his extensive work as a coach and mentor to many young athletes as well as over thirty years of charitable work in his hometown Hart was appointed on November 15, 2000 to the Order of Canada. He was honoured with an investiture on May 31, 2001 in Ottawa.
Death
In May 2003, Hart had a life-threatening bout of pneumonia, which saw him hospitalized at Rockyview General Hospital, but Hart recovered later that month and returned to his residence at the Hart mansion. On October 3, 2003, Hart was readmitted to Rockyview General Hospital as a result of an elbow infection, and Hart then developed pneumonia again. He also suffered from ailments associated with diabetes and arthritis. After a brief improvement in his health for a few days from October 11, he suffered a stroke on October 15, and died the following day. He was 88 years old.
Hart's funeral service was attended by approximately 1,000 people. He was cremated and the ashes interred at Eden Brook Memorial Gardens in a plot with his wife Helen, who had died almost two years earlier in November 2001.
Legacy
Hart is regarded by many as one of the most important and respected people in the history of professional wrestling.
Sports journalist and wrestling historian Dave Meltzer described Hart's importance to the art of professional wrestling as indispensable since his booking decisions and training of several key individuals effected the industry in significant ways. Meltzer describes people like Hulk Hogan and Jesse Ventura as people who were spawned by Harts actions and cites the Dynamite Kid, Junkyard Dog and Billy Robinson as some who would probably not have had the careers they did if not for Hart. He also mentions Chris Benoit and Brian Pillman as individuals who would most certainly never even have become wrestlers were it not for Hart. Meltzer characterized Hart as the biggest territorial star in wrestling history to never win a major championship. Former wrestling promoter and owner of the St. Louis Wrestling Club Larry Matysik described Hart as a Canadian icon.
Hart had a noticeable accent which included a very raspy voice and unique way of speaking which he was well known for, according to the Wrestling Observer Newsletter so is Hart the most imitated man in professional wrestling, with practically everyone in the industry having tried a Stu Hart impersonation.
On March 27, 2010, Hart was posthumously inducted into the WWE Hall of Fame.
In the Hart Legacy Wrestling promotion, controlled by Hart's relatives and their associates, there is a Stu Hart Heritage Title.
There is an annual juvenile amateur wrestling tournament named after Hart. Specifically the Stu Hart Tournament of Champions held in Canada.
In Saskatoon's Blairmore Suburban Centre there is Hart Road, anmed in Stu Hart's honor.
In 2005 a documentary directed by Blake Norton, Surviving the Dungeon: The Legacy of Stu Hart, was released.
As of 2005 Hart is part of a permanent exhibit at the Glenbow Museum. A scissored armbar wrestling hold is sometimes referred as a "Stu-Lock" in Hart's honor.
In wrestling
Finishing moves
Elbow smash
Signature Moves
Sugar hold
Wrestlers Managed
Smith Hart
Bruce Hart
Keith Hart
Wayne Hart
Dean Hart
Bret Hart
Ross Hart
Owen Hart
Nicknames
"Lord of the Ring"
"King of Harts"
"Superman of the Prairies"
Amateur wrestling
Edmonton City
Edmonton City Championship in the middleweight class (1930)
Alberta province
Alberta Provincial Championship (1930)
Dominion Amateur Wrestling
Dominion Welterweight Championship (1937)
Dominion Amateur Wrestling Championship in the Light Heavyweight category (1940)
Amateur Athletic Union of Canada
Welterweight Champion
Alberta Sports Hall of Fame
Class of 1980
National Wrestling Hall of Fame
Class of 2008
Professional wrestling
Canadian Pro Wrestling Hall of Fame
Class of 1980
Cauliflower Alley Club
Iron Mike Mazurki Award (2001)
National Wrestling Alliance
NWA Northwest Tag Team Championship (2 times) – with Pat Meehan and Luigi Macera
Pro Wrestling This Week
Wrestler of the Week (August 1, 1987)
Professional Wrestling Hall of Fame
Class of 2014
Stampede Wrestling
Stampede Wrestling Hall of Fame
World Wrestling Entertainment
WWE Hall of Fame (Class of 2010)
World Championship Wrestling
Lifetime Achievement Award
Wrestling Observer Newsletter
Wrestling Observer Newsletter Hall of Fame (Class of 1996)
Canadian Wrestling Hall of Fame
Individually
With the Hart family
Awards and honors
Order of Canada (2001)
References
Stu Hart Wikipedia
(Text) CC BY-SA