Name

Steven Seagle





Role

Writer






Born

March 31, 1965 (age 50) (

1965-03-31

)


Genre

Comics, television, film, video game, theater




Movies and TV shows

Ben 10, Ben 10: Omniverse




Nominations

GLAAD Media Award for Outstanding Comic Book




Books

It's a Bird, House of Secrets Omnibus, Solo: The Deluxe Edition, House of secrets - foundation, Superman: It's a Bird




Similar People

Duncan Rouleau, Joe Kelly, Joe Casey, Don Hall, Chris Williams
Steven T. Seagle of Man of Action Interview
Steven T. Seagle (born March 31, 1965) is an American writer who works in the comic book, television, film, live theater, video game, and animation, industries.
Contents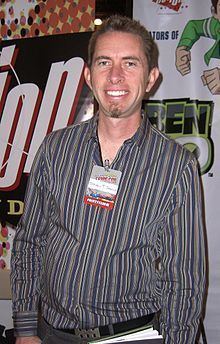 He is best known for his nationally acclaimed graphic novel memoir It's a Bird (Vertigo, May 2004), and as part of his Man of Action Studios (with Duncan Rouleau, Joe Casey and Joe Kelly) which created the animated Cartoon Network series Ben 10 responsible for both Cartoon Network's highest-rated single program and highest rated series premiere.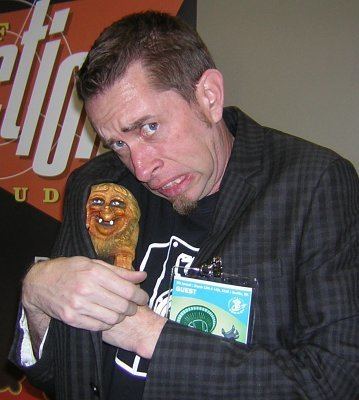 Seagle is also a founding member of Speak Theater Arts, creators of innovative live stage productions and is a former college instructor having taught at Ball State University, Pasadena City College and Mt. San Antonio College, where he also served as a coach for the Forensics team during many of their national championship seasons.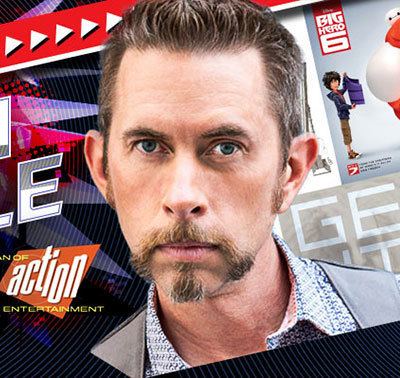 Free comic book day steven t seagle
Early life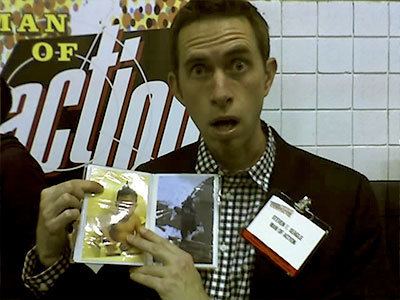 Seagle's father, Jack, was in the United States Air Force, and as a result, the family moved many times. The family twice lived in Colorado Springs, Colorado, near the United States Air Force Academy where Jack was stationed. Seagle recalls watching the moon landing on television in their apartment by what is today the Chapel Hills Mall. Seagle's first encounter with Spider-Man was when his mother, Jennie, brought Seagle's brother, Dave, to a comic book store at the Base Exchange, where they purchased The Amazing Spider-Man #66, which featured the villain Mysterio. Years later, after Seagle had begun collecting comics himself, and his best friend, Eric Koppisch, recommended that he read an issue of Spider-Man himself, Seagle read an issue featuring a team-up with Nova. This cemented Seagle's interest in comics and in Spider-Man. Nova would later be the co-star on the TV series Seagle would produce, Ultimate Spider-Man.
After Jack retired from the Air Force and took a job at KRDO, the family moved to a house right next to Garden of the Gods. Seagle attended Coronado High School. Seagle harbored a heavy interest in music, participating in the marching band, orchestra, jazz band, choir. He also competed on the speech team. During the summers he worked at Flying W Ranch baking biscuits for a couple of years and then went to work as the villain two years in a row up at Iron Springs Chateau, a job he characterized thus: "I was paid to insult people! Best job ever!"
Career
Seagle has written numerous comics, such as Superman, Uncanny X-Men, Sandman Mystery Theatre, House of Secrets, and American Virgin. Seagle and Rouleau also created the Marvel Comics super-hero team Big Hero 6.
In 2001, Seagle co-founded Man of Action Studios, a creative think tank and production house, along with fellow partners and comic book creators Joe Casey, Joe Kelly, and Duncan Rouleau. MAN OF ACTION scripted four short films for an independent producer before being tapped to write the script for Activision's highly successful X-Men: Legends video game. Their third professional credit was the original animation series Ben 10 which they created and sold to Cartoon Network. The original series ran for 52 episodes and has so far spawned sequel series Ben 10: Alien Force, Ben 10: Ultimate Alien, two live action made-for TV-movies, and a live stage show. Their second original creation for Cartoon Network, Generator Rex, has aired over forty episodes to date, launched a merchandise line, and crossed over with Ben 10 in 2011. Seagle is the supervising producer on Ultimate Spider-Man on Disney XD, which premiered in April 2012. Seagle also served as co-executive producer duties on Disney XD's Avengers Assemble (TV series). In November 2014, Disney in their first animated collaboration with Marvel Comics will premiere Big Hero 6, a film based on the team co-created by Seagle.
Steve's original comic book series House of Secrets was sold as a feature to Marc Canton/Warner Brothers, and Steve wrote the screenplay (unproduced). The same week Seagle also sold the genre action pilot Carnival to FOX in association with Spelling Entertainment, and the female action/comedy Dot's Bots to Mainframe Animation.
In 2009, Seagle co-directed one of the national premiere readings of Laramie Project: an Epilogue.
Awards and nominations
Seagle's work has received numerous Eisner Award nominations, including twice for best writer – in 1995 for his work on Sandman Mystery Theatre (DC/Vertigo) and in 1999 for the same title and his story "Drive By" in Oni Double Feature #10 (Oni Press). Seagle's work on American Virgin has been nominated twice for the GLAAD Meida Award for Best Comic Book. Seagle's run on Uncanny X-Men was awarded the Wizard Fan Award for Favorite Ongoing Series.
Television
BEN 10 – Series Co-Creator (as MAN OF ACTION), Writer (selected episodes) – Cartoon Network
BEN 10 Season 1 DVD – Co-Creator (as MAN OF ACTION), Writer (selected episodes) – Cartoon Network
BEN 10 Season 2 DVD – Co-Creator (as MAN OF ACTION), Writer (selected episodes) – Cartoon Network
BEN 10 Season 3 DVD – Co-Creator (as MAN OF ACTION), Writer (selected episodes) – Cartoon Network
BEN 10 Season 4 DVD – Co-Creator (as MAN OF ACTION) – Cartoon Network
BEN 10: Alien Force – Series Co-Creator (as MAN OF ACTION) – Cartoon Network
BEN 10: Alien Force Volume 1 DVD – Co-Creator (as MAN OF ACTION)
BEN 10: Alien Force Volume 2 DVD – Co-Creator (as MAN OF ACTION)
BEN 10: Alien Force Volume 3 DVD – Co-Creator (as MAN OF ACTION)
BEN 10: Alien Force Volume 4 DVD – Co-Creator (as MAN OF ACTION)
BEN 10: Alien Force Volume 5 DVD – Co-Creator (as MAN OF ACTION)
BEN 10: Alien Force Volume 6 DVD – Co-Creator (as MAN OF ACTION)
BEN 10: Alien Force Volume 7 DVD – Co-Creator (as MAN OF ACTION)
BEN 10: Alien Force Volume 8 DVD – Co-Creator (as MAN OF ACTION)
BEN 10: Alien Force Volume 9 DVD – Co-Creator (as MAN OF ACTION)
BEN 10: Ultimate Alien: The Return of Heatblast DVD – Co-Creator (as MAN OF ACTION)
BEN 10: Ultimate Alien: Escape From Aggregor DVD – Co-Creator (as MAN OF ACTION)
BEN 10: Ultimate Alien: Power Struggle DVD – Co-Creator (as MAN OF ACTION)
BEN 10: Ultimate Alien: The Wild Truth DVD – Co-Creator (as MAN OF ACTION)
Carnival – Creator, Writer – FOX/Spelling Entertainment (unproduced)
Dot's Bots – Co-Creator – Mainframe Animation
Generator Rex – Series Co-Creator (as MAN OF ACTION), Writer (selected episodes) – Cartoon Network
Generator Rex: Volume 1 DVD – Co-Creator (as MAN OF ACTION)
Sex TV – (as himself), interview – CTV
Film
House of Secrets – Creator, Writer – Warner Brothers/Marc Canton Productions (unproduced)
BEN 10: Race Against Time – Co-Creator (as MAN OF ACTION) – Cartoon Network
BEN 10: Alien Swarm – Co-Creator (as MAN OF ACTION) – Cartoon Network
BEN 10: Secrets of the Omnitrix – Co-Creator (as MAN OF ACTION) – Cartoon Network
Stage
N*GGER WETB*CK CH*NK – Comedy – Co-writer, Co-director – Speak Theater Arts (www.speaktheaterarts.com)
ArmeniaMania! – Comedy – Co-writer, Co-director – Speak Theater Arts (www.speaktheaterarts.com)
The Laramie Project: Ten Years Later, An Epilogue – Drama – Co-director, Designer – Speak Theater Arts/GMCLA (www.speaktheaterarts.com)
The SEX Show – One Act – Co-writer, Co-director – World Premiere Award ARTa 2006
BUILD – One Act – Writer, Director – Audience Award ARTa 2002
Guernica – One Act – Writer, Director – Best Play ARTa 2001
Video games
X-Men Legends – Writer – Activision
References
Steven T. Seagle Wikipedia
(Text) CC BY-SA