Born

4 March 1962 Aachen, Germany (

1962-03-04

)

Occupation

Poet, writer, art historian

Genre

Poems, novels, biographies

Notable works

Papiergewicht Eine Liebe im Portrat Max Beckmann
Podiumsdiskussion - Wir hatten kein Geld, also mussten wir kreativ sein
Stephan Reimertz (born 4 March 1962) is a German poet, essayist, novelist and art historian. His poems, aphorisms, essays, novels and biographies circulate through the idea of an authentic, self-determined life in the face of modernity and ask the question if contemporary life can still be sounded historically and grasped philosophically.
Contents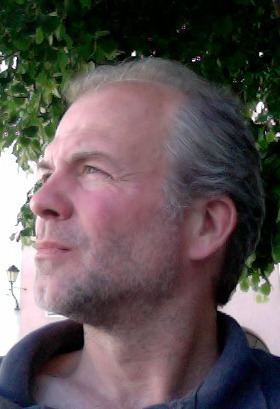 Life
Born in Aachen, Germany, Reimertz is the grandnephew of Nikolaus Groß, resistance fighter in the 20th July plot against Hitler. His grandfather was a democratic major and politician from Westphalia. His father was a mining engineer and met his mother at RWTH Aachen; she was a pharmacist from Riga and of Baltic German ethnicity. Reimertz was baptized by auxiliary–bishop Friedrich in front or the Throne of Charlemagne at Aachen Cathedral and raised at his grandmothers in the medieval village of Niederwenigern on the Ruhr Peninsula, later attended school in Kronberg, the widow seat of the German empress, where he received an intense artistic and musical training, a o. with Sergiu Celibidache. Stephan was a boy scout in the German Scout Association Saint George, a competition swimmer and amateur boxer, an experience he described in his autobiographical novel, Papiergewicht.
A grantee of the German National Merit Foundation, the German Academic Exchange Service, etc., Reimertz went to college at LMU Munich and graduated with an MA in comparative literature and a doctorate in art history and philosophy from FU Berlin. He has taught at Juniata College in Huntingdon, Pennsylvania, and was a Fulbright grantee at University of Texas at Austin, and a research fellow at Washington University in St. Louis, Missouri. Reimertz rejected political correctness and gender ideology and in 1996 left the USA for good. He however dedicated a compassionate monograph to Woody Allen and the American cinema, which represents a kind of summary of Reimertz's American years and is seen as a general reference work.
His philosophical teachers where Wolfgang Stegmüller, Robert Spaemann, Werner Beierwaltes, Eugen Biser and Rudolf Schottlaender, whom he visited in East-Berlin regularly to discuss traditions like Epicurianism and the Stoa, the chances of human liberty in the face of the massive ideological pressure in the eastern and the western world. With his tutor in the classics, Uvo Hölscher, Reimertz shared a lifelong passion for the work of Friedrich Hölderlin.
Works
At the age of seven years Reimertz embarked on writing poems, being equally trained in the arts and classical music. At twelve he started to publish articles against the ideological brain wash of the 1970s; at junior high, he co-founded a student magazine to prevent the downgrading of his secondary school into a comprehensive school and to go up against the so-called Change Through Rapprochement policy of the West-German government. Reimertz was a committed opponent of the Second Vatican Council, and at the age of 15 was strongly affiliated to cardinal Marcel Lefebvre, Catholic Traditionalism and Nicolás Gómez Dávila. By contrast, he rejected the Movement of '68 as well as of the Americanisation of Germany. During the West German federal election, 1980 he supported Franz Josef Strauß, candidate for chancellor of the Christian Social Union of Bavaria. During the German Reunification of 1989, Reimertz was a host and speaker in major broadcasts of the German public media ARD and contributed to national dailies such as Frankfurter Allgemeine and die tageszeitung; he strongly advised against an Enlargement of NATO and pleaded for a close cooperation with Russia.
In art history, Reimertz favoured a rigorous study of art. He enhanced Hans Sedlmayr's method of structural analysis (Strukturanalyse), calling on the discipline of art history to move past empirical research and reveal the aesthetic nature of the artwork. His monograph on the German artist Max Beckmann connects structural analysis with a cultural historiographic narrative and is considered a benchmark in modern art history.
Reimertz's first novel, Eine Liebe im Portrait ("A Love in Portraiture"), was released in 1996, featuring the fate of the artist Minna Tube, a paintress who became a celebrated mezzo-soprano, after her husband Max Beckmann had banned her from painting. Reimertz set up a new style of Realroman ("reality novel"), using only authentic quotations and composing them in an artistic narrative structure, thus combining the French tradition of biographie romancée with the German classical forms of Künstlerroman and Bildungsroman. Eine Liebe im Portrait received much acclaim as an exemplary account of the life and self-liberation of a woman artist in early 20th century Moreover, Reimertz, an ardent Wagnerian himself, paid tribute to a forgotten Wagner singer of the 1920s.
In 2001, Stephan Reimertz authored Papiergewicht ("Paper Weight"), an autobiographical novel set in a decadent upper-class family, reflecting the social changes of the early Seventies. This portrait of three generations of a West-German industrialist family is a passionate and acid reckoning with the hypocrisy and the cynicism of Western society. The novel shows the breaking down of traditional family structures under the influence of consumerism. The fight for survival of a highly gifted ten-year-old boy whose parents want to eliminate him to take hold of the heritage of his grandfather is mirrored by the story of Muhammad Ali and his way to his first defeat, in the 1971 New York boxing fight against Joe Frazier, the so-called Fight of the Century. Stephan Reimertz paints West-Germany of the early Seventies as an American province, eroded by consumerism and Americanism. However, the personalities of the courageous first-person narrator and the two heroic fighters Ali und Frazier propose a way out. The novel shows how - owing to sympathy, compassion and kindness - defeat can be turned into victory.
Trivia
Reimertz early networked with philosophers and intellectuals in the GDR and in 1986 organized a speech of Rudolf Schottlaender at the University of Frankfurt on Main, which was to be the last public appearance of the philosopher and classicist. In an 1993 article in Frankfurter Allgemeine Reimertz could establish a new evaluation of Schottlaender's Proust-translation of 1926.
On 9 November 1989, the night of the fall of the Berlin Wall, Stephan Reimertz by accident gave a speech on Karl Kraus at the Johann Wolfgang Goethe University of Frankfurt.
References
Stephan Reimertz Wikipedia
(Text) CC BY-SA