Released on July 29, 2005 by Columbia Pictures, the film cost $135 million to make, but was panned by critics, and was a box office bomb making only $76 million worldwide, one of the worst losses in cinematic history.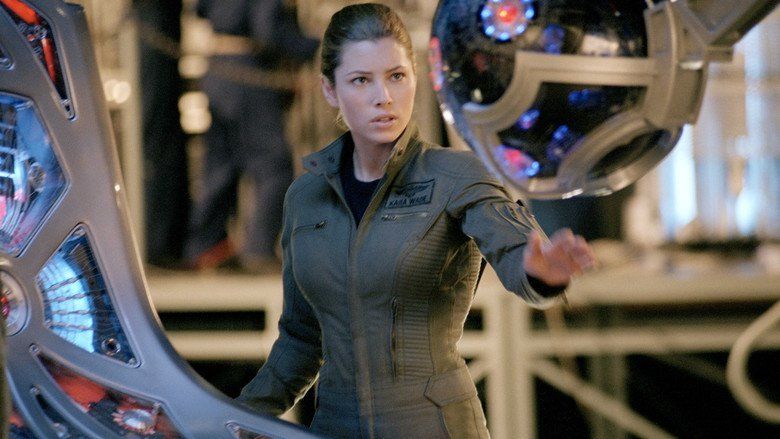 In the near future, the United States Navy develops an aviation program to deal with international terrorists and other enemies of the state quickly and quietly, and project controller Captain George Cummings is authorized to develop new technology to achieve these objectives. First, the project develops the F/A-37 Talon, a single-seat fighter with impressive payload, speed, and stealth capabilities. Over 400 pilots apply to participate, but only three are chosen: smart hotshot Lieutenant Ben Gannon, tomboyish Lieutenant Kara Wade, and street-wise, philosophical Lieutenant Henry Purcell. Their first test mission scores 100/100, inflicting maximum casualties with minimum collateral damage.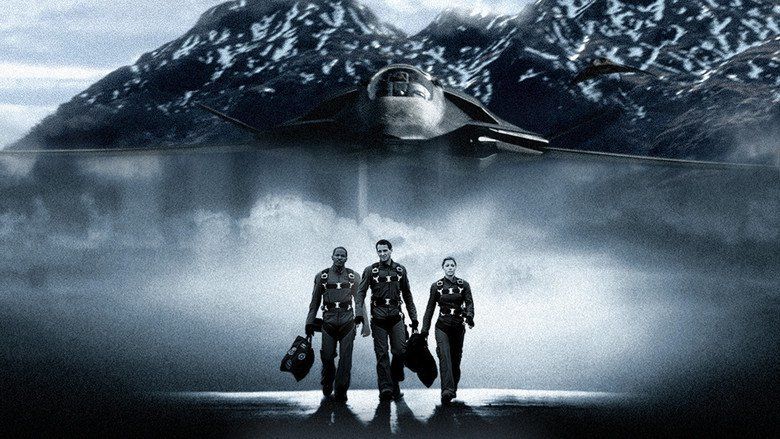 Cummings hires Dr. Keith Orbit to develop an artificial intelligence (AI), the "EDI", which will fly an unmanned combat air vehicle. The autonomous fighter jet is placed on the aircraft carrier USS Abraham Lincoln in the Philippine Sea to learn combat maneuvers from the pilots. This sparks some controversy. On the one hand, human pilots possess both creativity and moral judgment, while a machine cannot fully appreciate the ugliness of war; additionally, if robots fought the battles and soldiers no longer died in combat, then war would no longer be terrible and might become like sport. In contrast, a machine pilot is not subject to the physical limitations of a human pilot, can calculate alternative ways to achieve objectives faster and more accurately, and theoretically does not have ego.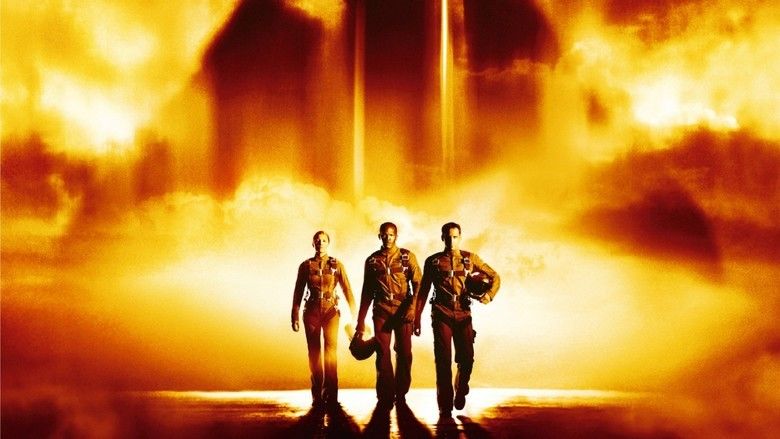 The team is training EDI in air combat maneuvers when they are unexpectedly reassigned to take out the heads of three terrorist cells at a conference in downtown Rangoon. EDI calculates that mission success can be achieved only through a vertical strike, which could cause the pilot to black out and result in collateral damage. Command orders EDI to take the shot, but Gannon ignores the order and attacks in his own plane, successfully carrying out the strike.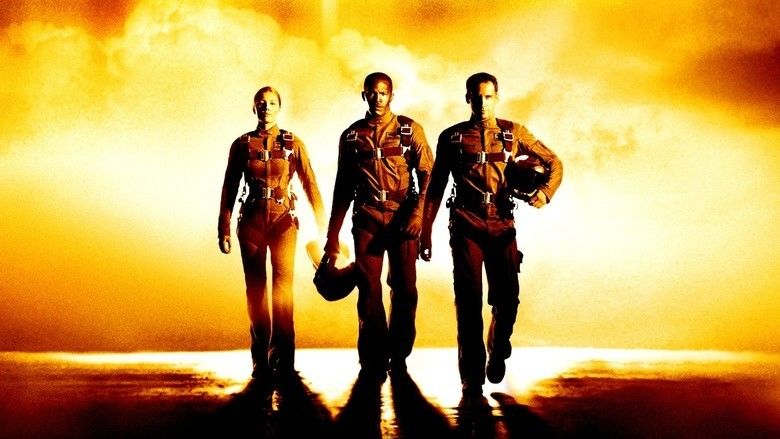 As the team returns to the Lincoln, EDI is hit by lightning which reprograms its neural patterns. Aboard ship, the already-sophisticated AI is discovered to be learning exponentially, developing a rudimentary ethical code and an ego. However, Cummings refuses to take it offline. During the next strike, to destroy several stolen nuclear warheads in Tajikistan, Wade realizes that the nuclear debris will cause significant collateral damage. The human pilots decide to abort, but EDI defies orders and fires missiles at the nuclear warheads, causing the predicted radioactive fallout.
Cummings orders the UCAV brought back to base, and Purcell attempts to reason with EDI, but the AI refuses to stand down. Gannon, taking things into his own hands, orders that EDI be shot down, and Purcell opens fire, but misses. Blinded by the explosion, Purcell crashes into a mountainside. Wade's plane is hit by debris from the explosion, resulting in loss of hydraulics of her port wing and canard, which in turn triggers the plane's auto-destruct, forcing her to eject over North Korea. Gannon, now the only pilot airborne, must alone stop the EDI from executing a twenty-year-old war scenario called "Caviar Sweep" and attacking a false target in Russia.
Gannon chases EDI into Russian territory over the Buryat Republic, and after several attacks from Russian aircraft damage both planes, he calls a truce with the UCAV in order both to keep it from falling into enemy hands and to be able to rescue Wade from North Korea. Cummings instructs him to make an emergency landing with EDI in Alaska. Cummings and his financial accomplice, Ray, are being held accountable for EDI's behavior and Cummings faces court-martial and possible discharge from the military. He seeks to eliminate witnesses by leaving Wade stranded in North Korea – where she is headed south to the border under hot pursuit from the Korean People's Army – and also by having Gannon eliminated in Alaska; he also sends Orbit to erase EDI's data to ensure its silence.
Gannon crash lands at the Alaska base, surviving with minor injuries. Already suspecting Cummings of treachery, he narrowly escapes an assassination attempt by a doctor, who tries to inject him with a tetanus shot which is actually poison. The pair struggle, and the doctor is injected with the poison and dies. Gannon then heads to the hangar, to find EDI and the intact plane. Meanwhile, when Orbit places EDI into an interface, the AI expresses sadness and regret for its transgressions. Orbit realizes that it has developed its own sentience, to the point of having feelings. Excited by this discovery, Orbit is unwilling to carry out his order to erase EDI's memory. After ensuring Orbit's escape, Gannon flies off to North Korea with EDI, contacting the Lincoln's skipper, Captain Dick Marshfield to inform him about Cummings' deceit. Marshfield confronts Cummings and places him under arrest, but the latter commits suicide instead after a final call to Ray (who refused to answer the phone).
Gannon eventually finds the injured and embattled Wade near the border between North and South Korea. He and EDI land and he goes to her aid. The two make a run for the border, chased by Korean People's Army soldiers and a Mil Mi-8 helicopter. Out of ammunition and taking damage from the Mi-8, the EDI sacrifices itself by ramming the helicopter, destroying both. This allows Gannon and Wade to escape into South Korea, where they are found by US military forces soon afterwards. After attending Purcell's funeral aboard the Abraham Lincoln, Gannon awkwardly expresses his feelings of love to Wade.
In a post-credits scene, the camera pans over the debris-strewn scene on the border between the Koreas. EDI's "brain" turns back on, implying it is still functional.
Josh Lucas as Lt. Ben "Big" Gannon
Jessica Biel as Lt. Kara "Guns" Wade
Jamie Foxx as Lt. Henry "E-Z" Purcell
Sam Shepard as Capt. George Cummings
Joe Morton as Capt. Dick Marshfield
Richard Roxburgh as Dr. Keith Orbit
Ian Bliss as Lt. Aaron Shaftsbury
Ebon Moss-Bachrach as Tim
David Andrews as Ray
Wentworth Miller as EDI
Nicholas Hammond as executive officer
Stealth features several shots of action on aircraft carriers. Scenes featuring the cast were shot on board the US Navy aircraft carrier USS Abraham Lincoln, while additional scenes were shot on board the USS Nimitz and USS Carl Vinson.
The film was shot in Thailand, Australia (Blue Mountains National Park in New South Wales and Flinders Ranges in South Australia), and New Zealand. Cohen cited Macross as an inspiration for the film.
Stealth featured many presently used, futuristic, or theoretical technologies at the time of release. These include:
Computer technology (all wildly mixed)
quantum computer
Artificial neural network
artificial intelligence
Airplanes
pulse detonation engine
scramjet
VTOL
aeroelastic control surfaces
EDI UCAV (Extreme Deep Invader UCAV)
Sukhoi Su-37 Terminator. The aircraft featured in the film are shown as having two crew members, although the current prototype Su-37 is a single-seat aircraft. As of 2007, however, there are only two prototype Su-37 aircraft in existence, never having been bought as a production aircraft.
The fictional F/A-37 Talon. The aircraft mock ups for the Talon were so realistic that photos of them on the deck of an aircraft carrier were circulated online, claiming they displayed an actual experimental aircraft. The aircraft itself has a similar configuration to the unbuilt Northrop Switchblade.
Boeing F/A-18E/F Super Hornet
F/A-18 Hornet
High-altitude airships (Camelhumps) used for aerial refueling
Warships
The aircraft supercarrier featured in the film, USS Abraham Lincoln, is shown to have three different Naval Registry numbers during angles from different scenes.
In March 2005, Leo Stoller, who claimed to own trademark rights to the word "stealth", served Columbia Pictures with a "cease and desist" letter threatening litigation if they did not rename the film to something "non infringing". Columbia preemptively sued Stoller, and the court entered a consent judgment and permanent injunction in favor of Columbia Pictures and against Stoller in November 2005.
The Environmental Defender's Office, a community legal centre specialising in environmental law, successfully represented the Blue Mountains Conservation Society Inc. in its attempts to prevent filming of Stealth in the Grose Wilderness area of the Blue Mountains National Park, NSW, Australia, in May 2004. Justice Lloyd of the New South Wales Land and Environment Court ruled that the proposed commercial filming of scenes in the area was unlawful, in a significant statement on the value of wilderness areas and the protection that should be afforded to them. The Society claimed that the authority and consent for the commercial filming activities were in breach of the National Parks and Wildlife Act 1974 and the Wilderness Act 1987. Justice Lloyd accepted the Society's arguments that the proposed commercial filming in a wilderness area was completely against the intended use of the land, concluding his judgment with the words, "wilderness is sacrosanct".
"Make a Move" – Incubus (3:12)
"Admiration" – Incubus (4:13)
"Neither of Us Can See" – Incubus (4:04)
"(She Can) Do That" – BT & David Bowie (3:15)
"Dance to the Music" – will.i.am & Sly & The Family Stone (4:06)
"Bullet-Proof Skin" – Institute (4:24)
"L.S.F." – Kasabian (3:18)
"Bug Eyes" – Dredg (4:16)
"Over My Head (Cable Car)" – The Fray (3:56)
"One Day" – Trading Yesterday (4:21)
"Different" – Acceptance (4:09)
"Nights in White Satin" – Glenn Hughes, Chad Smith & John Frusciante (4:56)
"Aqueous Transmission" – Incubus (7:48)
The film cost $135 million to produce (which does not include advertising costs) and was released in 3,495 theaters, but had an opening weekend of only $13,251,545 for an average of only $3,792 per theater, peaking at 4th place behind Wedding Crashers, Charlie and the Chocolate Factory and Sky High. It then lost 55 percent of its audience in its second weekend dropping to 7th place to $5,923,794, while remaining at 3,495 theaters and averaging just $1,695 per theater. In its third weekend, it lost 1,455 theaters, and a further 64 percent of its audience, dropping to 11th, with just $2,151,768, for an average of just $1,055 from 2,040 theaters.
It ended up making $32,116,746 in the United States and Canada, and $44,816,126 internationally for a total worldwide gross of $76,932,872, making it the biggest money loser in a series of financial disasters released by Columbia Pictures in 2005 next to XXX: State of the Union, Bewitched, Rent, Zathura, Into the Blue, Man of the House and Lords of Dogtown.
Rotten Tomatoes gave it 13%, with an average score of 3.8/10. The site's consensus is: "Loud, preposterous, and predictable, Stealth borrows heavily and unsuccessfully from Top Gun and 2001." In Metacritic, the film has a rating of 35% based on 31 reviews, which indicates "generally negative reviews". Stealth holds a rating of a D+ on Yahoo Movies.
Roger Ebert commented that the film was "a dumbed-down Top Gun crossed with the HAL 9000 plot from 2001."