Covid-19
Russia




Valery Baretsky




Musician





Stanislav Baretsky






Turbo chanson Rock Russian chanson Rap Experimental music Electronic music Recitative Intelligent dance music Performance art




Elektronschina, Huinya, Khleb, Avrora




Sergey Shnurov, Yuliya Kogan, Syava, Stas Mikhaylov, Andrei Antonenko




Leningrad (band), EU




Leningrad (2005 – 2008)



Stas Baretsky (born 8 March 1972 in Lomonosov, USSR) is a Russian musician. He has worked with the groups Leningrad and EU.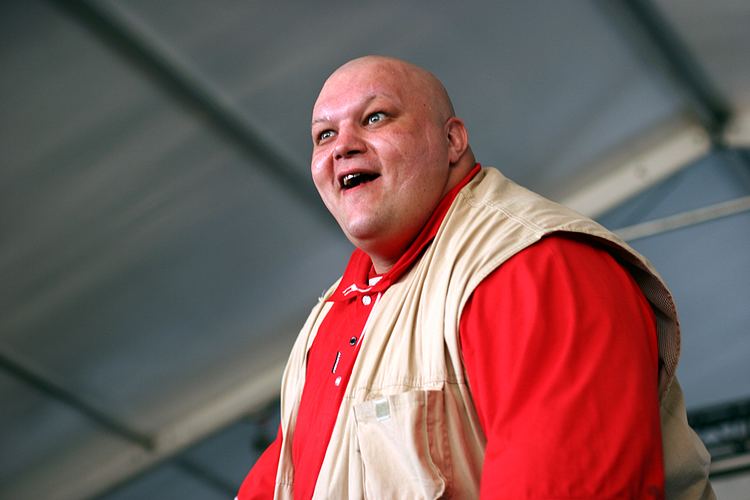 Baretsky has worked as a security guard, opened a cafe, and had several other jobs. He wrote poetry as a young man. In 2002 he made songs based on this work. In the period from 2003 to 2004 he recorded two solo albums, Цензура ("Censorship") and Цензура-2 ("Censorship-2"). Some of the songs were played on the radio.
In 2004 he worked with the group named EU. They released an album in 2005, Электронщина (Elektronschina) featuring a stencil of his face on the cover. He performed at concerts with EU in Moscow and St Petersburg. He then worked with the group Leningrad, writing lyrics for a song.
Baretsky is known for his scandalous behaviour, particularly because he often attacks other celebrities on air of different TV shows.
Цензура - Censorship - 2003
Цензура-2 - Censorship-2 - 2004
Электронщина - Elektronschina - 2005 (with EU (group))
Романтик Блядь Коллекшн - Romantic Fucking Collection - 2011
Дискотека - Discoteca - 2013
Девяностые - Nineties - 2014
2-Асса-2 2009
Жесть Миллионов - Zhest Million - 2010
Шапито-шоу - Tent Show - 2011
Литейный - Casting - 2011
Give me your money- Little Big- 2015
Stanislav Baretsky Wikipedia