Notable work

"The Story of Painting" (1999)

Education

California College of the Arts (1977)

Books

Horizon on Fire: Works on Paper, 1977-2013

Known for

Painting, Printmaking, Artist's book
Squeak carnwath imagination is the mind s freedom
Squeak Carnwath (born 1947 in Abington, Pennsylvania) is a contemporary American painter and arts educator. She is a Professor Emerita of Art at University of California, Berkeley.
Contents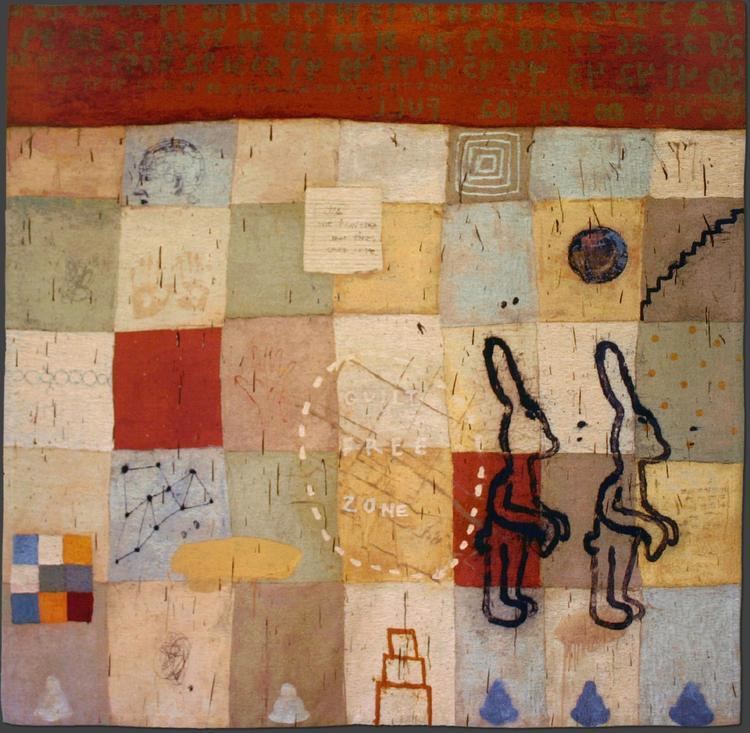 10 season 1 ep10 primitive abstracts squeak carnwath peter burega thom bierdz 2 29 2012 mov
Background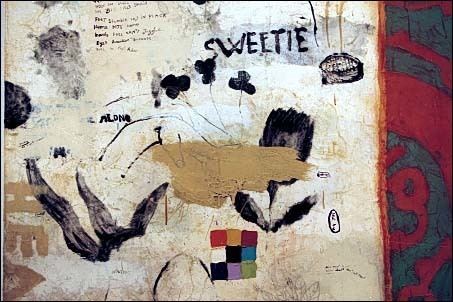 The name Squeak was a childhood name that stuck.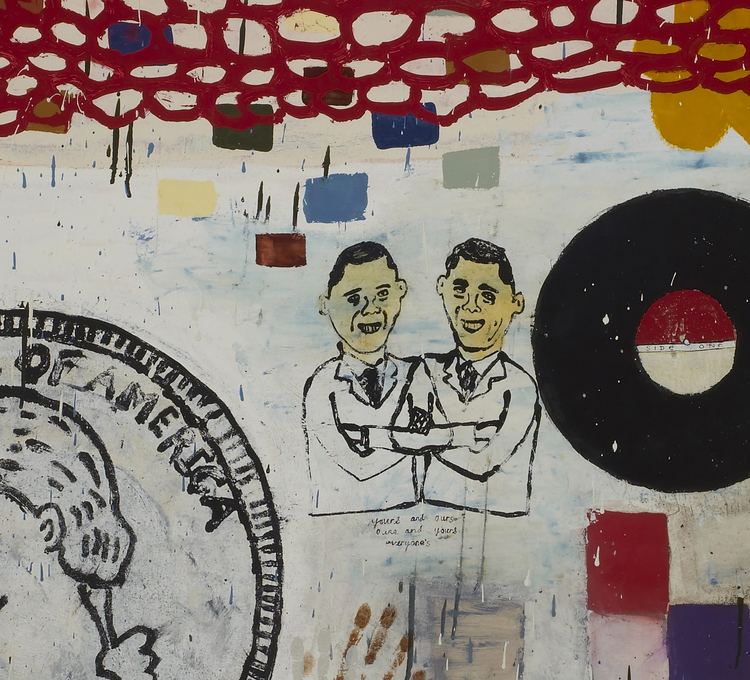 After high school, Carnwath studied art in Illinois, Greece, and Vermont before attending the California College of Arts and Crafts, where she studied ceramics, painting, and sculpture with Viola Frey, Art Nelson, Jay DeFeo, and Dennis Leon. She received her MFA from California College of Arts and Crafts in 1977. She taught at University of California, Berkeley from 1982 until 2010, having previously taught at California College of Arts and Crafts and Ohlone College.
In 2000, Carnwath partnered with husband Gary Knecht and artist Viola Frey to establish the Artists' Legacy Foundation (ALF). According to the Foundation's website, their mission is "... to support and encourage fellow artists through awards and grants, promoting and protecting the legacy of deceased "Legacy Artists," and generally supporting the visual arts, especially where the hand of the artist is a significant factor in making art."
She currently has a studio in Oakland, California, where she has lived and worked since 1970.
Work
Soon after graduating with an MFA, Carnwath began to receive recognition for her work including a Visual Arts Fellowship grant from the National Endowment for the Arts and a SECA Art Award in 1980 from the San Francisco Museum of Modern Art, which included a solo exhibition at the museum. The exhibition featured a large sculptural installation titled My Own Ghost. Works on paper related to the My Own Ghost series were also included.
Following the exhibition, Carnwath focused on paintings and works on paper. Early 1980s artworks included interior scenes, stylized figures, and everyday objects like cups and vases, with titles often painted into wide borders. Her work was exhibited at Goldeen Gallery in San Francisco and Van Straaten Gallery in Chicago.
In the mid-1980s, Carnwath produced a series of works based on dog toys including balls, bones, a hand, and a Kong toy.
During the 1990s, Carnwath created series of list paintings, which included paintings describing color, gender norms, and fears, among other topics. Many of the paintings follow a similar format, with a list of associated words grouped in one portion of the canvas, and colors or imagery charted on the remaining portion. For example, the words slime, jade, salad, and sickness are included in a list above swatches of green in the color painting Things Green.
In 1994, Carnwath was awarded the Guggenheim fellowship from the John Simon Guggenheim Memorial Foundation.
Carnwath has a distinctive and recognizable style which combines diaristic and personal elements with universal or existential themes. Her paintings "combine text and images on abstract fields of color to express sociopolitical and spiritual concerns." She has described herself ironically as a "painting chauvinist" due to an abiding preference for that medium, although she is also an accomplished printmaker and has created sophisticated Jacquard tapestries, artist books, and mixed media works in addition to her oil and alkyd works on canvas.
Carnwath's paintings and works on paper in the 2000s and 2010s continued to explore a personal iconography, with new groups of symbols blending with those used throughout her career. Text-based works produced during this time include a series of song paintings, which utilize popular song titles tightly painted over blocks of color.
In an essay for a 2001 Flintridge Foundation catalog, Noriko Gamblin describes the evolution of Carnwath's approach to composition and subject matter:
In 2006, her work was part of the traveling multi-media art exhibit The Missing Peace: Artists Consider the Dalai Lama.
Solo exhibitions in 2015 and 2016 included: What Before Comes After, Jane Lombard Gallery, New York; Songs, James Harris Gallery, Seattle; Squeak Carnwath: The Unmediated Self, di Rosa, Napa; and Everyday Is Not the Same: Squeak Carnwath's Prints and Papers, Jordan Schnitzer Museum of Art, Eugene, OR.
Public collections
Carnwath is represented in the following public collections:
American Academy of Arts and Letters, New York, NY
Anderson Collection at Stanford University, Stanford, CA
Arkansas Art Center, Little Rock, AR
Berkeley Art Museum, University of California, Berkeley, CA
Bowdoin College Art Museum, Brunswick, ME
Brooklyn Museum, Brooklyn, NY
Fine Arts Museums of San Francisco, San Francisco, CA
Honolulu Museum of Art, Honolulu, HI
List Visual Art Center, M.I.T., Boston, MA
The Metropolitan Museum of Art, New York, NY
The Shrem Museum, University of California, Davis, CA
Norton Museum of Art, West Palm Beach, FL
Oakland Museum of California, Oakland, CA
Palm Springs Desert Museum, Palm Springs, CA
The Rutgers University Fine Arts Collection, Brunswick, NJ
San Francisco Museum of Modern Art, San Francisco, CA
San Jose Museum of Art, San Jose, CA
Yale University Art Gallery, New Haven, CT
Publications
In 1996, Chronicle Books published a 108-page monograph titled Squeak Carnwath: Lists, Observations & Counting with essays by Leah Levy and James and Ramsay Breslin. In 2009, the professional association between artist Squeak Carnwath and Karen Tsujimoto, senior curator of art at the Oakland Museum of California, culminated in the exhibition Squeak Carnwath: Painting Is No Ordinary Object (April 25 through August 23, 2009). The exhibition's companion book, Painting Is No Ordinary Object, is a 160-page retrospective of Carnwath's career. It features more than 80 color reproductions and essays by Tsujimoto and art critic and poet John Yau (co-published by Pomegranate, 2009).
References
Squeak Carnwath Wikipedia
(Text) CC BY-SA