Genres

Alternative pop rock




Website

sparkadia.com.au




Origin

Sydney, Australia (2004)


Members

Alexander Burnett




Years active

2004 (2004)–present




Genre

Alternative rock




Record label

Ivy League Records





Labels

Boundary/Inertia, Ivy League, Ark Recordings




Associated acts

Alexander BurnettAntony & Cleopatra




Past members

David HallJosephine AylingNick RaboneTiffany Preece




Albums

The Great Impression, Postcards, Things Behind the Sun


Similar

Little Red, Children Collide, Bluejuice, The Grates, The Panics
Sparkadia the great impression
Sparkadia is a band that formed in Sydney in 2004 and were originally known as 'The Spark'. The brainchild of Alexander Burnett (vocals, guitar) and Dave Hall (drums), the band became a reality with the addition of Nick Rabone (bass) and Josephine Ayling (keyboards, guitar, vocals) in 2006. In 2008 Ayling was replaced by Tiffany Preece on guitars and vocals. By 2009 the group had become Burnett's solo project. Sparkadia has issued two studio albums, Postcards (31 May 2008) and The Great Impression (18 March 2011).
Contents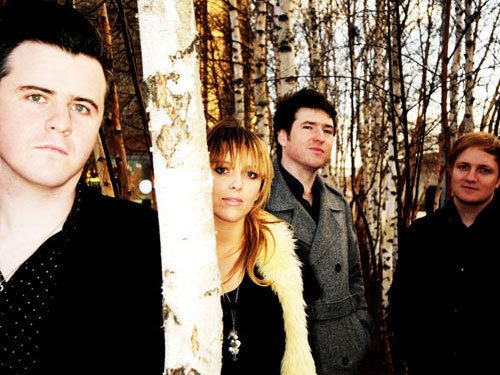 Talking like i m falling down stairs sparkadia live at uc 2011
Band History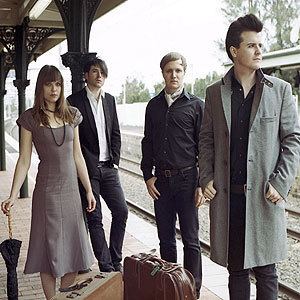 Sparkadia formed as a duo in 2004 in Sydney by Alex Burnett on lead vocals and David Hall on drums. They first came into prominence in Australia with their debut EP titled Things Behind the Sun.[1] The EP was released by Australian indie label, Boundary Sounds on 20 February 2007; with the lead single "Morning Light" being the No. 1 most downloaded track off Australian national broadcasters Triple J's website with 32,000 downloads in a month. This was followed by extensive Australian touring and led to signing with UK indie label Ark Recordings.[2]
On 17 February 2007 Sparkadia issued a five track extended play, Things Behind the Sun, on Boundary Sounds through Inertia Records, which peaked in the ARIA Singles Chart top 100 for four weeks in March–April. It was followed by a single, "Too Much to Do" (May 2008), which reached No. 11 on the ARIA Hitseekers Singles Chart.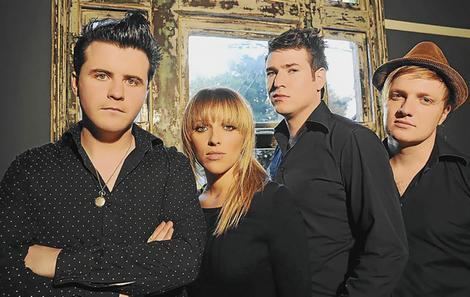 Their first studio album, Postcards, was released on 31 May 2008 and reached number 23 in the ARIA Albums Chart. For the album the line-up were Ayling, Burnett, Hall and Rabone. Soon after Ayling was replaced by Tiffany Preece on guitars and vocals. However, by 2009 Sparkadia had become Burnett's solo project; according to Burnett: Hall had "moved onto other things", Preece had left to have a baby, and Rabone went to India.
In September 2010 Sparkadia issued the next single, "Talking Like I'm Falling Down the Stairs", which peaked in the top 100. Another single, "China", was issued in March 2011. Burnett, as Sparkadia, had moved to London to work on the second album in mid-January 2010. The Great Impression was issued on 18 March 2011, which reached number 8 on the ARIA Albums Chart. On 20 March it was the week's "feature album" on national youth radio Triple J.
Their cover of "This Boy's in Love" by The Presets for Triple J's 'Like a Version Volume 5' of 2009 and subsequently appeared in their 'Best of' anthology released in 2013.
In late 2012, 'Space & Time', off their debut record was featured on the Sears campaign, Connecting Flights.
As of 2016, Alexander Burnett is currently working on the third Sparkadia album.
Members
Alex Burnett – lead vocals, guitar, keyboards (2004–present)
David Hall – drums (2004–2009)
Josephine Ayling – guitar, keyboards, vocals (2006–2008)
Nick Rabone – bass guitar (2006–2009)
Tiffany Preece – guitars, vocals (2008–2009)
Studio albums
Postcards (31 May 2008) AUS: No. 23
The Great Impression (18 March 2011) AUS: No. 8
Extended plays
Things Behind the Sun (17 February 2007) AUS: No. 83
Singles
"Morning Light" (February 2007)
"Animals" (October 2007)
"Too Much to Do" (May 2008)
"Jealousy" (July 2008) No. 79 Triple J Hottest 100, 2008
"Talking Like I'm Falling Down the Stairs" (20 September 2010) [No. 24 Hottest 100, 2010] AUS: No. 75
"China" (11 March 2011) No. 56 Triple J Hottest 100, 2011 AUS: No. 81
"Mary" (6 June 2011) [No. 47 Triple J Hottest 100, 2011]
"Love Less Love" (October 2011)
Tour History
The band toured across Australia, UK and Europe throughout the 2000s, with pockets of fan bases in Britain and Germany outside Australia. They have performed with many diverse artists such as:
Death Cab for Cutie
Tegan & Sara
The Temper Trap
Pet Shop Boys
The Feeling
Modest Mouse
Hot Hot Heat
Ben Lee
In 2007, Sparkadia supported Elbow on their tour of Australia following the release of the Things Behind the Sun EP. This was followed by a tour of the UK that included supporting Irish band The Thrills, whom they were to support again the following year on their Australian tour.
In 2008, Sparkadia toured with Jimmy Eat World on their European tour. This was followed by shows with Vampire Weekend, as well as their own headline shows across the UK and Europe.
Festivals appearances at that time include Glastonbury, T in the Park, V Festival and Oxegen Festival. Returning to Australia, Sparkadia supported Faker on their Are You Magnetic? tour across Australia, before heading out on their own headline tour. The band played Australia's New Year's Eve festival Pyramid Rock in 2008 and 2011.
In 2009, Sparkadia toured Australia as part of the Big Day Out, before embarking on a string of sold out shows across Australia before amicably parting ways as a four piece.
After travelling around the US and Europe, Alexander Burnett finished working on the second album in London with Mark Tieku (Florence and the Machine); playing multiple instruments on the recording. The album came out in out early 2011, with the first single off the album "Talking Like I'm Falling Down Stairs" released in September 2010, coinciding with Little Red's Midnight Remember tour, which Sparkadia supported.
2011 onwards: Alexander Burnett solo career
Following Sparkadia's The Great Impression and Mary tours of 2011, Burnett joined the Nick Cave Straight To You concert series organised by Triple J. He performed on many of the songs on the tour including his own rendition of The Boys Next Door's "Shivers", and the duet "Where the Wild Roses Grow" with Lanie Lane. The subsequent live recording/DVD went on to win an ARIA in the 2012 awards.
From December 2012, Burnett has largely working as a songwriter. He has collaborated and co-written tracks for various artists including DJ Snake, Kaiser Chiefs, Digitalism, Flight Facilities, Alison Wonderland, Elizabeth Rose, Dan Sultan, and more. Burnett currently writes and records at Studio XXVII in Dalston in London, which he runs with producer Blue May and studio manager Dave Johnson.
Burnett also has a deep house project called Antony & Cleopatra, which is based in London. It is a duo with Anita Blay (AKA CocknBullKid), who met in London in 2014 during a pop writing session.
Their debut single as lead artists, "Sirens", was released in 2015, and an album is soon to follow. Another single was released afterwards entitled "Take Me". The duo got together again to form their third single and first single of 2016, entitled "Love Is A Lonely Dancer", which was debuted on SoundCloud.
The duo have provided vocals on:
Sammy Bananas - Money/Time (feat. Antony & Cleopatra) (2014)
Beni - Protect (feat. Antony & Cleopatra) (2014)
Lancelot - Make Ends Meet (feat. Antony & Cleopatra) (2014)
Lancelot - Givin' It Up (feat. Antony & Cleopatra) (2014)
Songs
Talking Like I'm Falling Down StairsThe Great Impression · 2011
Too Much to DoPostcards · 2008
Love Less LoveThe Great Impression · 2011

References
Sparkadia Wikipedia
(Text) CC BY-SA