Active

1955–1975




Type

Air force




Founded

1955




Country

South Vietnam




Bomber

Martin B-57 Canberra






Size

63,000 personnel (at height)2,075 aircraft (at height)




Part of

Republic of Vietnam Military Forces


Garrison/HQ

Tan Son Nhat Airbase, Saigon




Motto

Tổ Quốc - Không Gian (Fatherland - Space)




Reconnaissances

Northrop F-5, Fieseler Fi 156


Headquarters

Tan Son Nhat International Airport, Ho Chi Minh City, Vietnam, Ho Chi Minh City, Vietnam




Fighters

Grumman F8F Bearcat, Northrop F-5




Similar

Republic of Vietnam Military F, Vietnam People's Air Force, Army of the Republic of Vietnam, Republic of Vietnam Marine Di, Vietnamese Rangers
Synd 09 08 1969 south vietnam air force school blasted by vietcong plastic charges
The South Vietnam Air Force (Vietnamese: Không lực Việt Nam Cộng hòa – KLVNCH), officially the Republic of Vietnam Air Force (sometimes Vietnam Air Force – VNAF) was the aerial branch of the Republic of Vietnam Military Forces, the official military of the Republic of Vietnam (South Vietnam) from 1955 to 1975.
Contents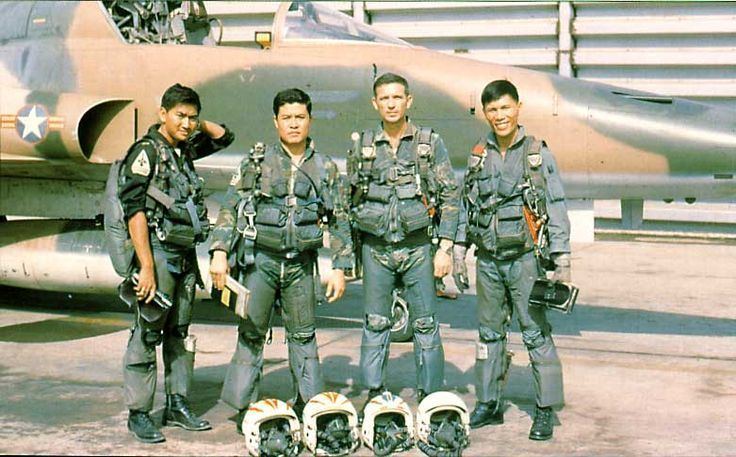 The VNAF began with a few hand-picked men chosen to fly alongside French pilots during the State of Vietnam era. It eventually grew into the world's sixth largest air force at the height of its power, in 1974. It is an often neglected chapter of the history of the Vietnam War as they operated in the shadow of the United States Air Force. It was dissolved in 1975 after the Fall of Saigon; many of its members emigrated to the United States.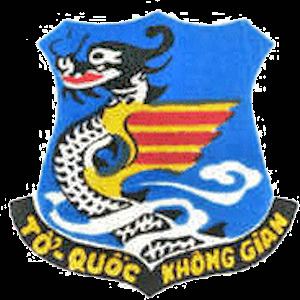 History
See also Operation Farm Gate
In March 1949, Emperor Bảo Đại officially requested that the French help set up a Vietnamese military air arm. Pressure was maintained with the assistance of Lt. Col. Nguyễn Văn Hinh, who had flown the B-26 Marauder with the French Air Force in the Second World War. In March 1952, a training school was set up at Nha Trang, and the following year two army co-operation squadrons began missions flying the Morane-Saulnier MS.500 Criquet light aircraft. In 1954, the French allocated a number of Dassault MD.315 Flamant armed light transports to the inventory of this Vietnamese air arm. Vietnamese pilot trainees began to be sent to France for more advanced training. In May 1954, with the fall of Điện Biên Phủ, the position of France changed, and on January 31, 1955, the Vietnam Air Force (VNAF) was inaugurated. French instructors for pilots and mechanics remained until late 1956, and transferred 69 F8F Bearcat aircraft to the VNAF, which throughout the late 1950s were the main strike aircraft.
Analysis
In contrast with the North's Vietnam People's Air Force, most allied air operations in the Vietnam War were conducted by the U.S. armed forces. The South Vietnamese forces operated at a fairly basic level compared to the U.S. forces, which carried out the bombing campaigns in the north. The 19th Tactical Air Support Squadron was organized on 17 June 1963. The United States in May 1956 had started to train and advise the South Vietnamese Air Force. The VNAF was supplied with H-19 helicopters, and later H-34s. Initially, they employed simple T-28 Trojan prop powered trainers which could carry a small bombload.
The first jets were B-57 Canberra bombers arriving in 1965. In October of the same year the VNAF received its first modern UH-1 Huey turbine powered helicopters. Later, the US released more powerful light attack A-1 Skyraiders and jet light attack A-37 Dragonfly, and the lightweight F-5 Freedom Fighter which was developed by Northrop as an affordable export fighter for foreign air forces. By late 1972, the VNAF operated 18 squadrons with 500 new helicopters, one of the largest helicopter fleets in the world.
In 1972, President Thieu asked for, but did not receive, the F-4 Phantom with its massive bombload and speed that was widely used for all roles by US air services. When the Vietnam People's Army (NVA) started to install anti-aircraft missiles near Khe Sanh, the VNAF lacked the radar jamming gear, and the navigational aids required to attack the missile sites. The VNAF primarily flew close support as communist forces did not fly aircraft over US-held territory, so they never had the opportunity to fight MiGs or "go downtown" in heavy fighter bombers. Consequently, the Army of the Republic of Vietnam (ARVN) was at a significant disadvantage once the US air force left Vietnam due to the lack of the bombings and air support provided by the U.S.
Fall of South Vietnam
During the final 1975 offensive, it was not simply a case of a massive collapse. The ARVN forces in Long Khánh were fighting to the death. A cooperative effort between the ARVN and the VNAF enabled ARVN troops there to hold on. CH-47 helicopters brought in 193 tons of artillery ammunition over two days. A-1 Skyraiders flew in and C-130 Hercules transports dropped massive 15,000-pound daisy cutter bombs on enemy positions. Flying against intense antiaircraft fire, they took a heavy toll on the NVA divisions around Xuân Lộc.
On 28 April at 18:06 3 A-37 Dragonflys piloted by former VNAF pilots who had defected to the Vietnamese People's Air Force at the fall of Danang dropped 6 Mk81 250 lb bombs on the VNAF flightline at Tan Son Nhut Air Base destroying several aircraft. VNAF F-5s took off in pursuit, but were unable to intercept the A-37s.
At dawn on 29 April the VNAF began to haphazardly depart Tan Son Nhut Air Base as A-37s, F-5s, C-7s, C-119s and C-130s departed for Thailand while UH-1s took off in search of the ships of TF-76. At 08:00 Lieutenant General Minh, commander of the VNAF, and 30 of his staff arrived at the American DAO Compound, demanding evacuation. This signified the complete loss of command and control of the VNAF.
Some VNAF aircraft did stay to continue to fight the advancing NVA however. One AC-119K gunship from 821st. Attack Squadron, had spent the night of 28/29 April dropping flares and firing on the approaching NVA. At dawn on 29 April two A-1 Skyraiders began patrolling the perimeter of Tan Son Nhut at 2500 feet until Maj. Trương Phùng, one of the two Skyraider was shot down, presumably by an SA-7. At 07:00 the AC-119K "Tinh Long" flew by Lt. Trang van Thanh was firing on NVA to the east of Tan Son Nhut when it too was hit by a SA-7 missile, and fell in flames to the ground. Sgt. Son, one of the AC-119K gunner tried to escape but his chute tangled in the tail of the airplane.
Despite sporadic artillery and rocket fire, Binh Thuy Air Base remained operational throughout 29 April and on the morning of 30 April with VNAF A-37 aircraft flying an unknown number of sorties against PAVN columns moving into Saigon, these were the last combat sorties flown by the VNAF. After the announcement of the surrender of South Vietnam by President Minh the pilots flew their stripped down aircraft to U-Tapao Air Base in Thailand, often carrying three or even four people.
Equipment
Ground attack aircraft
Douglas A-1 Skyraider
Cessna A-37 Dragonfly
Douglas AC-47 Spooky
Fairchild AC-119G Shadow
Fairchild AC-119K Stinger
Bomber aircraft
Douglas B-26 Invader – Provided during Farm Gate
Martin B-57 Canberra – On loan from USAF for training only – never deployed in combat by VNAF
Fighter aircraft
Grumman F8F Bearcat
Northrop F-5A/B/C Freedom Fighter
Northrop F-5E Tiger II
Reconnaissance and observation aircraft
Douglas RC-47 Dakota
Northrop RF-5A Freedom Fighter
Cessna L-19/O-1A Bird Dog
Cessna O-2A Skymaster
Morane-Saulnier MS 500 Criquet
Rotary wing aircraft
Aérospatiale AS-318 Alouette II
Aérospatiale AS-319 Alouette II
Bell UH-1 Iroquois/Huey
Sikorsky H-19 Chickasaw
Sikorsky H-34 Choctaw
Boeing CH-47 Chinook
Training aircraft
Pazmany PL-1
North American T-6 Texan
North American T-28 Trojan – Provided during Farm Gate
Cessna T-37 Tweet
Cessna T-41 Mescalero
Transport and utility aircraft
L-26 Aero Commander
de Havilland Canada C-7 Caribou
Beechcraft C-45 Expeditor
Douglas C-47 Skytrain
Douglas DC-6/C-118 Liftmaster
Fairchild C-119 Flying Boxcar
Fairchild C-123 Provider
Lockheed C-130 Hercules
Dassault MD 315 Flamant
de Havilland Canada U-6 Beaver
Cessna U-17A/B Skywagon
CASA C212 Aviocar
Recruitment and Training
Unlike the ARVN, the VNAF was an all-volunteer service, remaining so until its demise in 1975. The VNAF recruiting center was located at Tan Son Nhut Air Base. Recruits were given a screening test, followed by a physical examination.
Basic requirements for service in the VNAF was to be a Vietnamese citizen; at least age 17; minimum age 25 for flight training; no criminal record; the equivalent of a US 9th grade education for airmen; 11th grade for those entering pilot training or a 12th grade for non-rated officer.
If a volunteer met all the qualifications, the recruit was then sent to basic training at the ARVN training base at Lam Song. Non-commissioned officer (NCO) training was held at Bien Hoa Air Base. After two months of training, or four months for aviation cadets, the recruit was given an aptitude test and progressed to specialized technical training. From there, he was sent to one of the ARVN wings for journeymen training. Aviation cadets pursued three additional months of specialized training after completing their initial four-month training course. Some were sent to the United States for advanced pilot training while non-rated officers pursued training in South Vietnam for their non-flying assignments. This training lasted about nine months, whereupon a cadet served in an operational unit for about a year before receiving a commission as a second lieutenant.
Women also served in the VNAF. The Women's Armed Forces Corps (WAFC) was formed to fill non-combat duties beginning in December 1965. Women were assigned to VNAF wings, Headquarters, the Air Logistics Wing, performing duties as personnel specialists, secretaries and other administrative roles.
References
South Vietnam Air Force Wikipedia
(Text) CC BY-SA