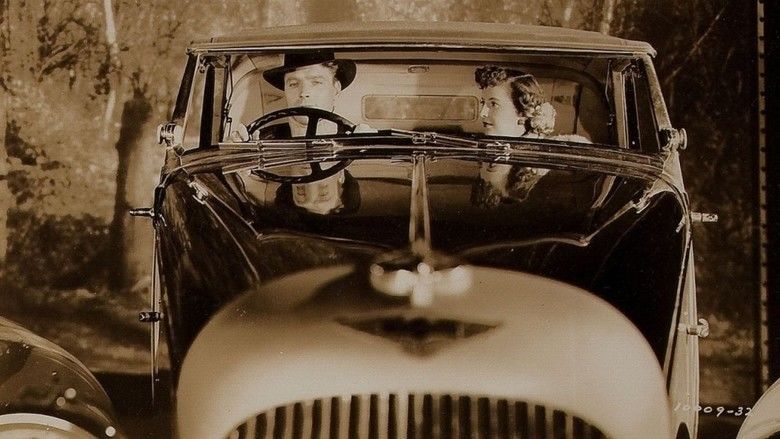 Leona Stevenson (Barbara Stanwyck) is the spoiled, bedridden daughter of wealthy businessman James Cotterell (Ed Begley). One day, while listening to what seems to be a crossed telephone connection, she hears two men planning a woman's murder. The call cuts off without Leona learning very much other than it is scheduled for 11:15, when a passing train will hide any sounds. She calls the telephone company and the police, but with few concrete details, they can do nothing. Complicating matters, her husband Henry (Lancaster) is overdue and their servants have the night off, leaving her all alone in a Manhattan apartment.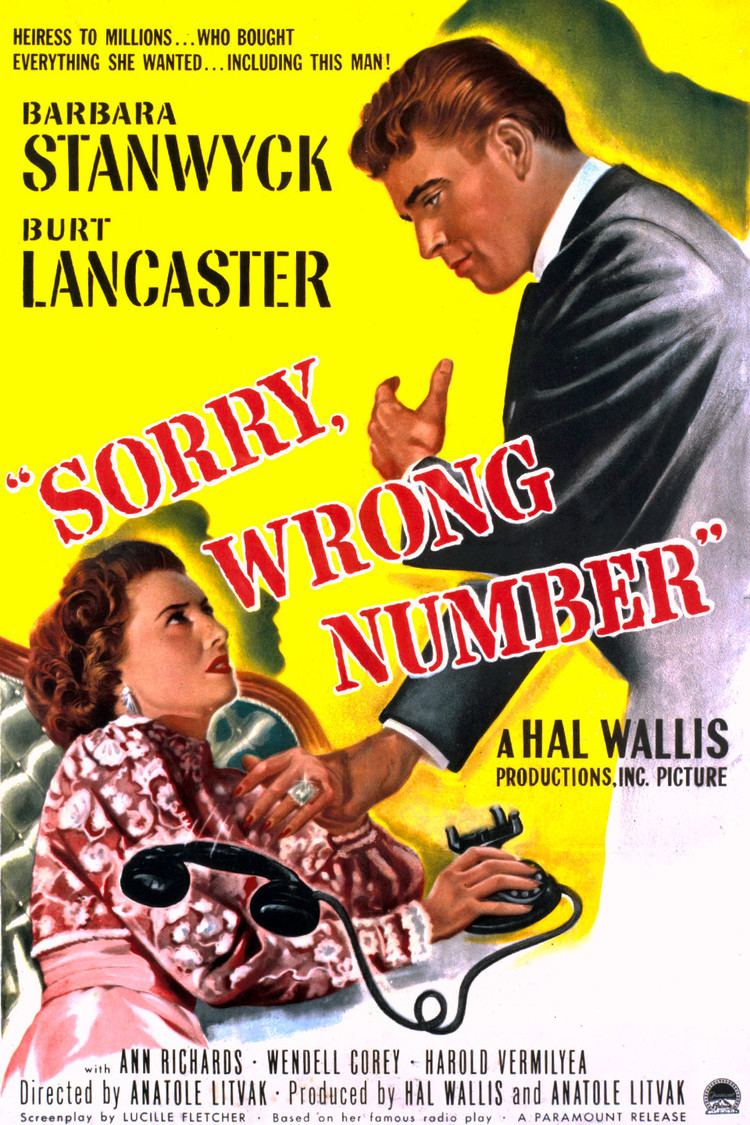 As she makes a number of phone calls trying to locate Henry, Leona inadvertently begins to piece together the mystery. The story is told mostly in flashbacks. When Leona reaches Henry's secretary, Elizabeth Jennings (Dorothy Neumann), she learns that he took an attractive Mrs. Lord to lunch and did not return to the office. Mrs. Lord turns out to be the former Sally Hunt (Ann Richards). Leona stole then-drug store employee Henry from Sally, and married him against her father's wishes. Sally is now the wife of Fred Lord (Leif Erickson), a lawyer in the district attorney's office. From overheard conversations, she learned that her husband was close to resolving an investigation that involves Henry somehow. Sally became so concerned that she followed her husband and two associates to a mysterious meeting in a seemingly abandoned house on Staten Island. The house, according to a "no trespassing" sign, belongs to a W. Evans. Sally arranged to meet Henry for lunch, but before she could warn him, he left the table and did not return. Later, Sally calls Leona with more news. The house on Staten Island has burned down, and three men, including someone named Morano (William Conrad), have been arrested. Waldo Evans (Harold Vermilyea), however, has escaped.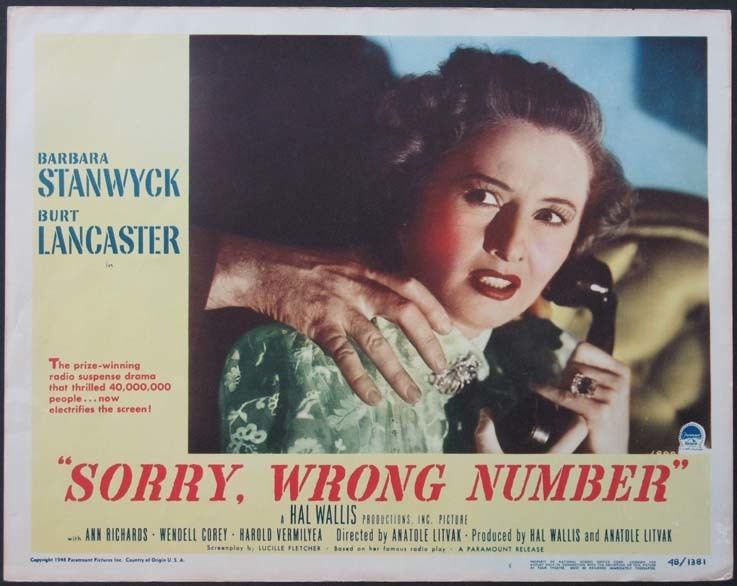 Leona then receives a message from Henry stating he has gone out of town on business he had forgotten about and will not be back until Sunday.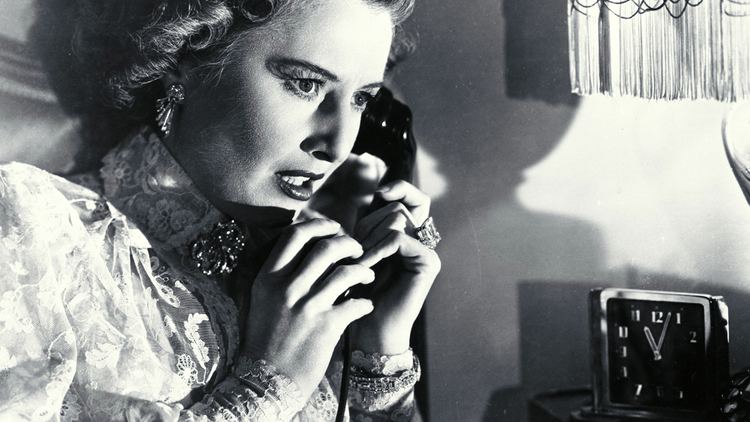 Leona next gets in touch with Dr. Alexander (Wendell Corey), a specialist she had come to New York to see regarding her lifelong heart troubles. Alexander reveals that he gave Henry her prognosis 10 days before, something that Henry kept from her. Henry had married Leona without being aware of her health problems. He first found out when she had a heart attack after they quarreled about his attempt to get a job on his own, rather than being a do-nothing vice president in his father-in-law's business. (James Cotterell, however, sabotaged his job interview.) Her attacks became more and more frequent, until she finally took to her bed about a year ago. Alexander, however, diagnosed Leona's problems as purely psychosomatic; nothing is wrong with her physically.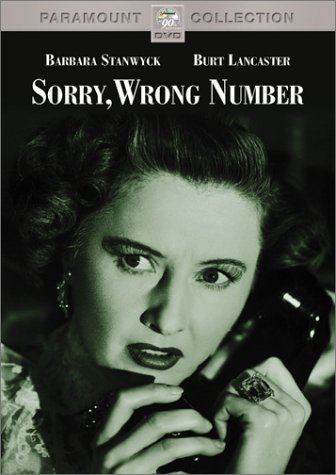 Leona has got into hysterics and phones a hospital, asking to hire a nurse for the night. The receptionist tells her that they are short staffed and she can only have a nurse if the doctor feels it isn't an emergency. She thinks it is only 11:00pm but discovers her clock has stopped, sending her into worse hysterics.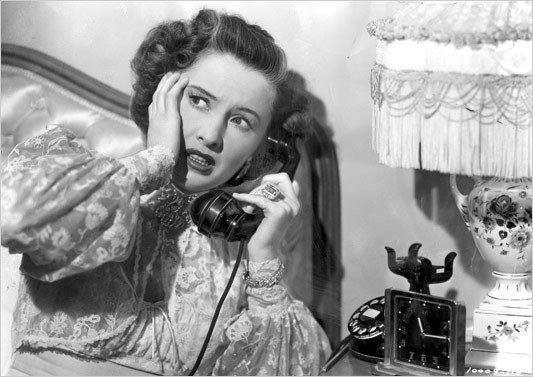 Then Leona receives a telephone call from Waldo Evans, a chemist working for her father. He reluctantly discloses that Henry recruited him to steal valuable chemicals from the Cotterell drug company to sell to Morano. Later, Henry decided to bypass Morano when Evans was transferred to the New Jersey plant. Morano, however, showed up with two thugs and intimidated Henry into signing an IOU for $200,000 for his lost profits, due in three months. When Henry protested that he did not have that much money, Morano pointed out that Leona must have a large insurance policy. However, with Morano now in custody, Evans stresses that Henry no longer has to raise the now-overdue sum. Waldo leaves Leona with a telephone number to call to locate Henry, but when she calls the number she discovers to her horror that it is for the city morgue.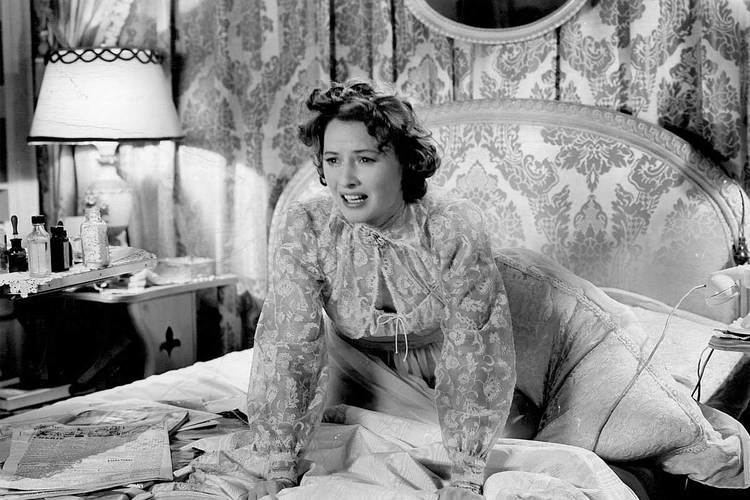 When Henry finally calls from a train station in New Haven, Connecticut, Leona gives him Evans' message. Seeing that it is only minutes from 11:15, he pleads with her to go to the balcony and scream for help, but she protests that she cannot, though she can hear somebody downstairs. When the intruder enters her bedroom, she begs for her life, then screams. The intruder strangles and kills Leona. Unaware of the policemen about to apprehend him, Henry frantically calls back, only to have a man answer, "Sorry, wrong number."
Barbara Stanwyck as Leona Stevenson
Burt Lancaster as Henry J. Stevenson
Ann Richards as Sally Hunt Lord
Wendell Corey as Dr. Philip Alexander
Harold Vermilyea as Waldo Evans
Ed Begley as James 'J.B.' Cotterell
Leif Erickson as Fred Lord
William Conrad as Morano
John Bromfield as Joe - Detective
Jimmy Hunt as Peter Lord
Dorothy Neumann as Elizabeth Jennings
Paul Fierro as Harpootlian
Holmes Herbert as Wilkins (uncredited)
Pepito Pérez as Boat Operator (uncredited)
Sorry, Wrong Number conforms to many of the conventions of film noir. The movie plays in real time, with many flashbacks to flesh out the story. Stanwyck's bedroom window overlooks the night skyline of Manhattan. The film is shot very dark, with looming shadows and a circling camera used to maintain a high level of suspense.
Hollywood's Production Code Administration initially objected to elements of Fletcher's screenplay, including its depiction of drug trafficking, and the script was significantly revised to win approval.
For her role in the film, Stanwyck was nominated for the Academy Award for Best Actress.
Lucille Fletcher's play originally aired on the Suspense radio program on May 25, 1943, essentially a one-woman show with Agnes Moorehead as Mrs. Stevenson. The play was reprised seven times, each starring Moorehead. The final broadcast was on February 14, 1960.
Orson Welles called Sorry, Wrong Number "the greatest single radio script ever written".
In 2015, the May 25, 1943 broadcast was deemed "culturally, historically, or aesthetically significant" by the Library of Congress and selected for inclusion in the National Recording Registry.
Another radio version – an adaptation of the film – was broadcast January 9, 1950, on Lux Radio Theater. Barbara Stanwyck recreated her screen role.
Sorry, Wrong Number was made into a television play broadcast on station WCBW-TV (now WCBS-TV) in New York on January 30, 1946, starring Mildred Natwick and G. Swayne Gordon.
A second live teleplay was broadcast on November 4, 1954, as the fourth episode of the CBS anthology series Climax!, starring Lillian Bronson, adapted by Fletcher herself, with music provided by her then-husband, Bernard Herrmann.
A version was produced for Australian television in 1958 starring Georgie Sterling. Sterling had performed in the play on radio in 1948.
Another television version aired in 1989, starring Loni Anderson, Patrick Macnee and Hal Holbrook. It was directed by Tony Wharmby and adapted by Ann Louise Bardach.
On 17 October 1948, Stanwyck did a parody of Sorry, Wrong Number on The Jack Benny Program.
Clips from Sorry, Wrong Number were used for the 1982 comedy-mystery Dead Men Don't Wear Plaid, the 1991 thriller Dead Again and the 2014 action-thriller Jack Ryan: Shadow Recruit. The latter two films were directed by Kenneth Branagh.