8.2

/

10

Alchetron

6.4

Rate This





Created by

Reg Watson


Original language(s)

English




Final episode date

19 August 1987






Genre

Soap Opera




Country of origin

Australia




First episode date

18 January 1982




Network

Seven Network





Directed by

Alister SmartRussell WebbPeter AndrikidisJulian McSwineyMark PiperGraeme Hodgson




Starring

(see main cast list and character family tree below)




Cast

Rowena Wallace, Ian Rawlings, Pat McDonald, Leila Hayes, Alyce Platt
Sons and daughters episode 1 2 and 3
Sons and Daughters is a Logie Award winning Australian soap opera created by Reg Watson and produced by the Reg Grundy Organisation between 1981 and 1987. The first episode aired on Monday, 18 January 1982, during the Christmas/New Year non-ratings period in both Sydney and Melbourne, and the official broadcast date of the final episode was 19 August 1987, although this varied across Australia and the final episode was screened in Melbourne on Sunday 27 December 1987 (again in the non-ratings period). There are 972 half-hour episodes, but during the series' original run in Australia, later episodes were shown in an hour-long format. The first pilot episode was shown in Australia and some UK ITV regions as a 90-minute special, although subsequent screenings have seen that episode split into three half-hours. The program has been broadcast internationally, and has been particularly popular in the United Kingdom and Belgium.
Contents
Sons and daughters episode 352
History
Sons and Daughters was created by Reg Watson
Success and awards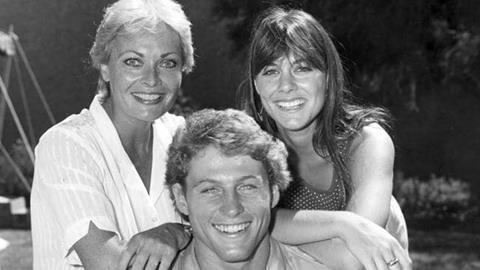 Sons and Daughters won the 1983 Logie Award for Most Popular Australian Drama. Rowena Wallace was the most nominated actress of the soap and was nominated for a Gold Logie Award for Most Popular Personality on Australian Television at the 26th Annual TV Week Logie Awards in 1984, and went on to win the award the following year in 1985. She was the first woman to win the award since it was opened up to Most Popular Australian Personality.
Wallace also received Silver Logies for:
Most Popular Lead Actress (1983)
Most Popular Actress (1984)
Best Actress in a Series (1984)
Best Lead Actress in a Series (1985)
Other awards won by Sons and Daughters cast members include: Most Popular New Talent - Stephen Comey (1982)
Theme tune
The theme tune was written by Peter Pinne & Don Battye and performed by Mick Leyton and Kerrie Biddell. Two main versions of the theme were used in the closing credits, one in three-four time and one in four-four time: the first version was used as the main closing theme for most episodes shown in 1982 and 1983, while the second version was used from 1984 to 1987. In addition. The full theme tune was released on a 7" single in the UK in 1984 and reached number 68 in the charts and stayed in the charts for three weeks. It was released on the A1 record label with catalogue number 'A1 286'.
Season 1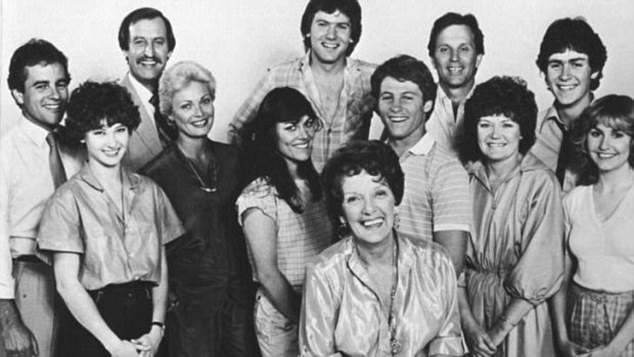 The initial premise for the show was a Romeo and Juliet style romance storyline which revolved around two families, the wealthy Hamilton family who lived in Sydney, and the Palmers, a working-class family from Melbourne. The characters of John Palmer (Peter Phelps) and spoilt rich girl Angela Hamilton (Ally Fowler) meet by chance whilst John is on the run from the police for a murder he did not commit. The two fall in love, not realising that they are actually twins, separated at birth 20 years earlier following an affair between their parents, David Palmer (Tom Richards) and Patricia (Rowena Wallace). Early episodes saw the pair discover the truth about their heritage and showed the problems and strains this put on their own relationship and those of their immediate families. While on the run John is protected in Sydney by Fiona Thompson (Pat McDonald), a former madame and prostitute and now boarding house owner who had raised John when he was a young boy. With a new identity and now going by the name of Scott Edwards, John attempts to build a new life, with the help of Fiona and her friend Jill Taylor (Kim Lewis), another former prostitute.
Following the shock revelation of John and Angela's true heritage and the subsequent reunion of the two families, a series of dramatic events unfolds, intertwining the lives of both the Palmers and the Hamiltons. The Palmers' newly-wed daughter Susan (Ann Henderson-Stiers) receives the shock revelation that her husband Bill Todd is responsible for the murder of which John was suspected, and Bill is subsequently convicted and jailed. The Palmers' youngest son Kevin (Stephen Comey) and his girlfriend Lynn Hardy (Antonia Murphy) find their lives turned upside down when she becomes pregnant, despite their families' best efforts to keep them apart. Father and son David and John Palmer's relationship continues to deteriorate, and when David and Patricia meet up again 20 years on from their initial affair, old passions resurface, culminating in the destruction of both their marriages- David's marriage to dedicated housewife Beryl (Leila Hayes) and Patricia's marriage to the wealthy and successful businessman Gordon (Brian Blain). Amidst a web of intrigue concerning the numerous instabilities within both families, and shady big-business deals concerning Gordon's company, his ownership of country estate Woombai, and the increasing involvement of his manipulative son Wayne (Ian Rawlings), the drama builds throughout the season.
The character of Patricia rapidly developed into the main focus of the show, with her neurotic bitchiness and scheming being the source of most of the drama and tension between the other characters. Patricia became a popular character among viewers and was dubbed 'Pat the Rat' by the media. New characters introduced later in the season included Patricia's best friend, the dizzy socialite Charlie Bartlett (Sarah Kemp), Rob Keegan (Noel Hodda), the younger brother of Beryl Palmer who falls in love with and marries Angela, and Paul Sheppard (Mark Ferguson), the morally-confused and neurotic grandson of Patricia's former lover James Sheppard, who left Patricia a substantial amount of his fortune following his death.
End of season cliffhanger - Season 1 (Episode 174): As John and Angela celebrate their 21st birthday and the whole of the Palmer family celebrates at the Palmer household, Patricia- who has been forbidden by the Palmers from attending- attempts to gatecrash. As David tries to stop her from entering the party, Patricia shocks him with the revelation that he is not the twins' father after all, and she has been lying to him and everyone else for years about the twins' true father.
Season 2
As season 2 kicks off, Patricia is sinking further into depression after she overdoses on sleeping pills and Susan steps in to help take care of her as a live-in nurse, while scheming Wayne tricks Patricia into signing her power of attorney over to him to give him power over his father, Gordon. Shortly after, Susan becomes the first of the main cast to depart the series as she leaves to be closer to her husband Bill's prison. John tracks down his real father Martin Healy- a prominent officer in the Air Force- and also manages to find Patricia's estranged sister Margaret (Ilona Rodgers). The reunion of Patricia with Martin and Margaret sparks off a series of dramatic storylines as old secrets are revealed and old tensions between Patricia and Margaret resurface. A major turning point in the series comes with the suicide of Martin Healy after past crimes catch up with him, and when Margaret removes his suicide note from beside the body, David comes under suspicion of Martin's murder.
Other plot developments included Gordon's marriage to the Hamiltons' neighbour Barbara Armstrong (Cornelia Frances), and Jill's involvement with illegal Irish immigrant Brian O'Donnell, whom she agrees to marry so he can obtain a visa to stay in the country. Jill is raped by drifter Terry Hansen (Andrew Clarke), who is revealed to be Fiona's long-lost son. In a highly controversial storyline, Terry was treated by the scriptwriters as a sympathetic character despite the rape and his subsequent spell in prison. Fiona is shattered when her boarding house in Manly burns down, almost killing Jill in the inferno. A heated love triangle occurs between the characters of Angela, Rob Keegan and Paul Sheppard, following which all three characters depart the show. After Gordon and Barbara enter a business deal with Barbara's brother Stephen Morrell (Michael Long), they are shocked when Stephen suddenly marries Patricia after a whirlwind romance. This leads to the introduction of a third family for the show- the Morrells, including Stephen's mother Dee (Mary Ward), a ruthless elderly businesswoman, and his daughter Amanda (Alyce Platt). Following Dee's death from a heart condition, major developments occur when the contents of her will are revealed, affecting the other characters' lives dramatically. Upon Dee's insistence that a male heir continue her business, Stephen tracks down the young man he believes to be his long-lost son, Andy Green (Danny Roberts).

End of season cliffhanger (Episode 352): David and Beryl are held at gunpoint at Woombai by escaped criminal Joe Parker. As the episode comes to an end, five gunshots ring out and a scream follows, but viewers are left with no indication of who has been shot and who will survive to the next season. Sisters Patricia and Margaret come face to face for the first time since Margaret's release from prison, and Patricia tells Barbara that her best friend Helen Green is Andy's mother. Fiona rushes to the clinic to try and stop Jill from having an abortion, but will she make it in time?
Season 3
As season 3 starts, Patricia's marriage to Stephen unravels and she seeks comfort in the arms of psychiatrist Matt Kennedy while continuing her bitter feud with sister Margaret, which climaxes in the siblings being trapped in a bush fire at Woombai, and finally making their peace when Margaret saves Patricia's life.
Major changes in the cast occur with the departures of John, Stephen, Doug and Rosie Palmer, and the introduction of a fourth family for the show in the form of the working-class O'Briens, who move in next door to the Palmers and quickly become embroiled in the dramas of the other characters. The Palmers experience further problems when David has an affair with Patricia's sister Margaret, which finally ends his marriage to Beryl. David's happiness with Margaret is short-lived however, as Margaret dies following injuries sustained in a plane crash. Lynn becomes involved with Andy Green while Kevin is working overseas, and the two fall in love, leaving Lynn confused and contemplating suicide on the edge of a cliff. Lynn eventually chooses to stay with Kevin, and moves overseas with Kevin and son Davey.
Patricia finds herself tangling with shady businessman Roger Carlyle (Leslie Dayman) and his son Luke (Peter Cousens). Shortly after Luke embezzles Patricia's company, he is found murdered and Patricia becomes the prime suspect, leading to a series of attempts on her life orchestrated by Roger. Other new characters introduced during the season include Irene Fisher (Judy Nunn), a GP who opens a new boarding house with Fiona, Karen Fox (Lyndel Rowe), a deceitful businesswoman who wreaks havoc in the lives of the other characters whilst having a romantic affair with Wayne, Ross Newman (Robin Stewart), a criminal surgeon working under the instructions of Roger Carlyle, and Bob 'Mitch' Mitchell (Philip Quast), an ex-convict who becomes romantically involved with Amanda whilst coming to blows with Karen and Wayne.
End of season cliffhanger (Episode 528): A sedated, helpless Patricia lies on a hospital operating table, about to be operated on by murderous surgeon Dr. Ross Newman, who is working under the instruction of Roger Carlyle. Fiona makes up her mind regarding Barney Adams' marriage proposal, and Mitch lies on the floor apparently dead following a confrontation with both Karen and Wayne. Has Wayne killed Mitch?
Season 4
Season 4 features a major turning point in the series with the departure of its most popular cast member, Patricia. When Rowena Wallace chose to leave the show, the producers attempted to replace Patricia with several strong female antagonists in the form of Karen Fox, Leigh Palmer (Lisa Crittenden) and Caroline Morrell (Abigail) but none of these proved successful, leading the producers to bring the character of Patricia back played by former The Box star Belinda Giblin, having undergone plastic surgery and now calling herself Alison Carr.
The season begins with Patricia finally marrying David Palmer, before fleeing to Rio de Janeiro to escape Roger Carlyle's attempts on her life. Meanwhile, Wayne is tricked by Karen into marrying her, believing she has covered up the murder of Mitch for him, unaware that Mitch is not dead at all and has been paid by Karen to disappear from their lives. Shortly after the truth is revealed, Karen is found dead by the creek at Dural, having been pushed off a bridge following a confrontation with escort girl Liz Smith, who is in love with Gordon. Beryl gives birth to her and David's baby son Robert, but Robert is abducted by Ross Newman and later by Leigh as part of one of her numerous schemes. Fiona becomes involved in a bitter battle to have deceased fiance Barney Adams' secret wartime diaries published, running into opposition from Colonel Bainbridge and his son Chris.
Devious Karen Fox tricks Wayne into marriage after convincing him that he has killed Mitch. Wayne goes missing shortly after, worried that he will face jail for murder and while he is away a look-a-like imposter arrives and fools everyone into believing he is Wayne. In fact Ian Rawlings plays dual roles as both Wayne Hamilton and Gary Evans. One of the bigger storylines for the season sees a planned redevelopment threaten to destroy Woombai under the direction of the scheming Bill Ashley, who will stop at nothing to ensure he gets what he wants. When Amanda Morrell overhears a conversation that could jeopardise the entire scheme he ensures she goes missing, leaving the Morrell family distraught and Caroline desperate to find her. Caroline begins to get closer to ex-husband Stephen and warns his new love interest Jenny Turner to stay away from him and the two become rivals. The father of Leigh Palmer's baby, Richard Crampton arrives, deciding he wants custody and he hires Neil Duffy to try to buy his son from Leigh. When this fails, Crampton starts terrorising her and hires a hitman, Nick Stafford, to go after Leigh. Crampton ends up dying at Stafford's hands after David has already fired a shot at him. David and Fiona go to Rio in search of Patricia, David having received an amount of money which he believes must have come from her. Following plastic surgery to hide injuries sustained at the hands of a thug who beat her up in Rio de Janeiro, Patricia Palmer returns to Australia under a new identity, that of the mysterious Alison Carr and she begins to start trying to clear Patricia's name for the murder of Luke Carlyle. Mary Reynolds turns up at Woombai, lost and confused and claiming that Patricia is her mother. She explains that her grandmother told her that her mother is Patricia Hamilton. Her grandmother and grandfather are now both dead, having been murdered. Mary claims that she witnessed the murders while hiding underneath her bed. The murderer turns up at Woombai and starts gunning for Mary. An old will belonging to Gordon's father is discovered, declaring his brother James as the rightful owner of Woombai. It isn't long before James arrives to claim what is his.
End of season cliffhanger (Episode 696): It's a dramatic end of year final with numerous cliffhangers leaving lives hanging in the balance. David and Beryl look on in horror as an emotionally unbalanced Doris Hudson advances menacingly towards her baby son Robert with a pillow with intentions to smother him. Alison and James are left in peril as they race to stop Wayne from unkowingly marry his half sister Mary but their light aircraft runs out of fuel and following a may-day call it crashes to the ground . Caroline is overpowered and locked in a cupboard at the Hamilton House by Duncan Phipps after a bungled robbery and Irene breaks the news to Fiona that she has cancer.
Season 5
For many fans, this season is seen as the start of a sad demise for the series as the focus changed and popular characters such as Barbara Hamilton and Irene Fisher were hastily written out of the series. In Cornelia Frances' 2003 autobiography, she states that it was not her decision to leave the series, but that she had got on the wrong side of a producer and was suddenly axed. Other characters that failed to make it to the end of the season include Leigh Palmer, Tim Palmer, Donna Palmer, Spider Webb, Brett Keegan, Adam Tate, Samantha Morrell, James Hamilton and Mary Reynolds. Consequently, there was an influx of poorly-received replacement characters such as Janice Reid, May Walters, Craig Maxwell, Doug Fletcher, Glenn Young, Debbie Halliday, Ginny Doyle and the return of Susan Todd. Storyline's see Samantha Morrell left shocked after running into Bill Ashley and discovering new information regarding her missing sister Amanda, but the search that follows ends with devastating news as they discover Amanda died a few months earlier having been forced into a life of drugs and prostitution by Bill. Leigh Palmer departs the series early on in the season after committing suicide outside the court where she is facing sentencing for kidnapping baby Robert bringing an end to one of the series longest running story lines.. Fiona meets her bossy niece Janice for the first time, arriving just as Fiona is to undergo an operation to remove her kidney and together they launch a campaign to save an old mansion house that Fiona once lived in with old friend May Walters. When an angry Caroline starts arguing with Alison whilst she is driving a car crash ensues with Barbara and Gordon's lives left at risk and ultimately leaving Barbara with serious life changing facial scars and Gordon with amnesia believing he is still married to Patricia. Alison uses the situation to her advantage to get Barbara out of Gordon's life for good and Caroline finds herself serving time in prison. Craig Maxwell turns up in Sydney, looking for his mother, Ruby Hawkins, who gave him up when he was a baby, and who happens to be the exact double of Beryl Palmer. Initial misunderstandings are resolved and Craig accepts that Beryl isn't Ruby. Beryl subsequently helps Craig track Ruby down. At this point Leila Hayes plays both the roles of Beryl and Ruby. Ned Parker and Micky Pratt hold Janice, May, Gordon and Neville hostage at the mansion, following Ned's escape from jail. Micky is killed when she walks out into the road without spotting a car heading towards her. As the siege comes to an end, Patricia Palmer's fingerprints are discovered on a gun that was used and Alison's secret identity is finally revealed. Alison finds a little boy named Tick McCarthy at Fiona's boarding house, and passes him off as Wayne's son. Wayne is told that Tick is his son from a fling with Moya Brinkley, a girl that he had known as a teenager. He and Tick take to each other, and Wayne is angered when Alison tries to stop him from enjoying his son, due to the fact that she had said that he had driven Caroline insane because of Doug Fletcher. A birth certificate shows that Wayne is indeed the father. Susan gets upset about Tick being around, but Wayne makes certain that his son is included in his life.
End of season cliffhanger (Episode 868): The season comes to an end with more multiple cliffhangers and lives at risk as Alison is trapped in the study at the Hamilton House with a venomous snake on the loose . A sailing trip on a yacht ends in disaster when both Glen and Tick are wounded, and Wayne, swimming for help, is pursued by a shark. Craig is knocked out by a horse and Caroline is shocked to discover that Doug is already married. Sadly by this point ratings were in decline and the next season would prove to be the last.
Season 6
Departing characters included original cast member David Palmer and characters only introduced in the previous year Ginny Doyle, Tick McCarthy and Glen Young. New additions to the cast include Nick Benson, Greg Hudson and Sarah Hudson and in an attempt to boost flagging ratings Produces lured back Rowena Wallace, who had previously played Patrica Hamiloton, to play her own evil twin sister Pamela. A storyline which failed to save the series. Caroline discovers that Susan is alive and well despite being presumed dead and she is in hiding from Wayne. When an upset Wayne gets drunk and then jumps in his car and drives off, Glen and Ginny go after him and a high-speed chase follows which leads to both Glen's and Ginny's tragic deaths. Wayne manages to turn everyone against him and when he is shot there are no shortage of suspects but it is innocent Beryl who finds herself behind bars for the shooting. While in prison Beryl meets Pamela, a lady who is the spitting image of Patricia. It is soon discovered that Pamela and Patricia are twins, separated at birth. While Patricia lived the good life, Pamela had a much tougher upbringing. When Andy learns that he has a baby daughter, Madonna, who is the result of a fling with Jodie Frazer a few months earlier, he begins to get to know his daughter. When Jodie decides that she can't cope with bringing up a baby on her own and dumps Madonna on Janice, Andy steps in and decides to be a proper father to the girl. Gordon goes into business with Bill Sanders, Doug and Alison at Sanders' Air Charter. Just as everything seems to be going well, a plane is sabotaged. The company appears to be falling apart until a mystery company puts up some money to keep it going. Gordon discovers to his surprise that it was Wayne who was behind the rescue. Although the father and son have been on opposing sides for some time, Gordon remarks that it appears that Wayne might have changed for the better. As he settles into life with new wife Beryl and her son, Robert in Melbourne, Gordon finds himself content with life. Nick Benson is a psychiatrist who arrives to help Wayne remember who shot him. Nick has a fraught relationship with his brother, Michael. Very much a ladies' man, Nick is attracted to Alison but he also finds himself attracted to her twin sister, Pamela Hudson and he becomes involved in a furious struggle between Alison and Pamela as they fight for supremacy, including using powerful mind games to try to destroy each other. Nick eventually chooses Pamela over Alison and drives off with her to begin a new life. Doug and Caroline marry, and Caroline is revealed as the author of a book entitled My Sister My Love, which is based very obviously on the lives of the Hamiltons and the Palmers, despite the changes of character names. Doug tries to stop Caroline promoting the book, warning her that they're going to lose all their friends, but Caroline ignores him. She even makes plans for a sequel. Caroline discovers that she's pregnant, but also learns that the baby could be born with Down's Syndrome and she opts to have an abortion, later deciding that she can't go through with it. She doesn't tell Doug that she's pregnant, but instead decides to leave him and start life afresh elsewhere. Doug learns about the pregnancy, though, and he chases after Caroline and tells her that he loves her, and that he wants her to have the baby and that he doesn't care if it's handicapped, wanting them all to be together as a family. Caroline agrees to give the marriage another go and Doug buys a fish shop in Melbourne! Charlie meets Todd Buckley, a fitness instructor who works at her gym, and there is an instant attraction. The couple quickly announce their engagement, despite attempts by Alison to break them up. Charlie becomes so appalled at Alison's behaviour and schemes that she throws her out, leaving Alison staying in a cheap, run-down motel while Charlie enjoys a fairytale wedding to Todd and prepares to live happily ever after. Sarah Hudson arouses Wayne's interest, and they begin to spend time together. Sarah tries to throw herself at Wayne, but he's wary after all his bad experiences with women. Meanwhile, he puts his plan into action to take everything and everyone away from Alison, leaving her with no money and no friends. With Wayne believing his wife Susan is dead, Alison decides to use Susan to get at Wayne but the plan backfires when Susan is left lying dead on the lounge room floor at Dural, having apparently been strangled by Wayne. Realising that he's finally gone too far, he turns to the telephone and makes a call. He asks for the police... The show ends on a high and in a similar style to how it all began. At Fiona's mansion boarding house, a young couple arrive, and ask for a room. The young woman is heavily pregnant. Fiona takes them in, just as she had with David and Patricia all those years ago. The woman gives birth to twins, a boy and a girl and the story seems to have finally come full circle. The final episode ends with a montage of many cast
The Hamiltons
Gordon Hamilton (Brian Blain) First appeared episode 3 ~ 1982 – 1987
Patricia Hamilton / Morrell / Palmer (Rowena Wallace) First appeared episode 2 ~ 1982 – 1985
Angela Hamilton / Keegan (Ally Fowler) First appeared episode 2 ~ 1982 – 1983, 1984
Wayne Hamilton (Ian Rawlings) First appeared episode 3 ~ 1982 – 1987
James Hamilton (Nick Tate) First appeared episode 671 ~ 1985–1986
Karen Fox / Hamilton (Lyndel Rowe) First appeared episode 461 ~ 1984–1985
The Palmers
Beryl Palmer / Hamilton (Leila Hayes) First appeared episode 1 ~ 1982 – 1987
David Palmer (Tom Richards) First appeared episode 1 ~ 1982 – 1986 1987
Susan Palmer / Todd / Hamilton (Ann Henderson Stires / Oriana Panozzo) First appeared episode 1 ~ 1982 – 1983
Kevin Palmer (Stephen Comey) First appeared episode 1 ~ 1982 – 1984
John Palmer (Peter Phelps) First appeared episode 1 ~ 1982 – 1984
Lynn Hardy / Palmer (Antonia Murphy) First appeared episode 5 ~ 1982 – 1984
Doug Palmer (Sid Conabere) First appeared episode 10 ~ 1982 1983–1984
Rosie Andrews / Palmer (Anne Haddy) First appeared episode 30 ~ 1982 1983–1984 1985
Margaret Dunne (Ilona Rodgers) First appeared episode 181 ~ 1983 1983
Leigh Palmer (Lisa Crittenden) First appeared episode 534 ~ 1984–1985
Tim Palmer (Robert Mammone) First appeared episode 563 ~ 1985 - 1986
Shane Palmer (Andrew Downie) First appeared episode 563 ~ 1985-1986
Donna Jackson / Palmer (Simone Buchanan) First appeared episode 646 ~ 1985 - 1986
The Morrells
Caroline Morrell / Fletcher (Abigail) First appeared episode 554 ~ 1985 - 1987
Amanda Morrell (Alyce Platt) First appeared episode 286 ~ 1983 - 1985
Samantha Morrell (Sally Tayler) First appeared episode 587 ~ 1985-1986
Stephen Morrell (Michael Long) First appeared episode 267 ~ 1983–1984, 1985
Dee Morrell (Mary Ward) First appeared episode 305 ~1983
Jenny Turner / Morrell (Joanna Lockwood) First appeared episode 572 ~ 1985
The Armstrongs
Barbara Armstrong / Hamilton (Cornelia Frances) First appeared episode 13 ~ 1982–1986
Prue Armstrong (Gaynor Martin) First appeared episode 62 ~ 1982
Roland Armstrong (Tony Ward) First appeared episode 588 ~ 1985
Wendy Armstrong (Kathleen Brinson) First appeared episode 183 ~ 1983
Mrs Armstrong Snr. (Jeanne Smith) First appeared episode 271 ~ 1983
Simon Armstrong (Paul Wade / Paul Goddard) First appeared episode 13 1982 – 1985
The O'Briens
Mike O'Brien (Ken James) First appeared episode 385 ~ 1984–1985
Heather O'Brien (Rona Coleman) First appeared episode 385 ~ 1984-1985
Katie O'Brien (Jane Seaborn) First appeared episode 385 ~ 1984–1985
Jeff O'Brien (Craig Morrison) First appeared episode 385 ~ 1984
Jim O'Brien (Sean Scully) First appeared episode 401 ~ 1984-1985
The Keegans
Bob Keegan (Carl Bleazby) First appeared episode 25
Aileen Keegan (Moya O'Sullivan) First appeared episode 25
Rob Keegan (Noel Hodda) First appeared episode 76
Brett Keegan (Brett Partridge) First appeared episode 619
The Healys
Martin Healy (Paul Sonkkila) First appeared episode 186
Peter Healy (Brett Climo) First appeared episode 201
Jennifer Healy (Jodie Yemm) First appeared episode 219
Australia
Seven Network aired the first episode as a 90-minute special in January 1982, during the Christmas/New Year non-ratings period, and the official broadcast date of the final episode was 19 August 1987. There are 972 half-hour episodes, although during the series' original run, later episodes were shown in an hour-long format. No figures are available for how many of these longer episodes made up the show's run. The series was broadcast on the Seven Network, initially four days a week for half an hour at 19:00, but in later years, in two one-hour shows per week, and finally in one one-hour show per week, although this may have varied in different parts of Australia. Sons and Daughters became the highest rated programme in its slot, and was the most-watched Australian soap of the 1980s. The series eventually began to suffer from declining ratings, and was ultimately cancelled. During the 1990s the programme was repeated throughout Australia, usually in early morning and daytime slots.
Seven Network began another re-run in October 2006, airing weekdays at 10:00. This was discontinued in early 2007, then resumed in July 2008, airing on Wednesday nights, usually around midnight. As of October 2013, episodes air Tuesday and Thursday mornings at 03.30am. Episode 461 aired on 8 October 2013.
7TWO began repeating the show on 2 November 2009, airing weekday mornings at 09:30am. The final episode 972 aired on 9 October 2013.
Foxtel channel UKTV repeated the series between from 1997, with the final episode airing in mid-2000, shown weekdays at 5pm.
International
Shown by TROS television, but only at the rate of one or two episodes per week. The series returned to Dutch TV in the mid-1990s, when it was shown on RTL4 at 10:30am, but the re-run was short-lived.
Starting in 1987, Zonen en Dochters was shown weekdays from 19:00 to 19:30 on BRTN1; this episode was then repeated the following afternoon at around 16:00, with the run ending in 1990. The serial was a huge success in Belgium.
Spanish television aired approximately 150 episodes of the series in 1987 from Monday to Friday at 19:00.
The series has aired more than once in Ireland, on RTÉ One, where it went out in a mid-afternoon slot.
Broadcast here in the early to mid-1990s.
The series ran from January 1986 to December 1989. It began life on TV2, but was moved to TV1 when Neighbours came along.
ITV began un-networked broadcasts of Sons and Daughters in 1983, meaning different ITV regions were free to show the series as and when they wished. The series was usually shown at 15:30 on varying days, but some regions, such as TVS and Granada, initially chose early evening timeslots of 17:15 and 18:00 respectively, before moving the series to daytime. During the mid-80's, Sons and Daughters achieved consolidated viewing figures of 5 million across the ITV network.
Central region screened the first episode on Sunday 6 February 1983 (14:30-16:00) as a 90-minute special, and then continued Wednesday to Friday at 15:30, running five times a week from 1987, and later four episodes per week, ending on Tuesday 13 December 1988.
Yorkshire region screened episode one on Monday 11 July 1983 (14:45–16:00) and continued Monday and Friday, 15:30, then five times a week from September. From 1984, the series aired Wednesday to Friday only until five episodes a week were reinstated in 1988. The final episode was shown on Friday 10 March 1989.
Granada region began on Monday 5 September 1983 at 18:00. The series aired Monday and Friday at 18:00, but the Friday episode was dropped from November 1983. In January 1985 aired on Friday only, then moved to Monday and Tuesday at 15.30 in September 1985; Wednesday episode introduced in April 1991; Thursday episode introduced by 1992; series ended on Thursday 28 April 1994.
TVS began Wednesday 19 October 1983 at 15:20 and shown initially Wednesday to Friday. In September 1984, moved to Monday and Tuesday at 17:15. From September 1987 changed back to 15:30 slot and ended on Monday 27 April 1992.
TSW began Monday 14 November 1983 at 15:30 and was shown on Monday, Wednesday and Friday at 15:30. Changed to Wednesday to Friday in January 1984 and Tuesday to Thursday in September 1984. Started running Monday to Friday from 17 October 1988 and ended on Tuesday 19 September 1989.
Thames, Anglia and Tyne Tees all began the series on Tuesday 15 November 1983, showing Tuesday to Friday at 15:30. Friday episode dropped for a while in 1984 but then reinstated. From September 1984, shown Wednesday to Friday; ran three times a week until October 1989, then twice-weekly; finished on Thursday 5 July 1990.
Scottish Television began the series on Tuesday 3 April 1984 at 14:00. Originally broadcasting three times a week, it was reduced to once a week on 3 July at 14:30 before going twice a week from 3 September 1984 until September 1993 at 15:30. From October 1993, it was broadcast only on Thursdays, before switching to Sunday mornings in January 1994. After 30 January, the series was dropped but returned in July on Tuesdays at 14:50. This lasted until 30 August, and the series reappeared on Saturday afternoons from 24 September until 17 December 1994. From 5 January 1995, Sons and Daughters was broadcast weekly on early Thursday mornings, finally finishing on 27 July 1995 in a double bill at 02:30.
Grampian Television began Tuesday 22 May 1984 at 15:30; shown once a week until September, when a regular time slot of 15:30 on Wednesday to Friday was adopted; was later screened twice a week; ended on Wednesday 22 May 1991.
HTV began on Wednesday 11 July 1984 at 15:30, shown Wednesday to Friday on a regular basis; ended on Thursday 16 May 1991.
Border began 1 July 1985 (14:45–16:00); screened twice a week until November 1993. Border joined up with the Granada stage of the series from this date and therefore had to skip 81 episodes 827-907. The series finished on 28 April 1994.
UTV was the last ITV region to pick up the series, beginning on Monday 7 April 1986 at 15:30; aired twice-weekly but then increased to five times a week; ended on Wednesday 14 October 1992.
Sons and Daughters has also had three repeat runs on other TV channels in the UK. First, in 1987, it was shown twice daily at 09:00 and 13:30 (CET) on 'Superchannel' (now NBC); the channel could also be seen across Europe, but the re-runs ended in 1989 before the serial had concluded. The whole series was aired on UK Gold from 1 November 1992 to 23 July 1996 at 08.00 and repeated at 12.00. Finally, Channel 5 also aired the entire series. Episodes 1 - 212 were shown on Channel 5 at 13:30 Monday to Friday between 2 March and 24 December 1998, after which time it was dropped for a while. It did however return to Channel 5 in January 2002 (from episode 213) in an early morning slot at around 04:00–05:00 every Saturday and Sunday morning where two episodes were shown back to back until they reached the end of the series on 6 November 2005. The series gained a new level of UK fans in this early morning slot as the Aussie cult classic Prisoner Cell Block H had previously aired in the same time slot and when that ended, Sons and Daughters eventually replaced it a few months later.
Sons and Daughters: Cast album
In the early 1980s when Australia's Seven Network was broadcasting both Sons and Daughters and A Country Practice, it decided to cash in on the shows' success, and provide the shows with some publicity, by producing and releasing a cast album. The album was called All My Friends, and featured the cast of Sons and Daughters on the A-side and the cast of A Country Practice on the B-side.
A-Side:
"Sons and Daughters Theme"
"Some Kind of Friend" (Ian Rawlings)
"Bosom Buddies" (Pat McDonald and Rowena Wallace)
"The More I See You" (Peter Phelps and Kim Lewis)
"Behind Closed Doors" (Tom Richards and Leila Hayes)
"Sometimes When We Touch" (Stephen Comey)
"Help Me Make It Through the Night" (Leila Hayes)
"Friends" (Rowena Wallace)
Documentary DVD
A documentary style DVD was also released in August 2007 featuring long standing regular cast member Tom Richards (David Palmer) interviewing fellow cast members including Rowena Wallace, Leila Hayes, Sarah Kemp, Ken James, Rona Coleman, Stephen Comey, Judy Nunn and Belinda Giblin in a where are they now type format.
Remakes
The series has inspired five remakes produced under license from the original producers and based, initially, on the original story and character outlines. These are Verbotene Liebe (Germany, 1995-2015); Skilda världar (Sweden, 1996–2002); Apagorevmeni agapi (Greece, 1998); Cuori Rubati (Italy, 2002–2003) Zabranjena ljubav (Croatia, 2004–2008), Zabranena lubov (Bulgaria, 2008-)
References
Sons and Daughters (Australian TV series) Wikipedia
(Text) CC BY-SA