6.8

/

10

Alchetron

Rate This




Music director

Miklos Rozsa







Release date

May 10, 1957 (1957-05-10) (U.S.)

Based on

novel by Richard Ruark

Writer

Richard Brooks (screen play), Robert C. Ruark (based on the book: "Something of Value" by)

Screenplay

Richard Brooks, Robert Ruark

Cast

Rock Hudson

(Peter),

Dana Wynter

(Holly),

Sidney Poitier

(Kimani Wa Karanja),

Juano Hernandez

(Njogu - Oath Giver),

William Marshall

(Leader - Intellectual in Suit)




Similar movies

The Ghost and the Darkness

,

Mogambo

,

The First Grader

,

Nairobi Half Life

,

The Lion

,

The Donkey that Carried the Cloud on its Back



Something of value 1957 official trailer rock hudson sidney poitier movie hd
Something of Value is a 1957 drama directed by Richard Brooks and starring Rock Hudson, Dana Wynter, and Sidney Poitier. The film was reissued under the title Africa Ablaze.
Contents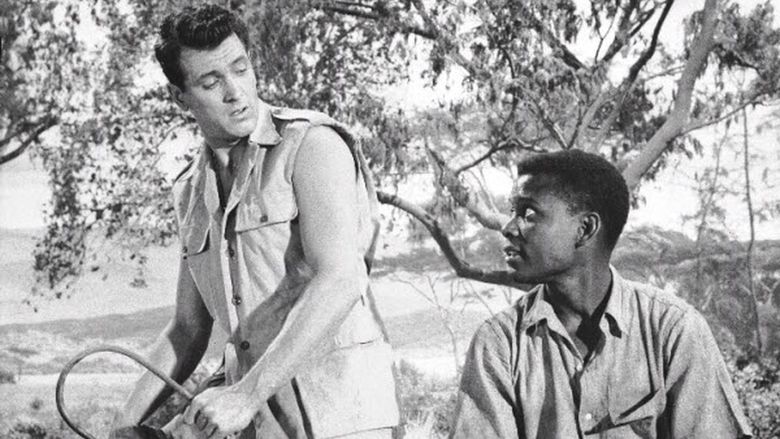 The movie, based on the book of the same name by Robert Ruark, portrays the Mau Mau uprising in Kenya. It shows the colonial and native African conflict caused by colonialism and differing views on how life should be lived. It stars Rock Hudson as the colonial and Sidney Poitier as the native Kenyan. The two men grew up together but have drifted apart at maturity.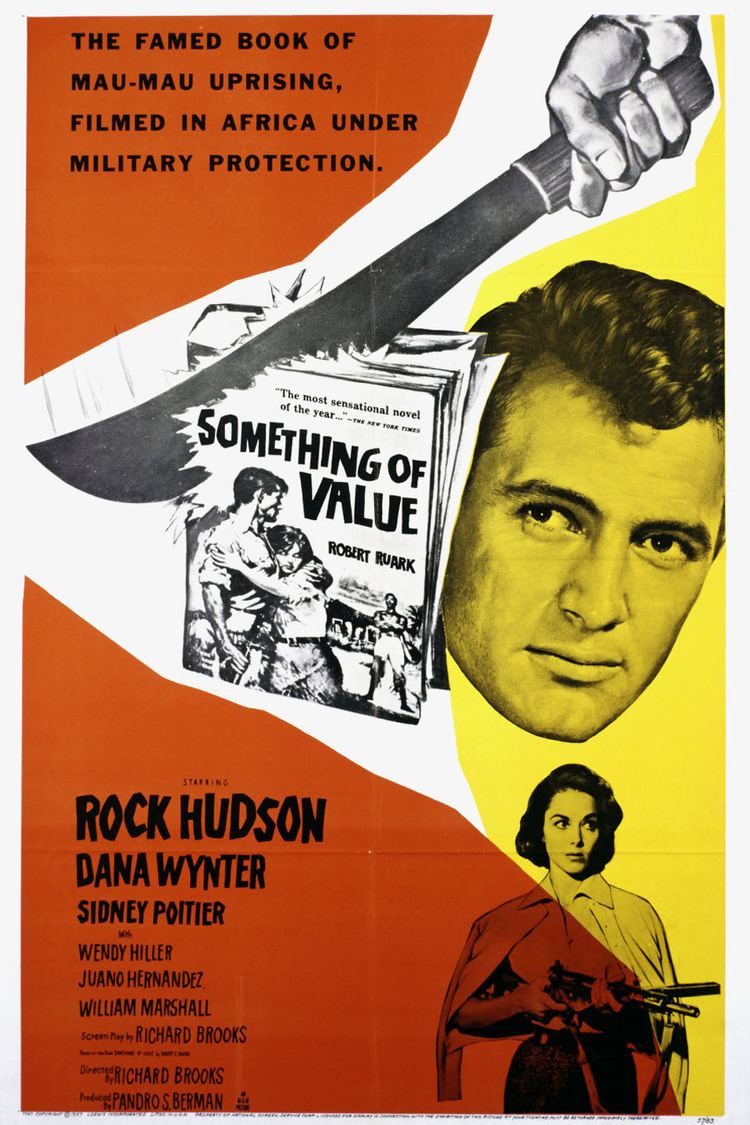 Plot
Kikuyu tribal members work on Henry McKenzie's farm in 1940s Kenya. Two young men, Kenyan native Kimani and Henry's son Peter, have grown up together, almost like brothers.
Prejudices surface when Peter's brother-in-law Jeff Newton slaps the face of Kimani after his request to use a rifle. Kimani leaves the farm, but is carried back by Peter after having caught his foot in a trap.
Mau Mau tribesmen plot an insurrection as Kenya's tensions rise. Kimani sides with them and is asked to steal a supply of rifles as a test. He parts ways for many years with Peter, who becomes a safari leader to help raise money for the farm. His fiancee Holly Keith arrives and they intend to marry.
Kimani impregnates the daughter of a Mau Mau tribal elder. A raid on the farm results in the murders of Newton and his children. British forces retaliate by bombing a Mau Mau encampment, taking tribesmen prisoner and torturing them.
Peter wants to continue his life in Africa, but troubles worsen when Holly must fight off Mau Mau warriors. Henry hastily gets her and Newton's wife to safety in Nairobi. Peter goes looking for Kimani, who has been identified as the leader of the Mau Mau raiding party that killed his brother-in-law and Newton's children. They fight to the death, Kimani ultimately falling into a pit of bamboo spikes.
Cast
Rock Hudson as Henry's Son - Peter
Dana Wynter as Peter's Betrothed - Holly
Sidney Poitier as Kimani Wa Karanja
Wendy Hiller as Henry's Daughter - Elizabeth
Juano Hernández as Njogu, Oath Giver
William Marshall as Leader, Intellectual in Suit
Robert Beatty as Elizabeth's Husband - Jeff Newton
Walter Fitzgerald as Henry McKenzie
Michael Pate as Joe Matson
Ivan Dixon as Lathela, Loyal Gun-Bearer
Ken Renard as Karanja, Father of Kimani
Samadu Jackson as Witch Doctor
Frederick O'Neal as Adam Marenga, Mau-Mau Leader
Production
In January 1955 MGM announced they had bought the film rights to the novel for $300,000. The novel was published in April. The New York Times wrote of the book that "the explosive impact of Robert Ruark's "Something of Value" will reverberate for a long time to come on both sides of the Atlantic."
The film was originally announced for Grace Kelly. It was to follow a proposed remake of The Barretts of Wimpole Street.
Producer Pando S. Berman assigned the script to Richard Brooks, who undertook a research trip to Kenya.
At one stage British actor Bill Travers, then under contract to MGM, was discussed as a possible lead. Elizabeth Taylor was mentioned as a possible female lead.
In May 1956 it was announced Sidney Poitier would play the role of Kimani and Rock Hudson would be borrowed from Universal to play the lead. Filming began in July.
Reception
According to MGM records, the movie earned $2.1 million in the U. S. and $1.5 million overseas, for a net loss of $410,000.
The movie was the sole American entry at the Venice Film Festival.
It was re-released in 1962 with the title Africa Ablaze.
Sequel
Ruark published a sequel to his original novel in 1962 called Uhuru. No film resulted.
References
Something of Value Wikipedia
(Text) CC BY-SA
Something of Value IMDb
Something of Value themoviedb.org