7.2

/

10

Alchetron

7.2

Rate This




Director

M. Raja




Duration




Country

India






Genre

Romance




Writer

Veeru Potla (story)


Language

Tamil







Release date

28 July 2006




Based on

Nuvvostanante Nenoddantana by Paruchuri Brothers


Songs

Aagayam




Cast

Jayam Ravi (Santhosh), Trisha Krishnan (Kavitha), Prabhu Ganesan (Muthupandi),

K. Bhagyaraj

(Krishnan), Geetha (Janaki), Richa Pallod (Lalitha)



Similar

Santosh Subramaniam, Namo Venkatesa, Thillalangadi
Un paarvaiyil hd song something something unakkum enakkum movie
Unakkum Enakkum (English: Between you and me) is a 2006 Tamil-language romance film directed by M. Raja. It stars Jayam Ravi and Trisha Krishnan in the lead roles and a huge star-cast, including Richa Pallod, veterans Prabhu, Bhagyaraj, Geetha and comedians Santhanam and Ganja Karuppu in supporting roles. The film is a remake of the 2005 Telugu blockbuster, Nuvvostanante Nenoddantana , starring Siddharth, Trisha Krishnan, Srihari, and Prakash Raj. The film's score and soundtrack was composed by Devi Sri Prasad, who also scored the music in the original version of the film, whilst cinematography was handled by A. Venkatesh and editing by S.SurajKavee. The film was initially released with prefixes "Something Something"; later those prefixes were dropped due to a rule imposed by Government that titles of Tamil films should be named only in Tamil for tax exemption.
Contents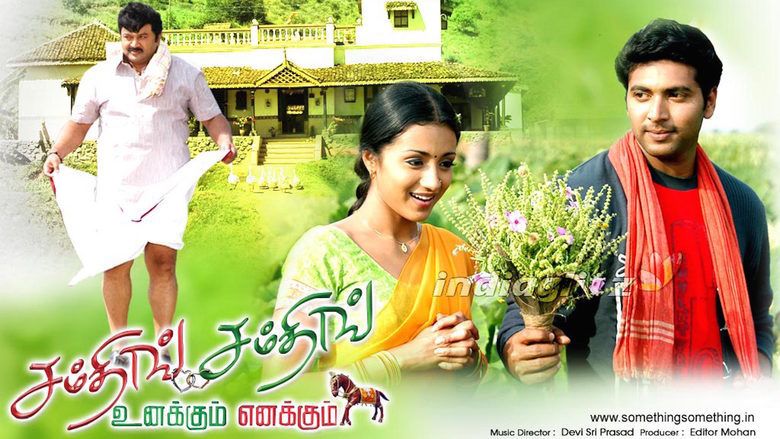 Plot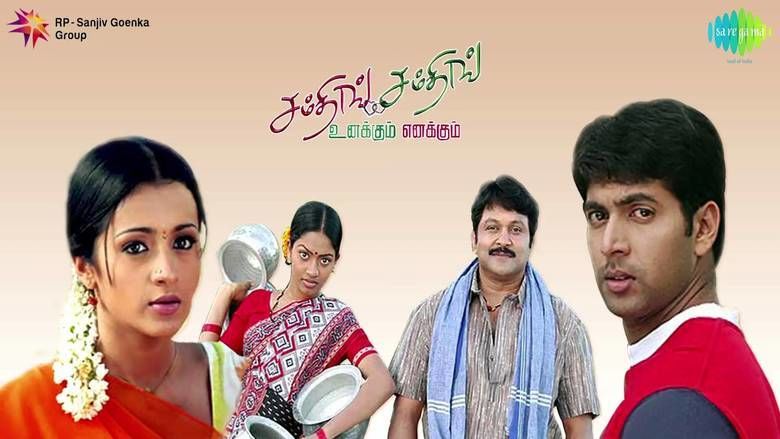 Muthupandi (Prabhu) takes care of his only sister Kavitha (Trisha) following their mother's early death when they were young. He lives in a village and brings up his sister with lot of care and affection. In the meantime, Muthupandi has an aversion towards arrogant rich people in the society as his father, who was rich abandoned his mother following which she died.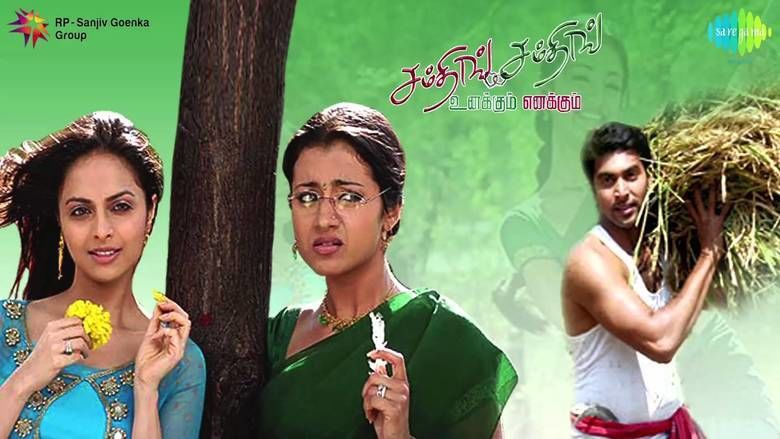 Santhosh (Jayam Ravi) is the only of son of a London based business tycoon Krishnan (Bhagyaraj) and Janaki (Geetha). Santhosh comes to Chennai along with his mother Janaki to attend his cousin Lalitha's (Richa Pallod) wedding. Lalitha is the best friend of Kavitha and she too comes to Chennai a few days before the wedding. Santhosh, a fun loving person develops an attraction immediately after seeing Kavitha. But Kavitha does not reciprocate and she maintains distance with Santhosh.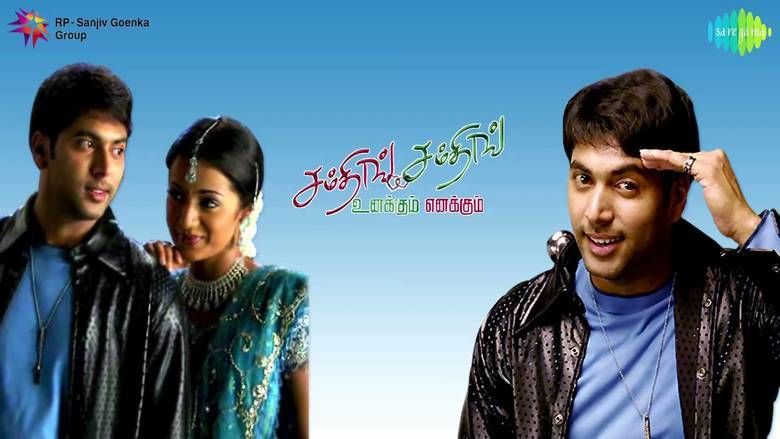 Slowly Santhosh and Kavitha become good friend and love blossoms between them. Shalini (Tejaswini) is the daughter of Santhosh's family friend JP (Manivannan) and she too loves Santhosh. Janaki gets furious knowing about Santhosh and Kavitha's love affair as she thinks Kavitha is poor and is from low societal status. On the day of Lalitha's wedding, when Santhosh is away, Janaki and JP speak ill of Kavitha and ask her leave the place before Santhosh returns.
When Kavitha is about to leave the place, suddenly Muthupandi arrives and is shocked to see his sister's condition. He gets angry and scolds everyone there for hurting his sister and he also takes Kavitha with him back to the village. Santhosh is shocked knowing about the events and he leaves to the village immediately with the hope of convincing Kavitha. But Muthupandi does not like Santhosh seeing Janaki's attitude and thinks that he too will ill treat Kavitha.
Santhosh apologizes to Muthupandi for the mis happenings and requests to get Kavitha married to him. Now Muthupandi comes with a challenge. He allots 1 acre of agricultural land to Santhosh and asks him to do farming there. Muthupandi challenges Santhosh to cultivate more than him using the land allotted. Santhosh accepts the challenge although he does not knowing farming.
Santhosh tries hard to do farming and somehow he manages to learn cultivation. JP and Shalini do not want Santhosh to win the challenge and they rope Mayan (Kalabavan Mani) in the village to distract Santhosh. Also there is local rich man in the village Sivaji (Kadhal Dhandapani) and his son who wants to marry Kavitha at any cost. Cultivation is completed and rice grains are bundled in both Santhosh and Muthupandi's farms.
One day, Sivaji and his son set fire to Muthupandi's home with plans of killing Santhosh. But Santhosh gets alerted and he escapes. Also he saves Kavitha's horse doll which she considers to be precious (as it was made by Muthupandi when they were young). On the day before the counting, Mayan takes a few bundles from Santhosh and places it along with Muthupandi's so that Santhosh will lose the challenge.
On the other hand, Muthupandi understands Santhosh's true love towards Kavitha and believes that he is the right match for his sister. At night, Muthupandi visits Santhosh's land and places a few additional rice grain bundles so that Santhosh can easily win. Santhosh wins the challenge as he has cultivated more compared to Muthupandi following which he agrees for their wedding.
But Sivaji and his son get angry seeing this and they decide to kill Santhosh and marry Kavitha. They kidnap Kavitha and beat up Santhosh. A fight erupts and Sivaji's son is killed by Santhosh and he saves Kavitha. When police arrives at the spot, Muthupandi takes the blame of murder and requests Santhosh to marry Kavitha and lead a happy life. Muthupandi gets jailed for two years and he gets released with the hope of seeing Kavitha and Santhosh leading a happy married life. But he is surprised seeing them in wedding attire in front of the jail when he comes out. Santhosh and Kavitha were waiting to conduct the marriage only after Muthupandi is released. Muthupandi feels proud of them. Janaki realizes her mistake and apologizes to Muthupandi. In the end, Santhosh and Kavitha are married. Muthupandi and Valli (Mallika) develop love for each and other.
Cast
Jayam Ravi as Santhosh
Trisha Krishnan as Kavitha
Prabhu as Muthupandi, Kavitha's brother
Walter Philips as (Young)Muthupandi
Geetha as Santhosh's mother
Bhagyaraj as Krishnan, Santhosh's father
Richa Pallod as Lalitha 'Lalli', Kavitha's best friend and Santhosh's cousin
Manivannan as Jayadhalapradhaban 'J.P.'
Santhanam as Arivu, Santhosh and Lalitha cousin
Cochin Hanifa as Kolutha Panni, Lalitha's father and Santhosh's uncle
Kalabhavan Mani as 'Mark' Mayan
Tejashree as Shalini 'Shalu', J.P.'s daughter
Mallika as Valli
Kadhal Arun Kumar as Arun
Kadhal Dhandapani as Village head
T. S. B. K. Moulee as Krishnayya (railway station master)
Livingston as Ram
Ganja Karuppu as Karuppiah
Aravind Akash as Jai
Production
The film was initially titled Something Something Unakkum Enakkum, but removed the English prefixes to exploit the Tamil Nadu Government's rule of entertainment tax exemption for films with Tamil titles.
Music
The film has six songs composed by Devi Sri Prasad.
Aagayam - S. P. Balasubrahmanyam
Kiliye Kiliye - Jassie Gift
Kozhi Veda Kozhi - Naveen & Priya
Pooparikka Neeyum - Shankar Mahadevan
Something Something - Tippu
.
Unn Paarvaiyil - Karthik & Sumangali
Box office
The film was a commercial success grossing $10 million at the box office.
The common factor between Jayam Ravi's earlier films, Jayam, M. Kumaran son of Mahalakshmi and Something Something... Unakkum Enakkum is that all three movies are produced by his brother, Mohan and they are all remakes of Telugu hits. Coincidentally, the heriones in these films all acted in the original Telugu versions.
This is Jayam Ravi's first film opposite a well-established actress, Trisha Krishnan. Previously he has only acted with newcomers like Sadha, Renuka Menon, Shriya Saran, Kamna Jethmalani, and Asin Thottumkal.
To shoot the village scenes, 5 acres (20,000 m2) of land at the base of a hill were leased at Kudiraikulipatipallam near Aathur and converted into a farm. The song sequences were shot in Chennai as well as London.
Parthiban and Sarath Kumar were offered the role of Muthupandi. Finally, Prabhu Ganesan agreed to do the role which earned him praise.
Mohan was offered the role of Jayam Ravi's father, but he declined the offer and the role went to K. Bhagyaraj
References
Unakkum Enakkum Wikipedia
(Text) CC BY-SA
Something Something... Unakkum Enakkum IMDb
Something Something... Unakkum Enakkum themoviedb.org