Name

Snowboy Snowboy






Snowboy (a.k.a. Mark Cotgrove) is a UK-based percussionist, bandleader, DJ, music critic, journalist and music promoter.
Contents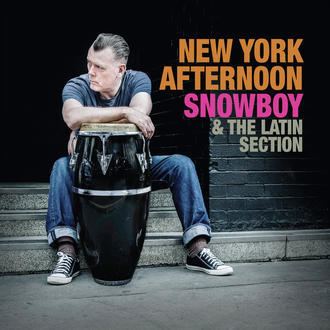 Featured in the Who's Who of Latin American Music, Snowboy has released 16 albums and 20 singles in a career that spans over 30 years on labels such as Acid Jazz, Polydor, Ubiquity, Freestyle, Ace and many more, and has taken him and his authentic Afro-Cuban sound to concert stages all over the world. As a freelance percussionist in many styles, he has performed or recorded with Lisa Stansfield, Imelda May, Amy Winehouse, Rod Temperton, Mark Ronson, Basia, Simply Red, Makoto Kuriya, Flaco Jimenez, Airto Moreira, Deodato, Mick Hucknall, Herman Olivera, Jon Lucien, James Taylor Quartet, Mica Paris, Incognito, Darrel Higham, Patti Austin, Big Boy Bloater and many, many more.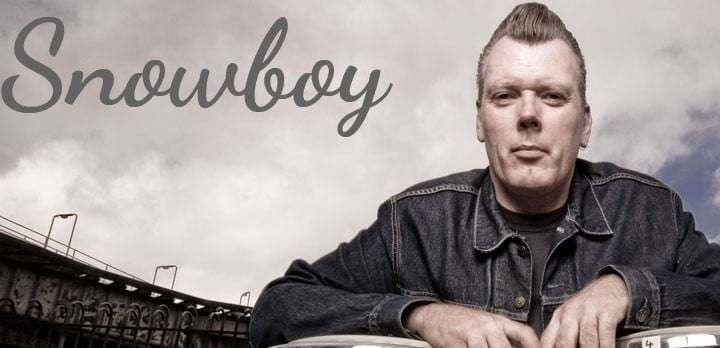 Snowboy – with his band the Latin Section, comprising the cream of the UK's Latin Jazz musicians – carries the torch with their authentic Latin jazz style. Together they create a sound which whilst encompassing the influences from the masters of the genre (in particular Eddie Palmieri and Tito Puente), is also highly capable of intense swing and verve. Snowboy and the Latin Section have developed a unique and often identifiable sound in Latin dance music, something that is hard to do in this day and age, especially in the Latin jazz arena. Percussively explosive uptempo original compositions, at times tinged with folklore that continues their quest to keep the music exciting and to keep the dancers dancing.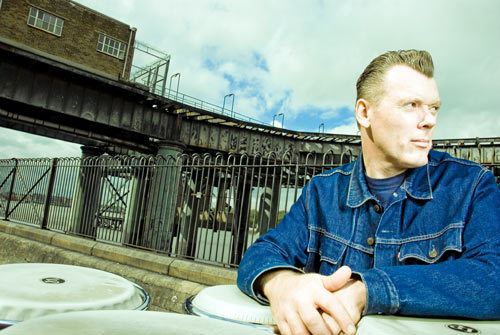 Snowboy is currently still touring with his own band and Lisa Stansfield and is involved in production with Lisa, DB Cohen and Chloe Marriot.
Outside of his Percussion work, Snowboy has been a club and radio DJ since 1978, specialising in all forms of Latin music, Jazz, Jazz Funk, Soul and Funk, and in fact co created (with Keb Darge) the world-wide Deep Funk movement through the club of the same name in 1995. At the time of writing (2016) he has a residence at South London Soul Train at the Bussey Building in Peckham, London. As a radio presenter, he has worked on many stations from Jazz FM, Solar and a regular on Southport Weekender Radio as well as many pirate stations. He was also the music programmer for Craig Charles' Funk and Soul show on BBC 6 Music for 4 years.
Although not as a performer, Snowboy also co-organises the yearly 30's and 40's Vintage weekend event, Riviera Swing at the Victoria Hotel in Torquay.
He is also the author of the social and dance history book 'From Jazz Funk and Fusion to Acid Jazz – A History of the UK Jazz Dance scene '
Part 11 the new avengers snowboy the latin section live in vence
Albums
Ritmo Snowbo (Released 1989 ACID JAZZ Records [JAZID LP19])
Descarga Mambito (Released 1991 ACID JAZZ Records [JAZID LP40])
Something's Coming (Released 1993 ACID JAZZ RECORDS [JAZID LP 92])
The Best of Snowboy and The Latin Section (Released 1994 ACID JAZZ Records [JAZID LP102])
Pitbull Latin Jazz (Released 1995 ACID JAZZ Records [JAZID LP 126])
M.F.O.S. (Recorded 1996 Acid Jazz Records [JAZID LP 146])
Mambo Rage (Released 1998 Ubiquity Records/Cu-Bop [CBLP 013])
The Soul of Snowboy (Released 1999 Acid Jazz Records [AJXLP 105])
Afro Cuban Jazz (Released 2000 Ubiqity/Cu-Bop [CBLP26])
Beyond The Snowstorm – Snowboy. The Acid Jazz Years (Released 2001 Snapper [SMDCD 340])
Para Puente (Released 2002 Ubiquity Records [CBCD039])
Latin Fever
New Beginnings (Released 2005)
Communications (Released 2009 Freestyle Records)
New York Afternoon (Released 2016 Snowboy Records)
Compilations
Samba Con Salsa (Latin Music from London) (Released 1987 WAVE RECORDS [WAVE 31])
The Freedom Principle (Acid Jazz & Other Illicit Grroves, vol. 2) (Released 1989 POLYDOR RECORDS/URBAN [837 925-])
Groups of Goodies (Released 1994 MO MUSIC [PSCR 5074])
Blue Note Club Culture (Released 1996 ACID JAZZ RECORDS/ALL SEEING EYE [EYE LP 01])
Acid Jazz – Movie & TV Themes (Released 1997)
Meet Me at the Go-Go (Released 2003)
Singles
Bring on the Beat / When Snowboys Rocking The Mike / Guaguanco R.J.
Mambo Teresa / Wild Spirit
A Night in Tunisia / Ritmo Snowbo (Waterfront)
Ritmo Snowbo / A Night in Tunisia (BGP)
Snowboys House of Latin
Snowboys House of Latin Remix
Give Me The Sunshine / El Nuevo Latino
Lucky Fellow / Astralisation
Delirium / NyQuist Theorem
Three Faces of Snowboy – Girl Overboard / Funky Djembe / 24 for Betty Page
Where Is The Love?
The New Avengers ( featured in US movie Anchorman)
Jazzakuti
Casa Forte
Oya Ye Ye
Los Rumberos De La Habana Y Matanzas/Baraggo
It's About Time – DR Bob Jones and The Interns (featuring Snowboy)
El Padrino
I've Got To Learn To Mambo feat. James Hunter
Lucky Fellow/Girl Overboard (7inch version)
Where Is The Love? (7inch version)
New York Afternoon feat. Marc Evans
Books
From Jazz Funk & Fusion to Acid Jazz: The History of the UK Jazz Dance Scene (2009), Chaser Publications (print-on-demand via AuthorHouse), ISBN 978-1-4389-7360-9
References
Snowboy Wikipedia
(Text) CC BY-SA