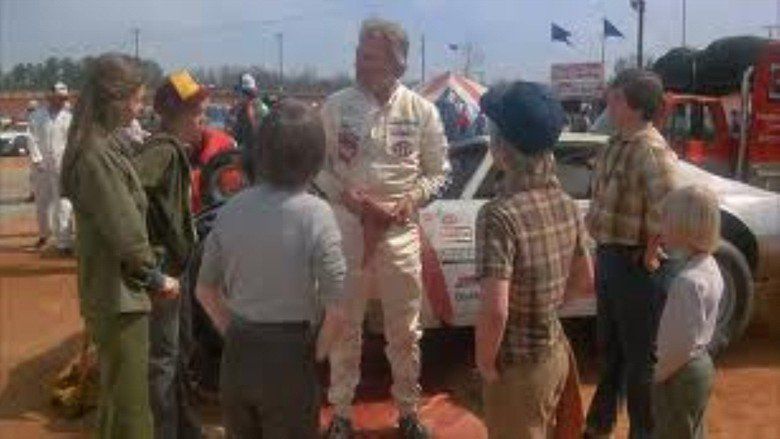 When race car driver Brewster Baker (Kenny Rogers) stops at a gas station and then escaped from a bathroom window, parts are stolen from his race car. Then while in a diner in a small Texas town, he sees some people stealing parts from another car, and chases the thieves. When the thieves' van goes into a river, Brewster rescues them and discovers that they are orphaned children. The kids were stealing auto parts for "Big John" the corrupt county sheriff, who jails Brewster for breaking and entering, larceny, resisting arrest and speeding. After the kids help break Brewster out of jail, Brewster reluctantly takes the children with him. Eventually, they form a friendship and bond. The end of the movie features real race footage from the 1982 NASCAR Coca-Cola 500, held at Atlanta Motor Speedway and won that year by Darrell Waltrip.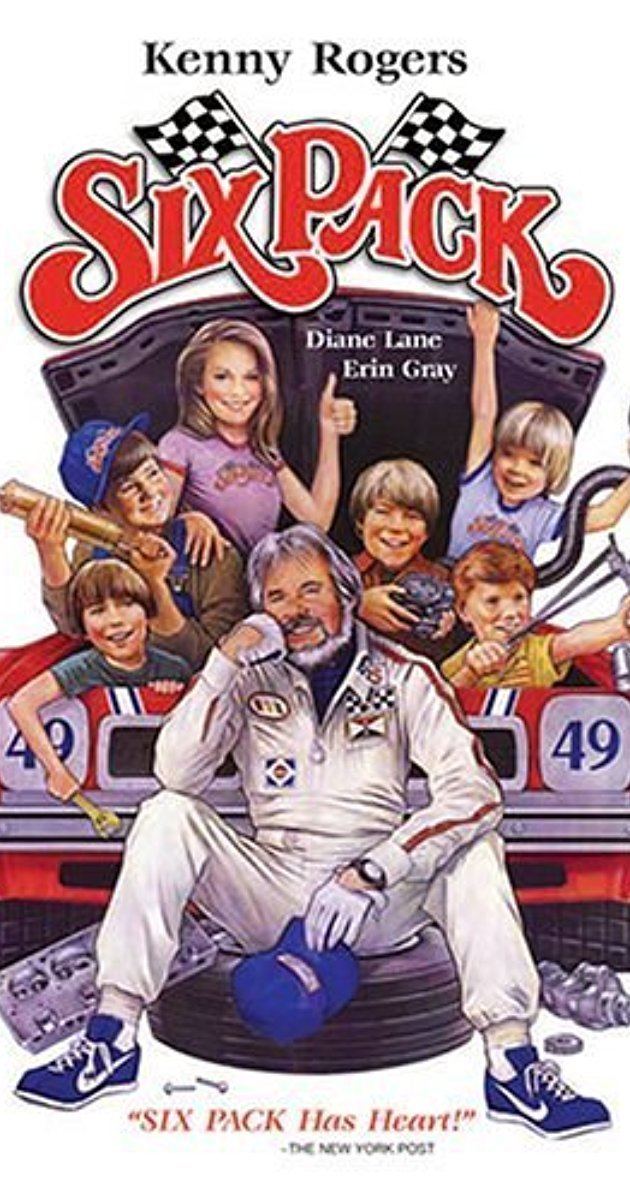 Kenny Rogers as Brewster Baker
Diane Lane as Heather "Breezy" Aikens
Erin Gray as Lilah
Barry Corbin as "Big John" the corrupt County Sheriff
Terry Kiser as Terk Logan
Bob Hannah as Diddler
Tom Aberathy as Louis
Robbie Fleming as Little Harry
Anthony Michael Hall as Doc
Robby Still as Swifty
Benji Wilhoite as Steven
Buddy Baker as Himself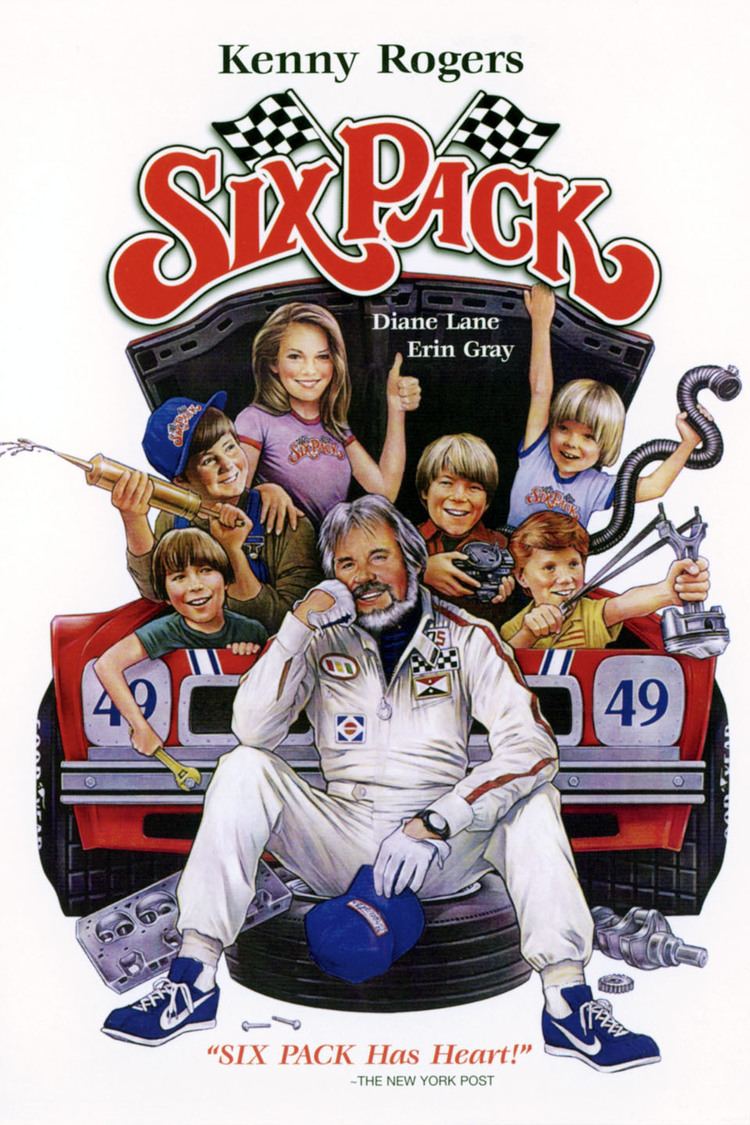 The theme song to the film is "Love Will Turn You Around", a song performed and co-written by Rogers that was a #1 country and adult contemporary hit. It peaked at #13 on the pop chart. Miles Goodman served as an orchestrator for the film's score.
The film had a limited release on July 16, 1982 and went wide on July 23, 1982. It grossed over $20 million during its theatrical run.
Janet Maslin of The New York Times in her review, called Six Pack "good-natured but none-too-interesting" as a typical fable where "orphans find a father, a lonely man finds a good woman, an unsuccessful racer makes good on the comeback trail, and everybody lives unreasonably happily ever after."
Part of the movie was filmed in Braselton, Georgia at Jefco Speedway also known as Georgia International Speedway and Peach State Speedway now known as Gresham Motorsports Park. Some local Braselton teens and preteens were used as extras in the film. Notable NASCAR racing legends raced at the track such as Bobby Isaac, '(Tiger Tom)' Tom Pistone, Jody Ridley, LeeRoy Yarbrough, Wendell Scott, Mark Martin, Freddy Fryar, Darrell Waltrip, Alan Kulwicki, Larry Pearson and Rusty Wallace. 'Alabama Gang' racing legends Neil Bonnett, Bobby Allison, Donnie Allison and Davey Allison.
The film crew worked from the Holiday Inn Powers Ferry in Atlanta, Georgia. At least one scene was filmed in a guest room there. Another scene was filmed at a pub located in a strip mall up the hill from the Holiday Inn.
In 1983, there was a spin-off television show of the same name which featured Don Johnson as Brewster Baker and Markie Post as Sally Leadbetter. This show also featured Joaquin Phoenix (billed as Leaf Phoenix) in his second role.
VHS Release date: May 19, 1993
1st DVD Release date: April 4, 2006
2nd DVD Release date: July 3, 2012
As of 2012, the feature has not been released on Blu-ray Disc.
Six Pack is mentioned prominently in "Breakfast in Dubbo", the ninth chapter of New Zealand-Australian comedian Tony Martin's collection of autobiographical essays, Lolly Scramble: A Memoir of Little Consequence (2005). In "Breakfast in Dubbo," Martin recounts a lengthy bus trip in New South Wales that took place in 1986, during which the passengers were given the opportunity to vote for a movie to watch on video. Passengers were invited to vote for either Excalibur, Beverly Hills Cop, This is Spinal Tap, or Six Pack. Despite Martin's attempts to drum up support for This is Spinal Tap, the majority of passengers voted to watch Six Pack, to Martin's dismay. Martin recorded a spoken-word version of "Breakfast in Dubbo" which appears as track 27 on the CD Get This: Illegal Download (2006).
Six Pack is mentioned in the tv show "Squidbillies" Season 2 Episode 11 "Terminus Trouble". In the episode, Early Cuyler his son Rusty and the Sheriff make a trip to Atlanta, Georgia and visit a location used in the film.