Sirsa (Hindi: सिरसा) is a city and municipal council in the Sirsa district of the Indian state of Haryana. It is a town in the westernmost region of the state, bordering Punjab and Rajasthan. Its history dates back to the time of the writing of the Mahabharata. At one time, the Sarasvati River flowed in this area. It is home of Sirsa Air Force Station of Indian Air Force.
There are a number of legends about the origin of the name of the town. Sirsa is said to be one of the oldest places of North India and its ancient name was Sairishaka, which finds mention in the Mahabharata, Panini's Ashatadhayayi and Divyavadan. In the Mahabharata, Sairishaka is described as being taken by Nakula in his conquest of the western quarter. It must have been a flourishing city in the 5th century BC, as it has been mentioned by Pāṇini.
According to local tradition, an unknown king named Saras founded the town in the 7th century AD and built a fort. The remains of an ancient fort can still be seen in the South-East of the present town. It is about 5 kilometres (3.1 mi) in circumference. According to another tradition, the name has its origin from the sacred river Sarasvati which one flowed near it. During the medieval period, the town was known as Sarsuti as noted by a number of medieval historians. In the ancient period, Sirsa was also known as Sirsapattan.
The Sirsa district which comprised three tahsils of Sirsa, Dabwali and Fazilka was abolished in 1884 and Sirsa tahsil (consisting of 199 Villages) and 126 villages of Dabwali tahsil formed one tahsil and the same was merged in the Hisar district and the rest of the portion was transferred to the Firozpur district (Punjab). There was no change till the Independence of the country except that a village was transferred from Sirsa tahsil to the then state of Bikaner in 1906.
The entire area of the district was included in the new state of Haryana on 1 November 1966. In 1968, Sirsa tahsil was bifurcated into Sirsa and Dabwali tahsils. In 1974, three villages of Dabwali tahsil were transferred to Sirsa tahsil. On 1 September 1975, Sirsa and Dabwali tahsils were constituted into a separate Sirsa district with headquarters at Sirsa.
As of 2001 India census,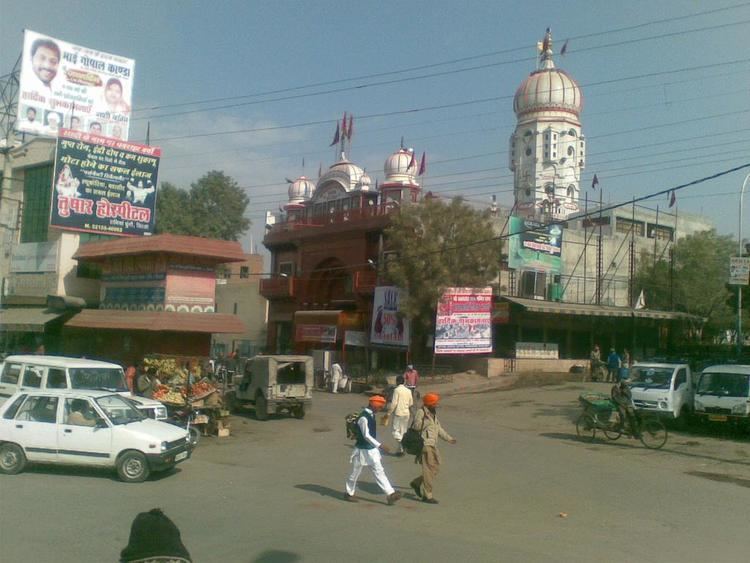 Sirsa had a population of 160,129. Males constitute 54% of the population and females 46%. Sirsa has an average literacy rate of 68%, higher than the national average of 59.5%: male literacy is 73%, and female literacy is 62%. In Sirsa, 13% of the population is under 6 years of age. Bagri, a dialect of the Rajasthani language, Hindi and Punjabi are spoken and understood by the majority of people. According to census 2011, the population of Sirsa city is 183,282, out of which 96,806 are males and 86,476 are females. The literacy rate reached to 83.03%, with male literacy of 88.50% and female literacy of 76.98%.
Sirsa is located 29.53°N 75.02°E / 29.53; 75.02. It has an average elevation of 205 metres (672 feet). Temperature is between 0 - 48 °C. Rainfall is 250 to 500 mm.
The climate of this district is characterised by its dryness and extreme temperatures and scant rainfall. The year may be divided into four seasons. The cold season from November to March is followed by the Summer season which lasts up to the end of June. The period from July to the middle of September and from the middle of September to October constitutes the south west monsoon and post-monsoon seasons respectively.
Records of rainfall in the district are available for Sirsa only for sufficiently long periods. The average annual rainfall in the district is 32–53 mm. The rainfall in the district increases generally from west to east. About 72 percent of the annual normal rainfall in the district is received during the short south east monsoon period, July to September, July and August being the rainiest months. There is significant amount of rainfall in the month of June, mostly in the form of thunder showers. In the rest of the year, there is a very little rainfall. During the period 1901-75, the highest annual rainfall as recorded was 327 percent of the normal in 1917. The lowest annual rainfall amounting to only 34 percent of the normal was recorded in 1920.
On an average there are 20 rainy days (i.e. days with rainfall of 2.5 mm or more) in a year in the district. The heaviest rainfall in 24 hours recorded in the district was 165.4 mm on 22 September 1917.
The archaeological Survey of India, during the archaeological exploration of the Ghaggar valley in Sirsa District in 1967–1968, nearly 54 sites, yielding the painted grey, black and red, black slipped, grey and red wares and those belonging to Rang Mahal culture were discovered. No Harappan settlement, however, could be located. Sites yielding Rang Mahal pottery were found to be situated in close proximity of the Ghaggar.
Among the painted grey ware settlement, a mound locally called Lahranwali Theri near Rania deserves special mention. The painted grey ware types found here mainly comprised dishes and bowls. Pottery of the later periods was also collected from this site. Two mounds at Sikanderpur from where stone slabs having marks of iron dowels were found can be ascribed to Rang Mahal culture. A few more archaeological sites were identified in the district. The more important ones are described below:-
Arnian wali (Tehsil Sirsa): It is situated 8 km south of Sirsa on Sirsa Bhadra Road. A mound measuring nearly 4 acres and approximately 10 feet (3.0 m) high lies 400 meters north of the village. It has yielded fragments of pottery of early history and medieval times.
Sikander Pur (Tehsil Sirsa): Located about 12 km east of Sirsa, the village is approached by a link road from Sirsa – Fatehabad Road. The site, which has two mounds, one kilometre apart, is located about 1.6 km north-east of the villages and is nearly 30 feet (9.1 m) high. Heavy stone slabs and a sculpture of Indra, specimens of a temple of early medieval times were found from the site. A sculpture of an "Ekmukha Linga" of Shiva belonging to early medieval times has also been discovered. The specimen represents Shiva both in his human as well as phallic form. A sculpture of Indra recovered from the site is fine specimen representing two armed Indra as Dikpala. Another sculpture of Indra with his consort belonging to the early medieval times has also been found. The site has also yielded Rang Mahal and medieval wares.
Moriwala (Amarjeet Pura): Moriwala is a small village located 12 km out from Sirsa on national highway 10 on Sirsa-Fatehabad road. This village was named as Moriwala but now it has been changed as Amarjeet Pura. It happened because here was a pilot named Amarjeet Singh Sandhu, who died in the war of 1971 with Pakistan.
Suchan (Tehsil Sirsa): Located about 16 km east of Sirsa, the site has yielded fragments of pottery of Rang Mahal and early medieval wares.
Mangiana (Tehsil Dabwali): It is located about 13 km east of Dabwali on Kalanwali-Dabwali Road. The mount, located about a kilometre west of the village, is 15 feet (4.6 m) high. It has yielded fragments of early historic and medieval wares.
Sirsa features as the centre of activity in the 2007 movie, Partition directed by Vic Sarin, starring Jimy Mistry and Kristin Kreuk
Sirsa is the Administrative Headquarters of Sirsa District of the state of Haryana.It is situated at a distance of 259 Kilometers from the national capital New Delhi on National Highway-10 and 250 Kilometers from the state capital Chandigarh on National Highway-64. Sirsa is well connected with New Delhi, Chandigarh and Jaipur by regular bus service run by the Haryana Roadways and railways.
Tara Baba Kutia is a large Hindu temple situated about 5 km from main city on Rania Road. It has been built in memory of Shri Tara Baba. There is a large murti of Bhagwan Shiv and an artificial cave.
Gurudwara Sri Chilla Sahib is a historic Sikh gurdwara, located between Rania Chungi and Tulsi Chowk.
Gurudwara Patshahi Dasvi is a historic Sikh gurdwara, located at Suratgarhia Bazaar.
The Salasar Dham (Hanuman Mandir) is a Hindu temple located near Town Park.
Dera Sacha Sauda is a non-profit spiritual organization based in Sirsa. It was established by the ascetic Mastana Balochistani in 1948, as a center for spiritual learning.
Baba Bihari Ji ki Samadhi, Rania Road.
Shree Khatu Shyam Dham, Rania Road.
Sarsai Nath Dham, Bhagwan Parsuram Chowk.
Baba Ramdev Mandir, Rori Gate and Bhadra talab.
Ganesh Mandir, Noharia Bazaar.
Chaudhary Devi Lal
Om Prakash Chautala
Sardara Singh
Selja Kumari
Radhe Shyam Ganda
Ajay Singh Chautala
Charanjeet Singh Rori
Manmohan Singh
Sunil Grover
Barinder Sran
Shankar Sharma
Rupinder Handa