Indonesia




West Kalimantan


504.0 km2


12 December 1981 (as administrative city) 21 June 2001




Hasan Karman, S.H., M.M.



Singkawang or San Keuw Jong (Chinese: ; pinyin: ) is a city located in the province of West Kalimantan (or Kalimantan Barat), on the island of Borneo in Indonesia. It is located at about 145 km north of Pontianak, the provincial capital, and is surrounded by the Pasi, Poteng, and Sakok mountains. Singkawang is derived from Hakka, San khew jong which refers to a town in hills nearby a sea and estuary.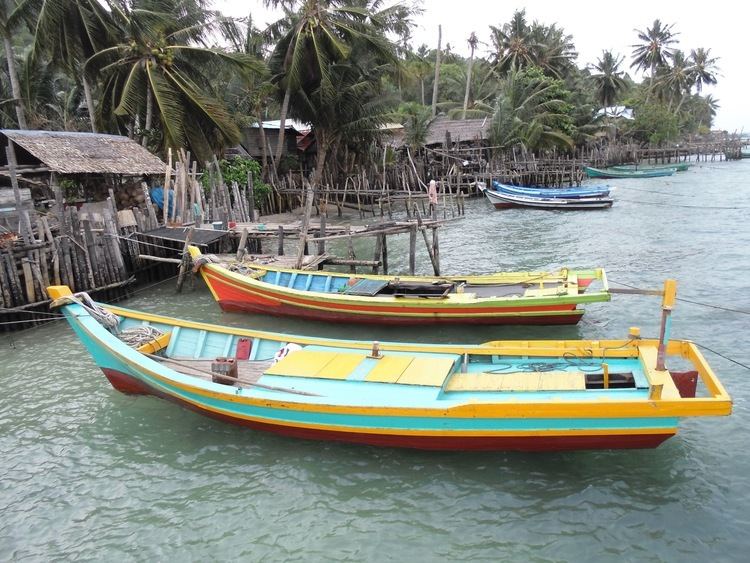 From the middle of the 18th century the Chinese governed trading in the city. During the Dutch East Indies era Singkawang was a Roman Catholic main station and permanent residence of Roman Catholic clergy. The mission there was called the Apostolic Vicariate of Dutch Borneo and founded among others schools, a hospital and a leprosy colony.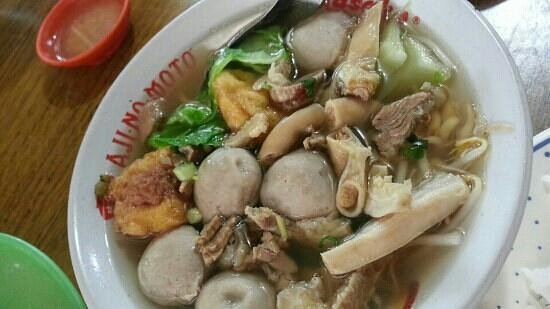 Chinese food especially Hakka style dominates the food stalls or small restaurants, but Teo Chew style is also available. Minang style food can also be found here. Unique food like "Rujak Ju Hie" (rojak with dried squid) is one of delicacies in Singkawang. Tofu (bean curd) Singkawang is famous in West Kalimantan, also "Kembang Tahu" (silky smooth tofu with sugar gravy) is very popular in this city. Singkawang is also famous for its cakes. The variety of cakes is surprising and available from early morning till midnight. Kopi Tiam (local coffee shop) with strong bitter robusta coffee can be found every where. Peaceful and safe feeling for everyone makes Singkawang to be one of the cities with lively night. One may enjoy various food in Pasar Hongkong from porridge, kwetiau, fried rice, nasi lemak, rujak (fruit & vegetables salad), cakes coffee stall. And the prices of the food are surprisingly cheap. Local people enjoy the night with their friends discussing the local hottest issues, singing, or playing cards.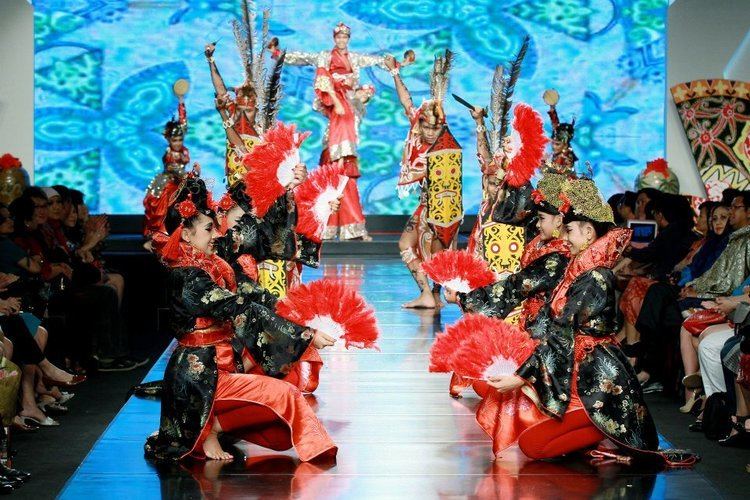 Cap Go Meh (??? jang ngiet ban in Hakka) is celebrated on the 15th and last day of Chinese New Year;
May: Gawai Dayak Naik Dango is celebrated by the Dayak in the opening of the rice harvest to thank the Gods;
June 1: Ngabayotn is celebrated by the Dayak people to celebrate the closing form of rice harvest and beginning of the cultivation season;
August: Wayang Gantung;
August 15: Karnaval Augustus celebrates Indonesian Independence day;
October: Singkawang 10 km running contest is held on Singkawangs anniversary;
October: Dragon Cup soccer championship gathers the clubs from the surrounding districts to celebrate Singkawangs anniversary;
October: Pawai Takbir;
Festival Bedug on Idul Adha day;
Karnaval Muharram celebrates Islamic new year
Singkawang Wikipedia
(,)https://thegirlwiththeeyetattoo1.files.wordpress.com/2013/10/other-village.jpg%3Fw%3D665%26h%3D499(,)http://scontent-a.cdninstagram.com/hphotos-xpa1/t51.2885-15/e15/10175209_418035641707012_694829860_n.jpg(,)http://upload.wikimedia.org/wikipedia/commons/f/f6/COLLECTIE_TROPENMUSEUM_Rivier_in_Singkawang_TMnr_60014518.jpg(,)http://2.bp.blogspot.com/-p1okuvsojmI/TzkWZ5zvQzI/AAAAAAAAAtM/GLAE2gdJFKY/s1600/Benda-20120118-00299.jpg
(,)http://media-cdn.tripadvisor.com/media/photo-s/03/a4/64/d9/baso-sapi-68.jpg(,)https://c2.staticflickr.com/6/5201/5359218802_342bd1f756_b.jpg(,)http://batam-dine.com/wp-content/uploads/2013/10/Complete-Set-of-Mie-Pangsit-Pak-Lucky-Pak-Luckys-Wonton-Noodle.jpg(,)http://media-cdn.tripadvisor.com/media/photo-s/03/f5/92/96/baso-sapi-68.jpg(,)https://verorahman.files.wordpress.com/2014/04/detik_4_bubur_pedas.jpg(,)http://s3.burpple.com/foods/13c56b79e215fc7a3a692113_original.%3F1373526063(,)https://dentistvschef.files.wordpress.com/2015/02/resep-dadar-tiram-telur-goreng-singkawang-tio-ciu-homemade-oyster-omelette-fried-egg-fresh-omelet-spicy-sauce-peanut-butter.jpg(,)https://dentistvschef.files.wordpress.com/2015/02/resep-dadar-tiram-fried-oyster-omelette-crispy-omelete-peanut-spicy-sauce.jpg(,)http://media-cdn.tripadvisor.com/media/photo-s/03/75/70/38/dangau-resto.jpg(,)http://s3-ap-southeast-1.amazonaws.com/qraved-live/images/image/cache/data/Indonesia/Jakarta/Gunung_Sahari/Bakso_Sapi_Singkawang_28/bakso_sapi_singkawang_28_collage-870x375-870x370.jpg(,)https://dentistvschef.files.wordpress.com/2015/02/oyster-omelette-recipe-crispy-fried-egg-oyster-scallion-spicy-omelette.jpg(,)http://www.indonesia.travel/public/media/images/upload/poi/Cap%2520Go%2520Meh%2520Singkawang20140214100628_IMG_0425_12014.jpg(,)http://s3.burpple.com/foods/13c56b79e329d96b0c692125_original.%3F1373526697(,)http://3.bp.blogspot.com/-zACFAajVoZk/UjaSU3enJLI/AAAAAAAAAoA/rBOE7o46q5s/s1600/IMG_4332%255B1%255D.JPG
(,)http://1.bp.blogspot.com/-gABGeNwvq7Q/T79IAzbIkPI/AAAAAAAAAG0/jr35_nunSPo/s1600/sk34.jpg(,)http://1.bp.blogspot.com/-217QmiOJU88/UyGdlYWeSKI/AAAAAAAAMMg/HnSFMU5Gy58/s1600/Adrenaline%2Bin%2Bthe%2BYear%2Bof%2Bthe%2BHorse_02.jpg(,)http://www.indonesia.travel/public/media/images/upload/photoessay/18_capgomehfestival_singkawang.jpg(,)http://nawangtours.com/cache/com_zoo/images/CGM_2009_003_e31dedb27eb9fba6e0c17f2261a2e6c5.jpg(,)http://www.indonesia.travel/public/media/images/upload/poi/Cap%2520Go%2520Meh%2520SingkawangCap%2520Go%2520Meh%2520Festival%2520(5)2007.jpg(,)http://4.bp.blogspot.com/LVm32zMEB0/UyGds_MFj1I/AAAAAAAAMMk/LcV56eZ5rPY/s1600/Adrenaline%2Bin%2Bthe%2BYear%2Bof%2Bthe%2BHorse_03.jpg(,)http://bombasticborneo.com/wp-content/uploads/2015/04/Tatung-CapGoMeh-Singkawang-West-Kalimantan-Barat-Borneo-04.jpg(,)http://www.indonesia.travel/public/media/images/upload/poi/Cap%2520Go%2520Meh%2520Singkawang20140214092834_IMG_0155_12014.jpg(,)http://bombasticborneo.com/wp-content/uploads/2015/04/Tatung-CapGoMeh-Singkawang-West-Kalimantan-Barat-Borneo-06.jpg(,)http://4.bp.blogspot.com/-R8Rw38R9ZPk/UPgIjxR8a3I/AAAAAAAAAT8/HEUcI5IKsIU/s1600/photo%2B1%2B(1).JPG(,)http://i.ytimg.com/vi/wZBQjUkImqw/maxresdefault.jpg(,)http://img.jakp.st/new/trvl/pn522/0hRpxK1uEaBczg7k/7j7imqvvkuos8gs00ccoo004s.jpg(,)http://1.bp.blogspot.com/-yxJwNEmYF_8/UPUmL4UIdwI/AAAAAAAABMs/kbxpzURvnIY/s1600/Singkawang%2BImlek.jpg