India




Gujarati, Hindi




Gujarat




Patan



Siddhpur or Sidhpur is a city and a municipality in Patan district in the Indian state of Gujarat. Siddhpur is an historical place, located in North Gujarat, India. It is located on the bank of Sarasvati River, considered to be the branch of lost Saraswati river. Siddhpur is the taluka headquarters of Siddhpur taluka.
Siddhpur is also known as Sri-sthal or a "pious place". It is mentioned in the Rig Veda to be existing at that time as the Dashu village. The legend is that the great sage Dadhyanca or Dadhici had donated his bones to God Indra here at Siddhpur. Siddhpur is also believed to be located at the junction of two rivers Ganges and Saraswati. Even in the Mahabharata, the great Indian epic, it is mentioned that the Pandavas had visited the place while they were in exile. During the 4-5th A.D a large number of people settled in this part. They were Gurjara people from Iran.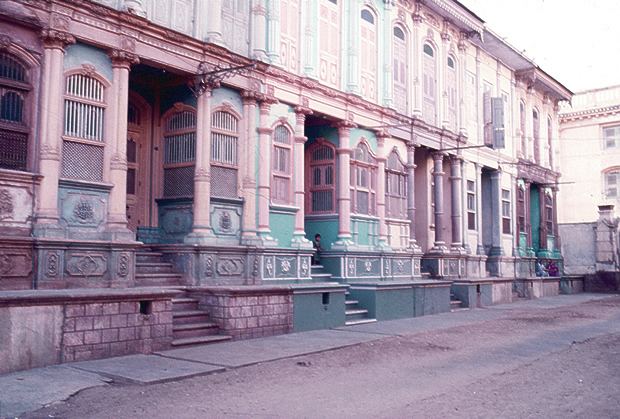 Around the 10th century, under Solanki rulers, the city was at the zenith of fame and glory. The ruler Siddhraj Jaisingh built his capital at Siddhpur, thus the name Siddhpur which literally means Siddhrajs town. He built a temple dedicated to Shiva, and also beautiful palaces and one huge tower, some say of 80 metres long. He also brought large numbers of Brahmins from Mathura and had them settled here. During the 12th century Muhammad Ghori destroyed the town on his way to Somnath. Around 30,000 people were killed in the raid, and the Solanki empire was destroyed.
During the Sultanate time the place was under the rule of local dynasty ruling from Palanpur. Later on in the 15th century the place was brought under the Mughal rule by Akbar. Under the Mughal rule the town developed and flourished.
Bindu-sarovar: It is a small artificial tank, even mentioned in rig-veda and considered pious by Hindus. Matrushradh, Mother Mauksha /Tarpan on Sarswati river (Rig-Ved)an ancient Hindu culture. one of the famous place to visit in the siddhpur
Lord Kapil had founded Sankhya sastra, and Mother Devhuti got Moksha, Explained the Sankhya Darsan by his son (Kapila) on the Saraswati bank: Since the Mauksha of Devhuti established this place Bidu sarovar in Siddhpur an only place in India where Matru-shradh is being carried out, thus thousands of people come here annually to perform the rituals for their dead mothers. in month of Kartike of Hindu calendar. History says the Lord Parshuram had worship here for his sins and done the Matrushradh for his Mother . Mauksha karmakand by brahman priest on sarswati river at pipal tree of Siddheswar temple possess ancient place of God Vishnu. Rig-Ved mentioned for ancient Sristhal and Sarswati river .Siddhpur.\his are the magnificent and beautiful havelies or medieval homes of Bohra traders. They are famous for their delicate wooden architecture and interior decoration of medieval style of India.
Arvadeswar temple of Lord Shiv at Siddhpur is a very ancient place of Nath sampraday in this place Late Devshankarbapa Bhatt who had worshiped 50 years and Died in 1978.
* Tower of Sidhpur, (Est : 04/04/1915) built by Mr. Muhammadali Hararwala (RajRatna) in April1915. That time built cost of tower was Rs. 15000.00 during ruler of Gayakwad. Mohammad Ali Road in mumbai is belong to Mr. Muhammadali Hararwala.
The Siddhpith is established by Devshankarbapa. Where vedic activities, archana of Lord shiv like Laghurudra, Maharudra, Atirudra . Daily Agnihotra and Gaytrima chants is being carried out by Brahmin Priest Shri Vikrambhai Pancholi at present. At Siddhpith annually pilgrims/Devotees from India come at Birth, Death anivesary of Devshankarbapa. Siddhpith had a place of Rushi Kardamas worship spot, and evidence of ancient history being the Lord Brahma"s visit The Siddheswar temple on Sarswati river, Chandrakant Pathak(chanduguru) great human devotee of Dutta, ved pathi, brahmchari established guru-sishya parampara here after lord Krisna-Sandipani. Thousands of Rushiputra/Brahman priest learned in free gurukul since 200 years at the same place and developed Brahmtej.
Sidhpur has two protected monument under Archaeological Survey of India (ASI) namely: Ruins of Rudra Mahalaya temple and the Jami Masjid. The city is also known for his havelis in hacienda architecture largely belonging to Dawoodi Bohra community and spread over 18 mohallas or neighbourhoods.
Sidhpur Wikipedia
(,)http://media.newindianexpress.com/guj.jpg/2013/06/28/article1657118.ece/alternates/w620/guj.jpg(,)http://dawoodi-bohras.com/images/features/sidhpur_street.jpg(,)https://munirazoom.files.wordpress.com/2011/02/sidhpurstreet1.jpg%3Fw%3D490
(,)http://www.duconconsultants.in/components/com_realestatemanager/photos/i-101-cancer-hospital.jpg(,)https://c1.staticflickr.com/1/32/57971103_3782638c9d_b.jpg(,)http://images.mid-day.com/images/2015/apr/Dawoodi-Bohra-havelis.jpg(,)http://images.world66.com/vi/ew/_o/view_of_bohrawad_galleryfull(,)http://images.world66.com/jy/ot/i_/jyoti_rath_passing_galleryfull(,)http://www.duconconsultants.in/components/com_realestatemanager/photos/i-101-referral-hospital.jpg(,)http://www.ebharat.in/sites/default/files/imagecache/node_preview/sites/default/files/sidhpur_bohra_vad_004.jpg(,)http://im1.indiarailinfo.com/492658/0/4347588539a8d108d07cb.jpg(,)https://c2.staticflickr.com/4/3177/2831812155_338ec9a4b5.jpg