Covid-19
India




Hindi




Rajasthan




Sirohi



Sheoganj is a town in Sirohi District of Rajasthan state in India located on the bank of Jawai River. Sheoganj is the tehsil headquarters of Sheoganj Tehsil by the same name.
Sheoganj is the origin town of the most famous Photography Studios "Edrish Ali Photography"...Worlds Best Photography.
Nearby is the Erinpura Chhavani, which was the military base station of the British soldiers. The nearest railway station is Jawai Bandh. Jawai River separates Sumerpur and Sheoganj. Falna is within 1 hour, while Ranakpur is within 2 hour drive from here.Even Bamnera which is just 12 km. from Sheoganj is also very close for visiting ancient temples.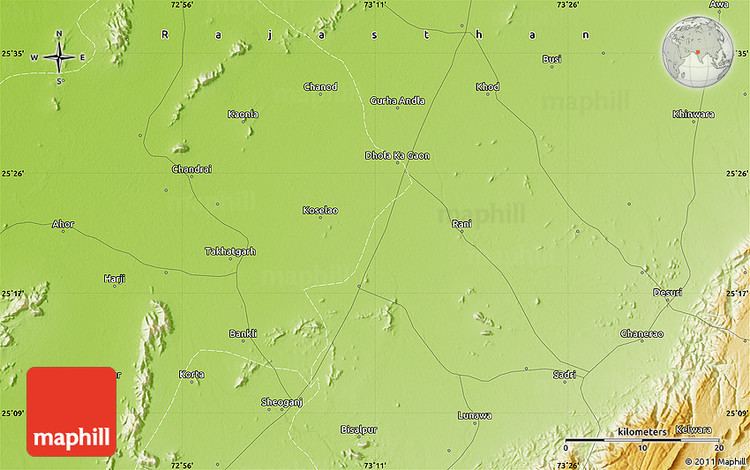 Sheoganj is located at 25.15°N 73.07°E? / 25.15; 73.07. It has an average elevation of 260 metres (853 feet).
Sheoganj Wikipedia
(,)http://maps.maphill.com/atlas/25n20-73e10/maps/physical-map/physical-map-of-25n20-73e10.jpg(,)http://maps.maphill.com/atlas/25n20-73e10/maps/shaded-relief-map/shaded-relief-map-of-25n20-73e10.jpg(,)https://c2.staticflickr.com/6/5020/5560808296_5fc64e2391_b.jpg(,)http://maps.maphill.com/atlas/25n20-73e10/3d-maps/shaded-relief-map/shaded-relief-3d-map-of-25n20-73e10.jpg(,)http://maps.maphill.com/atlas/25n20-73e10/maps/satellite-map/satellite-map-of-25n20-73e10.jpg(,)http://mw2.google.com/mw-panoramio/photos/medium/19939238.jpg(,)http://mw2.google.com/mw-panoramio/photos/medium/25271483.jpg(,)http://mw2.google.com/mw-panoramio/photos/medium/50886946.jpg(,)http://thumbs.dreamstime.com/z/watermelons-vendor-sheoganj-india-may-inadian-rural-people-selling-watermelon-road-side-watermelon-mostly-came-summer-49341359.jpg(,)http://mw2.google.com/mw-panoramio/photos/medium/101732502.jpg
(,)http://jws.traveldesigner4u.com/traveldesigner//UPLOAD/IMAGES/917148615633285602513%245%255E1REFNObanner.jpg(,)http://sheoganjcity.com/images/bada%2520mandir%2520pg.jpg(,)http://images.mapsofindia.com/my-india/20140407_170430-e1397015611685-768x1024.jpg(,)http://images.mapsofindia.com/my-india/2014/04/sunrise-in-mount-abu-665x498.jpg(,)http://sheoganjcity.com/images/Siddhi%2520Vinayak%2520Mandir%2520PG.JPG(,)http://www.sheoganjcity.com/images/Siddhi%2520Vinayak%2520Mandir2%2520PG.JPG(,)http://images.mapsofindia.com/my-india/20140406_063209-e1396935449628-768x1024.jpg(,)https://farm6.static.flickr.com/5249/5250302701_97e25fb300.jpg(,)http://sheoganjcity.com/images/publish-new_03.jpg