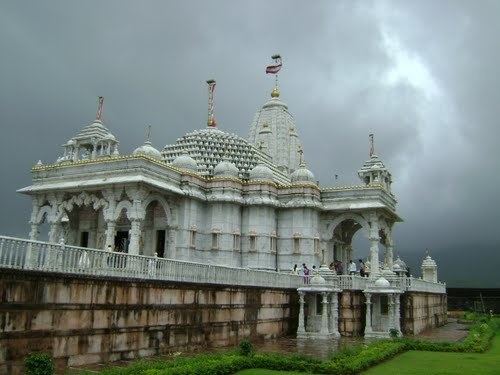 Shahapur is located at 19.45°N 73.33°E / 19.45; 73.33. It has an average elevation of 46 metres (151 feet).
Shahapur is also a major supplier of water to Mumbai. The four dams at Tansa, Bhatsa, Vaitarna, and Modak Sagar, together supply 2900 megalitres per day. The two lakes near Borivali, and Vihar also supply about 100 megatlires per day. Since Shahapur supplies almost all the drinking water to Mumbai, the government of Maharashtra has declared this town to be a No Chemical Zone.
As of the 2001 India census, Shahapur had a population of 10,489. Males constituted 51% of the population and females 49%. Shahapur had an average literacy rate of 87%, higher than the national average of 59.5%. Male literacy was 89%, and female literacy was 84%. In 2011, 12% of the population was under 6 years of age.
The nearest airport is Chattarpati Shivaji international airport in Mumbai. The nearest railway station is Asangaon, which is 85 km from Mumbai CST on the Central railway line. Shahapur is situated around 25 km from Kalyan railway station, 45 km from Thane, and 55 km from Mulund. Shahapur lies on the Mumbai to Agra National Highway (No.3) and is 90 km from Mumbai.
Shahapur is an industrial town. Jindal Steel has a plant here, as does Liberty Oil and Industries in and around the Oswal Industrial Estates, on Mumbai Nashik Highway, Vill Asangaon, Shahapur, Dist Thane
Shivajirao S Jondhle Knowledge City is major education hub in Shahapur, with programs in engineering, management (MBA), pharmacy, law, and science and commerce.
Jeevandeep shaikshanik shanstha sanchalit poi arts, commerce and science college, Khardi tal- shahapur Dist thane and junior college Khardi
Sonubhau Baswant Arts, Commerce/ Banking and Science College.
Shivajirao S Jondhle college of Engineering and Technology
Shivajirao S Jondhle Polytechnic (First and Second Shift)
Shivajirao S jondhle Institute of management Science and Research
Shivajirao S Jondhle College of Pharmacy
Shivgita Institute of Diploma in Pharmacy
Shivajirao S Jondhle Institute of Law and Research
Shivajirao S Jondhle Institute of Science and Commerce
KVCT's Alamuri Ratnamala Institute of Engineering and Technology,Sapgoan (Koti College)
G. V. Khade Vidyalaya
Shaha Chandulal Sarupchand Vidhyalaya Kinhawali
P.S. Deshmukh English Medium School and CBSE
"Bring a Smile" English School, Birwadi, Tal. Shahapur, District : Thane
Samata Vidyalaya Mugaon
Mahila mandala school
Jindal Vidyamandir Vasind, Vasind
Saraswati Vidyalaya Vasind
Archana Trust English Medium School and CBSE
M.N Barora Vidhyalaya
S.G Kabadi Com./Art College
Colleges:
Acharya Bhise College of Arts, Commerce and Science. Powered by Shahapur Taluka Education Society
Utkarsha College of arts, commerse and science, Vasind.
Bhimrao T. Pradhan College Of Arts, Science and Commerce
Government Industrial Training Institute Shahapur (ITI)
Shetye College of Engineering.
Amdar Kashinath Mengal Polytechnic.
Mahuli fort – Historical place, known for trekking, waterfall. Distance between Shahapur – Mahuli 7 km.
Aajoba Parvat – Known for birthplace of Lav and Kush, son of Sita and Ram. One can look for "Sitecha Palana". Located near Gunde village, distance between Shahapur - Gunde 40 km.
Manas Mandir – (Shri Bhuvan Bhanu Jain Manas Mandir Tirtha) It is famous for its beauty. Temple is a replica of Shatrunjay Tirth at Palitana. Primary Deity(Moolnayak) of this temple is Rishabhanatha(Adinathji), first tirthankar of jainism. The brass statue of Lord Mahavira is main attraction in this temple.
Gurudwara - Holy place, Near Asangaon railway station, Beside National Highway – 03
Ardhnari Nateshwar Mandir – Holy place.
Bhatsa Dam - Water reservoir.
Tansa lake/ Sanctuary - Water reservoir and Sanctuary.
Modak Sagar - Water reservoir.
Shri 1008 Mallinath Digamber Jain Atishaya Kshetra : Shri 1008 Mallinath Digamber Jain Atishaya Kshetra was built in 19th century.This temple houses a 300 year old statue of Lord Mallinath that was originally kept at Ardhapur. This temple is dedicated to Mallinatha, the 19th tirthankara and is the only Atishaya Kshetra dedicated to Mallinatha.