Years of service

1903 — 1954




Role

Military Commander




Name

Semyon Budyonny






Birth name

Semyon Mikhailovich Budyonny




Born

April 25, 1883 Platovskaya, Don Host Oblast, Russian Empire (

1883-04-25

)


Allegiance

Russian Empire (1903-1917) Russian SFSR (1917-1922) Soviet Union (1922-1973)




Service/branch

Imperial Russian Army Red Army




Rank

Marshal of the Soviet Union




Commands held

1st Cavalry Army Moscow Military District Reserve Front




Died

October 26, 1973, Moscow, Russia




Spouse

Nadezhda Budyonnaya (m. 1903–1924), Maria Budyonnaya (m. ?–1973), Olga Mikhailova (m. ?–1937)




Children

Nina Budyonnaya, Mikhail Budyonny, Sergey Budyonny




Parents

Mikhail Budyonny, Melania Budyonnaya




Battles and wars

Russo-Japanese War, World War I, Russian Civil War, Polish–Soviet War, World War II




Similar People

Kliment Voroshilov, Mikhail Tukhachevsky, Semyon Timoshenko, Georgy Zhukov, Mikhail Frunze
Semyon Mikhailovich Budyonny ( listen ; sometimes transliterated as Budennyj, Budyonnyy, Budennii, Budyoni, Budyenny, or Budenny; Russian: Semyon Miháilovich Budyonnii; April 25 [O.S. April 13] 1883 – October 26, 1973) was a red cossack, Soviet cavalryman, military commander, politician and a close ally of Soviet leader Joseph Stalin.
Contents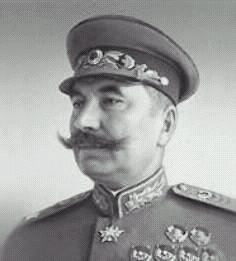 Early life
Budyonny was born into a poor peasant family on the Kozyurin farmstead near the town of Bolshaya Orlovka in the Don Cossack region of the southern Russian Empire (now Rostov Oblast). Although he grew up in a Cossack region, Budyonny was not a Cossack—his family actually came from Voronezh province. He was of Russian ethnicity. He worked as a farm laborer, shop errand boy, blacksmith's apprentice, and driver of a steam-driven threshing machine, until the autumn of 1903, when he was drafted into the Imperial Russian Army. He became a cavalryman reinforcing the 46th Cossack Regiment during the Russo-Japanese War of 1904-1905. After the war, he was transferred to the Primorsk Dragoon Regiment. In 1907, he was sent to the Academy for Cavalry Officers in the St. Petersburg Riding School. He graduated first in his class after a year, becoming an instructor with the rank of junior non-commissioned officer. He returned to his regiment as a riding instructor with a rank of senior non-commissioned officer. At the start of World War I, he joined a reserve dragoon cavalry battalion.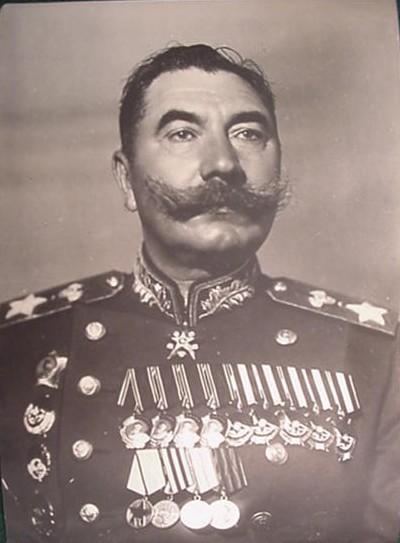 During World War I, Budyonny was the 5th Squadron's non-commissioned troop officer in the Christian IX of Denmark 18th Seversky Dragoon Regiment, Caucasian Cavalry Division on the Western Front. He became famous for his attack on a German supply column near Brzezina, and awarded the St. George Cross, 4th Class. However, there was a general ineptitude of the officers he served under (primarily Caucasian princes and foreigners).
In Nov. 1916, the Caucausian Cavalry Division was transferred to the Caucasus Front, to fight against the Ottoman Turks. He was involved in a heated confrontation with the squadron sergeant major regarding the officers' poor treatment of the soldiers and the continual lack of food. The sergeant major struck out at Budyonny, who retaliated by punching the ranking officer, knocking him down. The soldiers backed Budyonny during questioning, claiming that the sergeant major was kicked by a horse. However, Budyonny was stripped of his St. George Cross, though he could have faced a court martial and death.
Budyonny would go on to be reawarded the St. George Cross, 4th class, during the Battle of Van. He received the St. George Cross. 3rd class, fighting the Turks near Mendelij, on the way to Baghdad. He then received the St. George Cross, 2nd class, for operating behind Turkish lines for 22 days. He received the St. George Cross, 1st class, for capturing a senior non-commissioned officer and six men.
After the Russian Revolution overthrew the Tsarist regime in 1917, Budyonny was elected chairman of the squadron committee and a member of the regimental committee. When the Caucasian Cavalry Division was moved to Minsk, he was elected chairman of the regimental committee and deputy chairman of the divisional committee.
During the Russian Civil War
Returning to Platovskaya, Budyonny was elected deputy chairman of the Stanista Soviet of Workers', Peasants', Cossacks' and Soldiers' Deputies on 12 Jan. 1918. On 18 Feb., he was elected to be a member of the Salsk District Presidium and head of the District Land Dept. On the night of 23 Feb., Budyonny organized a force of 24 men to retake Platovskaya from the white guards, but Budyonny was soon joined by a large number of new recruits. By morning, they had freed 400 inhabitants, and killed 350 White Russian soldiers. His force now consited of 520 men, of which he formed a cavalry squadron of 120. Eventually he was elected battalion commander. In Oct. 1918, the 1st Socialist Cavalry Regiment was formed, with Budyonny as deputy commander. He first met Stalin and Voroshilov in July 1918. Budyonn'y cavalry regiment was reorganized as a cavalry brigade on 7 Aug.
The Civil War broke out in 1918, and Budyonny organised a Red Cavalry force in the Don region, which eventually became the 1st Cavalry Army. This Army played an important role in winning the Civil War for the Bolsheviks, driving the White General Anton Denikin back from Moscow. Budyonny joined the Bolshevik party in 1919, and formed close relationships with Joseph Stalin and Klim Voroshilov.
During the Polish-Soviet War
In 1920 Budyonny's Cavalry Army took part in the invasion of Poland in the Polish-Soviet War, in which it was quite successful at first, pushing Polish forces out of Ukraine and later breaking through Polish southern frontlines. However, later the Bolsheviks forces sustained a heavy defeat in the Battle of Warsaw, mainly because Budyonny's Army was bogged down at Lviv. After his army was defeated in the Battle of Komarow (one of the biggest cavalry battles in history), Budyonny was then sent south to fight the Whites in Ukraine and the Crimea. Despite the defeat in Poland, he was one of Soviet Russia's military heroes by the end of the Civil War.
Later military career
From 1921-1923, Budyonny was deputy commander of the North Caucasian Military District. He spent a great amount of time and effort in the organization and management of equestrian facilities and developing new breeds of horses. In 1923, Budyonny arrived in Chechnya with a proclamation from the Central Executive Committee announcing the formation of the Chechen Autonomous Region. The same year, he was also appointed assistant commander of the Red Army's cavalry. In 1924, he became Inspector of Cavalry in the Red Army. Budyonny graduated from the Frunze Military Academy in 1932.
In 1935 Budyonny was made one of the first five Marshals of the Soviet Union. Three of these five were executed in the Great Purge of the late 1930s, leaving only Budyonny and Voroshilov.
Budyonny was considered a courageous and colorful cavalry officer, but displayed disdain for the tools of modern warfare, particularly tanks, which he, along with Grigory Kulik, saw as "incapable of ever replacing cavalry". In 1937, when Budyonny commanded the Moscow Military District, he was a party to Marshal Mikhail Tukhachevsky's trial during the Great Purge. He provided testimony that Tukhachevsky's efforts to create an independent tank corps was so inferior to horse cavalry and so illogical that it amounted to deliberate "wrecking". To this denouncement, the doomed Tukhachevsky (now considered a pioneering innovator in tank warfare) blankly replied "I feel I'm dreaming". Tukhachevsky was subsequently sentenced to death. Later, the NKVD came to interrogate and arrest Budyonny; Budyonny's response was to arm himself with his service Nagant M1895 revolver and call Stalin to demand he have the agents removed. Stalin complied and the event was not discussed again. Regardless of the military trials, the Red Army never stopped developing large scale mechanized corps, and each front had numerous such corps attached as a second echelon force by 1940-41.
In July–September 1941, Budyonny was Commander-in-Chief (glavkom, glavkom) of the Soviet armed forces of the Southwestern Direction (Southwestern and Southern Fronts) facing the German invasion of Ukraine. This invasion began as part of Germany's Operation Barbarossa which was launched on June 22. Operating under strict orders from Stalin (who attempted to micromanage the war in the early stages) to not retreat under any circumstances, Budyonny's forces were eventually surrounded during the Battle of Uman and the Battle of Kiev. The disasters which followed the encirclement cost the Soviet Union 1.5 million men killed or taken prisoner. This was one of the largest encirclements in military history.
In September, Stalin made Budyonny a scapegoat, dismissing him as Commander-in-Chief, Southwestern Direction, and replacing him with Semyon Timoshenko. Budyonny was then placed in charge of the Reserve Front (September–October 1941), then made Commander-in-Chief of the troops in the North Caucasus Direction (April–May, 1942), Commander of the North Caucasus Front (May–August, 1942) and Cavalry Inspector of the Red Army (since 1943), as well as various honorific posts. Despite being scapegoated by Stalin for some of the Soviet Union's most catastrophic World War II defeats (although acting on Stalin's specific orders), Stalin had need for popular Civil War heroes: he continued to enjoy Stalin's patronage and suffered no real punishment. After the war he was allowed to retire as a Hero of the Soviet Union and he died of a brain hemorrhage in 1973.
Other contributions and legacy
Budyonny wrote a five-volume memoir, in which he described the stormy years of civil war as well as the everyday life of the First Cavalry Army. He was frequently commemorated for his bravery in many popular Soviet military songs, including The Red Cavalry song (Konarmieyskaya) and The Budyonny March. Budenovka, a part of Soviet military uniform, is named after Semyon Budyonny. He was also frequently named in the cavalry-oriented works of Isaac Babel Babel had originally begun covering Budyonny as a writer for a Soviet newspaper during the Polish–Soviet War.
Budyonny, who was a renowned horse breeder, also created a new horse breed that is still kept in large numbers in Russia: the Budyonny horse, which is famous for its high performance in sports and endurance.
Honours and awards
Russian Empire
Soviet Union
Foreign awards
Honouring, naming
The Military Academy of the Signal Corps in St. Petersburg carries the name of honour S. M. Budjonny
References
Semyon Budyonny Wikipedia
(Text) CC BY-SA