Native name

松田 聖子




Name

Seiko Matsuda




Role

Singer




Genres

Popkayokyoku




Children

Sayaka Kanda




Years active

1980–present








Born

March 10, 1962 (age 53)Kurume, Fukuoka, Japan (

1962-03-10

)


Occupation(s)

Singerlyricistactress




Labels

CBS-Sony → Sony MusicMercury → Kitty MME → Universal Sigma


Spouse

Hiromasa Kawana (m. 2012), Hiroyuki Hatano (m. 1998–2000), Masaki Kanda (m. 1985–1997)




Albums

Seiko, Windy Shadow, Dream & Fantasy, Bible, SUPREME




Birth name

蒲池 法子 (Noriko Kamachi)



Seiko Matsuda and Toshi Kubota interview 1996
Seiko Matsuda (松田 聖子, Matsuda Seiko, born March 10, 1962) is a Japanese pop singer-songwriter. Due to her popularity in the 1980s and her long career, she has been dubbed the "Eternal idol" by the Japanese media.
Contents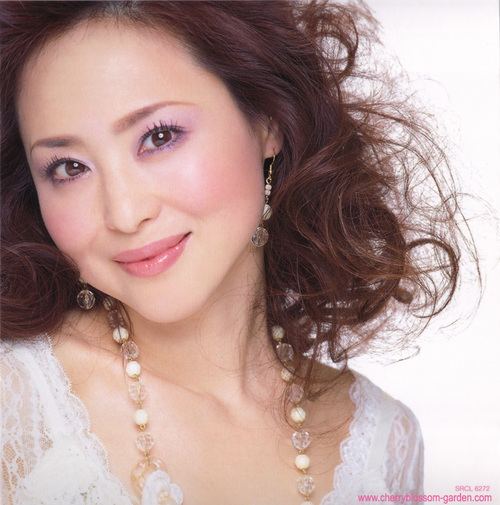 Biography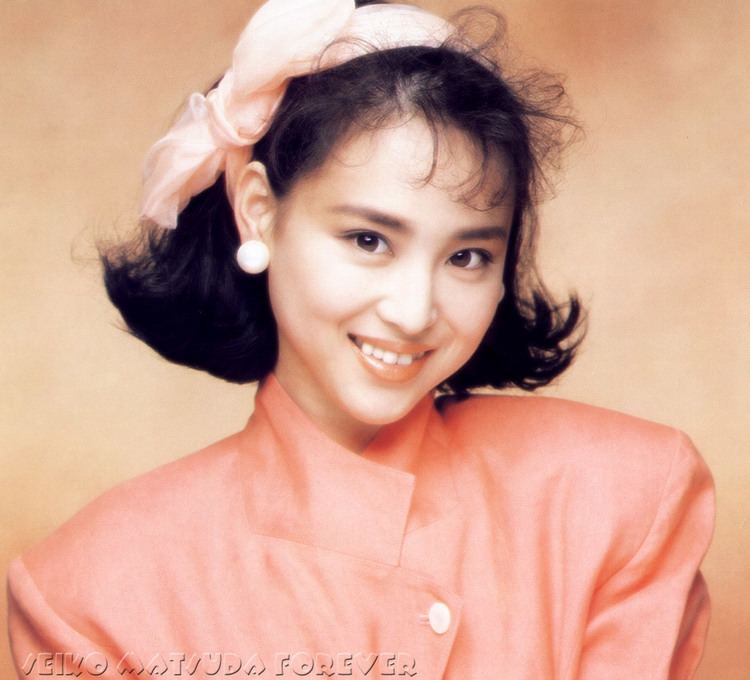 Seiko Matsuda was born to the Kamachi clan, from the Saga Genji line and was also a former Sengoku daimyō of Yanagawa Domain. However, she adopted the stage name "Seiko Matsuda" and rose to fame in 1980 as a teen idol, making her debut with the song "Hadashi no Kisetsu" (lit. "Season of bare feet"). Later in the same year, "Kaze wa Aki-iro" (lit. "Wind is autumn color") became the first of her 24 consecutive number 1 hits in Japan. She shattered the Japanese former record of nine consecutive number-ones by popular music duo Pink Lady. Her consecutive number 1 record ended when her 27th single "Precious Heart" was ranked at number-two, behind Tetsuya Komuro's "Gravity of Love". Matsuda's last number 1 single "Anata ni Aitakute ~Missing You~" (lit. "I want to meet you ~Missing you~") in 1996. The single was certified a million-seller by RIAJ.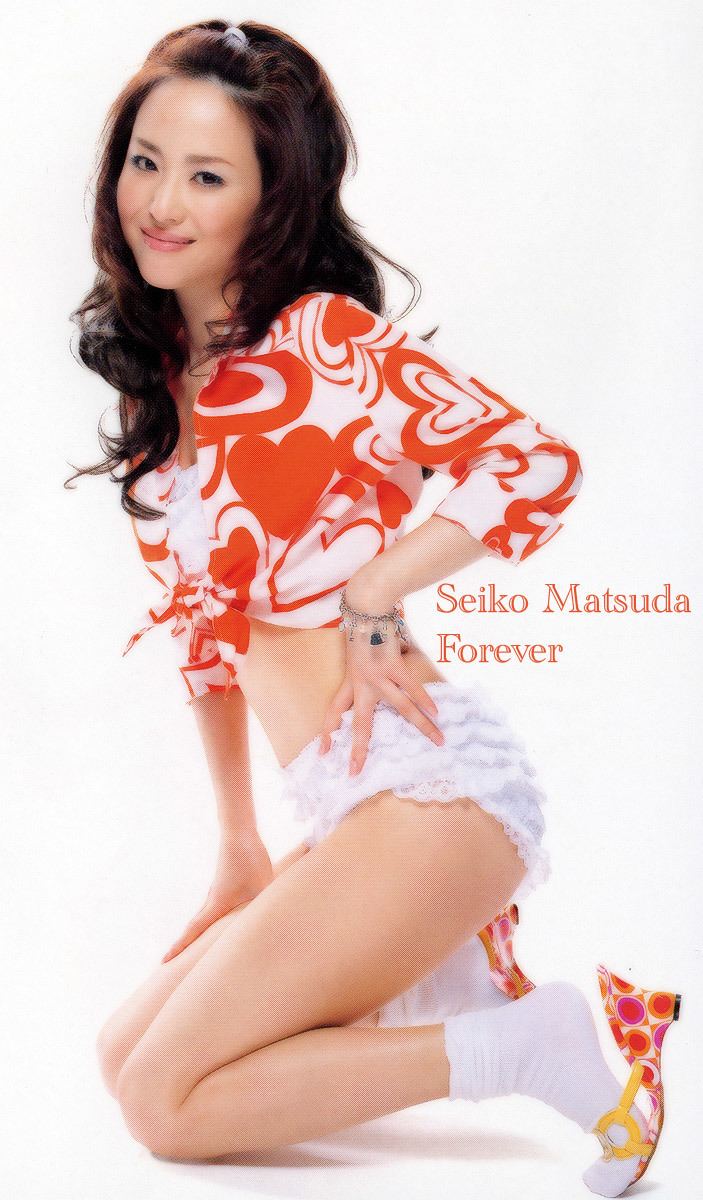 Matsuda used to hold the records for the most number 1 singles (25) and most consecutive number 1 singles (24) on the Japan's Oricon charts, for 12 years from 1988 to 2000. Both were surpassed by B'z in late 2000. She still held the record for the most number 1 singles (25) by a female singer for 18 years from 1988 to 2006 when Ayumi Hamasaki's "Startin'/Born to Be..." reached number 1, making it her 26th single to top the charts. Matsuda's streak for the most consecutive number 1 singles (24) by a female singer and any soloist was held from 1988-2010 for 22 years. It was then broken by Hamasaki's "L" in September/October 2010. Matsuda also used to hold records for the most top 10 albums (44) and most number 1 albums. Both these records have been broken by Ayumi Hamasaki. Matsuda was the first person in the Oricon history to have a single and an album debut at No. 1 on Oricon Chart in the same week. So far, this has only happened three times.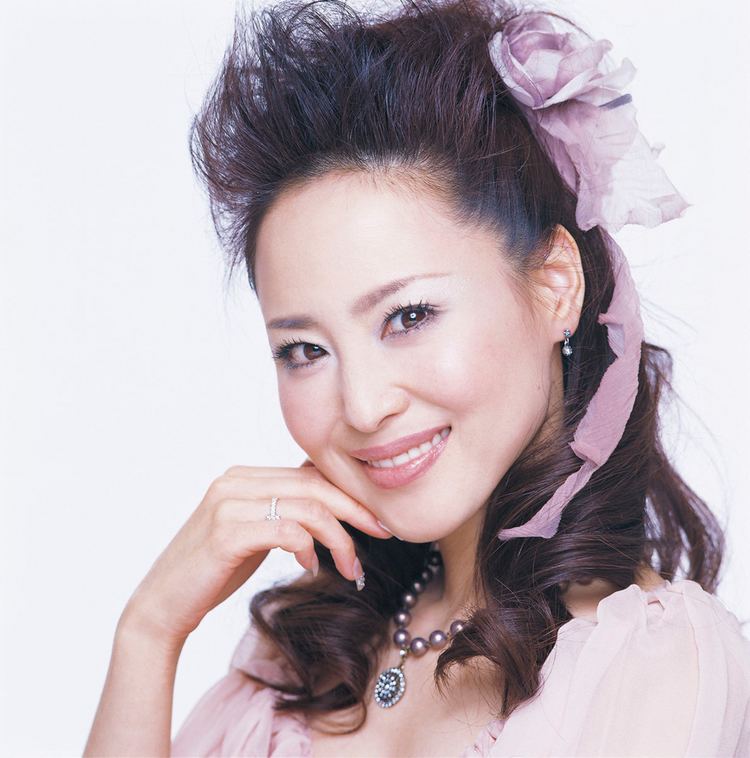 In a May 2011 Oricon survey crowned her the No. 1 everlasting idol of all time, beating the Momoe Yamaguchi (2), Kyōko Koizumi (3), Morning Musume (4) and Akina Nakamori (5).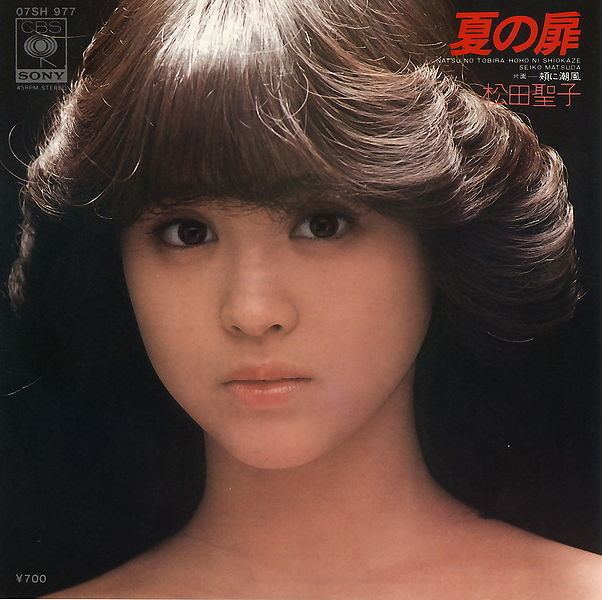 Her long staying power is mainly due to her continuous re-invention of herself. Many social phenomenon such as 'Mamadols' (idols who remain popular even after having children), opening up a gift shop (Flawless Seiko) and creating a management company (Fantic). Her hair, fashion and makeup have all been copied by millions of girls and women in Japan and in certain parts of Asia.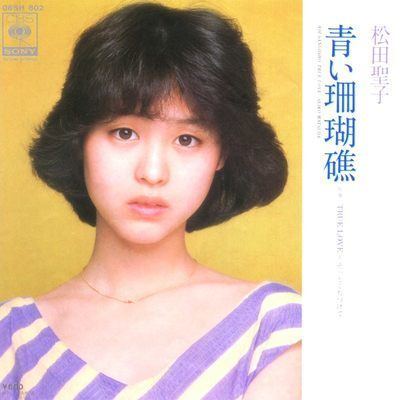 Matsuda's voice and singing technique have won her two best performance awards from Nippon Record Awards, first in 1983 for ガラスの林檎 (lit.Glass Apple) and in 1993 for 'きっと、また逢える・・・' (lit. Surely, will meet again).
Matsuda began to write her songs by herself. She wrote lyrics for the first time when she produced her song "Chiisana Love Song" (lit. "Small Love Song") in 1983. This was followed by her first composed song "Canary". All music and lyrics of her 2007 album Baby's Breath were written by herself. It became her first completely self-produced album.
Matsuda attempted to break into the North American market with an English-language, self-titled album in 1990. She scored a hit with "The Right Combination", a duet with boy band New Kids on the Block singer Donnie Wahlberg. Album sales were mediocre, and her follow-up Was it the Future failed to generate any significant sales. In 2002, Matsuda's English dance hits "All To You" and "Just for Tonight" reached Billboard dance chart No. 8 and No. 2 respectively.
In July 2006, Matsuda's compilation Seiko Matsuda, which consisted of 74 CDs, debuted at number 96, becoming the highest-priced album in the Oricon history. Its price was 100,000 yen (about 850 dollars). Hibari Misora held the previous record with her 1989 album Kyō no Ware ni Asu wa Katsu (60,000 yen).
Although female singers like Namie Amuro became successful after the end of the 1980s, "typical" idols like Matsuda disappeared in Japan. She has been a secret idol for subsequent female celebrities such as Shoko Nakagawa who called Matsuda "God" and "My Universe". Japanese voice actress Nana Mizuki released her cover version of Matsuda's "Akai Sweet Pea" (lit. "Red Sweet Pea") as the B-side of an image song single under the character name Moka Akashiya of the anime Rosario + Vampire on February 14, 2008. There are endless cover version of Matsuda songs and tribute albums being released every year. Among those 'Diamond Eyes', 'Missing You' and 'Akai Sweet Pea' (lit. Red Sweet Pea) and Sweet Memories have been reinterpreted by other artists countless times.
On 5 August 2009, Sony re-released 16 of Matsuda's early albums under the Blu-spec CD format. 13 of them entered Oricon Top 100 Album Chart at the same time, surpassing the record of Hibari Misora (12 albums) and making her the first female artist to do so.
Matsuda is also on the Top 3 list of Most No.1 albums, Most Top 10 singles and Most Top 10 albums for a solo artist. HMV Japan ranked her No. 10 Top Japanese Artist of All Time, and No. 7 Top Singer of All Time.
Matsuda still holds annual concerts, Christmas dinner shows and New Year's Eve Countdown shows. Despite the high ticket prices (her dinner show tickets are the most expensive among female artists) for many years and to this day, she always performs to a sold out crowd. Matsuda is also listed as second only behind Eikichi Yazawa as an artist to have performed many concerts at the Nippon Budokan.
Matsuda was invited by Quincy Jones to appear on Hollywood Bowl 2011.
Personal life
Matsuda has been married three times. She was married to actor Masaki Kanda from 1985 to 1997. Their only child, a daughter named Sayaka Kanda, is also a singer.
Her second husband was a dentist whom she married in 1998. They divorced in 2000.
On June 13, 2012, she announced her marriage to a university associate professor on her official website.
In addition to music, Matsuda's career includes appearances in television, film, and radio. Several books of photos of Matsuda including Five Seasons, No Comments, Akai Sweet Pea, along with other books about her, have been published. Matsuda has appeared in numerous commercials, including numerous Glico products including Pocky Curry and chocolate, Minolta camera, Sony walkman, VCR and computer, Diosa Hair Color, Suntory beverages, Direct TV, NTT Docomo mobile phone, cosmetics products endorsements include: Fujifilm Astalift, Kanebo, Doctor Drive, Takano Yuri and Shiseido cosmetics.
Singles
[1980.04.01] "Hadashi no Kisetsu"
[1980.07.01] "Aoi Sangoshō"
[1980.10.01] "Kaze wa Akiiro/Eighteen"
[1981.01.21] "Cherry Blossom"
[1981.04.21] "Natsu no Tobira"
[1981.07.21] "Shiroi Parasol"
[1981.10.07] "Kaze Tachinu"
[1982.01.21] "Akai Sweet Pea"
[1982.04.21] "Nagisa no Balcony"
[1982.07.21] "Komugiiro no Mermaid"
[1982.10.21] "Nobara no Etude"
[1983.02.03] "Himitsu no Hanazono"
[1983.04.27] "Tengoku no Kiss"
[1983.08.01] "Glass no Ringo/Sweet Memories"
[1983.10.28] "Hitomi wa Diamond/Aoi Photograph"
[1984.02.01] "Rock'n Rouge"
[1984.05.10] "Jikan no Kuni no Alice/Natsufuku no Eve"
[1984.08.01] "Pink no Mozart"
[1984.11.01] "Heart no Earing"
[1985.01.30] "Tenshi no Wink"
[1985.05.09] "Boy no Kisetsu"
[1985.06.24] "Dancing Shoes"
[1987.04.22] "Strawberry Time"
[1987.11.06] "Pearl-White Eve
[1988.04.14] "Marrakech"
[1988.09.07] "Tabidachi no Freesia"
[1989.11.15] "Precious Heart"
[1990.04.30] "All the way to Heaven"
[1990.07.15] "The Right Combination" (duet with Donnie Wahlberg)
[1990.10.01] "Who's That Boy"
[1990.11.21] "We Are Love"
[1992.02.05] "Kitto, Mata Aeru..."
[1992.08.01] "Anata no Subete ni Naritai/Shinin' Shinin'"
[1993.04.21] "Taisetsu na Anata"
[1993.05.21] "A Touch of Destiny"
[1993.11.10] "Kakowareta, Ai-jing"
[1994.05.11] "Mō Ichido, Hajime kara"
[1994.12.01] "Kagayaita Kisetsu e Tabidatō"
[1995.04.21] "Suteki ni Once again"
[1996.04.22] "Anata ni Aitakute (Missing You)/Ashita e to Kakedashite Yukō"
[1996.04.24] "Let's Talk About It"
[1996.05.17] "I'll Be There For You" (duet with Robbie Nevil)
[1996.11.18] "Sayonara no Shunkan"
[1996.12.10] "Good For You"
[1997.04.23] "Watashi Dake no Tenshi (Angel)/Anata no Sono Mune ni"
[1997.12.03] "Gone with the Rain"
[1998.06.17] "Koisuru Omoi (Fall In Love)"
[1998.11.26] "Touch the Love"
[1999.10.27] "Kanashimi no Boat"
[2000.05.17] "20th Party"
[2000.06.07] "Shanghai Love Song"
[2000.06.14] "Unseasonable Shore"
[2000.09.27] "True Love Story/Sayonara no Kiss o Wasurenai" (duet with Hiromi Go)
[2000.11.29] "The Sound of Fire"
[2001.06.20] "Anata Shika Mienai"
[2001.11.14] "Ai Ai Ai (100% Pure Love)"
[2002.04.30] "All to You"
[2002.06.05] "Suteki na Ashita"
[2002.12.17] "Just For Tonight"
[2003.06.04] "Call Me"
[2004.05.26] "Aitai"
[2004.07.07] "Smile on Me" (duet with Takaaki Ishibashi)
[2005.02.02] "Eien Sae Kanjita Yoru"
[2005.08.24] "I'll Fall In Love"
[2005.09.21] "Shiawase na Kimochi"
[2006.04.26] "Bless You"
[2006.05.24] "We Are"
[2007.05.23] "Namida ga Tada Koborerudake
[2007.08.01] "Manatsu no Yo no Yume" (duet with Takashi Fujii)
[2007.11.21] "Christmas no Yoru"
[2008.03.19] "Hanabira Mau Kisetsu ni"
[2008.06.25] "Love Is All"
[2008.10.22] "Ano Kagayaita Kisetsu"
[2010.04.21] "Idol Mitai ni Utawasete" (as Princess Seiko with Yazima Beauty Salon)
[2010.05.05] "Ikutsu no Yoake o Kazoetara" (9,129 sold in 3 weeks)
[2011.11.23] "Tokubetsu na Koibito"
[2012.05.02] "Namida no Shizuku"
[2013.05.22] "LuLu!!"
[2013.10.30] "Yume ga Samete" (duet with Chris Hart)
[2014.05.21] "I Love You!! ~Anata no Hohoemi ni~"
[2015.10.28] "Eien no Motto Hate Made / Wakusei ni Naritai" (Peaked at #11 selling 12,346 the first week. 15,624 total sold in 5 weeks. Year End Chart #440)
[2016.09.21] "Bara no Yoni Saite Sakura no Yoni Chitte" (Peaked at #1 on the daily chart and #6 on the weekly chart. Selling 15,005 the first week. 25,000 total sold in 12 weeks.)
Studio albums
[1980.08.01] Squall
[1980.12.02] North Wind
[1981.05.21] Silhouette
[1981.10.21] Kazetachinu
[1982.05.21] Pineapple
[1982.11.10] Candy
[1983.06.01] Utopia
[1983.12.10] Canary
[1984.06.10] Tinker Bell
[1984.12.08] Windy Shadow
[1985.06.05] The 9th Wave
[1985.08.15] Sound Of My Heart
[1986.06.01] Supreme
[1987.05.16] Strawberry Time
[1988.05.11] Citron
[1989.12.06] Precious Moment
[1990.06.07] Seiko
[1990.12.10] We Are Love
[1991.05.02] Eternal
[1992.03.25] 1992 Nouvelle Vague
[1992.12.02] Sweet Memories '93
[1993.05.21] Diamond Expression
[1993.11.21] A Time for Love
[1994.06.12] Glorious Revolution
[1995.05.21] It's Style '95
[1996.05.27] Vanity Fair
[1996.05.14] Was It The Future
[1996.12.05] Guardian Angel
[1997.05.21] My Story
[1997.12.03] Sweetest Time
[1998.05.08] Forever
[1999.12.18] Eien no Shoujo
[2000.06.28] 20th Party
[2001.06.20] Love & Motion Vol.1
[2001.11.28] Love & Motion Vol.2
[2002.06.21] Area62
[2004.06.09] Sunshine
[2005.04.06] Fairy
[2005.12.07] Under the beautiful stars
[2006.05.31] Bless You
[2006.12.06] Eternal II
[2007.06.06] Baby's Breath
[2008.05.21] My Pure Melody (15,336 sold in 3 weeks)
[2010.05.26] My Prelude (16,955 sold in 2 week)
[2011.06.01] Cherish (first week sales: 11,688 / Total sales: 14,666 sold in 2 weeks)
[2012.06.06] Very Very
[2013.06.05] A Girl in the Wonder Land
[2014.06.04] Dream & Fantasy
[2015.06.10] Bibbidi-Bobbidi-Boo (Peaked at #4 on the Daily Chart and #6 on the Weekly Chart. First Week Sales: 13,081 / Total Sales: 17,654 sold in 6 weeks. Year End Chart #280)
[2016.06.08] Shining Star (Peaked at #2 on the Daily Chart and #5 on the Weekly Chart. First Week Sales: 12,819 / Total Sales: 16,076)
[2017.06.07] Daisy
Greatest hits albums
[1981.11.01] Seiko Fragrance
[1982.07.01] Seiko Index
[1982.12.05] Kin'iro no Ribbon
[1983.11.11] Seiko Plaza
[1984.03.15] Touch Me, Seiko
[1984.11.01] Seiko Town
[1984.11.21] Seiko Avenue
[1985.03.06] Seiko-Train
[1985.11.10] Seiko Box
[1986.11.21] Love Ballade
[1987.11.21] Snow Garden
[1988.07.21] Seiko Monument
[1991.11.21] Christmas Tree
[1991.12.01] Bible
[1994.12.01] Bible II
[1996.03.01] Bible III
[1996.09.21] Complete Bible
[1996.11.01] Winter Tales
[1997.06.21] Seaside: Summer Tales
[1997.11.21] Dear
[1998.07.18] Seiko Celebration
[1998.11.30] Seiko '96-'98
[1999.04.01] Ballad-20th Anniversary
[2000.11.29] Love (Seiko Matsuda 20th Anniversary Best Selection)
[2000.07.05] Seiko Suite
[2003.11.27] Another Side of Seiko 27
[2003.11.27] Another Side of Seiko 14
[2004.04.14] Best of Best 27
[2004.04.14] Best of Best 13
[2005.01.26] Seiko Smile (Seiko Matsuda 25th Anniversary Best Selection)
[2009.09.30] Premium Diamond Bible
[2009.09.30] Diamond Bible
[2009.11.11] Seiko Matsuda Christmas Songs
[2010.05.26] Seiko Matsuda Single Collection 30th Anniversary Box: The voice of a Queen
[2010.08.11] Seiko Matsuda Original Soundtrack Collection 1981-1985
[2010.09.22] Touch Me, Seiko II
[2011.12.07] Seiko Story 80's Hits Collection
[2012.02.23] Seiko Matsuda Super Hit Collection Vol. 1
[2012.02.23] Seiko Matsuda Super Hit Collection Vol. 2
[2012.05.30] Etoranze
[2012.11.07] Calendar
[2012.12.23] Seiko Suite Collection: 80's Hits
[2014.12.24] Seiko Matsuda Best Ballad
[2015.12.09] We Love Seiko - 35th Anniversary Matsuda Seiko Kyukyoku All Time Best 50 Songs (Peaked at #3, selling 50,417 copies in the first week. Total Sales: 115,000. Yearly Chart 2015: #93 Yearly Chart 2016: #73)
Remix albums
[1999.10.06] Seiko Matsuda: Re-Mixes
[2000.09.27] Seiko Remixes 2000
Special Albums
[2017.03.29] Seiko Jazz (Peaked at #4 on the Daily Chart and #6 on the Weekly Chart. First Week Sales: 10,763)
Soundtracks
[1981.08.08] Nogiku no Haka
[1983.07.01] Plumeria no Densetsu
[1984.07.07] Natsufuku no Eve
[1985.05.03] Caribe, Sinfonia de Amor
[1985.06.21] Penguin's Memory: Shiawase Monogatari
Albums
1990 Seiko
1996 Was It the Future
2002 Area62
2017 Seiko Jazz
Singles
1986 Dancing Shoes (UK only)
1990 The Right Combination duet with Donnie Wahlberg (Billboard Top100#54, Canada#2, Australia#11)
1991 All The Way To Heaven (Europe only)
1991 Who's That Boy (Promotion only)
1996 Let's Talk About It
1996 Good For You (Billboard Dance/Club Play No.37)
2002 All to You (Billboard Dance/Club Play No.10)
2002 Just For Tonight (Billboard Dance/Club Play No.2)
2012 Put Our Heart Together (with Fourplay)
Albums
I'll Fall In Love (

愛的禮物

) (2005)
Films
Nogiku no Haka (1981) (Tamiko)
Purumeria no Densetsu Tengoku no Kiss (1983)
Natsufuku no Eve (1984)
Karibu Ai no Symphony (1985)
Penguin's Memory (1985) (Voice)
Docchimo Docchi (1990)
Final Vendetta (1996)
Armageddon (1997) (Cameo)
Drop Dead Gorgeous (1999)
GEDO The Final Blade (2000)
Sennen no Koi Story of Genji (2001)
Shanghai Baby (2007)
Grave of the Fireflies (2008)
Yazima Beauty Salon The Movie (2010)
TV
The Big Easy (1997)
Partners (2000)
King of the Hill (2002) - Season 6, Episodes 21 & 22 (Rhythm game playing girl) and her song "Kimono Beat" is used.)
Tatta Hitotsuno Takaramono (2004)
Hanazakari no Kimitachi e (2007)
Bones (2010) - Season 5, Episode 15 (Riku Iwanaga)
Taira no kiyomori (2012)
References
Seiko Matsuda Wikipedia
(Text) CC BY-SA