Genres

Rock




Role

Singer-songwriter




Name

Eikichi Yazawa





Website

www.eikichiyazawa.com




Years active

1975–present




Children

Yoko Yazawa







Born

September 14, 1949 (age 66) (

1949-09-14

)


Labels

Garuru Records (his indie label)




Spouse

Maria Yazawa (m. 1990), Sumiko Yazawa (m. 1972–1989)




Albums

ROCK'N'ROLL, ALL TIME BEST ALBUM, The Original ~ Single Co, THE ORIGINAL 2, EY 70'S
Eikichi yazawa tokyo playin on piano
Eikichi Yazawa (矢沢 永吉, Yazawa Eikichi, born September 14, 1949 in Hiroshima) is an influential Japanese singer-songwriter, and important figure in Japanese popular music.
Contents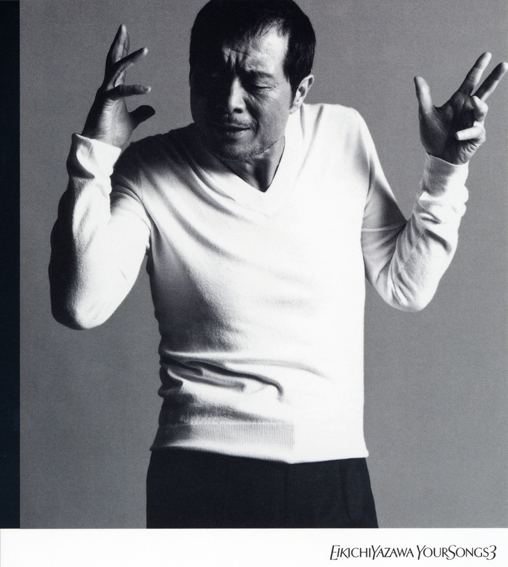 Yoko Yazawa of The Generous is his daughter.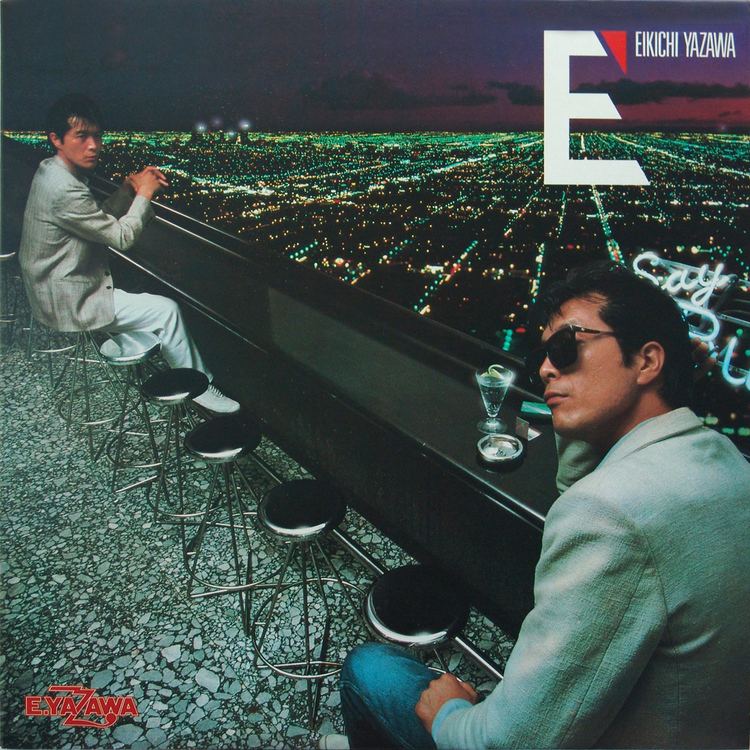 Biography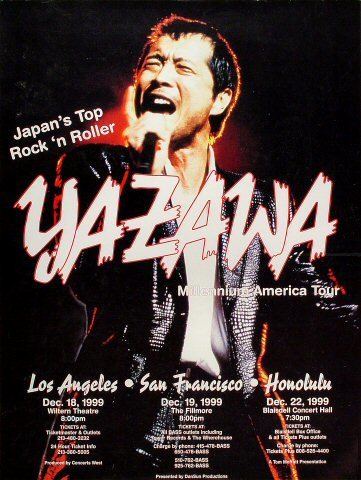 Yazawa formed the band Carol in 1972, a rock 'n' roll group which became a legend in Japanese music. After the band broke up in 1975, Yazawa flew to the U.S. to start his solo career. His first solo album, I Love You, OK, was recorded at the A&M Studio in Los Angeles and produced by Tom Mack.
In 1977, he was the first Japanese solo rock artist to perform at the Budokan hall in Tokyo, to a full crowd of over 13,000 people. He now holds the record of most performances at the Budokan hall, having performed there over 100 times (the hundredth being on December 16, 2007).
1978 was a greatly successful year for Yazawa. His fourth studio album, Gold Rush, went to #1 in the charts. He also held a hugely successful performance at the Korakuen baseball stadium (now the Tokyo Dome) for over 40,000 people.
In 1980, Yazawa signed a contract with the Warner Pioneer (present Warner Music Japan) record company and moved to the West Coast of the United States. He recorded the albums Yazawa (featuring members of American rock bands Little Feat and The Doobie Brothers), It's Just Rock n' Roll (also featuring members of The Doobie Brothers and several songs written by John McFee and Bobby LaKind), and Flash in Japan, all of which were released worldwide, but were not very commercially successful compared to his Japanese releases. In 1988, he signed to EMI Music Japan.
From 1992 to 1997 Yazawa appeared in a string of commercials for such products as "Boss" coffee. His commercials typically were of him in various comedically unfortunate situations (such as a salaryman running while eating or accidentally toppling a group of bicycles), with his new songs serving as background music and his own voiceovers rather than on-camera talking.
In 1998, Yazawa was swindled out of about 3.5 billion yen (approx. 35 million US dollars) for a huge building construction project in Australia. It took him several years to pay off the debt.
In December 2005, Yazawa ran a sold-out Japan tour of "live houses" (Japanese-English for a live-music club) as a part of his "back to roots" approach to his 30th anniversary as a solo artist, following the breakup of rock band Carol in 1975. 'Ei-chan' delighted fans with a rendition of "Whiskey Coke," a hit from that year (and a Karaoke library mainstay), as well as numbers from his 2005 album, "Only One".
In 2007, Ichiro Suzuki (Seattle Mariners), a major league player, chose his "Tomaranai Ha~Ha" as an AT-BAT MUSIC of 2008 with Ringo Shiina's "Yokushitsu" and "Identity".
In 2008, Yazawa left the Emi Music Japan and established his independent record label Garuru Records. After the releases of two singles "Loser" (opening theme for Yakuza 3) and "Cobalt no Sora", he released his first original studio album under the label, Rock 'n' Roll, on August 5, 2009. The album debuted at #3 on the Japanese Oricon weekly album charts, selling about 54,000 copies in its initial week.
On December 31, 2009, Yazawa performed on the popular New Year's Eve TV show, 60th NHK Kōhaku Uta Gassen in Japan as a surprise guest, singing "Jikan yo Tomare" and "Cobalt no Sora".
His albums have sold over 12 million copies in the Japanese market, and he has had a strong influence on modern Japanese rock music.
He was invited to perform at Wembley Stadium alongside Robert Palmer, Bon Jovi, and Rod Stewart, and often performs live aid concerts. Seven of his albums were produced by Andrew Gold.
Singles
I Love You, OK (September 21, 1975)
Mayonaka no Rock n' Roll (

真夜中のロックンロール

) (March 21, 1976)
Hikishio (ひき潮) (September 21, 1976)
Kuroku Nuritsubuse (黒く塗りつぶせ) (June 21, 1977)
Jikan yo Tomare (時間よ止まれ) (March 21, 1978)
I Ssay Good-Bye, So Good-Bye (April 1, 1979)
This Is A Song For Coca-Cola (March 10, 1980)
Namida no Love Letter (涙のラブレター) (May 10, 1980)
Love That Was Lost (抱かれたい、もう一度) (April 25, 1981)
You (September 25, 1981)
Yes My Love (February 20, 1982)
Lahaina (April 10, 1982)
Rockin' My Heart (October 9, 1982)
Misty (June 29, 1983)
Last Christmas Eve (November 16, 1983)
The Border (March 10, 1984)
Toubousha (逃亡者) (July 10, 1984)
Take It Time (June 25, 1985)
Believe in Me (May 25, 1986)
Flash in Japan (May 13, 1987)
Kyohansha (共犯者) (July 6, 1988)
New Grand Hotel (ニューグランドホテル) (September 21, 1988)
Kuchizuke ga Tomaranai (くちづけが止まらない) (November 30, 1988)
Somebody's Night (April 26, 1989)
Itoshi Kaze (愛しい風) (July 19, 1989)
Ballad yo Eien ni (バラードよ永遠に) (October 11, 1989)
Pure Gold (May 23, 1990)
Yume no Kanata (夢の彼方) (April 19, 1991)
Last Scene (ラスト・シーン) (May 31, 1991)
Big Beat (December 11, 1991)
Anytime Woman (June 3, 1992)
Anytime Woman -English Version- (June 17, 1992)
Tokyo (東京) (February 10, 1993)
Tasogare ni Sutete (黄昏に捨てて) (October 27, 1993)
Ari yo Saraba (アリよさらば) (April 27, 1994)
Itsuno Hi ka (いつの日か) (May 25, 1994)
Natsu no Owari (夏の終り) (February 8, 1995)
Aozora (青空) (May 24, 1995)
Maria (May 16, 1996) incl. vocals by Zeeteah Massiah
Mouhitori no Ore (もうひとりの俺) (November 7, 1996)
Still (September 3, 1997)
Anohi no Youni (あの日のように) (November 7, 1997)
Chinatown (チャイナタウン) (July 29, 1998)
Oh! Love Sick (June 30, 1999)
The Truth (August 9, 2000)
Tonight I Remember (October 25, 2000)
Senakagoshi no I Love You (背中ごしの I Love You) (August 29, 2001)
Kusari wo Hikichigire (鎖を引きちぎれ) (July 26, 2002)
Only One (August 24, 2005)
Natsu no Owari (夏の終り) (September 5, 2007)
Loser (February 25, 2009)
Cobalt no Sora (コバルトの空) (June 3, 2009)
Albums
I LOVE YOU, OK (September 21, 1975)
A Day (June 21, 1976)
Door wo Akero (

ドアを開けろ

) (April 21, 1977)
Gold Rush (

ゴールドラッシュ

) (June 1, 1978)
KISS ME PLEASE (June 21, 1979)
KAVACH (June 10, 1980)
YAZAWA (August 5, 1981)
RISING SUN (October 25, 1981)
P.M.9 (July 10, 1982)
YAZAWA (1981)
It's Just Rock'n Roll (December 4, 1982)
I am a Model (July 20, 1983)
E' (July 25, 1984)
YOKOHAMA Hatachi Mae (

YOKOHAMA二十才まえ

) (July 25, 1985)
TEN YEARS AGO (November 28, 1985)
Tokyo Night (

東京ナイト

) (July 25, 1986)
FLASH IN JAPAN (May 18, 1987)
Kyohansha (

共犯者

) (July 21, 1988)
Jyoji情事 (June 21, 1989)
Eikichi (

永吉

) (July 31, 1990)
DON'T WANNA STOP (July 5, 1991)
Anytime Woman (June 24, 1992)
HEART (March 31, 1993)
the Name Is... (July 6, 1994)
Kono Yoru no Dokoka de (

この夜のどこかで

) (July 5, 1995)
MARIA (July 3, 1996)
YES (August 8, 1997)
SUBWAY EXPRESS (September 8, 1998)
LOTTA GOOD TIME (August 6, 1999)
STOP YOUR STEP (September 27, 2000)
YOU, TOO COOL (September 7, 2001)
SUBWAY EXPRESS 2 (September 4, 2002)
Yokogao (

横顔

) (September 1, 2004)
ONLY ONE (September 14, 2005)
Rock 'n' Roll (August 5, 2009)
Twist (June 9, 2010)
Only One -touch up- (July 6, 2011)
Last Song (August 1, 2012)
Live albums
THE STAR IN HIBIYA (November 21, 1976)
Super Live Nippon Budokan (

スーパーライブ 日本武道館

) (November 21, 1977)
LIVE Korakuen Stadium (December 5, 1978)
The Rock (November 28, 1980)
1982 P.M.9 LIVE (March 26, 1983)
STAND UP!! (February 15, 1989)
Anytime Woman LIVE ALBUM (September 30, 1992)
LIVE! YES, E (April 22, 1998)
LIVE DECADE 1990~1999 (March 29, 2000)
CONCERT TOUR "Z" 2001 (March 30, 2002)
Compilations
THE GREAT OF ALL (July 1, 1980)
THE GREAT OF ALL VOL.2 (December 1, 1980)
THE GREAT OF ALL -Special Version- (November 21, 1983)
THE BORDER (February 15, 1984)
ROCK'N ROLL (March 25, 1988)
BALLAD (March 25, 1988)
THE ORIGINAL (October 31, 1990)
THE ORIGINAL 2 (December 8, 1993)
E. Y 70'S (October 1, 1997)
E. Y 80'S (October 1, 1997)
E. Y 90'S (October 1, 1997)
Your Songs 1 (May 17, 2006)
Your Songs 2 (May 17, 2006)
Your Songs 3 (May 17, 2006)
Your Songs 4 (September 26, 2007)
Your Songs 5 (September 26, 2007)
Your Songs 6 (September 26, 2007)
ALL TIME BEST ALBUM (May 15, 2013)
References
Eikichi Yazawa Wikipedia
(Text) CC BY-SA