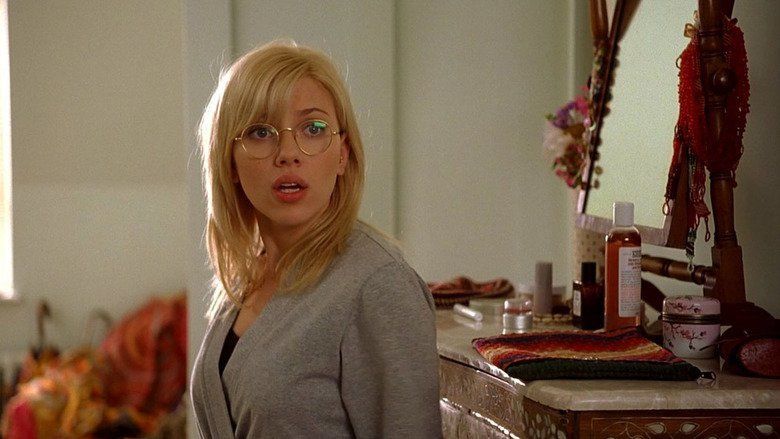 Following the memorial service for investigative reporter Joe Strombel (McShane), Strombel's spirit finds himself on the barge of death with several others, including a young woman who believes she was poisoned by her employer, Peter Lyman (Jackman). The woman tells Strombel she thinks Lyman, a handsome British aristocrat with political ambitions, may be the Tarot Card Killer, a notorious serial killer of prostitutes, and that he killed her when she stumbled onto his secret. The Tarot Card Killer left a card on each murder victim's body.
Sondra Pransky (Johansson) is a beautiful but awkward American journalism student on vacation in London. Pransky attends a performance given by magician Sid Waterman (Allen), aka "The Great Splendini", and agrees to participate on the stage. While in a booth known as The Dematerializer, Pransky encounters Strombel's ghost. The ghost has escaped the Grim Reaper himself to impart his suspicions of Lyman to a journalist who can investigate the story. Sondra decides to infiltrate Lyman's privileged world and find out if he truly is the dreaded criminal, enlisting Sid in the process and taking advantage of his powers of deception.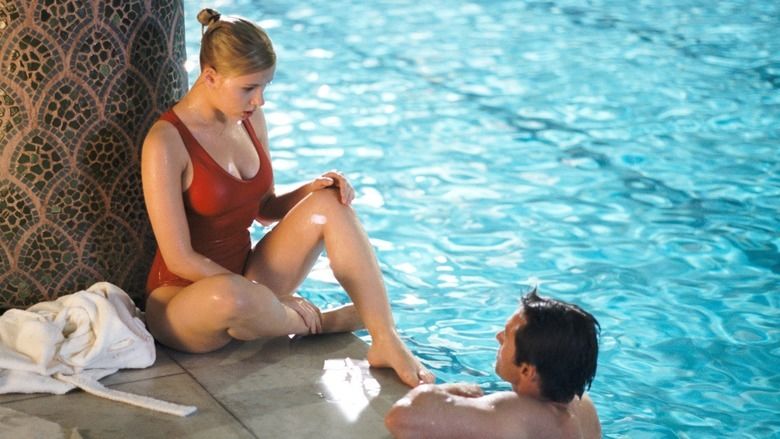 Sondra catches Lyman's attention by pretending to drown near him at an exclusive club's swimming pool. When he rescues her, she introduces herself as Jade Spence, daughter of a wealthy oil family from Palm Beach. While Sid poses as her father, "Jade" begins dating Lyman. Sondra is convinced Lyman is the murderer, but Sid finds it hard to believe. As the film progresses, however, Sondra falls in love with Lyman and begins to trust him. Meanwhile, Sid becomes less sanguine about Lyman as he notices more and more inconsistencies, especially after Sondra finds a Tarot deck hidden under a French horn in Peter's vault, a climate-controlled music room containing expensive antique musical instruments. Sid finally prevails upon Sondra to write a news story implicating Lyman, but the newspaper editor refuses the story because of Sondra's lack of proof. Throughout their investigation, Sid and Sondra have a relationship that is in turns friendly, paternal, and antagonistic—fueled largely by Sondra's annoyance that her smooth "Jade Spence" charade is being compromised by Sid's obnoxious attempts to act the part of a nouveau riche oil baron.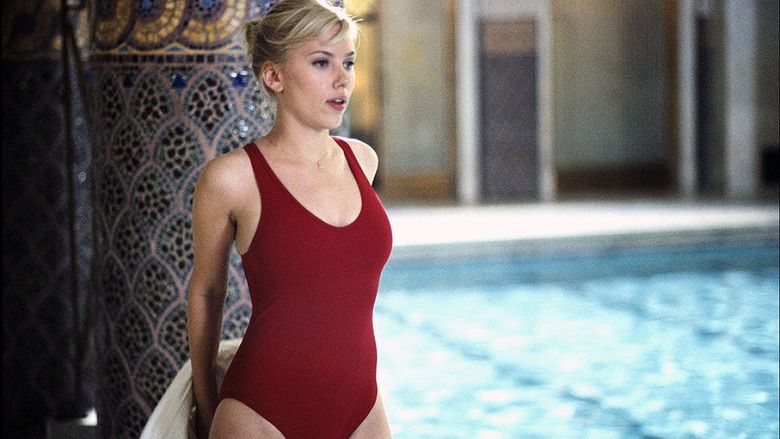 Soon the police arrest the real Tarot Card Killer. Sondra, relieved that her suspicions were for naught, reveals her real name and the deception she and Sid had practiced. Lyman is surprisingly gracious, and tells Sondra he desires to keep seeing her. They plan to spend the weekend at Lyman's isolated country estate. Later, Sid (at Strombel's urging) suggests that Lyman used the Tarot Card murders to cover up a murder he committed.
While Sondra and Lyman vacation in the country, Sid continues to investigate this theory. He finds that Lyman did frequent a prostitute, Betty Gibson, who was later killed, apparently by the Tarot Card Killer. Gibson is described as a "baby-faced blonde" (just like Sondra) before Lyman convinced her to dye her hair, presumably to match the profile of the other Tarot victims. When Sid calls Sondra with his findings, she waves them off. Unbeknownst to her, Lyman is ominously listening in on another extension.
Sid breaks into Lyman's vault again, this time finding a mysterious key, which turns out to be of Betty Gibson's flat. Meanwhile, out on a rowboat in Lyman's lake, Lyman confesses to Sondra that he killed Gibson to stop her blackmailing him, and he used the Tarot Card pattern to allay suspicion, just as Strombel had told Sid. Lyman comments on the irony that he first met Sondra by saving her from drowning, and now she really would drown. He would kill Sid later; no one would connect an obscure stage magician's death to that of a clumsy journalism student. This scene is intercut with shots of Sid driving madly to the Lyman estate to rescue Sondra ultimately ending in a car crash.
After his confession, Lyman throws Sondra into the lake and watches her go under. He then calls the police to report her drowning death. When they question him, he tells them of how Sondra was a terrible swimmer and how she almost drowned that first day at the pool. Suddenly, Sondra enters, soaking wet but smiling cheerfully. She informs Lyman and the police that the drowning had been an act to get his attention, and actually she was a very good swimmer.
Back in the newspaper offices, the editor who previously rejected Sondra's article now congratulates Sondra on a brilliant piece of investigative journalism, the start of a promising career. Sondra seems flattered, and says she must also credit Joe Strombel and the late Sid Waterman, Splendini, who is now a passenger on the Reaper's ship, performing for his fellow spirits the same magical gags and comedy routines he did in life.
Scarlett Johansson as Sondra Pransky
Woody Allen as Sid Waterman
Hugh Jackman as Peter Lyman
Ian McShane as Joe Strombel
Charles Dance as Mr. Malcom
Romola Garai as Vivian
Kevin R. McNally as Mike Tinsley
Julian Glover as Lord Lyman
Victoria Hamilton as Jan
Fenella Woolgar as Jane Cook
Geoff Bell as Strombel's Co-Worker
Alexander Armstrong as A Cop
Anthony Head as A Detective
Peter Mastin as Death
The lead character (originally an adult journalist) was tailored specifically to Johansson, whom Allen observed as having an unutilized "funny" quality about her while working on his previous film, Match Point.
Although it was filmed in London, the film is the second of Allen's films (the other being Hollywood Ending) not to have a UK theatrical release. It was given a British TV premiere on February 7, 2009 on BBC Two. The film eventually came out on DVD in the UK on February 9, 2015 through Icon Productions.
As is often the case with Allen's films, there is no original score. Most of the music pieces heard in the film are ones composed by Pyotr Ilyich Tchaikovsky, Johann Strauss Jr., and Edvard Grieg.
The film received generally mixed reviews from critics. As of January 21, 2008, the review aggregator Rotten Tomatoes reported that the film received 38 percent positive reviews, based on 132 reviews. Metacritic reported the film had an average score of 48 out of 100, based on 35 reviews.
Stephen Hunter of The Washington Post called it the "worst movie Woody Allen has ever made":
Basically the movie decodes into a Hardy Boys-level mystery. It's not, of course, that comedies must display documentary realism on this sort of thing. You forgive anything in a movie if it's funny. Scoop is never funny enough — except for the odd, whiny Allen gibe, mainly because it recalls better days — to achieve this dispensation; the lack of realism becomes a crippling attribute. This gives nobody, least of all me, any pleasure, but a truth must be faced: Scoop is the worst movie Woody Allen has ever made.
At the other extreme, Mick LaSalle of the San Francisco Chronicle, who also gave positive reviews to Allen's Melinda and Melinda, called it "the funniest movie of the year so far" and Allen's funniest film in a decade. He also said:
Scoop has something Match Point didn't, something that none of Allen's films have had to quite this degree in 10 years. It's really, really funny. Not funny "heh-heh", but laugh-out-loud funny. Funny like you walk out wanting to tell your friends its best lines. Funny like you're walking down the street and remember a moment and start laughing like an idiot. Woody Allen has written himself an ideal role, creating a character and a situation that result in a continuous stream of winning bits. And he's paired himself with a partner in Scarlett Johansson who brings deftness and freshness to Allen's familiar comic universe.
Manohla Dargis of The New York Times called it "not especially funny yet oddly appealing":
Mr. Allen doesn't seem to be working terribly hard in Scoop, and while that makes for some apparent goofs and lots of ragged edges, it gives the whole thing a pleasantly carefree vibe. After the first 20 or so clunky minutes, the film settles into a groove and then, ever so slightly, deepens. Mr. Allen's invocation of the Thin Man films in an interview makes sense, even if he's no William Powell and Ms. Johansson is certainly no Myrna Loy. Scoop was made by someone who understands that what makes the "Thin Man" series enduring isn't whodunit and why, but the way Nick and Nora look at each other as they sip their martinis, Asta nipping at their heels.
Ty Burr of The Boston Globe called it "fluffy, fatally implausible farce":
You can assume this kind of humor goes over well with the Europeans who are the director's financial backers and primary audience these days. Like Charlie Chaplin in his final years, Allen has found refuge in exile, far from the US audiences who have turned their backs on him (because we're lowbrow slobs or because his films have stopped being very good; your call). When we see him onstage as The Great Splendini, Allen even eerily resembles Chaplin in Limelight, shyly smiling out at the audience with the comedian's eternal hope of unconditional love. Does he see anything besides the beautiful young woman and himself? Sweet and woebegone, Scoop says no.
The film was ranked as Allen's worst in a 2016 poll of Time Out contributors, with editor Dave Calhoun writing, "It's not radical to call it his low point." The same year, film critics Robbie Collin and Tim Robey ranked the film as one of Allen's weakest.
Scoop opened in 538 American theatres on July 28, 2006. In its first three days, it grossed $3,046,924 for a per-theatre-average of $5,663. Box Office Mojo listed its opening as the biggest limited release premiere of 2006. By the time the film's domestic run had ended on September 28, 2006, it grossed $10,525,717 in the U.S. and $39,212,510 worldwide. The film had a $4 million budget, not including prints and advertising expense.