Full Name

Damayanthi




Role

Film actress




Name

Santha Devi





Years active

1954–2010




Occupation

Actress


Spouse

Kozhikode

Abdul Kader







Born

1927Kozhikode


Died

November 20, 2010, Kozhikode




Children

Suresh Babu, Kader Sathyajith




Parents

Thottathil Kannakkuruppu, Karthiyayani Amma




Movies

Nirmalyam, Kerala Cafe, Devi, Iruttinte Athmavu, Ghoshayaathra


Similar People

Kozhikode Abdul Kader, M T Vasudevan Nair, Bharath Gopi, P Bhaskaran, G S Vijayan
Popular Videos - Santha Devi
Damayanthi (1927 – 20 November 2010), better known by her stage name Kozhikode Santha Devi, was an Indian Malayalam film and stage actress. In a career spanning about sixty years, she acted in more than 1000 plays and about 480 films.
Contents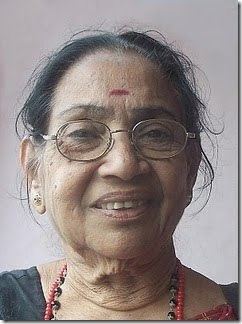 Kamal remembers actress kozhikode santha devi
Biography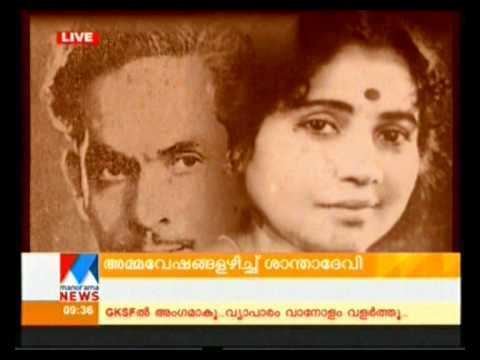 Santha Devi was born in Kozhikode in a then well known tharavadu called Thottathil in 1927 as the daughter of Thottathil Kannakkuruppu and Karthiyayani Amma as the seventh daughter of their 10 children. She did her studies from Sabha school and then B.E.M school.
She made her debut as an actress through a 1954 drama Smarakam written by Vasu Pradeep and directed by Kundanari Appu Nair. She made her cinema debut in Minnaminungu (1957) directed by Ramu Karyat. She has acted in over 480 movies including Moodupadam, Kuttikkuppayam, Kunjalimaraykkar, Iruttinte Athmavu, Sthalathe Pradhana Payyans and Adwaitham. Kerala Cafe, produced by director Ranjith, was her last movie where she enacted the role of a forlorn grandmother with no one to look after her. Besides movies, she was also active in television serials. Her most memorable roles are from Manasi and Minnukettu.
Santha Devi died on 20 November 2010 evening in a private hospital in Kozhikode.
Family
She had 9 other siblings, 5 brothers and 4 sisters. All of her brothers were in Air Force and Military services.She got married at the age of 18 with her uncle's son Balakrishnan who was a Railway guard, but the relationship did not last long. He left Santha Devi after the couple had a son. Later, she got married to Kozhikode Abdul Kader, a popular Malayalam playback singer. She has two sons, Suresh Babu and the late Sathyajith.
Awards
She won the National Film Award for Best Supporting Actress for her performance in Yamanam (1992) directed by Bharath Gopi. She has received the Kerala State award for best Stage actress in 1968 for her role in Kudukkukal. In 1968, she received award from Thrissur Fine Arts Society and in 1973 she received best actress award again. In 1978, her acting in Ithu bhoomiyanu and Inquilabinte makkal fetched her Kerala Sangeetha Nadaka Acamedy's award for best actress. She won the Kerala Film Critics Association Award in 1979 and Kerala State Award for Best Actress in State plays in 1983 for Deepasthambham Mahashcharyam.
In 1992 she got Film critics award again. Santha Devi was awarded Premji award and later in 2005 the lifetime achievement award from Kerala Sangeetha Nataka Akademi.
Dramas (partial)
Kudukkukal
Smaarakam
Deepasthambham Mahaascharyam
Inquilaaabinte Makkal
Ithu Bhoomiyaannu
Filmography
Actress
2010
Annarakkannanum Thannalayathu
as
Valiyathan and Cheriyathan's Mother
2009
Kerala Cafe
as
Manikantan's Mother (segment "Bridge")
2008
Thalappavu
as
Trader Woman
2003
Ammakilikkoodu
as
Lakshmi
2003
Mizhi Randilum
as
Muthassi
2003
Padam Onnu Oru Vilapam
2003
Kilichundan Mampazham
1998
Chenapparambile Aanakkariyam
1998
Magician Mahendralal from Delhi
1998
Oro Viliyum Kathorthu
1997
Irattakuttikalude Achan
as
Madhavi Amma
1997
Suvarna Simhaasanam
as
Amina
1995
Sundarimare Sookshikkuka
as
Saraswathi Raveendran
1995
Sundari Neeyum Sundaran Njanum
as
Mother at the Orphanage
1995
No: 1 Sneha Theeram Bangalore North
as
Mother of Hema (Priya Raman)
1995
Oru Abhibhashakante Case Diary
as
Nani Amma
1994
Chukkan
as
Mother of Gayathri
1994
Malappuram Haji Mahanaya Joji
as
Kunjalikkutty's Mother
1994
Tharavadu
as
Mother of Zareena
1994
Bharanakoodam
as
Manju's Maid
1993
Avan Ananthapadmanabhan
1993
Khoshayathra
as
Itheyiumma
1993
Narayam
as
Mother of a Fish-seller (Jagadish)
1993
Sthalathe Pradhana Payyans
1992
Daivathinte Vikrithikal
1992
Kamaladalam
as
Mother of Nandagopan
1991
Aakasha Kottayile Sultan
as
Kesavan Kutty's Mother
1991
Daivasahayam Lucky Centre
as
Mother of Anil
1991
Dhanam
as
Mother of Aboobacker (Murali)
1990
Aye Auto
as
Mother of Sunnykutty
1990
Brahma Rakshass
as
Fathima
1990
Sasneham
as
Principal of school where the Kurians teach
1990
No: 20 Madras Mail
as
Mother Superior
1989
Asthikal Pookunnu
as
Itti
1989
Naaduvazhikal
as
Kozhy's Mother
1989
Chanakyan
as
Johnson's Mother
1989
Carnival
as
Gouri's Mother
1988
Doore Doore Oru Koodu Kootam
1988
Kanakambarangal
as
Mother of Sreedevi
1988
Padippura
as
Kalyani Amma
1988
Nineteen Twenty One
as
Beevathu
1988
Dhinarathrangal
as
Naniyamma
1987
Nadodikkattu
as
Dasan's Mother
1985
Kaiyum Thalayum Purathidaruthu
1985
Anu Bandham
as
Karthyayani
1983
Surumayezhutiya Kannukal
1981
Elaneer
as
Mother of Radha (Jolly)
1980
Vilkkanundu Swapnangal
1979
Neela Thamara (as Kozhikode Santha Devi)
1979
Thakara
as
Subhashini's Mother
1978
Mannu
as
Mother of Krishnan Nair
1978
Paadasaram
as
Pulluvathi Kochukaali
1976
Udayam Kizhakkuthanne
1973
Sasthram Jayichu Manushyan Thottu
as
Mother of Sulochana
1971
Kuttiyedathi
as
Meenakshi
1971
Vidhyarthigale Ithile Ithile
1968
Thokkukal Katha Parayunnu
1966
Iruttinde Athmavu
as
Parukkutty Amma (Mother of Velayudhan)
1965
Murappennu
as
Madhavi Amma
1963
Moodupaddam
as
Kadeesumma the mother of Alikutty and Amina
1963
Ninamaninja Kaalpaadukal
References
Santha Devi Wikipedia
(Text) CC BY-SA