India


22.13 km2


Bellary district




Kannada




Karnataka






Sanduru (often written Sandur) is a town in Bellary District in the Indian state of Karnataka. It is the administrative seat of Sanduru taluka. Sandur (princely state) was ruled by the Ghorpade royal family of the Marathas.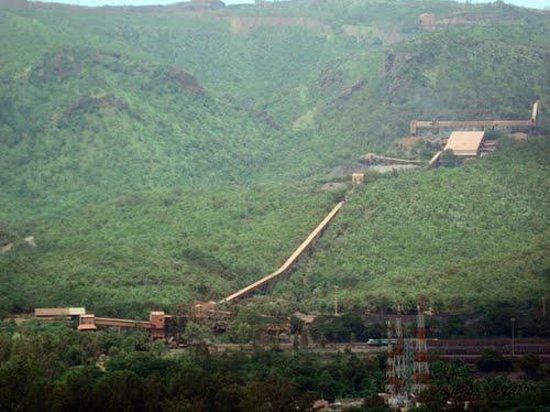 Sanduru is located at 15.1°N 76.55°E / 15.1; 76.55. It has an average elevation of 565 metres (1853 feet).
Sandur and its surrounding villages like Dowlthpur, Ramgad, Swamihalli, Donimalai are places of natural beauty with lush green mountains, valleys, deep gorges.
The town lies to the south of Hosapete. It lies on the southern edge of the original Vijayanagara metropolitan area.
Sanduru Taluka has deposits of manganese ore and hematite (iron ore), and is home to several mines and steel plants, including:
SMIORE - The Sandur Manganese and Iron Ore company.
Donimalai Mine, an iron mine owned by the National Mineral Development Corporation,
Subbarayanahalli Mine, an iron ore in Nandi Halli owned by Mysore Minerals Limited,
Dharmapur Iron Ore Mines in Ramgad village,
Jaisingpur Iron Ore Mine in Yeshwanthanagar.
JSW Steels at Toranagallu.
VSL Iron Ore Mines in Bhujanganagar village.
Jafir Sharif Iron Ore Mines in Bhujanganagar village.
Sandur has a tropical savannah climate which lies on the border of semi-arid type of bellary and hospet, the climate in sandur is cooler than surroundings due to its elevation and has recorded a maximum temperature of 42 degrees and a minimum of 6 degrees. Sandur receives 750mm of elevation but has seen more than 1000mm of rainfall.
As of 2001 India census, Sanduru had a population of 27,601. Males constitute 52s 62%, and female literacy is 62%. 13% of the population is under 6 years of age.
Sanduru Wikipedia