Salvi Moreno (born 1979) is a singer, songwriter and music producer born in Málaga, Spain. He began writing and playing as a teenager influenced by rock bands such as Pearl Jam, Pink Floyd, David Bowie and U2.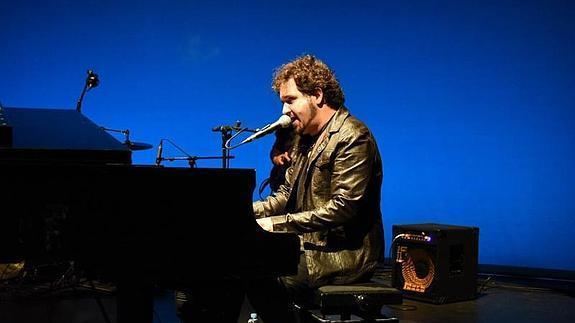 He started his solo career in 2009 recording The Tribe Without Fingers, a powerful sound album with American influences. He did a variety of radio and TV performances followed by a tour started in Spain in the popular Echegaray Theater.
In 2011, he moved to the UK and recorded his second album, All Humans are Living on the Moon, reaching a personal rock sound.
Having released All Humans are Living on the Moon in November 2011, Salvi Moreno is actively touring and performing in media to support its release in the UK and Spain. Salvi has shared the stage with artists such as: Lenny Kravitz, Elton John, Bonie M in various music festivals.
Salvi Moreno, artista malagueño, es cantante y compositor. Empezó a grabar desde que era un adolescente, influenciado por bandas como Pearl Jam, David Bowie y U2. Salvi comenzó su carrera en solitario en 2009 con la grabación de "The tribe without fingers", contando con la colaboración de Javier Ojeda en el single "Sense of Freedom".
En 2011 se marchó a Londres donde grabó su segundo álbum "All humans are living on the moon", cuyas canciones reflejan libertad creativa, combinando las influencias Norteamericanas y Británicas con alma andaluza que hace que su interpretación en directo sea admirada en la escena musical anglosajona.
Salvi Moreno se revela en este álbum como un excelente cantante, instrumentista, y productor, grabando voz, piano, guitarras y armónica. Tras su gira en Reino Unido, vuelve a su tierra natal para ofrecer su último trabajo.
En este tiempo ha compartido escenario con artistas como Lennie Kravitz, Bonie M, Mago de Oz, Pablo Carbonell, Javier Ojeda, en distantos festivales de Música, ha sido el primer español en subirse al escenario del Museo de Historia Natural de Londres y ha obtenido varios premios de música incluyendo el premio internacional de Hard Rock Café.
2009: Salvi Moreno – The Tribe Without Fingers
2011: Salvi Moreno – All Humans Are Living On The Moon
2015: Salvi Moreno - On the way to Paradise