Bangladesh




121.7 km²




Nilphamari



Saidpur (Syedpur) (bn:????????) is a city of Nilphamari district in Rangpur Division of Bangladesh . The city becomes a very important communication hub for adjoining major district headquarters. Saidpur Airport is one of the domestic airports in Bangladesh. The Saidpur Railway Workshop, established in 1870, is the largest railway workshop in Bangladesh and was the major railway workshop for Assam-Bengal railway. The city has historically been an Urdu-speaking community with close ties to Bihar, from which many residents originate, particularly the town of Munger. Since Bangladeshi independence, Urdu has declined as the Bihari community either integrated into Bangladeshi society, adopting Bengali, or fled to India or Pakistan.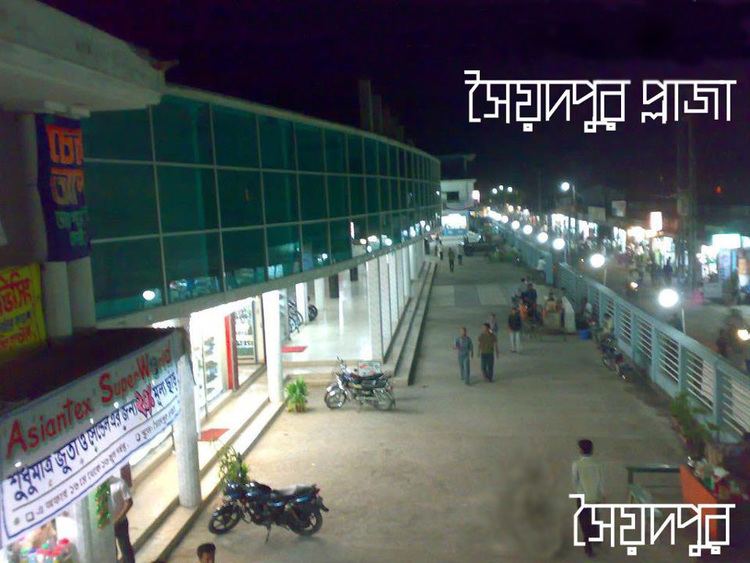 The city of Saidpur was established around the Saidpur Railway Workshop established in 1870 by the British Colonial regime. Nothing is definitely known about the origin of the upazila name. It is learnt that in the long past there came a Sayed family from Koch Bihar of India and settled in this area and started preaching Islam. It is generally believed that the upazila might have derived its name Saidpur after the name as that Sayed family. Saidpur became Thana in 1915.
The city is the commercial hub for the surrounding districts. The biggest Railway workshop of Bangladesh is here. The city never sleeps, it is also known as city of night. Business always runs here night and day. The city centre has a number of government and private banks, insurance companies, residential hotels, Chinese and Indian restaurants, fast food, sweet shops, gift shop and many more. It is an important economic zone in Bangladesh. Recently local businessmen have invested in the ready-made garments sector, and they have succeeded in capturing a good market position in India, Nepal, Bhutan. By the help and initiative taken by SME foundation these garments are now exporting there goods in Europe, USA etc. There are some medium and heavy industries growing here specially of Agricultural Industry, Crockery, Organic Fertilizer, Oil form recycled tire, light metal industry etc. There are also some good markets, shopping malls here. Communication is so good here to run a business.The pottery is also very beautiful and unique. It has captured a good market nationally and internationally. There are 24 private and government banks in Saidpur - most of them have online banking facilities. There are huge number of ATM booths in the city and near it to facilitate online transaction 24/7.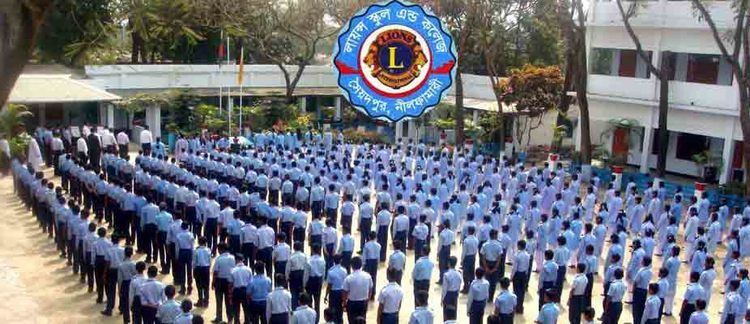 The city has officers club and two other clubs and institutes where cities various drama, musical takes place. There also a cultural club 120 years old called Silpo Sahitto Shongshod.Every year people celebrate Eid-ul-fitr, Eid-ul-azha, Bengali New Year Pohela Baishak, English new year etc. with enthusiasm and festive environment. Night life in this city is very festive, the city markets hardly sleeps at night.
Saidpur City Wikipedia
(,)http://upload.wikimedia.org/wikipedia/commons/f/fd/Saidpur_plaza.jpg(,)http://upload.wikimedia.org/wikipedia/commons/8/8f/Tajhat_Rajbari_side.jpg(,)https://harshad30.files.wordpress.com/2014/12/7be8f-hindu-temple-saidpur-village-islamabad-punjab.jpg(,)http://upload.wikimedia.org/wikipedia/commons/1/1f/DhakaCity1861.png(,)http://image.slidesharecdn.com/historyofgwa-final-141111120713-conversion-gate01/95/history-of-gujranwala-pakistan-40-638.jpg%3Fcb%3D1415707988(,)http://forum.mbdin.net/attachment.php%3Faid%3D2617(,)http://upload.wikimedia.org/wikipedia/en/5/51/Bangladesh_bank_bhaban.jpg(,)http://media-cdn.tripadvisor.com/media/photo-s/02/41/7c/41/saidpur-village.jpg(,)http://image.slidesharecdn.com/historyofgwa-final-141111120713-conversion-gate01/95/history-of-gujranwala-pakistan-38-638.jpg%3Fcb%3D1415707988(,)http://1.bp.blogspot.com/-ux8ka4ij09Q/UH7wMZPhM4I/AAAAAAAAC54/gXwxX3Pt_xo/s1600/Beneficiaries.png(,)http://www.pakimag.com/files/2011/09/Saidpur-Village-5.jpg(,)https://etribuneblogs.files.wordpress.com/2014/11/369723-picture-1335350925-124-640x480.jpg%3Fw%3D600(,)http://1.bp.blogspot.com/-jjNOP876x_Y/VDev5SPSskI/AAAAAAAADWc/DKzLg3QEtlE/s1600/13355_201964487599_201059537599_3007139_3897169_n.jpg(,)http://1.bp.blogspot.com/-4JO_FLt2m5g/UVKTsB8KftI/AAAAAAAAAqo/rAJ7VvSbPX8/s1600/bvbb.jpg
(,)http://www.flyfaraway.net/images/slider/bangladesh4.jpg(,)http://www.flyfaraway.net/images/slider/bangladesh3.jpg(,)http://mw2.google.com/mw-panoramio/photos/medium/83035714.jpg(,)http://mw2.google.com/mw-panoramio/photos/medium/83035790.jpg(,)http://1.bp.blogspot.com/-FpGApVGQoHw/UKRPmhPNxxI/AAAAAAAAAco/bTcw7GavQ8k/s1600/16.jpg(,)http://online-dhaka.com/images/files/dhaka-city/transport/airports/saidpur-airport-online-dhaka-guide.jpg(,)http://mw2.google.com/mw-panoramio/photos/medium/72982686.jpg
(,)http://4.bp.blogspot.com/-dzLr6CDzRnU/UKRVnHW5BJI/AAAAAAAAAdA/UllHpu6ISJY/s1600/Lions-2.jpg(,)http://visitofworld.com/wp-content/uploads/2013/08/Saidpur-Village-Islamabad.jpg(,)http://1.bp.blogspot.com/-UoecMMHs014/UtaJOaOlY6I/AAAAAAAAABs/KZ-KVzmXEC0/s1600/1239013_576238499100159_729350419_n.jpg(,)http://www.pakistantoursguide.com/wp-content/uploads/2012/12/Saidpur_Village_Map.jpg(,)http://blog.travel-culture.com/wp-content/uploads/2009/02/kumhar-saidpur.jpg(,)http://www.yakhwajagaribnawaz.com/masjid/glass-mosque-or-chini-masjid-at-saidpur-rangpur-bangladesh.jpg(,)http://i1.tribune.com.pk/wp-content/uploads/2015/01/823593-metro_bus_construcion_isl_dec_-1421547041-469-640x480.jpg(,)http://farm4.static.flickr.com/3178/2644620697_a0ac2c7ca1.jpg(,)http://cache.pakistantoday.com.pk/Saidpur-Village.jpg