Saarlouis ( French: , ) is a city in the Saarland, Germany, capital of the district of Saarlouis. In 2006, the town had a population of 38,327. Saarlouis, as the name implies, is located at the river Saar. It was built as a fortress in 1680 and named after Louis XIV of France.
With the Treaties of Peace of Nijmegen in 1678/79, the Lorraine fell to France. In 1680, Louis XIV of France gave order to build a fortification (to defend the new French Eastern frontier) on the banks of the river Saar which was called Sarre-Louis. Frances famous military engineer, Sebastien Le Prestre de Vauban, constructed the city, the plans were made by Thomas de Choisy, the citys first Gouvenour. In 1683, Louis XIV visited the fortress and granted arms. The coat of arms shows the rising sun and three Fleur-de-lis. The heraldic motto is Dissipat Atque Fovet: He (the Sun) dispels (the clouds) and heats (the earth).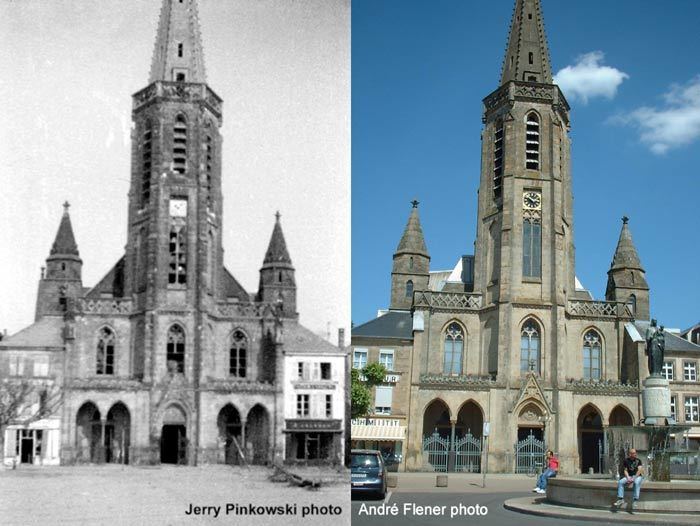 In 1697, with the Treaty of Ryswick, most parts of Lorraine gained independence again, but Saarlouis and the surrounding areas remained a French exclave. During the French Revolution, the town was renamed Sarre-Libre, but it returned to its original name in 1810. With the Treaty of Paris in 1815, Saarlouis (and the whole region later known as the Saargebiet) became Prussian.
After the First World War, French troops occupied Saarlouis. The Saargebiet became a protectorate of the League of Nations for a period of 15 years. In 1933, a considerable number of anti-Nazi Germans fled to the Saar, as it was the only part of Germany left outside the Third Reichs control. As a result, anti-Nazi groups campaigned heavily for the Saarland to remain under control of League of Nations as long as Adolf Hitler ruled Germany. However, long-held sentiments against France remained entrenched, with very few sympathizing openly with France. When the 15-year-term was over, a plebiscite was held in the territory on 13 January 1935: 90.3% of those voting wished to rejoin Germany.
From 1936 till 1945, Saarlouis was named as Saarlautern (-lautern being a common ending of town and village names in Germany) in an attempt by the Nazis to Germanize the town name.
After World War II, the region (then called the Saarland), was again occupied by France. In a plebiscite in 1955, most of the people in the Saarland opted for the reunification with the Federal Republic of Germany, and on January 1, 1957, it became the 10th federal state of West Germany.
In 1980, Saarlouis celebrated its 300th anniversary.
(,)http://hpcanpub.mcmaster.ca/files/pw20c_images/00000108.jpg(,)http://lostimagesofww2.com/images/past-present/saarlouis-ludwigskirche-then-and-now.jpg(,)http://s2.imslp.org/images/thumb/pdfs/fc/ce1bd1f73383d06e741c78d2b3a8f4b6fabb0566.png(,)http://hpcanpub.mcmaster.ca/files/imagecache/generalresize/files/pw20c_images/00000648.jpg(,)http://hpcanpub.mcmaster.ca/files/imagecache/generalresize/files/pw20c_images/00000109.jpg(,)http://files.conceptcarz.com/img/Ford/2011-Ford-Focus-Image-011-1024.jpg(,)http://mosttraveledpeople.com/images/temp/814_20131207023007_20739_92628_SAM_2059.JPG(,)http://mosttraveledpeople.com/images/temp/814_20131207022828_20739_69103_SAM_2044.JPG(,)http://chicagorc.enewsletters.fourseasons.com/files/2014/07/CRC_459.jpg
(,)http://germanyja.com/wp-content/uploads/2014/02/lava-5-600x450.jpg(,)http://germanyja.com/germany/wp-content/uploads/2014/02/lava-3-784x524.jpg(,)http://media-cdn.tripadvisor.com/media/photo-s/04/5e/d0/52/restaurant-brasserie.jpg(,)http://media-cdn.tripadvisor.com/media/photo-s/03/83/f7/a0/mamma-mia.jpg(,)http://media-cdn.tripadvisor.com/media/photo-s/02/67/71/85/table.jpg(,)http://media-cdn.tripadvisor.com/media/photo-s/04/64/ae/c9/hofhaus.jpg(,)http://media-cdn.tripadvisor.com/media/photo-s/04/64/ae/ec/hofhaus.jpg(,)http://images-02.delcampe-static.net/img_large/auction/000/258/839/623_001.jpg(,)http://exp.cdn-hotels.com/hotels/1000000/530000/523500/523494/523494_68_z.jpg(,)http://media-cdn.tripadvisor.com/media/photo-s/06/cb/08/3e/grand-asia-the-sushi.jpg(,)http://exp.cdn-hotels.com/hotels/1000000/530000/523500/523494/523494_60_z.jpg(,)http://tzs.infomaxnet.de/data/imxtools2/images/p79krwek.jpg(,)http://media-cdn.tripadvisor.com/media/photo-s/04/64/ae/da/hofhaus.jpg