Net worth

$340 million (2011)

Website

Rush Communications







Full Name

Russell Wendell Simmons

Born

October 4, 1957 (age 58) (

1957-10-04

)

Queens, New York, United States

Occupation

Co-founder of Def Jam and founder of Phat Farm, All Def Digital, Global Grind, Def Pictures, Argyleculture,Tantris, American Classics

Spouse

Kimora Lee Simmons (m. 1998–2009)

Siblings

Joseph Simmons, Daniel Simmons, Jr.

Nephews

Diggy Simmons, Russell Simmons II, Joseph "JoJo" Simmons Jr.

Children

Aoki Lee Simmons, Ming Lee Simmons

Movies and TV shows

Run's House, Def Comedy Jam, Running Russell Simmons, Russell Simmons Presents, Krush Groove




Similar People

Kimora Lee Simmons, Joseph Simmons, Diggy Simmons, Daniel Simmons - Jr, Rick Rubin
Russell Simmons - 'Be Still And Be Successful'
Russell Wendell Simmons (born October 4, 1957) is an American entrepreneur, producer and author. The chairman and CEO of Rush Communications, he cofounded the hip-hop music label Def Jam Recordings and created the clothing fashion lines Phat Farm, Argyleculture, and Tantris. Simmons had a net-worth estimate of $340 million in 2011.
Contents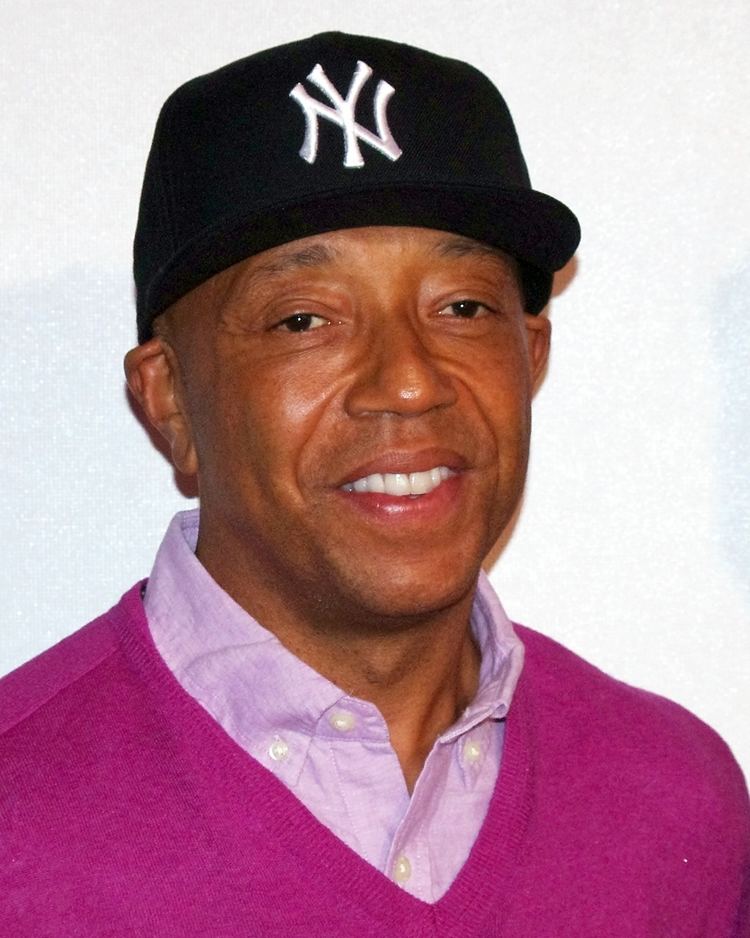 Russell simmons documentary russell simmons s top 10 rules for success
Early life and education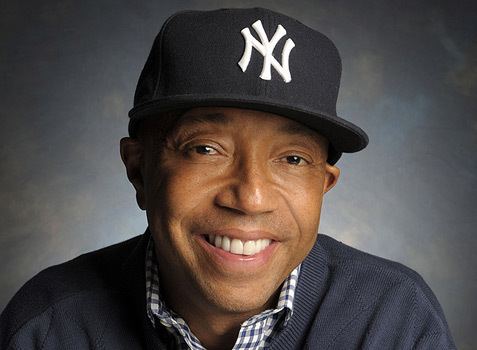 Simmons was born and raised in Queens, New York. His father is a public school administrator and his mother is a New York City park administrator. His brothers are painter Daniel Simmons, Jr., and Rev Run of Run-DMC.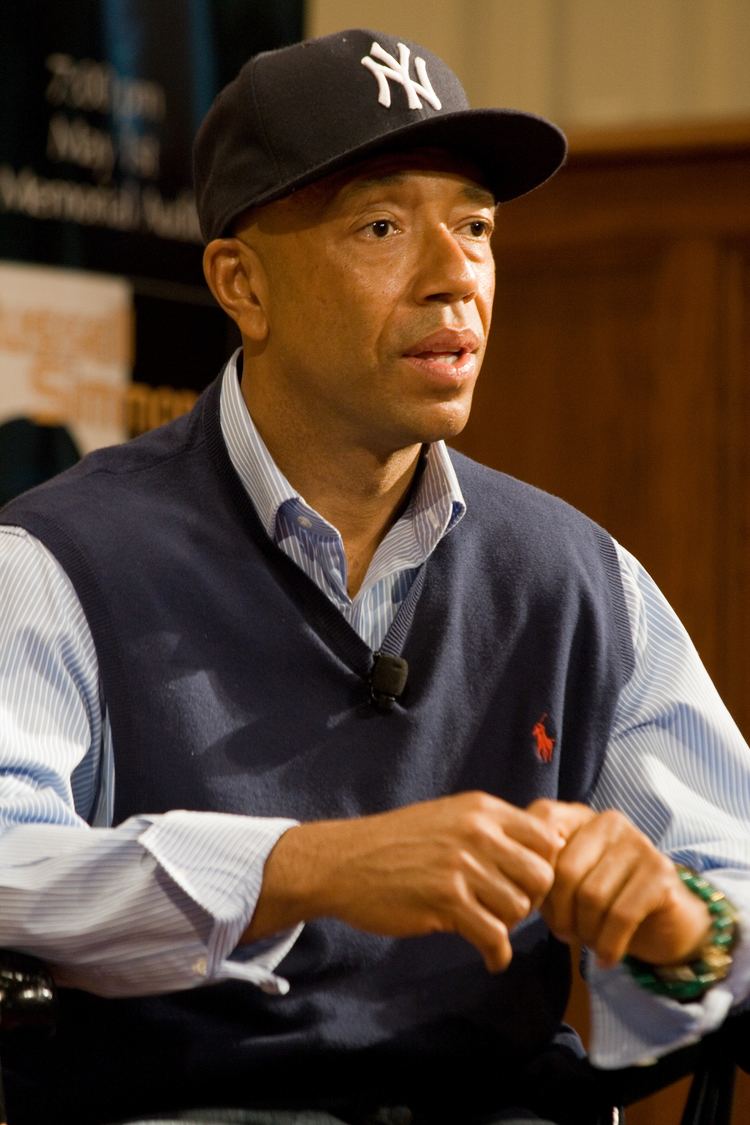 In 1975, after graduating from August Martin High School, Simmons briefly attended the City College of New York in Harlem where he met a young DJ/Bboy, Kurt Walker, who influenced him to participate in the hip-hop phenomenon.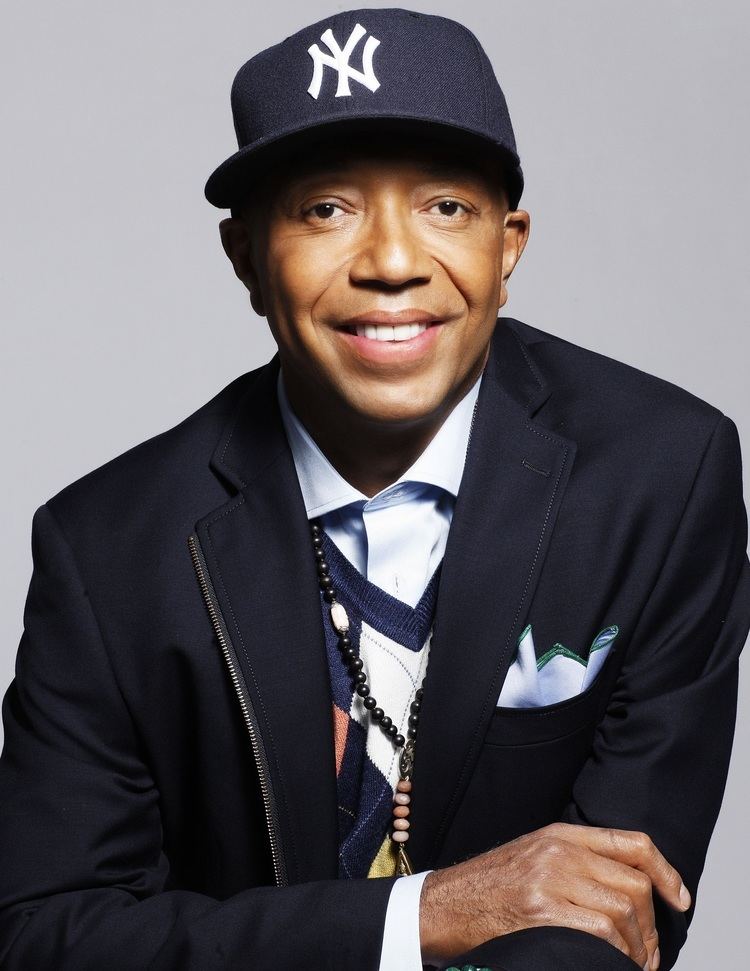 Upon hearing Eddie Cheeba perform at Charles' Gallery in Harlem in 1977, Simmons knew that hip hop would be his career. Simmons stated, "Hearing Cheeba in '77 made me feel like I had just witnessed the invention of the wheel."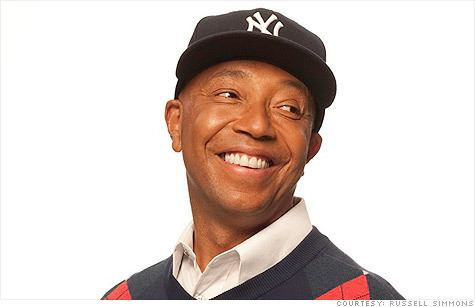 In 2014, Claremont Lincoln University awarded Russell Simmons an Honorary Doctorate Degree in Humane Letters for his work as chairman of the Foundation for Ethnic Understanding and for promoting mindfulness, compassion and interreligious collaboration in the public sphere.
Career
Simmons co-founded Def Jam in 1983 with Rick Rubin who sold his share of the company for $120 million to Universal Music Group in 1996. In 1985 Russell Simmons co-produced and appeared in the film, Krush Groove. Simmons' company, Rush Communications Inc. includes over ten businesses and three non-profits. Simmons, with his partner Stan Lathan, has also produced television hits HBO's Def Comedy Jam, Def Poetry Jam and currently has a development deal with HBO In 1996, Simmons co-produced the hit film The Nutty Professor, starring Eddie Murphy. In 2003, Russell Simmons co-founded RushCard, a prepaid debit card provider.
Marriage
Simmons and model wife, Kimora Lee met in November 1992. They married on December 20, 1998. on the island of Saint Barthélemy. They have two daughters, Ming Lee (born 2000) and Aoki Lee (born 2002). In March 2006, Simmons announced his divorce from Lee.
Activism
Russell Simmons has been vegan since 1999 and advocates Ahimsa and veganism, citing animal rights along with the environmental and health benefits. Simmons is a supporter of Farm Sanctuary, an organization working to end cruelty to farm animals. People for the Ethical Treatment of Animals awarded him the 2001 PETA Humanitarian Award and the 2011 Person of the Year Award.
In 2009, Simmons organized thousands of protestors and Hip-Hop celebrities in front of city hall demanding change of the harsh sentencing of the Rockefeller Drug Laws.
Simmons became Chairman of Board of the Foundation for Ethnic Understanding in 2002. In May 2009, he was appointed Goodwill Ambassador for the UN Slavery Memorial at the United Nations to honor the victims of slavery and the transatlantic slave trade by UN Secretary-General Ban Ki-moon. In a similar vein, Simmons is a supporter of the Somaly Mam Foundation, and was honored at their 2011 gala dinner. Simmons officially endorses the second Muslim Jewish Conference 2011. Together with Rabbi Marc Schneier he served as the official patron of the conference held July 2011 in Kiev, Ukraine. In 2011, he took part in the Occupy Wall Street protests, visiting the protesters at Zuccotti Park often and for many consecutive days.
Simmons is also a longtime supporter for gay rights. He encourages marriage equality. In 2011, when the retail corporation Lowe's withdrew funding from the show All-American Muslim, Simmons promised to pay the Learning Channel for any revenue lost.
In 2012, Simmons supported Ohio congressman Dennis Kucinich's re-election campaign, appearing with the politician at various speaking events. In November 2013, he pledged support for New York's mayoral candidate Bill de Blasio in recognition of his support for animal rights.
In 2015, Simmons criticized his friend, real-estate developer and Republican presidential candidate Donald Trump, in an open letter after Trump called for Muslim immigrants to be barred from entering the United States.
In 2017, Simmons was listed by UK-based company Richtopia at number 23 in the list of 200 Most Influential Social-Entrepreneurs and Philanthropists Worldwide.
Beliefs
Simmons describes himself as a Christian yogi, with a love and respect for all religions. Simmons practices a method of Yoga known as Jivamukti Yoga, which encourages vegetarianism and social and environmental activism.
Simmons is also a practitioner of Transcendental Meditation (TM) and a supporter of the David Lynch Foundation for Consciousness-Based Education and World Peace, which was established to ensure that any child in America who wants to learn and practice TM can do so.
References
Russell Simmons Wikipedia
(Text) CC BY-SA