Predecessor

Boyd K. Packer




Rank

Captain




Called by

Spencer W. Kimball




Name

Russell Nelson




Called by

Spencer W. Kimball




Role

Surgeon







Reason

Deaths of LeGrand Richards and Mark E. Petersen




Spouse

Wendy L. Watson (m. 2006), Dantzel White (m. 1945–2005)




Books

The gateway we call death, Perfection pending




Children

Rosalie N. Ringwood, Sylvia N. Webster




Parents

Marion C. Nelson, Edna Anderson Nelson




Education

University of Minnesota, LDS Business College, University of Utah




Similar People

Dallin H Oaks, Henry B Eyring, Thomas S Monson, Wendy L Watson




Profiles




Facebook




Service/branch

United States Army



Elder russell m nelson face the future with faith
Russell Marion Nelson Sr. (born September 9, 1924) is an American surgeon and religious leader who is currently the president of the Quorum of the Twelve Apostles of The Church of Jesus Christ of Latter-day Saints (LDS Church). Prior to becoming an LDS Church apostle, he was an internationally renowned cardiothoracic surgeon. He has been an apostle and member of the Quorum of the Twelve since 1984 and is the oldest living and second-most senior apostle in the church.
Contents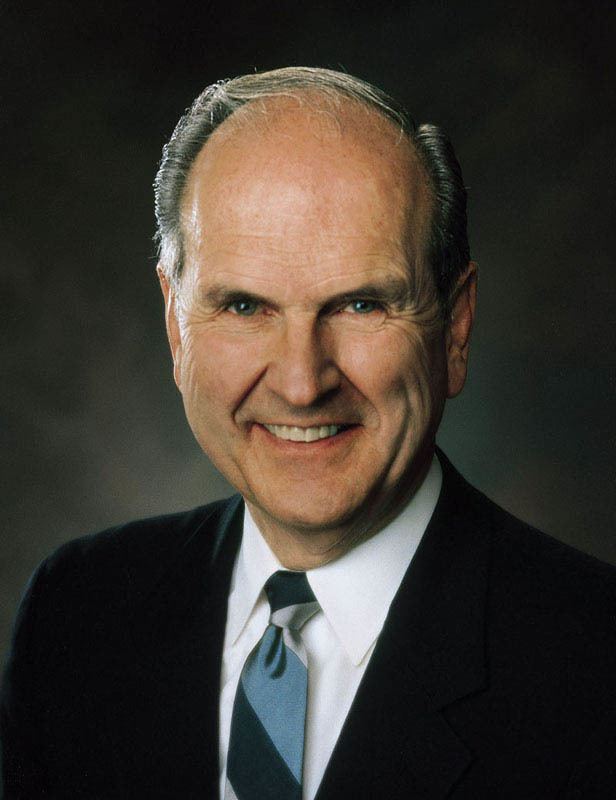 Celebrating 60 years of cardiac surgery in utah with russell m nelson m d
Life and career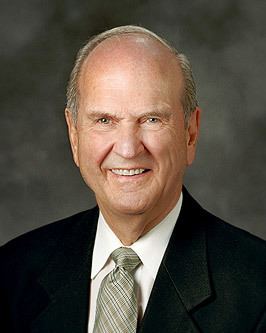 Russell M. Nelson was born on September 9, 1924, in Salt Lake City, Utah, to Marion C. Nelson (1897–1990) and his wife F. Edna Nelson (née Anderson; 1893–1983). Nelson studied at LDS Business College while in his mid-teens and then worked as an assistant secretary at a bank. He attended the University of Utah, earning a B.A. in 1945 and an M.D. in 1947. He then pursued joint surgical training and doctoral studies at the University of Minnesota. There, he worked on the research team responsible for developing the heart-lung machine that supported the first open-heart operation on a human being in 1951. After a two-year term of medical duty in the U.S. Army during the Korean War, being stationed in Korea, Japan, and at Walter Reed Army Medical Center in Washington, D.C., he returned for additional surgical training at Harvard Medical School's Massachusetts General Hospital in Boston.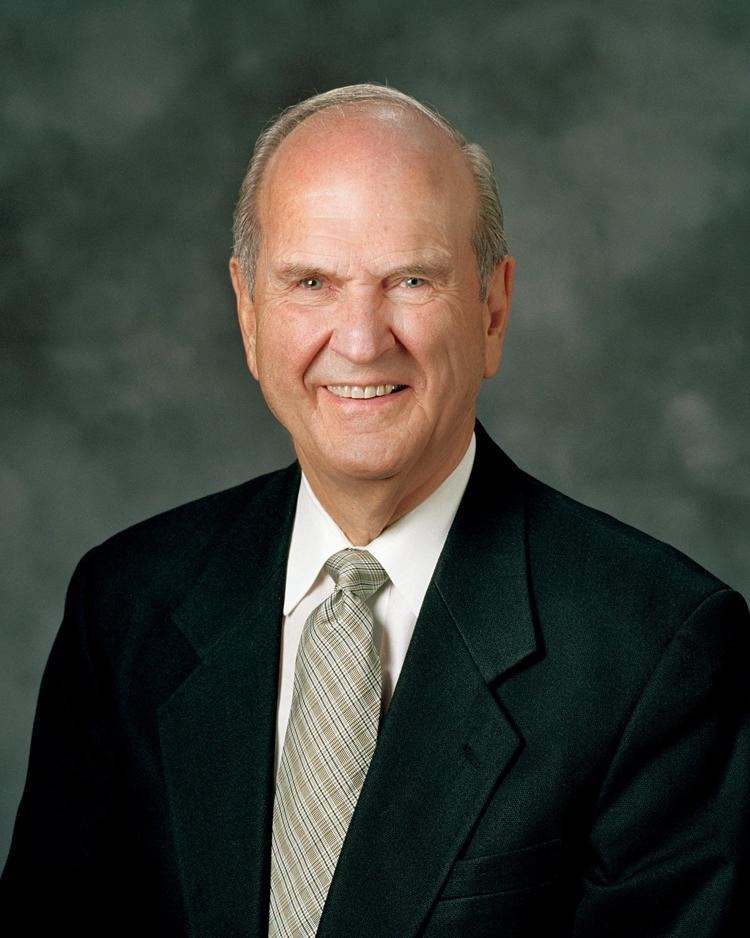 Nelson returned to Salt Lake City in 1955 and accepted a faculty position at the University of Utah School of Medicine. There he built his own heart-lung bypass machine and employed it to support the first open-heart surgery in the state of Utah. That operation was performed at the Salt Lake General Hospital (SLGH) on an adult with an atrial septal defect.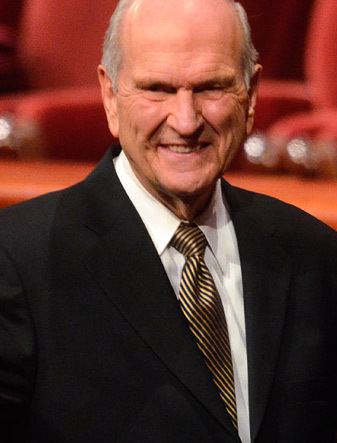 This would mark the first of many career achievements for Nelson. In March 1956, he performed the first successful pediatric cardiac operation at the SLGH, a total repair of tetralogy of Fallot in a four-year-old girl. He was at the forefront of surgeons focusing attention on coronary artery disease, and contributed to the advance of valvular surgery as well. In 1960, he performed one of the first-ever repairs of tricuspid valve regurgitation. His patient was a Latter-day Saint stake patriarch. In an indication of his surgical skill, a 1968 case series of his aortic valve replacements demonstrated an exceptionally low peri-operative mortality. Later, he performed the same operation on future LDS Church president Spencer W. Kimball, replacing his damaged aortic valve. In 1985, Nelson along with his colleague, Conrad B. Jenson, performed a quadruple bypass surgery on the Chinese opera performer Fang Rongxiang.
Professional leadership acknowledgments
Nelson became involved with the administrative aspects of medicine and was elected president of the Utah State Medical Association. He was chair of the Division of Thoracic Surgery at LDS Hospital from 1967 to 1974 and director of the University of Utah Affiliated Hospital residency program in thoracic surgery from 1967 to 1984.
Nelson was honored nationally by being elected president of the Society for Vascular Surgery and a director of the American Board of Thoracic Surgery.
Positions and awards
President of the Thoracic Surgical Directors Association
President of the Society for Vascular Surgery
President of the Utah State Medical Association
Director of the American Board of Thoracic Surgery
Chairman of the Council on Cardiovascular Surgery for the American Heart Association
Chairman of the Division of Thoracic Surgery at the LDS Hospital
Vice-chairman of the board of governors at the LDS Hospital
"Citation for International Service", American Heart Association
"Heart of Gold Award", American Heart Association
"Golden Plate Award", American Academy of Achievement
"Distinguished Alumni Award", University of Utah
"Surgical Alumnus of the Year Award", University of Minnesota Medical School
Honorary degrees
Doctor of Science, Brigham Young University (1970)
Doctor of Medical Science, Utah State University (1989)
Doctor of Humane Letters, Snow College (1994)
LDS Church service
In addition to his medical work, Nelson served frequently as a leader in the LDS Church. Before being appointed an apostle, he spent over six years (December 6, 1964 – July 11, 1971) as a stake president in Salt Lake City, during which time Joseph B. Wirthlin served as his second counselor. Nelson also served for eight years as the church's Sunday School General President, and four years as a regional representative.
Nelson was called to be an apostle by church president Spencer W. Kimball, to whom he had served as a personal physician for many years. Nelson was sustained as a member of the Quorum of the Twelve Apostles on April 7, 1984, in an LDS Church general conference. He was ordained an apostle on April 12, 1984, by Gordon B. Hinckley. At the same conference, Dallin H. Oaks was also sustained as a member of the Quorum of the Twelve. Nelson and Oaks filled the vacancies in the Quorum created by the deaths of LeGrand Richards and Mark E. Petersen.
As a member of the Quorum of the Twelve, Nelson is accepted by the church as a prophet, seer, and revelator.
From 2007 to 2015, Nelson was as a member of the Church Boards of Trustees/Education, the governing body of the Church Educational System, and the chairman of its Executive Committee. He was succeeded as chairman of the Executive Committee by Oaks.
Following the death of Boyd K. Packer on July 3, 2015, Nelson became the most senior member of the Quorum of the Twelve and the quorum's president. Nelson was set apart as the quorum president on July 15, 2015, by Thomas S. Monson. Holding this position, Nelson would be the de facto apparent successor to Monson (upon Monson's death or removal from office), if the practice of the quorum president succeeding to the office of church president continues.
Nelson made his first international trip as quorum president to Central America from August 20–31, 2015. The following month, Nelson dedicated the renovated Aaronic Priesthood Restoration Site in Pennsylvania, where LDS Church members believe the Aaronic and Melchizedek priesthoods were restored.
Eastern Europe
After Monson's call to the First Presidency in 1985, Nelson was assigned as the apostle to oversee the work of church in Eastern Europe. In this assignment, he worked closely with Dennis B. Neuenschwander and Hans B. Ringger. Nelson was involved in the first meetings between LDS Church leaders and government officials of Bulgaria, Romania, and the Soviet Union, and worked to continue LDS expansion and recognition efforts in Czechoslovakia, Hungary, and Poland.
In August 2010, Nelson journeyed to the dedication of the Kiev Ukraine Temple. Afterwards, in September, he traveled to LDS meetings in several European countries. He pronounced blessings upon Croatia, Slovenia, Macedonia, Bosnia and Herzegovina, and Kosovo while visiting each of those countries; these serve as addendums to Monson's 1985 dedication of Yugoslavia for the preaching of the gospel.
Nelson's only son, Russell M. Nelson Jr., served as an LDS missionary in Russia. In 2011, Nelson returned to Russia to organize the first church stake in that country, headquartered in Moscow.
Central Asia
In August 2003, Nelson became the first member of the Quorum of the Twelve to visit Kazakhstan. While there, Nelson visited government officials, was interviewed by Yuzhnaya Stalitsa television, and dedicated that country for the preaching of the gospel.
China
When he was Sunday School General President, Nelson attended a meeting where Kimball urged those present to learn Chinese. Nelson took up this challenge and became fluent in Mandarin. He developed ties with the medical community in China and made several trips there to train surgeons. In 1985, Nelson was the first person ever made an honorary professor of Shandong Medical College. In 1995, Nelson went to Beijing, along with Neal A. Maxwell and other LDS Church leaders, on an official invitation of Li Lanqing, the Vice Premier of China.
Family
Nelson married Dantzel White on August 31, 1945, in the Salt Lake Temple. They have nine daughters and one son. Dantzel died unexpectedly at the Nelson home in Salt Lake City on February 12, 2005. She was preceded in death by one daughter.
On April 6, 2006, Nelson married Wendy L. Watson in the Salt Lake Temple. Watson, originally from Raymond, Alberta, Canada, is the daughter of the late Leonard David Watson and Laura McLean Watson. At the time of the marriage, Watson was a professor of marriage and family therapy in the School of Family Life at Brigham Young University (BYU). Watson retired from her career on May 1, 2006. She received her R.N. in Calgary, Alberta, in 1970 her B.A. from the University of Hawaii at Manoa in 1973, her M.Sc. from BYU in 1975, and her Ph.D. from the University of Calgary in 1984. She served as chair of BYU Women's Conference for 1999 and 2000, and is the author of several books and addresses recorded on CD, including Rock Solid Relationships and Things Are Not Always as They Appear. Her marriage to Nelson is her first.
Works
Books
Nelson, Russell M. (2010), Wise Men and Women Still Adore Him, Deseret Book, ISBN 978-1-60641-835-2, OCLC 672405152
—— (2009), Hope in Our Hearts, Deseret Book, ISBN 978-1-60641-201-5, OCLC 426253825
—— (1998), Perfection Pending: And Other Favorite Discourses, Deseret Book, ISBN 978-1-57345-405-6, OCLC 39256877
—— (1998), The Magnificence of Man and Truth--and More, Deseret Book, ISBN 978-0-87579-985-8, OCLC 40197958
—— (1995), The Gateway We Call Death, Deseret Book, ISBN 978-0-87579-953-7, OCLC 31901270
—— (1993), Lessons from Mother Eve: A Mother's Day Message, Deseret Book, ISBN 978-0-87579-734-2, OCLC 32969712
—— (1988), The Power Within Us, Deseret Book, ISBN 978-0-87579-154-8, OCLC 18164244
—— (1987), Motherhood, Deseret Book, ISBN 978-0-87579-087-9, OCLC 20469710
—— (1979), From Heart to Heart: An Autobiography, Nelson, OCLC 6144971
References
Russell M. Nelson Wikipedia
(Text) CC BY-SA