Robin Reid (born 20 October 1948) is an Australian criminal currently serving a life sentence at Goulburn Correctional Centre for the sexual assault, torture and murder of 13-year-old Brisbane schoolboy Peter Aston in 1982.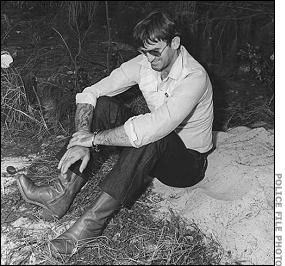 Reid and his accomplice, fellow Australian military personnel Paul Luckman (now known as Nicole Louise Pearce), kidnapped schoolboys Peter Aston and Terry Ryan on the Gold Coast, Queensland, on 4 May 1982. Reid and Luckman then drove the boys at gun and knife point to Kingscliff, New South Wales, where they were beaten and tortured, and Peter Aston was ultimately murdered.
Robin Reid was born in Hampshire, England, and migrated to Australia with his family in 1961, where they settled in Queensland. He worked in laboring and sales, and at some point developed an interest in various knives, bows and arrows. Reid joined the Army in 1972, and was stationed at Enoggera, where he met his future accomplice, 17-year-old Paul Luckman. The two became close, sharing interests in weapons, violence, sexual torture fantasies, Satanism and homosexuality; Reid was given the army base nickname "Head-job Bob".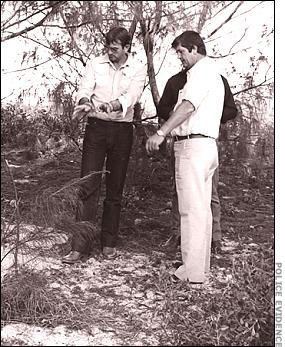 On the morning of 4 May 1982, Brisbane schoolboy Peter Aston decided to hitchhike to his hometown of Melbourne to join his brother. Peter's school friend, Terry Ryan, agreed to keep him company until he reached the Gold Coast, and then planned to go back home.
The two caught the train to Beenleigh and bought some clothes, then proceeded to hitchhike south, down the gold coast highway. After a short while they came across a yellow 4WD Daihatsu and its occupants Reid and Luckman, who offered to give the boys a lift down the coast.
Not long on the road, the two boys were threatened at knife and gunpoint by the two men, who then drove the car over the Queensland/New South Wales border, into the beach-side town of Kingscliff, where they forced the two boys out of the car and down a secluded beach track.
Reid and Luckman then bound, sexually assaulted and savagely beat the two boys. Terry was also forced by the two men to bash and assault his friend Peter. Peter Aston was stabbed, tortured and eventually buried alive. By this point, Terry Ryan had reasoned with his attackers and they agreed to drive him home.
Terry later told police, "They got everything they had, put it in the car and drove off, and me too, and they drove me back home. While we were driving they told me that they were Satan worshippers and they had to do it [kill Peter Aston] for the sacrifice."
Terry Ryan immediately told his mother, who drove him to the police station to report the horrendous kidnapping, and murder of his friend. Robin Reid and Paul Luckman attempted to escape in a car they stole from a fellow army private at the Enoggera army base. The two were apprehended on the New England Highway. Further evidence and weapons were found in the pair's stolen car.
At the army base, a search was conducted of the room that Robin Reid shared with Paul Luckman. Police took possession of several of Reid's swords, spears and counted 37 knives. Further search among gay and Satanic literature in Reid and Luckman's room revealed a photograph album containing clusters of men's pubic hair taped onto each page. Police also found a notebook, in which one of them had handwritten essays about leading a boy down a bush track at knife point and then holding him in a headlock with a knife at his throat while he undressed him.
Robin Reid and Paul Luckman were formally charged with the murder of Peter Aston, and Reid was also charged with threatening to inflict bodily harm on Terry Ryan. They were refused bail and taken into custody.
Robin Reid was taken by police on a tour of the murder scene, where he explained in intricate detail exactly what happened on the night of the murder. Police reported he boasted proudly of sick exploits, and seemed to be immensely enjoying his "15 minutes of fame".
Reid and Luckman's committal hearing was held at Tweed Heads Court on 4 August. At the time of the hearing there was massive public outrage, media coverage and death threats aimed at the two child murderers. The case was transferred to the Sydney Supreme Court with a jury of three women and nine men. The trial began on 8 November 1982. Paul Luckman pleaded 'not guilty' and Robin Reid pleaded 'not guilty by reason of insanity'.
Although they were partners in the horrific murder, Reid and Luckman tried frantically to blame each other for the slaying. Despite both men's attempts to lay blame on the other, Reid and Luckman were convicted and sentenced to life imprisonment.
In 1990, Paul Luckman, who considered himself to be female, changed his name by deed poll to Nicole Louise Pearce, grew long hair and commenced daily hormone treatment to grow breasts but did not undergo sex-change operation surgery at that time. Consequently, in the early nineties, he was confined at Cooma near the Snowy Mountains in Southern New South Wales, in a jail for male sex offenders. While there, he was known by the name Pearce and treated as a woman but still had a penis at that time and was granted a degree of privacy during shower time. On 26 October 1999, he was released from the Kirkconnell Correctional Centre, a minimum security male-only facility in inland New South Wales. If surgery was ever carried out, it was done after his confinement at Cooma, probably after confinement at Kirkconnell.
Since imprisonment, Robin Reid has been kept in protective custody for his own safety. Reid applied for a re-determination of his sentence on 26 November 1998, and was re-sentenced to life imprisonment with a non-parole period of 24 years, meaning that he would be eligible for parole in 2006. In March 2010, Reid had his third parole application rejected.
Despite having his sentence cut to 24 years in 1998 and completing the non-parole period in May 2006, the NSW State Parole Authority (SPA) refused Reid parole for the fifth time on 5 April 2012. The trial judge described the murder as one of the most brutal and callous crimes ever to go before the courts.
The murder of Peter Aston was depicted in the Crime Investigation Australia episode "Buried Alive: Luckman and Reid"