Covid-19
Robert Popwell








The Crusaders, The Rascals




Groovin', Street Life, Time Peace: The Rascals, The Rascals Antholog, The Very Best of The Rascals




Stix Hooper, Wayne Henderson, Wilton Felder, Eddie Brigati, Dino Danelli
Robert Lee "Pops" Popwell (born c. December 29, 1946) is a jazz-funk bass guitarist.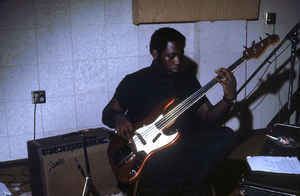 Known as "Pops", he played with The Young Rascals, The Crusaders and the Macon Rhythm Section. The Young Rascals were inducted into the Rock and Roll Hall of Fame May 6, 1997. They were inducted into the Vocal Group Hall of Fame in 2005. He has played on albums by Aretha Franklin, George Benson, Ron Wood, Al Jarreau, Bobby Womack, Terry Bradds, Larry Carlton, Joe Sample, Smokey Robinson, Bette Midler, Greg Allman, Bob Dylan, B. B. King, Les Dudek and Randy Crawford, among others.
He has also toured with Bette Midler and Olivia Newton-John. Popwell appeared in the movie Hard to Hold with Rick Springfield. Featured in the 1982 "Olivia Newton-John, Live" concert video. Co-writer of "Boy Meets World" with Rap star Erick Sermon. Also wrote "Feelin Funky" on The Crusaders album Those Southern Knights.
1969: I'm a Loser - Doris Duke
1970: Johnny Jenkins - Johnny Jenkins
1970: Livingston Taylor - Livingston Taylor
1972: The Island Of Real − The Rascals
1972: Young, Gifted and Black - Aretha Franklin
1972: Amazing Grace - Aretha Franklin
1974: Southern Comfort - The Crusaders
1976: Those Southern Knights - The Crusaders
1977: Free As the Wind - The Crusaders
1978: Images - The Crusaders
1978: Letta - Letta Mbulu
1979: Gimme Some Neck - Ron Wood
1979: Praying Spirit - Gloster Williams and Master Control
1980: Strikes Twice - Larry Carlton
1982: Baked potato Superlive! - [The Greg Mathieson Project]
1990: Collection - Larry Carlton
2006: Sumner Sessions - Terry Bradds
2007: Master Hands - Terry Bradds
2009: Touch of Spice - Terry Bradds and Nioshi Jackson
Robert Popwell was born in Daytona Beach, Florida. He has a brother who is an actor. Has three daughters; Mandice, Erika and Jesslyn. Resides in Nashville, TN.
Robert Popwell Wikipedia