Mahrez began his career as a youth player for French club AAS Sarcelles. He turned professional in 2009 with Quimper, where he played for only one season before moving to Le Havre, spending a total of three years with them, initially playing for their reserve team and then becoming a first-team regular. In January 2014, Mahrez signed for English side Leicester City, helping them win the Championship and promotion to the Premier League at the end of his first season. In the 2015–16 season he was the Algerian Footballer of the Year, the PFA Players' Player of the Year, and was a member of the Premier League PFA Team of the Year as he helped Leicester City win the Premier League.
Mahrez made his international debut for Algeria in 2014 and represented them at the 2014 FIFA World Cup and both the 2015 and 2017 Africa Cup of Nations.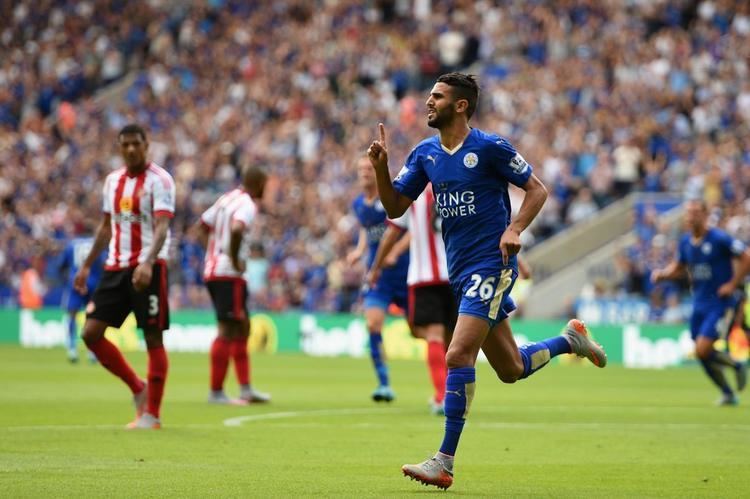 Mahrez was born in Sarcelles, France, to an Algerian father and a mother of Algerian and Moroccan descent. His father Ahmed was from Beni Snous, Tlemcen District. Growing up, Mahrez would regularly spend his holidays in Algeria.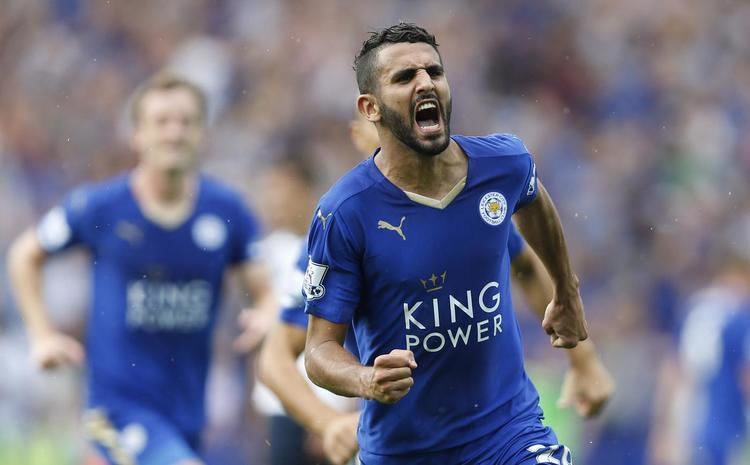 Mahrez's father had played football in Algeria. When Mahrez was fifteen, his father died of a heart attack. He reflected that "I don't know if I started to be more serious but after the death of my dad things started to go for me. Maybe in my head I wanted it more".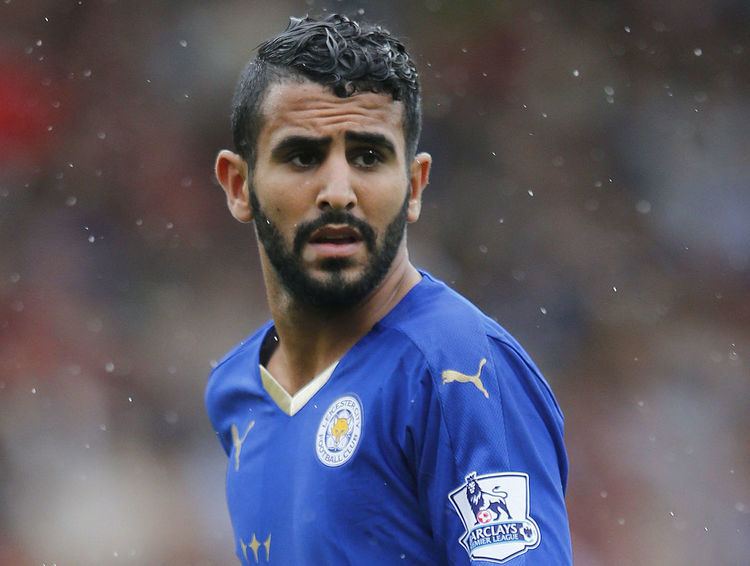 Mahrez married his English girlfriend Rita Johal in 2015. Their daughter was born later that year.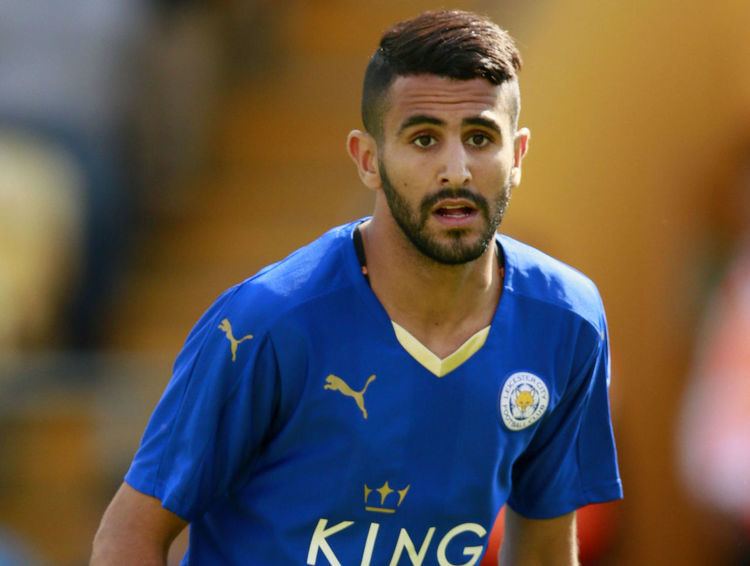 Mahrez is a practising Muslim. In June 2017, he made the Hajj pilgrimage to Mecca.
Although often overlooked by teams due to his slender build, Mahrez developed ball skills that brought him attention.
He joined AAS Sarcelles in 2004.
In 2009, Mahrez joined CFA side Quimper from AAS Sarcelles, making 22 appearances and scoring 2 goals in his first season with the club. While playing for Quimper he lived with Mathias Pogba.
He joined Le Havre in 2010, turning down offers from leading French teams Paris Saint-Germain and Marseille to join them, being enticed by their youth system. He initially played for their reserve team, Le Havre II, before going on to play 60 times and score 6 goals for the first team in the French Ligue 2 from 2011 until leaving in January 2014. He criticised Ligue 2 for what he saw as a reliance on defence and teams aiming for a goalless draw in every match.
While Mahrez was playing for Le Havre, English Championship club Leicester City's scout Steve Walsh was monitoring teammate Ryan Mendes, but was instead impressed by Mahrez. Mahrez had never heard of Leicester, whom he initially presumed to be a rugby club. On 11 January 2014, he signed a three-and-a-half-year contract. His friends and family were initially sceptical of a move to English football due to its physical nature, believing that his style of play would be more suited to Spain.
Mahrez made his debut on 25 January 2014, coming on in the 79th minute as a substitute replacing fellow winger Lloyd Dyer, in the 2–0 win against Middlesbrough. After making four substitute appearances for Leicester, including scoring his first goal for the club, an 82nd-minute equaliser against local rivals Nottingham Forest, manager Nigel Pearson announced in February 2014 that he thought Mahrez was ready to start games. Leicester ended the season as winners of the Championship, returning to the Premier League for the first time in ten years.
Mahrez made his Premier League debut on 16 August 2014, and scored his first goal in the division on 4 October 2014 in a 2–2 draw with Burnley. Mahrez was part of the Leicester team that won seven of its final nine matches of the season to avoid relegation to the Football League. He scored both goals in a 2–0 defeat of Southampton on 9 May and ended the season with four goals and three assists from 30 appearances.
He signed a new four-year contract with Leicester in August 2015. On 8 August 2015, Mahrez scored two goals in the season opener against Sunderland in a 4–2 home win. He was later described as the club's "match winner" by captain Wes Morgan, following "superb form" which saw him score four goals in the first three games of the season.
After scoring four goals in the opening four games of the 2015–16 season, Mahrez was nominated for the Premier League Player of the Month award. By 3 November 2015 he had scored seven goals in 10 Premier League games. On 5 December, Mahrez scored a hat-trick as Leicester defeated Swansea City 3–0 to go top of the Premier League, putting him on ten league goals for the season and making him the first Algerian to score a Premier League hat-trick. Mahrez and his midfield partners Marc Albrighton, N'Golo Kanté and Danny Drinkwater received plaudits for their part in Leicester's early season run of form, and manager Claudio Ranieri described Mahrez and forward Jamie Vardy as "priceless" ahead of the January transfer window.
In January 2016 Mahrez's transfer value was said to have risen from £4.5 million to £30.1 million, ranking him among the top 50 most valuable players in Europe. In the same year, Mahrez's popularity in his homeland led Leicester to have over almost three times as many Facebook fans in Algeria than in the UK. The barbershop in Sarcelles that he frequented from his childhood became a destination for fans from as far as Belgium, desiring the same haircut.
Mahrez was one of four Leicester players named in the PFA Team of the Year in April 2016, and later that month he won the PFA Players' Player of the Year award. He was the first African to earn the accolade. When Leicester finished the season as champions, Mahrez became the first Algerian to win a Premier League medal.
He signed a new four-year contract with Leicester in August 2016. He was nominated for the Ballon d'Or in October 2016, finishing seventh. He won the BBC African Footballer of the Year award in December 2016. Mahrez did not offer a big season especially with the decline in the level of Leicester much, but helped the team's arrival in the quarter-finals of the Champions League for the first time, scoring four goals and two assists. On May 6, Mahrez played his 100th Premier League game for Leicester, against Watford, scoring in the process.
At the end of the 2016–17 season, Mahrez announced that he wished to leave the club. Following the announcement, Arsenal manager Arsene Wenger stated his interest in signing Mahrez, and Italian side Roma had a bid for Mahrez rejected in July 2017. In August 2017 he spoke of his "focus" despite his uncertain future at the club. Algerian Football Federation reported late on Wednesday the last day of the 2017–18 summer transfer window that it had allowed Riyad Mahrez to leave the Greens and travel quickly to Europe in order to complete his transfer to an interested club.
In November 2013 Mahrez expressed his desire to represent Algeria internationally. He was called up to the provisional Algeria squad for the 2014 FIFA World Cup. On 31 May 2014, Mahrez made his international debut for the Desert Foxes as a starter in a pre-World Cup friendly match against Armenia, and he was subsequently called up to the full squad for the tournament on 2 June. The Algerian media were critical of his inclusion, and alleged that he had paid manager Vahid Halilhodžić for a place in the squad. Mahrez played in the opening group game against Belgium, then was dropped for the remainder of the tournament, in which Algeria reached the last 16.
On 15 October 2014, Mahrez scored his first international goal, as well as setting up Islam Slimani in Algeria's 3–0, Africa Cup of Nations qualifier against Malawi. In December 2014 he was announced as a member of Algeria's squad for the final tournament in Equatorial Guinea for the first time. his first meeting was against South Africa where he participated in the 60 minutes before the change in the second throw against Ghana substitute in the last 20 minutes where the Algerian team were defeated by a single goal in their last game in the group stage against Senegal led Mehrez the national team to the quarter-finals, scoring the first goal of a match ending 2–0. then against Ivory Coast gave assists for El Arabi Hillel Soudani were not enough to exclude from the quarter-finals 3–1. then in the second Round of the 2018 World Cup qualifier against Tanzania helped Mehrez in the team qualified for the group stage where he scored a goal and assists for Carl Medjani.
Mahrez was named in coach Georges Leekens' Algeria squad for the 2017 Africa Cup of Nations in Gabon. In their opening game, he scored both goals in a 2–2 draw with Zimbabwe and was awarded Man of the Match.
As of 16 September 2017
As of match played 23 January 2017
As of 15 January 2017
Leicester City
Premier League: 2015–16
Football League Championship: 2013–14
Algerian Footballer of the Year: 2015, 2016
Premier League PFA Team of the Year: 2015–16
PFA Players' Player of the Year: 2015–16
PFA Fans' Player of the Year: 2016
Leicester City Player of the Year: 2015–16
BBC African Footballer of the Year: 2016
Facebook FA Premier League Player of the Year : 2016
El Heddaf Arab Footballer of the Year: 2016
Lion d'Or African Footballer of the Year: 2016
CAF African Footballer of the Year: 2016
CAF Team of the Year: 2016