Preceded by

Charlie Crist


Name

Rick Scott




Political party

Republican


Role

Governor of Florida



Religion

Evangelicalism




Predecessor

Charlie Crist


Website

Government website




Spouse

Ann Scott (m. 1972)






Lieutenant

Jennifer Carroll (2011–2013)Carlos Lopez-Cantera (2014–present)


Born

December 1, 1952 (age 68) Bloomington, Illinois, U.S. (

1952-12-01

)


Alma mater

University of Missouri, Kansas CitySouthern Methodist University


Office

Governor of Florida since 2011




Children

Allison Scott, Jordan Scott




Education

Southern Methodist University, University of Missouri–Kansas City, Dedman School of Law


Similar People

Charlie Crist, Pam Bondi, Marco Rubio, Jeb Bush, Ken Detzner


Profiles




Twitter
Bio 2011 florida governor rick scott
Richard Lynn Scott (born December 1, 1952) is an American businessman and politician who has been the 45th Governor of Florida, since 2011. He is a member of the Republican Party of Florida.
Contents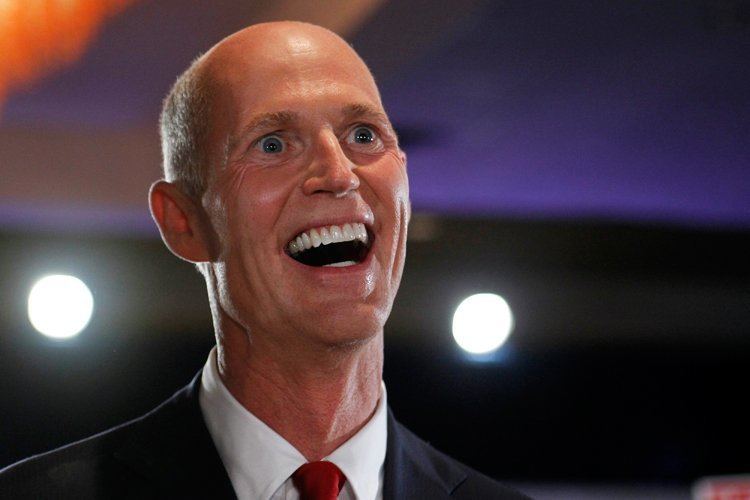 Born in Bloomington, Illinois, Scott is a graduate of the University of Missouri, Kansas City, later receiving his law degree from Southern Methodist University's Dedman School of Law. He served in the United States Navy before starting his business career, joining the Dallas firm Johnson & Swanson, where he became partner. In 1987, at age 34, he co-founded Columbia Hospital Corporation with two business partners; this merged with Hospital Corporation of America in 1989, to form Columbia/HCA and eventually became the largest private for-profit health care company in the U.S.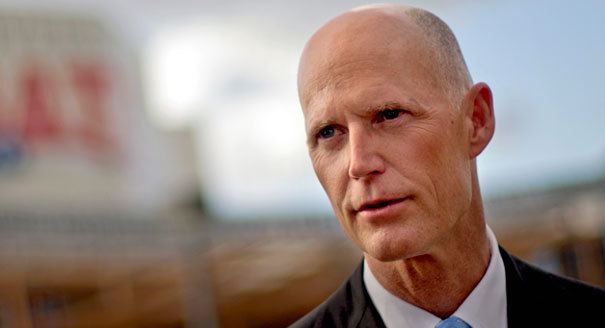 He resigned as chief executive of Columbia/HCA in 1997, amid a controversy over the company's business and Medicare billing practices. He was succeeded by Thomas F. Frist Jr. Columbia/HCA ultimately admitted to fourteen felonies and agreed to pay the federal government over $600 million, which was the largest fraud settlement in US history. Scott was not implicated and no charges were leveled against him personally. Scott later became a venture capitalist.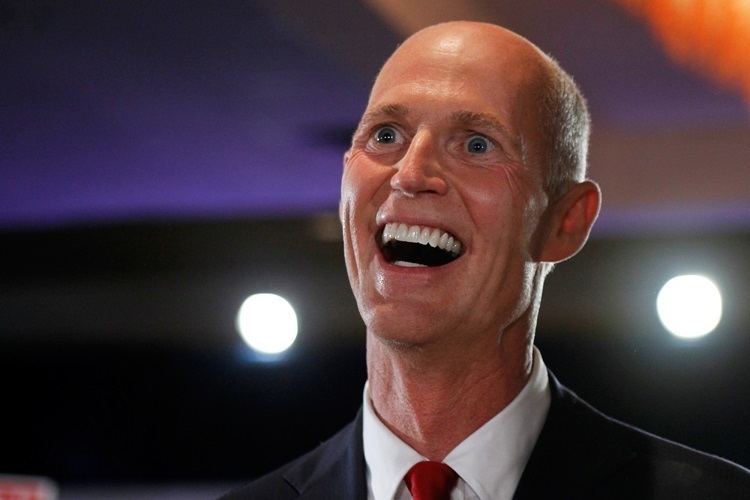 Scott announced his intention to run for governor of Florida in 2010. He defeated Bill McCollum in the vigorously contested Republican primary election and narrowly defeated Democratic nominee Alex Sink in a close race in the general election, spending roughly $75 million of his own money in the process. In 2014, he won re-election over former Republican turned Democratic challenger, former governor Charlie Crist and several third-party and/or Independent candidates.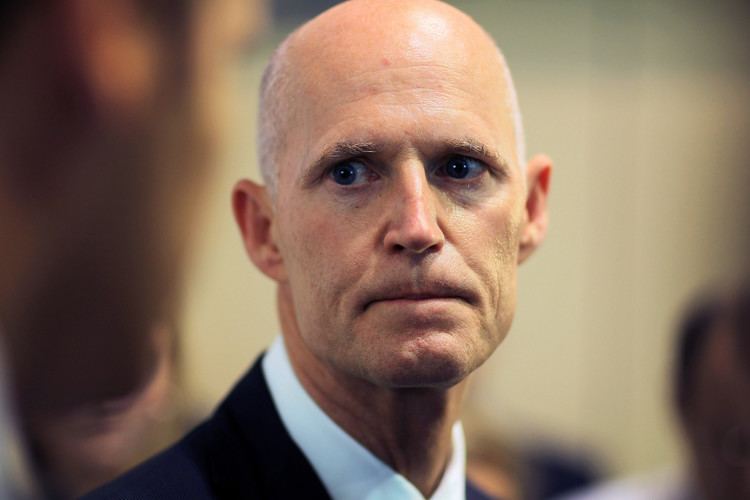 Scott's net worth was estimated at $218.6 million in 2010, $83.8 million in 2012, and $132.7 million in 2013. On July 1, 2015, it was reported that Scott's net worth had grown to $147 million.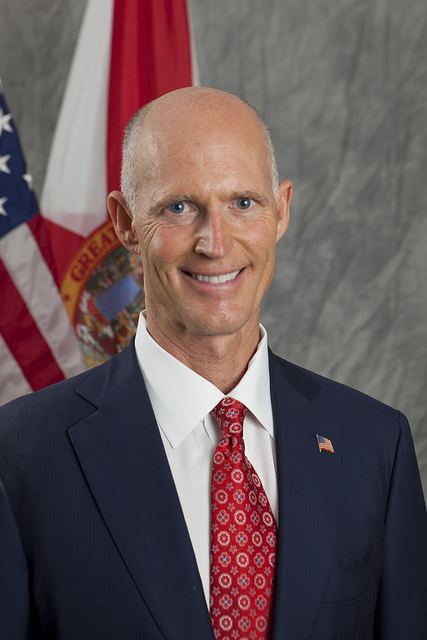 Fl gov rick scott only cares about babies until they re born
Early life, education, and marriage
Born in Bloomington, Illinois, he was raised in North Kansas City, Missouri, the second of five children in a lower middle-class, financially struggling family. His mother, Esther J. (née Fry; October 20, 1928 – November 13, 2012), worked as a clerk at J.C. Penney, among other jobs. His parents divorced and, in 1954, his mother married Orba Scott, Jr. (died 2006), a truck driver. Orba adopted Rick, who took his stepfather's surname.
Scott graduated from North Kansas City High School in 1970, and then attended one year of community college and enlisted in the United States Navy, also in 1970.
Scott was in the U.S. Navy for 29 months and served on the USS Glover (FF-1098) as a radar technician. Scott made his first foray into business while working his way through college and law school, initially buying and reviving a failing donut shop, the Flavor Maid Do-Nut, and revived it by adding workplace delivery, which his father ran, instead of relying on foot traffic. He later bought and revived another donut shop.
He attended college on the GI Bill, later graduating from the University of Missouri–Kansas City with a bachelor's degree in business administration and earned a law degree by working his way through Southern Methodist University. He was licensed by the Texas Bar to practice law on November 6, 1978.
On April 20, 1972, Scott, who was 19 years old, married his high school sweetheart, Frances Annette Holland (born February 11, 1952), who was 20; the couple has two daughters. The Scotts live in Naples and are founding members of Naples Community Church.
Hospital Corporation of America
In April 1987, Scott made his first attempt to buy the Hospital Corporation of America (HCA). While still a partner at Johnson & Swanson, Scott formed the HCA Acquisition Company with two former executives of Republic Health Corporation, Charles Miller and Richard Ragsdale. With financing from Citicorp conditional on acquisition of HCA, the proposed holding company offered $3.85 billion for 80 million shares at $47 each, intending to assume an additional $1.2 billion in debt, for a total $5 billion deal. However, HCA declined the offer, and the bid was withdrawn.
In 1988, Scott and Richard Rainwater, a financier from Fort Worth, each put up $125,000 in working capital in their new company, Columbia Hospital Corporation, and borrowed the remaining money needed to purchase two struggling hospitals in El Paso for $60 million. Then they acquired a neighboring hospital and shut it down. Within a year, the remaining two were doing much better. By the end of 1989, Columbia Hospital Corporation owned four hospitals with a total of 833 beds.
In 1992, Columbia made a stock purchase of Basic American Medical, which owned eight hospitals, primarily in southwestern Florida. In September 1993, Columbia did another stock purchase, worth $3.4 billion, of Galen Healthcare, which had been spun off by Humana Inc. several months earlier. At the Time, Galen had approximately 90 hospitals. After the purchase, Galen stockholders had 82 percent of the stock in the combined company, with Scott still running the company.
Columbia/HCA
On March 19, 1997, investigators from the FBI, the Internal Revenue Service and the Department of Health and Human Services served search warrants at Columbia/HCA facilities in El Paso and on dozens of doctors with suspected ties to the company.
Eight days after the initial raid, Scott signed his last SEC report as a hospital executive before resigning. He was succeeded by Thomas F. Frist Jr. Four months later the board of directors pressured Scott to resign as Chairman and CEO. He was paid $9.88 million in a settlement, and left owning 10 million shares of stock worth over $350 million. The directors had been warned in the company's annual public reports to stockholders that incentives Columbia/HCA offered doctors could run afoul of a federal anti-kickback law passed in order to limit or eliminate instances of conflicts of interest in Medicare and Medicaid.
In settlements reached in 2000 and 2002, Columbia/HCA pleaded guilty to 14 felonies and agreed to a $600+ million fine in the largest fraud settlement in U.S. history. Columbia/HCA admitted systematically overcharging the government by claiming marketing costs as reimbursable, by striking illegal deals with home care agencies, and by filing false data about use of hospital space. They also admitted fraudulently billing Medicare and other health programs by inflating the seriousness of diagnoses and to giving doctors partnerships in company hospitals as a kickback for the doctors referring patients to HCA. They filed false cost reports, fraudulently billing Medicare for home health care workers, and paid kickbacks in the sale of home health agencies and to doctors to refer patients. In addition, they gave doctors "loans" never intending to be repaid, free rent, free office furniture, and free drugs from hospital pharmacies.
In late 2002, HCA agreed to pay the U.S. government $631 million, plus interest, and pay $17.5 million to state Medicaid agencies, in addition to $250 million paid up to that point to resolve outstanding Medicare expense claims. In all, civil lawsuits cost HCA more than $2 billion to settle; at the time this was the largest fraud settlement in U.S. history.
Venture capitalist career
After his departure from Columbia/HCA in 1997, he launched Richard L. Scott Investments, based in Naples, Florida (originally in Stamford, Connecticut), which has stakes in health care, manufacturing and technology companies. Between 1998 and 2001, Scott purchased 50% of CyberGuard Corporation for approximately $10 million. Among his investors was Metro Nashville finance director David Manning.
In 2006, CyberGuard was sold to Secure Computing for more than $300 million. In February 2005, he purchased Continental Structural Plastics, Inc. (CSP) in Detroit, Michigan. In July 2006, CSP purchased Budd Plastics from ThyssenKrupp, making Continental Structural Plastics the largest industrial composites molder in North America.
In 2005-06, Scott provided the initial round of funding of $3 million to Alijor.com (named for the first three letters of his two daughters' names), which offered hospitals, physicians, and other health care providers the opportunity to post information about their prices, hours, locations, insurance accepted, and personal backgrounds online. Scott co-founded the company with one of his daughters, Allison.
In 2008, Alijor was sold to HealthGrades. In May 2008, Scott purchased Drives, one of the world's leading Independent designers and manufacturers of heavy-duty drive chain-based products and assemblies for industrial and agricultural applications and precision-engineered augers for agricultural, material handling, construction and related applications. Scott reportedly has an interest in a chain of family fun centers/bowling alleys, S&S Family Entertainment, in Kentucky and Tennessee led by Larry Schmittou, a minor league baseball team owner.
America's Health Network (AHN)
In July 1997, Columbia/HCA Healthcare purchased controlling interest in America's Health Network (AHN), the first 24-hour health care cable channel. They pulled out of the deal on the day of the closing because Scott and Vanderwater were terminated, which caused the immediate layoffs of more than 250 people in Orlando. Later that same year, Scott became majority owner of AHN.
In 1998, Scott and former Columbia/HCA Healthcare President David Vandewater led a group of investors who gave AHN a major infusion of cash so that the company could continue to operate. By early 1999, the network was available in 9.5 million American homes.
In mid-1999 AHN merged with Fit TV, a subsidiary of Fox; the combination was renamed The Health Network. Later that year, in a deal between News Corp. and WebMD, the latter received half-ownership of The Health Network. WebMD planned to relaunch The Health Network as WebMD Television in the fall of 2000, with new programming, but that company announced cutbacks and restructuring in September 2000, and, in January 2001, News Corp. regained 100% ownership. In September 2001, Fox Cable Networks Group sold The Health Network to its main rival, the Discovery Health Channel, for $155 million in cash plus a 10 percent equity stake in Discovery Health.
Solantic
Solantic, based in Jacksonville, Florida, was co-founded in 2001 by Scott and Karen Bowling, a former television anchor whom Scott met after Columbia bought what is now Memorial Hospital (in Jacksonville) in 1995.
Solantic opened its first urgent care center in 2002. It provides urgent care services, immunizations, physicals, drug screening, and care for injured workers. The corporation attracts patients who do not have insurance, cannot get appointments with their primary care physicians, or do not have primary care physicians. Solantic is an alternative to the emergency room care that these types of patients often seek, or for not seeing a doctor at all. In 2006, Scott said that his plans for Solantic were to establish a national brand of medical clinics.
In August 2007, the company received a $40 million investment from a private equity firm and said that it expected to open 35 clinics by the end of 2009, with annual revenues of $100 million once all these clinics were open, compared to $20 million at the time. As of March 2009, Solantic had 24 centers, all located in Florida.
Solantic was the target of an employment discrimination suit, which claimed that there had been a policy to not hire elderly or obese applicants, preferring "mainstream" candidates. It was settled for an undisclosed sum on May 23, 2007. Scott responded to Salon regarding the claims of discrimination pointing out that "currently 53 percent of Solantic's employees are white, 20 percent black and 17 percent Hispanic."
Pharmaca
In 2003, Scott invested $5.5 million in Pharmaca Integrative Pharmacies, which operates drugstores/pharmacies that offer vitamins, herbal medicine, skin products, homeopathic medicines, and prescriptions. Other investors in Pharmaca reportedly include Tom Stemberg, founder and former CEO of Staples, and Arthur Blank, co-founder of Home Depot.
Other work
In the 1990s, Scott was a partner of George W. Bush as co-owner of the Texas Rangers.
Scott served as a member of the national board of directors of the United Way of America from 1997 to 2003.
Scott founded and managed Naples, Florida-headquartered Novosan, marketer of the Viosan Health Generation food supplements, which have been criticized by alternative medicine critic and Quackwatch webmaster Stephen Barrett as being promoted with non-explicit suggestions that they could cure various diseases when such promotion is in fact illegal according to Federal law.
Conservatives for Patients' Rights
In February 2009, Scott founded Conservatives for Patients' Rights (CPR), which he said was intended to put pressure on Democrats to enact health care legislation based on free-market principles.
As of March 2009, he had given about $5 million for a planned $20 million ad campaign by CPR.
2010 Florida gubernatorial campaign
Scott ran against Democratic nominee Alex Sink. On April 9, 2010, Scott announced his candidacy for the 2010 Republican Party nomination for Governor of Florida.
Susie Wiles, former communications chief to Jacksonville Mayor John Peyton, served as his campaign manager, and Tony Fabrizio was his chief pollster. It was reported on May 7 that Scott's campaign had already spent $4.7 million on television and radio ads. Scott's first video advertisement was released to YouTube on April 13.
During the primary campaign, Scott's opponent, Bill McCollum, made an issue of Scott's role at Columbia/HCA. Scott countered that the FBI had never targeted him. Marc Caputo of The Miami Herald contended that a 1998 bill sponsored by McCollum would have made it more difficult to prosecute Medicare fraud cases, and was counter to his current views and allegations. Scott won the August primary with approximately 47% percent of the vote, compared to 43% voting for McCollum, with McCollum conceding the race after midnight. By the date of the Tampa debate between Scott and Sink (October 25, 2010), Scott had spent $60 million of his own money on the campaign compared to Democratic opponent Alex Sink's reported $28 million.
The Fort Myers News Press quoted Scott as saying in total he spent $78 million of his own money on the campaign, although other figures indicate he spent slightly over $75 million. He won in the general election for Governor of Florida, defeating Sink by around 68,000 votes, or 1.29%. He took office as the 45th Governor of Florida on January 4, 2011.
2014 Florida gubernatorial campaign
In October 2011, Scott announced that he would be running for reelection in 2014. His political funding committee, Let's Get to Work, had raised $28 million for his campaign as of May 2014.
As of early June 2014, Scott had spent almost $13m since March on television adverts attacking former governor Charlie Crist, who then appeared to be the likely Democratic nominee, and who was eventually nominated. Although the ads resulted in a tightening of the race, this came about by decreasing Crist's favorability ratings. By contrast, Scott's favorability ratings did not increase.
By late September 2014, Scott's television ad spending had exceeded $35m and in mid-October it reached $56.5 million, compared to $26.5 million by Crist. On October 22 it was reported that Scott's total spending had exceeded $83 million and he announced that, having previously said he would not do so, he would be investing his own money into the campaign, speculated to be as much as $22 million.
Crist hoped to draw strong support from Florida's more than 1.6 million registered black voters, an effort that was challenging with regards to his previous political career as a Republican. A poll conducted in September 2014 by Quinnipiac University revealed his support among black voters was at 72 percent against Scott, which was well below the 90 percent analysts believed he needed to defeat Scott.
Scott and Crist met in a debate on October 15, held by the Florida Press Association at Broward College. Scott refused to take the stage for seven minutes because Crist had a small electric fan under his lectern. The incident was dubbed "fangate" by media sources such as Politico. On November 4, 2014, Scott and Carlos Lopez-Cantera won the general election against Crist and Annette Taddeo-Goldstein by 64,000 votes. The Libertarian candidates, Adrian Wyllie and Greg Roe, received 223,356 votes.
Governor of Florida
Scott became the Governor of Florida on January 4, 2011. One month later, on February 16, 2011, he rejected $2.3 billion in federal funding to develop high-speed rail between Tampa and Orlando. Scott cited California's experience with high-speed rail, namely much lower than expected ridership and cost overruns that doubled the final price. In response, a veto-proof majority in the Florida Senate approved a letter rebuking Scott and asking the Department of Transportation to continue funding.
On March 1, 2011, two state senators filed a petition with the Florida Supreme Court to compel Scott to accept the rail funds on the grounds Scott lacked constitutional authority to reject funds which had been approved by a prior legislature. On March 4, the Florida Supreme Court held that Scott's rejection of the rail funds did not violate the Florida Constitution.
Following his rejection of Central Florida's High Speed Rail project, Scott moved to have the Florida Department of Transportation amend its work plan to include $77 million for dredging the Port of Miami to a depth of 50 feet. Once the port is dredged, Panamax-sized vessels coming through the expanded Panama Canal could load and unload cargo there.
In June 2011, Scott signed a bill requiring those seeking welfare under the federal Temporary Assistance for Needy Families program to submit to drug screenings. Applicants who fail a drug test may name another person to receive benefits for their children.
In an interview with CNN host Don Lemon, Scott said, "Studies show that people that are on welfare are higher users of drugs than people not on welfare" and "the bottom line is, if they're not using drugs, it's not an issue". PolitiFact said this comment was "half true". Government researchers in 1999-2000 reported "that 9.6 percent of people in families receiving some type of government assistance reported recent drug use, compared to 6.8 percent among people in families receiving no government assistance at all."
However, preliminary figures showed that just 2.5% of applicants tested positive for drugs, with 2% declining to take the test, while the Justice Department estimates that around 6% of Americans use drugs overall. The law was declared unconstitutional, with the 11th U.S. Circuit Court of Appeals upholding that ruling in December 2014. The Scott administration declined to appeal the decision to the US Supreme Court.
In December 2012, Scott announced a plan to encourage students to pursue majors in engineering and science by reducing tuition for some majors.
Medicaid expansion
Scott has changed his position and/or reversed himself on Medicaid expansion in Florida three times, in 2012, 2013 and 2015.
Climate change
Scott is skeptical about the extent of anthropogenic climate change, saying "I'm not a scientist". The quote or paraphrases thereof became talking points for some Republican political candidates in the 2014 election campaigns. The political blog Daily Kos proposed a new category for Scott, "climate-change mutism", for "those unable to express an opinion."
When questioned by the press on March 9, 2015 in Hialeah, Florida, Scott did not indicate whether or not he believes global warming is a problem or whether Florida's Department of Environmental Protection has made or is making preparations for its potential consequences.
In March 2015, accusations were made that his administration had instructed Department of Environmental Protection officials to avoid the terms "climate change" or "global warming" in any official communications. Scott denied the claims that his administration had banned the terms.
While overall sea level rise has held steady according to the tidal gauges, autumn king tides in the 21st century that greatly exceed predictions have caused much ""nuisance flooding" in the Miami metropolitan area. See Miami Beach#Elevation and tidal flooding, and Transportation in South Florida#Sea level-related engineering.
Redistricting amendments
In the 2010 elections, Florida voters passed constitutional amendments banning gerrymandering of congressional and legislative districts.
In February 2011, Governor Scott withdrew a request to the United States Department of Justice to approve these amendments, which, according to The Miami Herald, might delay the implementation of the redistricting plan because the Voting Rights Act requires preclearance of state laws likely to affect minority representation. Scott said he wanted to make sure that redistricting is carried properly. Several advocacy groups sued Scott in federal court to compel the governor to resubmit the acts to the Justice Department.
Death penalty
In 2013, Scott signed the Timely Justice Act (HB 7101) to overhaul the processes for capital punishment in Florida.
The United States Supreme Court struck down part of this law in January 2016 in Hurst v. Florida, declaring, in an 8–1 decision, that a judge determining the aggravating facts to be used in considering a death sentence with only a non-binding recommendation from the jury based on a majority vote was insufficient and violated the Sixth Amendment guarantee of a jury trial.
The Florida Legislature passed a new statute to comply with the US Supreme Court's decision in March 2016, changing the sentencing method to require a 10-juror supermajority for a sentence of death with a life sentence as the alternative. This new sentencing scheme, however, was struck down by the Florida Supreme Court in a 5–2 ruling in October 2016, which held that a death sentence must be issued by a unanimous jury.
The Court ruled that the law "cannot be applied to pending prosecutions" which means that until the Florida Legislature acts, there is no procedure or law allowing a prosecutor to seek the death penalty; it leaves open, however, the status of sentences passed under the twice-struck down provisions, also left open by the January 2016 United States Supreme Court Hurst decision. The Court granted Hurst a new sentencing hearing following the same Supreme Court decision.
Gun laws
On June 9, 2017, Scott signed an expanded version of Florida's stand-your-ground law into law.
Education
During the summer of 2017, Rick Scott signed a bill (HB 989 and SB 1210) that would allow any Florida resident to "challenge the use or adoption of instructional materials" in public schools." Proponents of the bill argue that the bill will allow parents to be more proactive in their child's education. Opponents of the bill argue that the bill will allow more censorship, especially for scientific topics like global warming and evolution.
Awards and honors
Time Magazine, America's 25 Most Influential People, June 1996
Financial World magazine, silver award for the CEO of the Year, 1995
Columbia University School of Nursing, Second Century Award for Excellence in Health Care (1995)
References
Rick Scott Wikipedia
(Text) CC BY-SA