Nationality

United States




Occupation

Writer





Name

Richard Goodwin




Role

Writer






Full Name

Richard Naradof Goodwin




Born

December 7, 1931 (age 84) (

1931-12-07

)

Boston, Massachusetts




Alma mater

Harvard Law School Tufts University




Spouse

Doris Kearns Goodwin (m. 1975), Sandra Gail Leverant (m. 1958–1972)




Movies

Quiz Show, The Mirror Crack'd




Children

Joe Kearns Goodwin, Michael Kearns Goodwin, Richard Goodwin




Books

Remembering America: A Voice from the Sixties




Parents

Belle Fisher Goodwin, Joseph C. Goodwin




Similar People

Doris Kearns Goodwin, Charles Van Doren, Joe Kearns Goodwin, Paul Attanasio, Paul Scofield
21st annual summer celebration honoring doris kearns goodwin and richard n goodwin
Richard Naradof Goodwin (born December 7, 1931) is a Jewish American writer who was an advisor and speechwriter to Presidents Kennedy and Johnson and to Senator Robert F. Kennedy.
Contents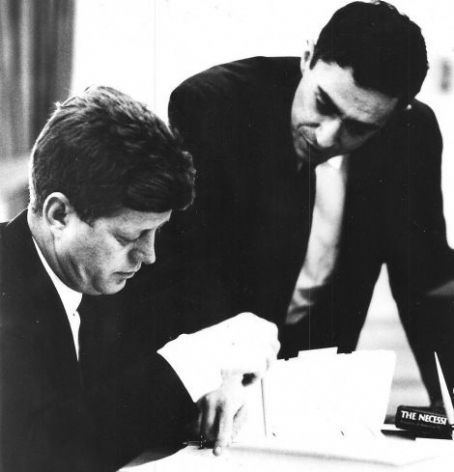 Richard n goodwin s second act two men of florence at the huntington
Life and career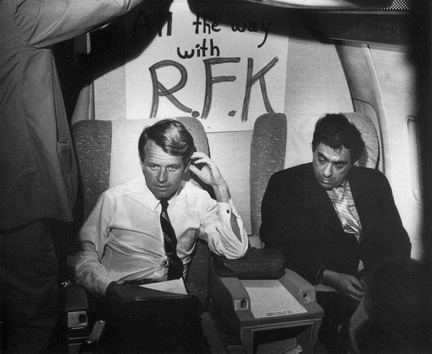 Goodwin was born in Boston, Massachusetts, the son of Belle (née Fisher) and Joseph C. Goodwin, an engineer. Goodwin was raised Jewish. He attended Brookline High School and graduated summa cum laude from Tufts University in 1953. He went on to study at Harvard Law School, graduated summa cum laude in 1958 and joined the Massachusetts State bar the same year. He was married to Sandra Leverant from June 15, 1958 until her death in 1972. After clerking for United States Supreme Court Justice Felix Frankfurter in 1958, Goodwin came to Senator John F. Kennedy's attention in 1959 while working as special counsel to the Legislative Oversight Subcommittee of the U.S. House of Representatives, where Goodwin was involved in investigating the Twenty One quiz show scandal (which provided the story for the 1994 movie Quiz Show in which he is portrayed by actor Rob Morrow).
Goodwin joined Kennedy's speech writing staff in 1959, and after Kennedy's successful presidential bid, served as assistant special counsel to the President in 1961. Goodwin was also a member of Kennedy's Task Force on Latin American Affairs and in 1961, was appointed Deputy Assistant Secretary of State for Inter-American Affairs, a position he held until 1963. As one of Kennedy's specialists in Latin-American affairs, Goodwin helped develop the Alliance for Progress, an economic development program for Latin America, and met secretly with Che Guevara in Uruguay in August 1961. A memo which Goodwin sent to Kennedy on August 22, 1961 discussed his meeting with Che and also revealed that he was trying build relations. Goodwin stated that Guevara described him as someone of the "newer generation" and that he also thought their conservation was "quite profitable" as well.
From 1963 to 1964, Goodwin served as secretary-general of the International Peace Corps and in 1964 became special assistant to President Lyndon B. Johnson. Goodwin was specifically named by Johnson to write Johnson's 1965 civil rights speech, a speech considered one of the best, if not the best of Johnson's speeches. Goodwin, who expected to write the speech was at Arthur M. Schlesinger's house the night before, but went to bed when he went home because he never got a call. Jack Valenti gave the writing duty to Horace Busby, so when Johnson came in he asked Valenti how's Goodwin doing on the speech and when Johnson was told that Horace had written it he said "What! Don't you know that a liberal Jew has his finger on the pulse of America." He has been credited with naming Johnson's legislative agenda "the Great Society."
Goodwin left government service in 1966 to join the U.S. Anti-War Movement, though he returned briefly in 1968 to write speeches for presidential candidates Robert F. Kennedy, Eugene McCarthy and Edmund Muskie. According to Time magazine, he left the White House because of an investigation the FBI had taken against him, the specifics of which are unknown. After leaving government, Goodwin served as a Fellow on the faculty in the Center for Advanced Studies at Wesleyan University in Middletown, Connecticut from 1965 to 1967 and as a visiting professor of public affairs at the Massachusetts Institute of Technology in 1968. In 1968, Goodwin briefly directed Eugene McCarthy's presidential campaign in New Hampshire and Wisconsin, and wrote speeches for presidential candidate Edmund S. Muskie, before joining Senator Robert F. Kennedy's presidential campaign. After Senator Robert Kennedy's assassination he retired from politics and became a writer.
Goodwin served briefly as political editor of Rolling Stone magazine; New York Magazine called his tenure a "costly fiasco." He has also been published in The New Yorker and issued numerous books, articles and plays. In 2003, the Yvonne Arnaud Theatre in Guildford, England, produced his new work The Hinge of the World, which took as its subject matter the 17th Century conflict between Galileo Galilei and the Vatican. Retitled Two Men of Florence (referring to Galileo and his adversary Pope Urban VIII, who as Cardinal Maffeo Barberini had once been Galileo's mentor), the play made its American debut at the Huntington Theatre in Boston in March 2009.
In 1975, Goodwin married writer Doris Kearns, with whom he has two children: Michael, and Joseph. The August 18, 1975 edition of New York Magazine as well the December 15, 1975 edition of the The Crimson also noted that he also has a child, Richard (b. 1966), from his first marriage to Sandra Leverant.
Books
Freedman, Lawrence (2000). Kennedy's Wars: Berlin, Cuba, Laos and Vietnam. Oxford University Press. ISBN 0-19-515243-3.
Goodwin, Richard N. (1998). The Hinge of the World: In Which Professor Galileo Galilei, Chief Mathematician and Philosopher to His Serene Highness the Grand Duke of Tuscany, and His Holiness Urban VIII Battle for the Soul of the World. Farrar Straus & Giroux. ISBN 0-374-17002-9. OCLC 37854192.
Goodwin, Richard N. (1988). Remembering America: A Voice From the Sixties. HarperCollins. ISBN 0-06-097241-6.
Goodwin, Richard N. (1992). Promises to Keep. Random House. ISBN 0-8129-2054-6.
References
Richard N. Goodwin Wikipedia
(Text) CC BY-SA