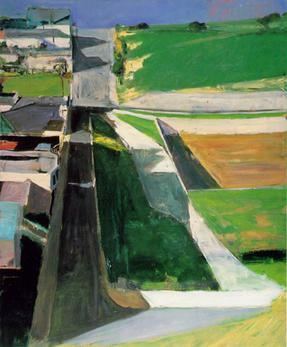 Richard Clifford Diebenkorn Jr. was born on April 22, 1922, in Portland, Oregon. His family moved to San Francisco, California, when he was two years old. From the age of four or five he was continually drawing. In 1940, Diebenkorn entered Stanford University, where he met his first two artistic mentors, professor and muralist Victor Arnautoff, who guided Diebenkorn in classical formal discipline with oil paint; and Daniel Mendelowitz, with whom he shared a passion for the work of Edward Hopper. Hopper's influence can be seen in Diebenkorn's representational work of this time.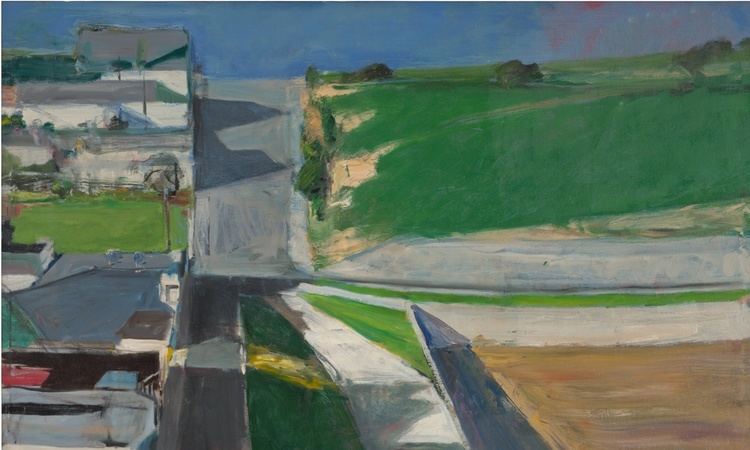 Diebenkorn served in the United States Marine Corps from 1943 to 1945. During the late 1940s and early 1950s, he lived and worked in various places: San Francisco and Sausalito (1946–47 and 1947–50), Woodstock, New York (1947), Albuquerque, New Mexico (1950–52), Urbana, Illinois (1952–53), and Berkeley, California (1953–1966). He developed his own style of abstract expressionist painting. After WWII, the focus of the art world shifted from the School of Paris to the US and in particular to the New York School. In 1946, Diebenkorn enrolled as a student in the California School of Fine Arts in San Francisco, now known as the San Francisco Art Institute which was developing its own vigorous style of abstract expressionism. In 1947, after ten months in Woodstock on an Alfred Bender travel grant, Diebenkorn had returned to the CSFA, where he adopted abstract expressionism as his vehicle for self-expression. He was offered a place on the CSFA Faculty in 1947 and taught there until 1950. He was influenced at first by Clyfford Still, who also taught at the CSFA from 1946 to 1950, Arshile Gorky, Hassel Smith and Willem de Kooning. He became a leading abstract expressionist on the west coast. In 1950 to 1952, Diebenkorn was enrolled under the G.I. Bill in the University of New Mexico's graduate Fine Arts department where he continued to adapt his abstract expressionist style.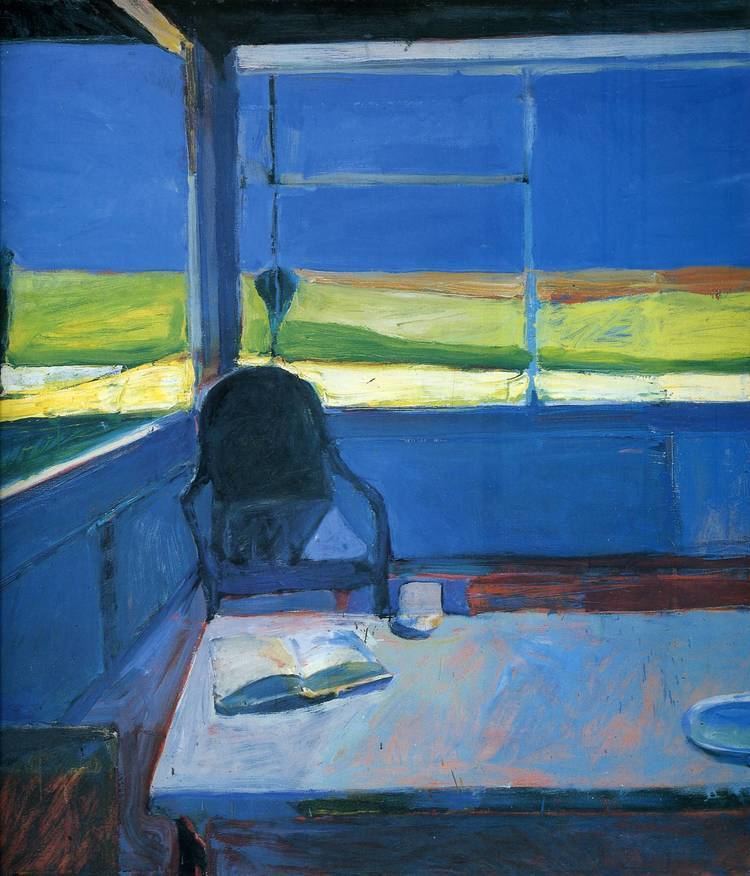 He lived in Berkeley, California, from 1955 to 1966. By the mid-1950s, Diebenkorn had become an important figurative painter, in a style that bridged Henri Matisse with abstract expressionism. Diebenkorn, Elmer Bischoff, Henry Villierme, David Park, James Weeks and others participated in a renaissance of figurative painting, dubbed the Bay Area Figurative Movement.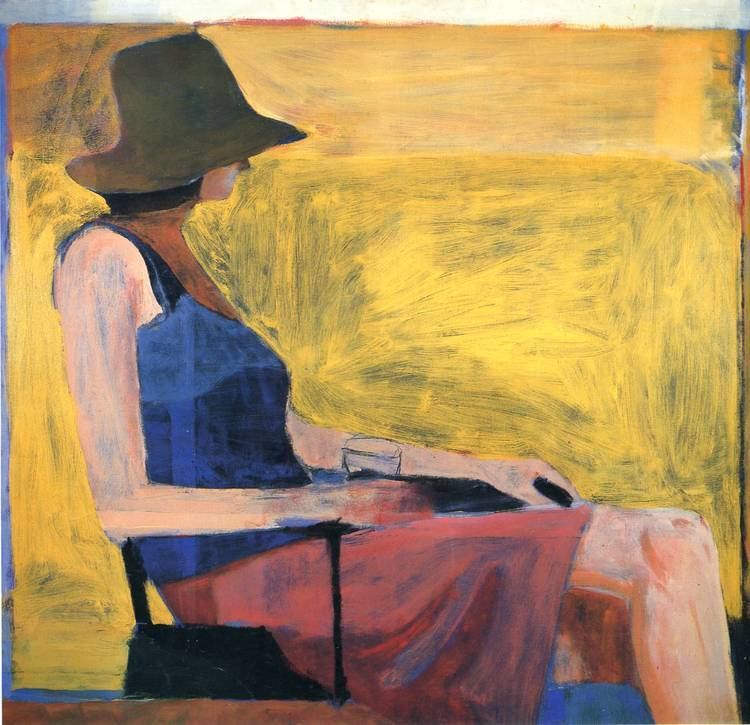 From fall 1964 to spring 1965, Diebenkorn traveled through Europe and he was granted a cultural visa to visit important Soviet museums and view their holdings of Matisse's paintings. When he returned to painting in the Bay Area in mid-1965, his resulting works summed up all that he had learned from more than a decade as a leading figurative painter.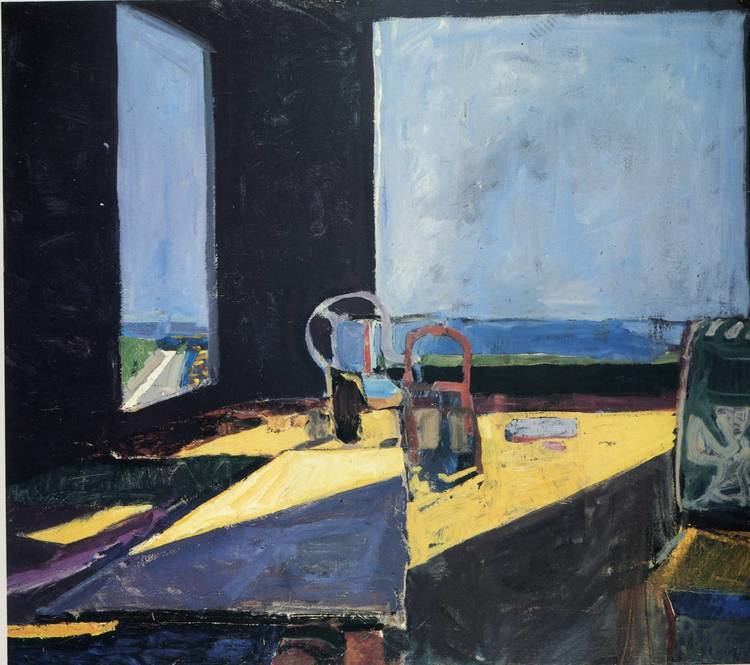 The Henri Matisse paintings French Window at Collioure, and View of Notre-Dame both from 1914 exerted tremendous influence on Richard Diebenkorn's Ocean Park paintings. According to art historian Jane Livingston, Diebenkorn saw both Matisse paintings in an exhibition in Los Angeles in 1966 and they had an enormous impact on him and his work. Livingston says about the January 1966 Matisse exhibition that Diebenkorn saw in Los Angeles:
It is difficult not to ascribe enormous weight to this experience for the direction his work took from that time on. Two pictures he saw there reverberate in almost every Ocean Park canvas. View of Notre Dame and French Window at Collioure, both painted in 1914, were on view for the first time in the US.
Livingston goes on to say "Diebenkorn must have experienced French Window at Collioure as an epiphany."
In 1967, Diebenkorn moved to Santa Monica and took up a professorship at UCLA. He moved into a small studio space in the same building as his old friend from the Bay Area, Sam Francis. In the winter of 1966–67 he returned to abstraction, this time in a distinctly personal, geometric style that clearly departed from his early abstract expressionist period. The "Ocean Park" series, begun in 1967 and developed for the next 18 years, became his most famous work and resulted in approximately 135 paintings. Based on the aerial landscape and perhaps the view from the window of his studio, these large-scale abstract compositions are named after a community in Santa Monica, where he had his studio. Diebenkorn retired from UCLA in 1973. The Ocean Park series bridges his earlier abstract expressionist works with color field painting and lyrical abstraction. He taught at this time at UCLA. In 1990, Diebenkorn produced a series of six etchings for the Arion Press edition of "Poems of W. B. Yeats", with poems selected and introduced by Helen Vendler.
Diebenkorn died due to complications from emphysema in Berkeley on March 30, 1993.
Diebenkorn had his first show at the California Palace of the Legion of Honor in San Francisco 1948. The first important retrospective of his work took place at the Albright–Knox Art Gallery in Buffalo, New York, in 1976–77; the show then traveled to Washington, D.C., Cincinnati, Los Angeles, and Oakland. In 1989 John Elderfield, then curator at the Museum of Modern Art, New York, organized a show of Diebenkorn's works on paper, which constituted an important part of his production.
In 2012, the exhibition, Richard Diebenkorn: The Ocean Park Series, curated by Sarah C. Bancroft, traveled to the Modern Art Museum of Fort Worth, the Orange County Museum of Art, and the Corcoran Gallery of Art in Washington, D.C.
Major recent shows in the San Francisco Bay Area have included Diebenkorn: The Berkeley Years, July-September 29, 2013, at the De Young Museum, San Francisco; an exhibition of small works at the Sonoma Valley Museum of Art, in the town of Sonoma, CA, June 6 through August 23, 2015; and Matisse/Diebenkorn, a major show highlighting Matisses's influence on Richard Diebenkorn, at San Francisco Museum of Modern Art, from March 11 to May 29, 2017.
Diebenkorn's work can be found in a number of public collections including the New Mexico Museum of Art, Santa Fe, New Mexico; Honolulu Museum of Art, Honolulu, Hawaii; Albertina, Vienna, Austria; Albright–Knox Art Gallery, Buffalo, New York; Art Institute of Chicago, Chicago; Baltimore Museum of Art; Carnegie Institute, Pittsburgh; Corcoran Gallery of Art, Washington, D.C.; the de Young Museum, San Francisco; Hirshhorn Museum and Sculpture Garden, Washington, D.C.; Los Angeles County Museum of Art; Minneapolis Institute of Art; Museum of Fine Arts, Houston, Texas; Phillips Collection, Washington, D.C.; San Francisco Museum of Modern Art, San Francisco; Solomon R. Guggenheim Museum, New York; and the Whitney Museum of American Art, New York. The Iris & B. Gerald Cantor Center for Visual Arts at Stanford University is home to 29 of Diebenkorn's sketchbooks as well as a collection of paintings and other works on paper.
In 1991, Diebenkorn was awarded the National Medal of Arts. In 1979, he was elected into the National Academy of Design as an Associate member, and became a full Academician in 1982.
In 2012, Diebenkorn's Ocean Park #48 painted in 1971 became the most expensive picture by the artist ever auctioned when it went for $13.25 million at Christie's New York, dwarfing the previous record set at Christie's when an Ocean Park #48 painted in 1980 made $7.69 million. At a Sotheby's sale of Rachel Lambert Mellon's private collection, Italian fashion designer Valentino Garavani bought Ocean Park #89 (1975), an abstract image of a sunset, for $9.68 million.