Nationality

Canadian




Occupation

real estate executive




Name

Riaz Mamdani







Alma mater

University of Calgary, University of Manitoba
Targeted daylight shooting of calgary millionaire riaz mamdani
Riaz Mamdani is the chief executive and founder of Strategic Group, a real estate investment and development company located in Calgary, Canada. In the 1990s, Mamdani gained recognition in Calgary as a financier of various startups before shifting his business efforts in the early 2000s to real estate. In part as a result of Mamdani's success in real estate, he is considered "one of Calgary's wealthiest men".
Contents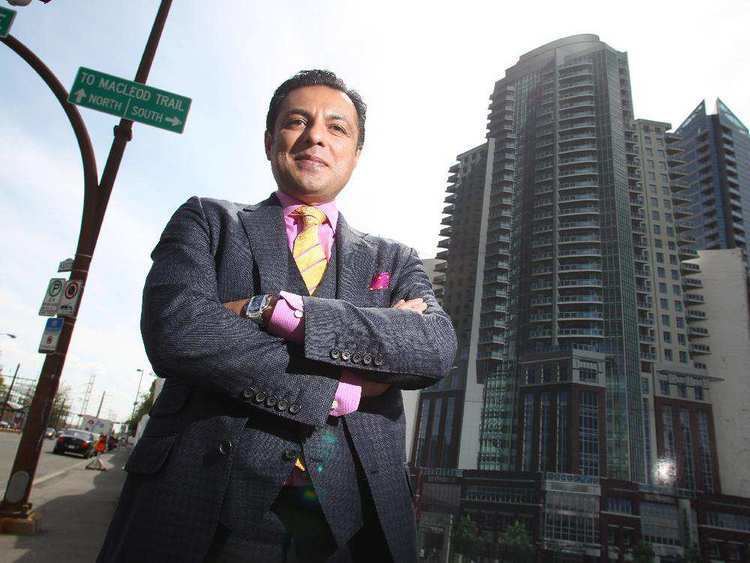 Early life and education
Riaz Mamdani came from a family that was involved in various businesses in Calgary and in East Africa. Mamdani immigrated with his parents from Uganda to Canada in the early 1970s when Mamdani was a very young boy. His family owned stores and real estate.
The majority of Mamdani's career has been spent in real estate. However, Mamdani originally pursued a pharmaceutical education, as well as an education in law. In 1992, Mamdani graduated from the University of Manitoba with a Bachelor of Science degree in Pharmacy. Mamdani then graduated from the University of Calgary law school in 1996. In a 2012 interview with Alberta Venture, Mamdani stated that his calling was in business and that he took a "roundabout" way to get to his true calling.
Early career
Initially, Mamdani began a career in pharmacy after graduating from the University of Manitoba in 1992. From 1992 to 1996, Mamdani served as a pharmacist at the Foothills Hospital in Calgary. Mamdani worked here while completing his law studies at the University of Calgary. After obtaining his law degree, Mamdani served as a Barrister and Solicitor with Beaumont Church, a Calgary-based law firm, from 1996 to 1998. While at Beaumont Church, Mamdani focused on corporate, commercial and securities law.
Transition to company finance
Beginning in the late 1990s, Mamdani's professional interest and energy moved increasingly from practicing law to involvement in the financing of companies, especially early-stage startups in and around Calgary. As recounted by Mamdani, it was the need of these businesses for more office space that originally introduced Mamdani to real estate.
Founding of Strategic Group
In 2001, seeing that the real estate side of his businesses was growing the fastest, Mamdani formed Strategic Group as a way to further invest in commercial real estate in and around Calgary. Strategic Group is a fully integrated real estate company. Mamdani began the company with two properties in its portfolio. By 2008, Strategic Group had expanded its portfolio to own and manage more than 60 office and retail properties, totaling over 5 million square feet of real estate. Real estate is Strategic Group's focus, however, the company owns businesses in industries that include construction, building services, oilfield services, hospitality, pet care, agriculture, technology and corporate finance.
Most recently, partially as a result of the weakened Alberta economy, Strategic Group has announced that it will shift its concentration to building rental apartments, as opposed to commercial properties. Strategic Group's Harley Court, located in Edmonton, will be converted into residential suites.
Mamdani is an investor and shareholder in a number of other business ventures.
Philanthropic efforts and contributions
Over the years, Mamdani has made contributions to various charitable organizations and causes. Mamdani has supported the Make-a-Wish organization, Project Warmth Society of Alberta. Mamdani is a supporter of Alberta Women Entrepreneurs, or AWE. Mamdani is also on the Board of Directors for Theatre Calgary and on the Board of Directors for Alberta Champions, an organization dedicated to recognizing outstanding Albertans. Since 2012, Mamdani has worked with The Calgary Food Bank to raise food and cash donations for those in need.
Most recently, Mamdani entered into a three-year partnership with Calgary Opera to support Calgary Opera's transition to a new location in Calgary. As a result of Mamdani's contribution, Calgary Opera changed the name of its building to Mamdani Opera Centre.
In 2015, Mamdani offered his support of Syrian refugees coming to Canada, saying that Strategic Group would be prepared to open its properties to Syrian refugees.
Riaz Mamdani Recovers from Calgary Shooting
On December 19, 2016, Mamdani was the target of a shooting while he sat in the driver's seat of a Rolls-Royce Phantom in front of his home in Upper Mount Royal, Calgary. Moments following the shooting, explosions were reported in the 3800 block of 6th street S.W. The Calgary Fire Department stated they found an empty car on fire in an alley which caused the explosions, leading to speculation that this incident is connected to Mamdani's shooting. Mamdani sustained serious injuries but was listed in stable condition in the afternoon following the shooting.
"I wouldn't think a gentleman like that, a person like that with such a heart would have an enemy at all – it really shocked me," said Jonathan Fesik, who works with Project Warmth. "All of his buildings collect clothing for Project Warmth and it's one of our major contributors. He does this all at his own cost, his own time and billing operators and the garments here."
In June of 2017, Riaz shared his insight on the shooting and his recovery.
References
Riaz Mamdani Wikipedia
(Text) CC BY-SA