7

/

10

1

Votes

Alchetron

Rate This





Theme music composer

Mike Post




Country of origin

United States




Final episode date

4 April 1997






Created by

Stephen J. Cannell




Opening theme

Theme of Renegade




First episode date

19 September 1992






Genre

Action/Adventure Drama Crime




Starring

Lorenzo Lamas Branscombe Richmond Kathleen Kinmont (seasons 1–4) Stephen J. Cannell Sandra Ferguson (season 5)




Networks

USA Network, Broadcast syndication




Cast

Lorenzo Lamas, Branscombe Richmond, Kathleen Kinmont, Stephen J Cannell, Dakota Pike
Renegade is an American television series that ran for 110 episodes spanning 5 seasons, first broadcast between September 19, 1992 and April 4, 1997. The series was created by Stephen J. Cannell. Executive Producers included Cannell, Stu Segall, Bill Nuss and Richard C. Okie.
Contents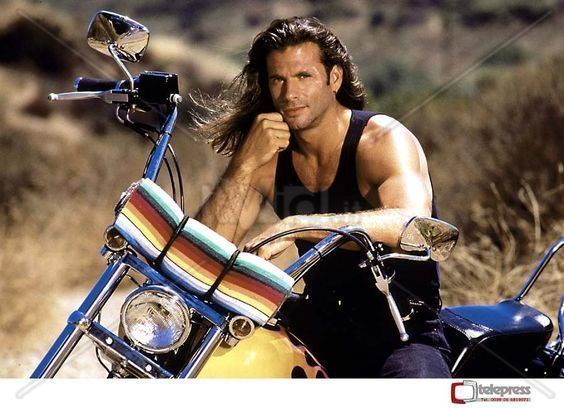 The series stars Lorenzo Lamas as Reno Raines, a police officer who is framed for a murder he did not commit. Raines goes on the run and joins forces with Native American bounty hunter Bobby Sixkiller, played by Branscombe Richmond. Stephen J. Cannell also had a recurring role as the main villain, crooked police officer Donald 'Dutch' Dixon.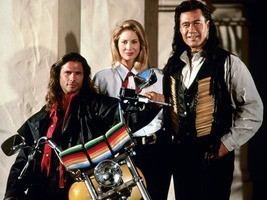 Introduction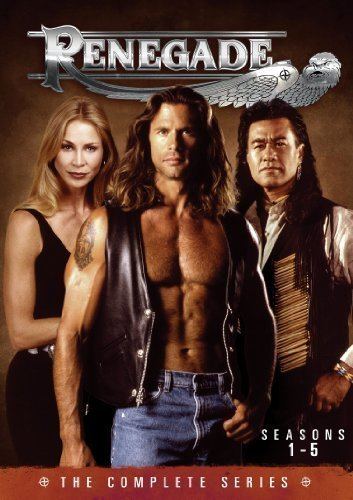 The show had the following voiceover before every episode, provided by Don LaFontaine, summarizing the plot of the series:
The Renegade theme that followed was composed by Mike Post.
Overview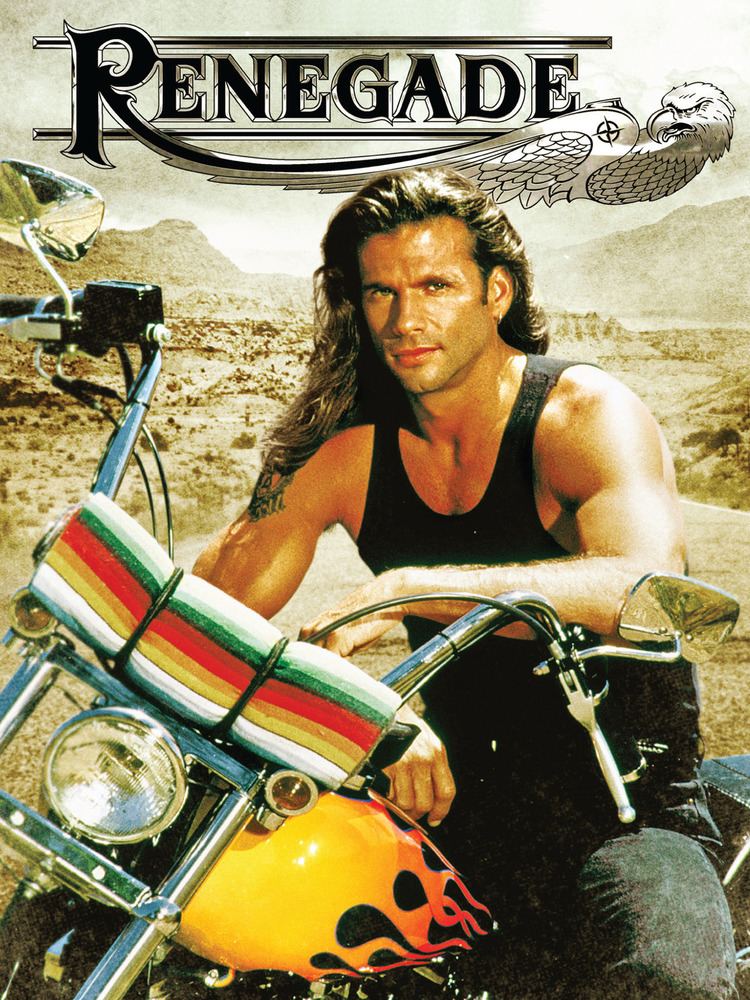 A typical episode might involve an attractive woman coming to the Sixkiller's organization needing to rescue her equally attractive sister from her sleazy drug dealer boyfriend. Often these boyfriends would have some kind of hobby like racing horses, or cars, or speedboats, which would allow Reno to go to work undercover, usually as a mechanic at first, but often having to fill-in to a more important role, like a driver, where he would inevitably excel. This would allow Reno to gain the confidence of the evil boyfriend, but he was usually found out at some inopportune moment, leading to some kind of imprisonment that he would escape from either on his own, or with the help of the other Sixkiller members. After saving the day, Reno was often forced to turn down the grateful advances of the attractive women that he had helped out of loyalty to his deceased wife. In real life Lorenzo Lamas left his wife for an extra on the show.
Plot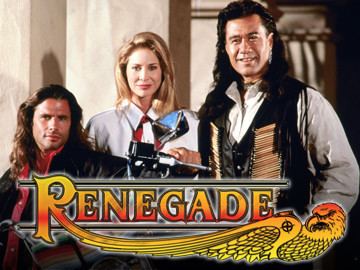 Renegade is the story of San Diego police officer Reno Raines, loosely based on Al Banks' bit part biker tough guy character in the Terence Hill movie "They Call Me Renegade" (1987). Reno was called to Bay City, California by his good friend District Attorney Harry Wells Grand L. Bush Harry hired Reno to work undercover, exposing corrupt police officers. In a meeting with Harry Wells and Bay City Police Lieutenant Donald 'Dutch' Dixon, Reno explains he has enough evidence to press charges of murder and robbery against Dixon's partner Buzzy Burrell. Not wanting to be implicated in any crimes, Burrell and Dixon break convicted murderer Hogg Adams from prison in order to kill Raines. Later that night, Hogg busts into Reno's hotel room, aiming for Reno, but shooting his fiancé, Valerie Prentiss, instead. Hogg flees the hotel and Burrell is seen rushing in to make sure Reno is dead. Dixon arrives moments afterward and kills Burrell with Reno's weapon.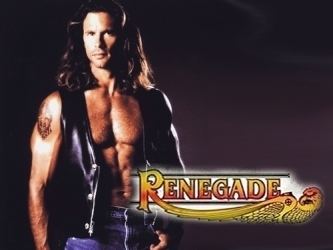 Framed for the murder of Officer Burrell, Reno Raines goes on the run. Dixon sends professional bounty hunter Bobby Sixkiller after him, but Reno instead saves his life and gains his trust. Bobby realizes that some things were not right with Dixon. Reno then works as a bounty hunter alongside Sixkiller and his sister Cheyenne (Kathleen Kinmont), while searching for Hogg's brother Hound Adams, the one person who can clear his name and bring down Dixon — a witness who, fearing for his own life, will only come forward if Reno kills Dixon, something which he is unwilling to do.
Using the alias "Vince Black", Reno travels the country to look for bounties, which Bobby turns in for a percentage of the reward money (knowing that Reno would be arrested if he attempts to turn the criminals in himself). He also helps people at the same time and proves the innocence of those he believes to be innocent. On many occasions, law-enforcement officers (and other people) learn who Reno really is, but never turn him in once they trust and believe him. Eventually, Dixon becomes a US Federal Marshal, giving him the ability to chase Reno with federal assistance.
In Season 3, Reno goes after Dutch when he learns there is an $80,000 reward out for Dixon's capture and arrest for the murder of another Bay City officer. It all turns out to be an elaborate ruse set by Dixon to trap and capture Reno instead. Reno is arrested and put on trial for Buzzy Burrell's murder. Hound Adams agrees to testify for the defense for a very large fee that he knows who really killed Burrell, but when questioned on the witness stand, he implicates Reno instead as Burrell's killer. With no evidence to prove that Dutch bribed Hound to lie on the stand, Reno is found guilty of Burrell's murder and sentenced to be put to death. Deciding not to wait for his sentence to be carried out, Reno manages to escape from prison with the help of a convict who was bribed by Dixon to kill Reno. The convict, chosen by Dixon because he knew he was dying of cancer and had nothing to lose, instead gives the bribe money to his lawyer to hold on to with instructions to send to the police should anything happen to his family.
As the series is coming to an end in Season 5, Dutch kills his own wife Melissa, and she dies right in Reno's arms. She knew what Dixon was doing and was ready to help turn him in. Their adult son, Donald Dixon Jr, believes the newspaper articles (from Dixon Sr's testimony) and also goes for Reno. In the final episode, Reno, Bobby, Donald Jr, and Dixon's boss Marshal Jack Hendricks go after Dixon successfully. In the process Dixon shoots and wounds Hendricks and goes on the run. The Marshals then put out a reward for his capture. The last scene showed Reno and Bobby discussing whether to go for him now or let him see what it's like to be a wanted fugitive. They choose the former, thus although Reno's predicament is partially resolved, the full end of the story is left ambiguous.
Cast
Lorenzo Lamas as Reno Raines / Vincent Black
Branscombe Richmond as Robert "Bobby" Sixkiller
Kathleen Kinmont as Cheyenne Phillips (Seasons 1–4)
Stephen J. Cannell as Donald "Dutch" Dixon
Sandra Ferguson as Sandy Caruthers (Season 5)
Filming locations
The series was primarily filmed in San Diego, California, and surrounding suburbs.
DVD releases
Anchor Bay Entertainment released the first three seasons of Renegade on DVD in Region 1 in 2005–2006. Due to poor sales, no further seasons were released. In 2010, these releases were discontinued and are out of print.
On October 14, 2009, it was announced that Mill Creek Entertainment had acquired the rights to several Stephen J. Cannell series, including Renegade. They subsequently re-released the first two seasons as individual boxed sets.
On October 12, 2010, Mill Creek released Renegade: The Complete Series on DVD in Region 1. The 20-disc set features all 110 episodes of the series on DVD for the very first time.
Attempted spin-off
The season 2 finale Carrick O'Quinn was a pilot for a Renegade spin-off series with O'Quinn played by Don Michael Paul. In the Carrick O'Quinn episode, O'Quinn was head of a police commando squad who accidentally blinded a judge Sarah Jessup, a friend of Reno, while trying to rescue her from danger. Feeling guilty on making the judge blind, O'Quinn quit the force and helps out the blind judge without revealing who he really is.
The Carrick O'Quinn spin-off series, however, never happened.
References
Renegade (TV series) Wikipedia
(Text) CC BY-SA